The Riviera Maya in southern Mexico is an area blessed with beautiful beaches, delicious food, friendly people and a deep, rich history. With world-famous natural wonders like Chichen Itza and popular beach ruins like Tulum, it's no surprise that over 4 million tourists visit this sun-drenched coastline each year.
But with so many tourists, the major sites can be packed with people. That's why today I'm going to list 3 alternative ruins that are just as fascinating, but not as full of visitors, and also give you a few tips to make sure that you make the best of your trip to stunning southern Mexico.
When To Visit
The best time to visit the Yucatan Peninsula and the Mayan Riviera is during the dry season begins in late November and ends in February. There is far less rain during this time and the temperature isn't as hot as it can be in the summer months.
Where To Stay
There are plenty of places to stay all throughout the Mayan Riviera. We loved Cancun, Isla Holbox and Isla Mujeres, but for visiting ruins you may be better to base yourself in Merida, Tulum or Valladolid, where there are many tours to nearby sites and great accommodation options. If you're on a budget, check out some of the best hostels in Merida and if you're a luxury traveller, LuxuryRetreats.com has some beautiful properties in the region.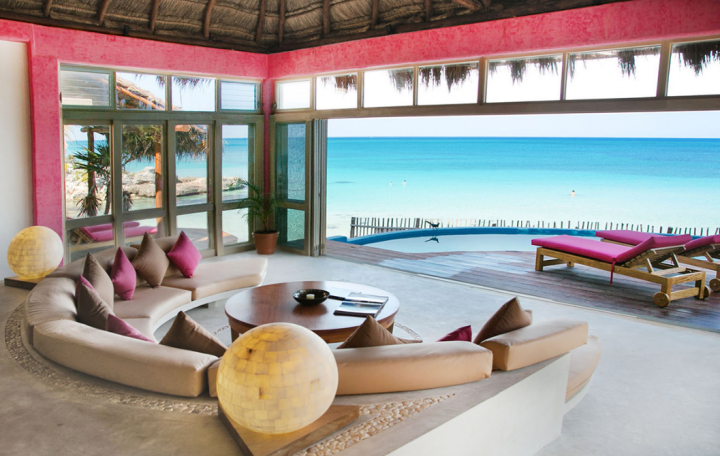 What To Bring
Whenever you're visiting ruins in Mexico, you should always bring a lot of water, sun screen and bug spray. Some of the ruins in Mexico are set in dense jungles where the sun may not be as much of an issue, but the insects can be a pain. Never underestimate the extreme climates in the Yucatan (even in the winter time). Stay hydrated and out of the sun as much as possible, especially while exerting yourself climbing steps and exploring temples.
1. Ek Balam
Location: Temozón, Yucatán, Mexico
Entrance Fee: 181 MXN ($9.80)
Construction Date: 100 BC
Time To Visit: 2-4 hours
Probably our favourite site in the entire Yucatan Peninsula, Ek Balam (meaning Black Jaguar in Mayan) boast the highest pyramid in the northern Yucatan at 31 meters. The site is just 41 km northeast of Chichen Itza and it's home to the tomb of Alfonzo Lacadina, a Mayan king buried in the main pyramid.
Visitors can walk around the archeological wonder for hours, seeking out ancient rock carvings, paintings, defensive walls and archways. You can also climb the 106 steps to the top of the main pyramid for stunning views over the Northern Maya Lowlands.
2. Dzibilchaltun
Location: North of Mérida
Entrance Fee: 134 MXN ($7.25)
Construction Date: 200 AD
Time To Visit: 1-2 hours
A very hard ruin to pronounce (tzibil-chaltoon) this ancient Mayan site is another one that rivals the awe factor of Chichen Itza, and yet only sees a fraction of the crowds. Located about 30 km north of Merida, this site was strategically built close to the coastal salt-producing region, while still being located in a fertile and habitable landmass.
This site was continuously occupied for thousands of years, right up until the time of the Spanish Conquest in 1519. Its most famous structure is the Temple of the Seven Dolls, so named because of seven small (and somewhat creepy) effigies that were discovered inside the temple when it was first excavated in the 1950s.
Visitors can still view the dolls at the on site museum and there are also numerous other buildings to explore including the ruins of a colonial open chapel. Each building is connected by the Sacbe (white road) and there's a beautiful cenote on the grounds, so make sure you bring your bathing suit.
3. Mayapan
Location: 40 km Southeast of Mérida
Entrance Fee: 35 MXN ($1.80)
Construction Date: A.D. 1200-1542
Time To Visit: 3 – 5 hours
If you want to avoid the crowds of Chichen Itza, while still enjoying a similar style of Mayan ruin, you may want to come to Mayapan because the main structure here was modeled after Chichen Itza's famed pyramid.
Mayapan is 4.2 square kilometers and has over 4000 structures to explore, so give yourself lots of time. Most of the buildings were residences, packed into the compound within the city walls. Built-up areas extend about 500 meters beyond the city walls in all directions. The stone perimeter wall has 12 gates, including seven significant ones with beautiful vaulted entrances.
According to Dr. Bradley Russell's survey, which was published in 2008 as his doctoral dissertation, in Mayapan's peak periods there were between 15,000 and 17,000 people living within the city walls.
The main temple here and the one that was modeled after Chichen Itza is known as the Temple of Kukulcan (aka Castillo by the Spanish) and it is located east of the Cenote Ch'en Mul, which you can also plan to swim at during your visit.
Avoid The Crowds, Immerse in History
With fewer people at each of these sites, you'll have a better opportunity to truly immerse yourself in the history. It's easy to walk around these historical sites and imagine what life must have been like 2000 years ago.
Sometimes it's worth hiring a guide, while other times it's just fun to walk around the ruins and try to piece together the history yourself. One thing is for sure, these 3 Mayan ruins remain off the main tourist trail, so you'll get a sense of adventure while you're exploring them. Enjoy!
What are your favourite archeological sites? Share with us in the comments below.
More Reading:
Disclaimer:Goats On The Road is an Amazon Associate and also an affiliate for some other retailers. This means we earn commissions if you click links on our blog and purchase from those retailers.