There's a new type of travel that seems to be grabbing hold of backpackers all around the world. It's probably most popular in places like Australia and New Zealand, but people are starting to realize the freedom that a mobile camper, campervan or motorhome can afford.
Think about it. Drive yourself around a country, stopping only when you want to stop and sleeping wherever you feel like it. This is a type of travel that lets you do exactly what you want, when you want. We rented a car and drove through South Africa in 2011, but looking back now we wonder what that trip would have been like if we were in an RV! We could have parked in some of the national parks and woke up to warthogs grazing outside of our window.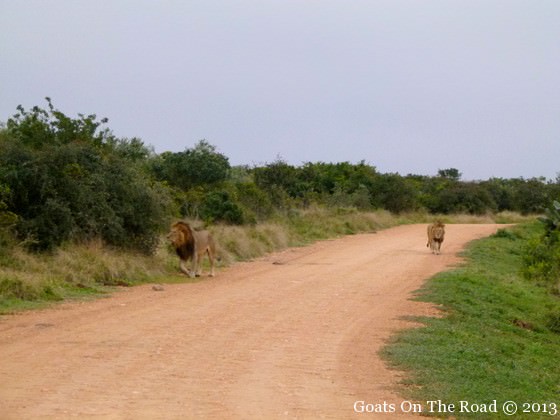 We've always had it on our travel bucket list to rent a campervan and travel through Australia and New Zealand, but the more we look into it, we're learning how viable of an option it can be in other places like Europe and the Americas. Of course there are a few details we'll have to iron out before leaving, but the idea of traveling with a mobile sleeping unit definitely appeals to us!
In our research we've found a few things that we'll have to think about. Listing them here may help save others some time when planning for a big motorhome trip!
1. Buy or Rent? This is a big question when you're first starting out but luckily it's not too hard to answer. For us, it comes down to a balance of cost and reliability. Renting a campervan or motorhome would ensure that you have a new and well-maintained vehicle, as well as some level of roadside assistance with the rental company, but renting can be expensive.
Buy Your Own And You Can Do It Up Nice Like The Flickr Photo Above!
Ultimately we decided that, since we would probably travel for about 5 months, it would be worth it for us to buy and resell a campervan rather than renting. Renting an RV can cost from $1,000 – $3,500 / month depending on the country, so for the length of our trip, it certainly makes sense to buy rather than rent.
2. Where To Start? There's really no right answer to this question. Just choose a country that you're interested in (hopefully with good roads) and off you go. The easiest places to do this type of travel are definitely Australia, New Zealand, Europe and North America due to the accessibility of service and good roads. The popularity of this type of travel means that you'll meet plenty of people along the way.
3. What Insurance?: There are plenty of places to pick up insurance packages in Europe, Australia, New Zealand and North America. Many rental companies have their own insurance packages but it's often best to get your motorhome insurance through an independent agency.
5. How To Navigate? For us, there's no replacement for a good GPS unit. You can pick these things up on ebay now for a couple hundred bucks and they are priceless. We drove through South Africa with just a map, and we had no problems, but it's always nice to have that automated voice guide the way. If you're renting a motorhome or campervan, try to get a GPS included in the price, sometimes they just have them laying around the shop and will put them in for free.
6. If you buy, can you sell? From what we've gathered in our research, it's not difficult to resell your vehicle when you are done with it. Of course, the ease of sale completely depends on where you are in the world. There probably aren't a lot of people in Ghana looking to buy a campervan or motorhome! The easiest place to get rid of your used ride is Australia, with plenty of towns along the way which are dedicated to buying and selling RVs.
Reselling in North America is pretty easy, you can place a free ad on Craigslist or Kjiji, or pay to put one in AutoTrader Magazine. If you're in The UK or Europe there are similar services.
Total Costs:
This is a hard question to answer because it really depends on how much you drive, if you rent or buy and where you are in the world. We figure that we should be able to buy and sell the campervan with very little loss, so we're looking at just the cost of insurance, gas, food and maintanence. We believe that we can keep costs down below $100 / day if travelling in the UK, Europe, Australia, New Zealand or the Americas.
These costs can be kept to a minimum in many ways.
1. Order your motorhome insurance through a trusted third-party provider and shop around for the best deal.
2. Plot out your route beforehand and figure out how many kilometers you will be driving in total. After the first time you fill up the gas tank, you should have an idea of your vehicle's gas mileage so that you can properly budget the petrol for the rest of the trip. Minimize gas costs in North America by purchasing gas at Safeway.
3. Use a points card and airmiles. If you put all of your expenses on these cards, over five months you're bound to build up some points and it may even help pay for your flight home.
4. Cook your own food in the motorhome and minimize eating-out expenses. This can save you a ton. Think hotdogs and burgers!
5. Learn how to do minor maintanance yourself. This can save you a lot while on the road. If you need to go to the mechanic for something as easy as an oil change, you may spend a lot of money on simple fixes. Check out YouTube for how-to videos. If you have 3G service when you break down, you never know, YouTube may save the day!
Planning a trip with a motorhome or campervan can seem daunting at first, but the more research you do, the more you realize just how fun and easy it can be. So far, we've only rented cars and motorbikes around the world, but our plan is to one day drive a camper van across Australia and possibly across Canada and down into the Americas. These are lofty goals and will take plenty of more planning and research, but we look forward to branching into campervan travel.
If you have any tips on this subject, please help us and our other readers by leaving a comment below. Share your experiences on your own campervan trips as well!
Disclaimer: Some links in this article are affiliate links, which means that if you purchase through them, we receive a small commission. This will never cost you extra and in many cases you receive a special discount. We appreciate your support!