Starting a blog is easy and only takes about 5 minutes, but then what? Once you've started a blog, designed it a bit, added some posts and are ready to launch, what do you do next? These are very important questions to answer and we know the feeling of not knowing what to do next.
New bloggers often fail because they make the same fatal business mistakes and feel overwhelmed. The fact is that blog growth is a formula and you need to continuously follow the proper steps toward success.
Travel blogging completely changed our lives, but it didn't happen over night. There's no "get rich quick" in this game. Our journey from a hobby-blog to a full-time business was a long one! If you want to succeed at blogging, you need to create a blog knowing that it will take time to build it to the point that it can earn you $10,000 – $20,000+ per month. But taking the right steps can help this process go along much faster.
In this post I'm going to go over the first 10 steps that every new blogger should take after starting their blog.
1. Take a Course
This is a point that you may not find on other new blog to-do lists found online, but I do think it's the single most important thing you can do to give yourself a massive boost above the competition. Online courses are amazing. I've taken some courses that are worth upwards of $1,200 and I really can't even explain how much I learned from them. Even the most expensive courses we've taken have paid themselves off within a year.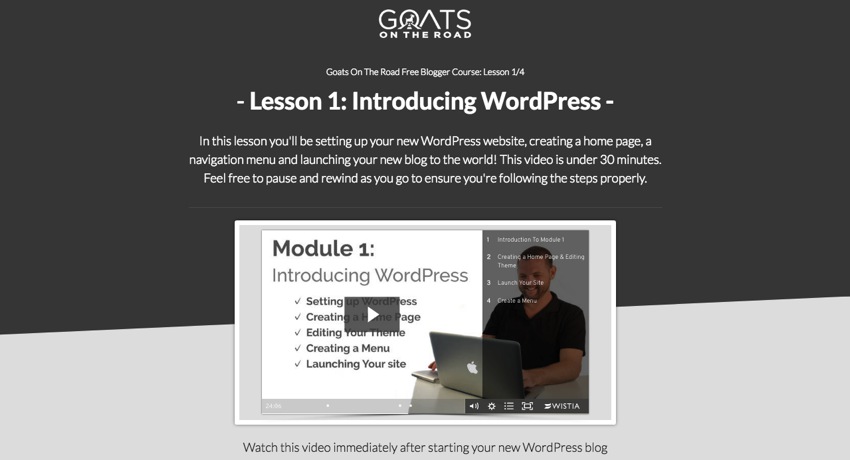 But I'm not recommending that you start a blog and then go and spend a lot of money on an online course. Without too much self-promotion, we have a WordPress Beginners Blogger Course that is free if you start a blog through our link and helps new bloggers design a beautiful, professional looking website, how to write posts and how to grow a brand new blog so that it can one day earn a full-time income.
Courses are vital because they allow you to learn from a pro and literally get your hand held through the most important steps of any given topic.
Back in 2012 when Dariece and I first started this blog, we paid for our domain and hosting and then opened up WordPress (the best platform for building blogs on the market, hands down), and we were completely stumped. We didn't know what to do next!
We really wish that we could've found a blog online that was offering a course because even if we had to pay for it, it would've saved us hundreds, if not thousands of hours Googling for answers and getting lost in the process.
Do yourself a favour and whenever you start a new blog, plan to take a few courses along the way. Think of it as an education, but one that is better than university. You ever notice how the text books in schools are from the 80's, 90's, etc.? Even a 5-year-old textbook on blogging and marketing would be obsolete.
Online courses are often up-to-date, they provide actionable steps you can take to succeed and they're taught by those who are in the business currently, not those who have been teaching in a classroom for 10+ years.
Can you tell I'm a lover of online learning material?
2. Create Important Pages
Okay great, so you've started your blog and you're learning the ins and outs of WordPress through an online course, but while you're learning you should also create your most important pages. All of them should also be added to your site's navigation menu. These pages include:
Home Page: The main page on your site and the page people reach when they type your domain (ie: "www.yournewblog.com") into their browser.
Contact Page: You need to give your readers a place to contact you… even when you're just starting out and you only have a couple of followers. Maybe your grandma has a question about travel! You can use WP Forms Plugin to easily create a contact form on a new page. Write a bit about where to reach you, your business address if applicable and a photo of yourself.
About Page: This page is all about you. Write your story, why you created the blog, who you are, where you've travelled, what makes you unique and what you plan to do in the future. This page should be LONG. I mean like 5,000+ words long. Go into great detail. When people click a button on your site to learn more about you, they're interested in YOU. This is the time to show them who you are and to introduce them to you… after all a travel blog is a personal brand, so you are your blog.
Destinations Page: You'll want to have a page that people can go to read all about the different places you've been / written about. You can use the Interactive Maps plugin to embed a fancy looking map on the page where users can click countries and regions to access all of the posts you've written about each place.
Start Here: This is another really important page to create. The Start Here page is like your about page, but instead of being all about you, it's more about the blog itself. What is your blog's main goal, what is it about, what makes it unique, what's the niche / theme of your website? You can also link to your most popular content and your categories from this page.
Privacy Policy: Now that GDPR is in full swing, it's important to have a Privacy Page. This is just a technical page that you should create to explain to users how your site gathers data. As a brand new site, you can just use the standard WordPress template for this page and create it in about 5 minutes.
Blog Page: This is normally a list of your latest blog posts, but you can also create a page to make this page a bit nicer looking. You can add links to your most important content and a bit about what your readers can expect to find in your blog posts.
3. Design Your Blog Using The Thrive Architect Plugin
Now it's on to the fun stuff. When we started our blog, we had to try to learn JavaScript, CSS and HTML coding in order to make our site look decent. The problem with this is that no matter how good you think you are at designing a website, there is always something wrong! It doesn't look correct on mobile devices, or the text is too small, or something else.
I've always said that a good blog design is one of the most important first investments for new bloggers. When we finally handed our site over to a professional design & development team, they told us that the coding was a disaster. These days there's a new plugin that's an absolute game changer for blog design and it literally makes any new blogger, with no previous coding experience, a professional web-designer.
It's called Thrive Architect and I've used it to design a lot of the pages on this site, and I used it to design the pages for our Beginner Blogger Course. Basically, Thrive Architect allows you to drag and drop different elements onto the page to make your site look exactly how you want it.
At this time, you can't fully design site-wide elements like the footer, header, sidebar and menu, but those elements can be easily designed in a free WordPress Theme. What Thrive Architect allows you to do is create beautiful landing pages. So if you want a professional looking home page, or any of the other pages I listed above, I can't recommend this plugin enough.
Right now it's only a one time payment of $67, which I think is a steal. We've purchased it for both of our websites and I use it every day.
We've spent over $5,000 in professional design on this blog, and while I don't regret it because it gave Goats On The Road a bespoke, unique design, I definitely would've waited a lot longer, and our site wouldn't have been such a coding disaster if Thrive Architect existed when we started out.
The best part is that they have over a dozen tutorial videos to teach you how to use the plugin easily and they have a support team that answers within a day if you have any questions. Yes I get excited about it because now I love designing new pages on our blog and making them look cool.
See Also: 10 Free WordPress Plugins Every Travel Blog Needs
4. Set-up Social Media Accounts
Once you have a nice looking blog design, it's time to start sending some traffic your way! One of the best ways to do this is through social media. There are 4 main accounts you should set up as soon as you start your blog.
Facebook
Instagram
Twitter
Pinterest
These accounts only take a few minutes to create and they can be extremely valuable to a new blog. Once you set them up, make sure you go back onto your site and add social sharing / follow me buttons all over your blog so that your new readers can easily follow you on your social networks.
We use Shareaholic for the social media buttons you see around this blog. It's a plugin that allows you to add these buttons wherever you want on your website. It's easy to use and only takes a few minutes to set up.
Try to use your actual blog name for your social accounts because it will make it much easier for your blog readers to find you if they're searching for you. For example, all of our social accounts are under "Goats On The Road", like Facebook.com/goatsontheroad, Instagram.com/goatsontheroad, Pinterest.com/goatsontheroad and Twitter.com/goatsontheroad.
If we made our name Goats Travel or something, people probably wouldn't be able to find us.
Don't just rely on new blog readers to follow you on social media either. Make sure you go and ask all of your friends and family to follow you too to get the ball rolling. Go on your current personal social accounts and ask all of your friends to follow you.
Pinterest is actually one of the most underrated social media platforms for new bloggers, but those of us who have been at it for a long time know the importance of Pinterest. Like Google, Pinterest will likely be one of your biggest traffic sources, so it's important to learn how to boost your blog traffic using Pinterest.
Get those numbers up! Follow our Social Media 6-Day Success Schedule and explode your social numbers right away.
5. Start Creating an Email List
This is a very under-utilized aspect of travel blogging that many new bloggers completely miss out on. As soon as you have some blog content, you should start collecting emails.
MailChimp allows you to start a new account for free up until you have 2,000 subscribers. It's decent, but every blogger will go for a better email provider as soon as they reach that threshold because MailChimp just isn't the best one out there.
Once your list gets over 2,000, definitely change over to a more advanced email provider like ConstantContact or ConvertKit. Or if you have the funds, you might want to invest in a good email provider right off the bat so that you don't have to switch over later. These advanced email systems allow you to more easily grow your list, segment them and ensure that your emails actually make it into the inbox.
We also use ThriveLeads on this site to gather emails. It's from the same people who created Thrive Architect, and it's just as amazing. It allows you to create pop ups, ribbons and banners using the same easy-to-use drag and drop design functionality as Thrive Architect.
Since adding ThriveLeads to our site and integrating ConvertKit for our emails, we've nearly doubled our list in just under a year. At the time of writing this post we have over 20,000 amazing email subscribers and many of those are thanks to ThriveLeads.
At the very least, you should start by heading over to MailChimp and creating a new account for free. Then you'll want to add email forms all over your blog. Make sure your forms ask for both Name and Email! You definitely want to be able to call all of your subscribers by first name.
MailChimp has a WordPress Plugin that makes this very easy to do. Just add some text above the email form that says, "Join our mailing list if you want to hear more about our travels" or something similar that conveys your brand and niche. Then, when you send an email you can use what are called "Merge Tags" to make sure that the email says the subscribers first name at the top.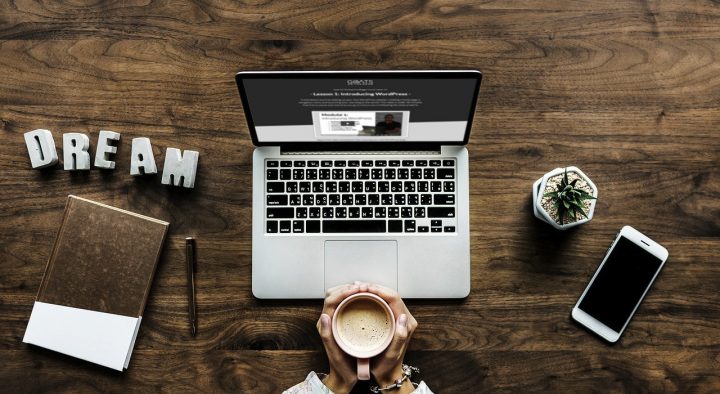 Next, you'll want to do the same thing you did with your social media accounts and contact everyone you know and ask them to subscribe to your newsletter.
Friends and family are great, because they're genuinely interested in reading your emails. At first, your emails will likely just be about your travels and what you've been up to. But as your blog grows and you start producing content, you can use your email list to give your newest posts a good bump in traffic.
Once you have a few people on your list (even just 10), start sending them emails. Every week (Sunday nights / Monday mornings are best), send your email list a newsletter with your latest posts that you wrote during the week, as well as a bit of content just for them. They're special! Make them feel that way by offering them stuff that normal blog readers don't get.
You'll also want to set up an automation (aka Drip Feed or Sequence). This is a series of emails that will automatically go out to new subscribers. Once the emails are written and set up, they'll go out to people in a sequence after they enter their email and join your list. Usually your first automation should be a series of emails that explains you and your blog, points people to the best content and asks them to also follow you on social media.
Always use "hooks" in your emails. Hooks are usually placed in the "P.S." section of the email and they hint at something great to come in the next email. By adding hooks, you can drastically improve your email open and click rates.
Email subscribers will likely be your most loyal followers. It's been proven in many tests (including ones that we've conducted) that your email list are your best customers. They'll be the first to click, the first to share, the first to engage with you, and the first to buy. An email is a personal thing, so if they've offered to give you that, you're almost like friends. Treat every subscriber well, try to send them information that helps them and remember that they're your best fans!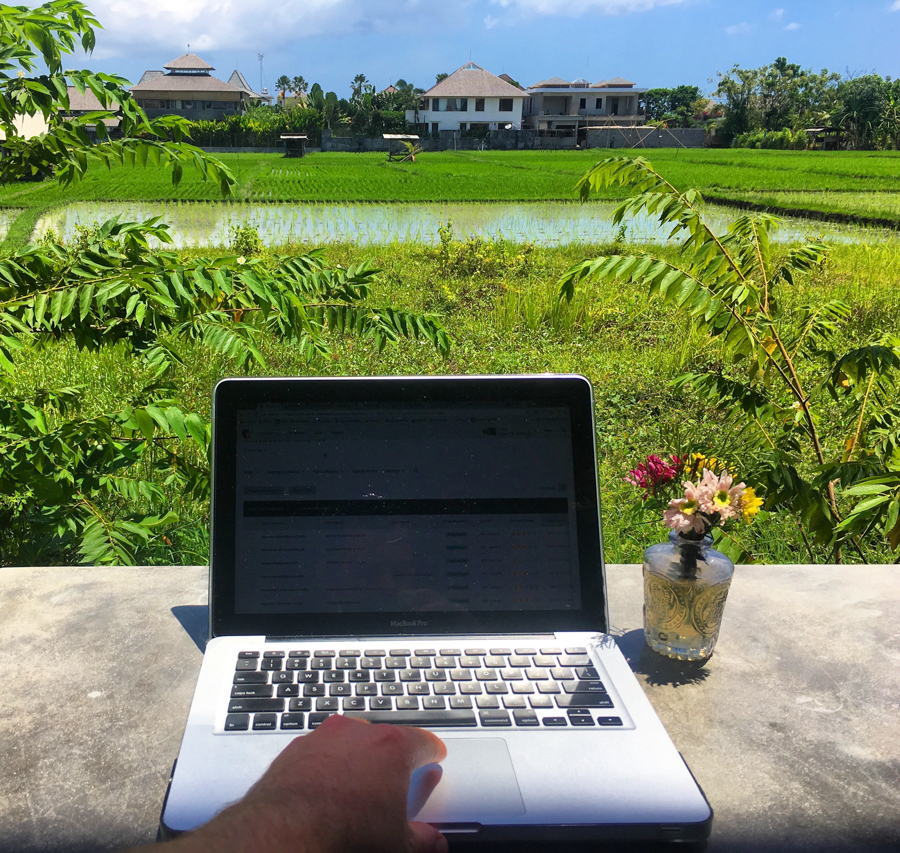 Our email subscribers get special treatment on this blog, because we know that they are our closest followers. We email back and forth with them, communicate with them, help them and do our best to serve them super-useful content on a weekly basis.
These days, even though we don't really "sell" very much in our email lists, they still account for a good portion of our income. We know this because we can see that our newsletter subscribers frequently book through our affiliate links and purchase our products on our blog.
Start an email list as soon as you start a blog. The sooner you begin growing emails, the sooner your blog will grow into a full-time business.
6. Learn SEO
SEO stands for Search Engine Optimization and is basically the steps you need to take in order to make your blog posts appear in Google results. As a blogger, Google is your boss and your God. Google alone determines if your site gets any real traffic. 99% of blogs out there get 85% or more of their traffic from Google, so it's no surprise that this is the most important thing to learn when it comes to growing a new blog.
Learning SEO can be overwhelming for sure, but there are some basic things you can do to boost your SEO and grow your traffic very quickly. I'm going to list them briefly here, but I'll link out to posts where we talk about each thing in more detail as well.
Download the Yoast SEO Plugin: This is the single most popular SEO plugin on the market and you can pretty much guarantee that all of your favourite bloggers and websites use it to maximize their SEO. This plugin is mainly used for "On Page SEO" which means it helps you write your blog content in a way that Google will like. Once you download the plugin (it's free by the way), you'll see a special Yoast section at the bottom of your edit post screen in WordPress. The plugin analyzes the content you're writing and gives you valuable pointers to make it better for SEO, like breaking up paragraphs into smaller pieces, adding in more keywords, using header tags, alt tags and more. It sounds confusing, but Yoast makes it super simple and shows you how to fix everything.
Write Pillar Posts: I'm going to talk more about this later in this post, but basically pillar posts are your best articles. They're long, extremely useful and properly SEO'd using Yoast.
Interlink: Every time you write a new blog post, particularly "pillar" blog posts (more on that later), you'll want to go back into all of your other relevant posts that you've already published and add a new link to the new post. For example, if you just wrote a new guide to travelling Thailand, you'll want to go into every other article about Thailand and Southeast Asia and link to the new post using the text "Guide To Travelling Thailand". The text that is used to link to a post is called "anchor text" and it helps Google decide what to rank that post for. In the case above, you would help boost your rankings if people search Google for "Guide To Travelling Thailand". The ultimate goal is to reach the #1 spot in Google for terms that get searched a lot.
Backlink: Interlinking relates to linking to posts within your own blog, whereas backlinks are when you get a link back from another website. These are far more valuable than internal links, but they're harder to get. The absolute best way to get backlinks is to write excellent guest posts and get them published on other blogs with a link back to your site. Always use a variation of the anchor text for the key term you want to rank for when linking back to your own blog posts from other websites. If you can get links back from big sites like Lonely Planet and Business Insider, they can be worth 100's of times more than smaller sites and they'll help you get up the ranks in Google quicker. You can also get backlinks by emailing other bloggers and asking for links, by writing comments on other blogs and linking back to your site or by adding them into directories.
Note: We have a lot more info about SEO in our Beginner Blogging Course. It's a complicated topic, but once you know the basics you can grow a blog much faster.
7. Write Pillar Content
Now it's finally time to write some blog posts, but not just any blog posts. It's time to write your pillar content. These posts need to be EPIC. How do you write epic posts you ask? Well there are a few key rules you'll want to follow
A pillar post should be long and extremely useful. For travel bloggers, many of their pillar posts are guides and how-to's, like "The Ultimate Travel Guide To Thailand". You'll want to cover every single angle of the topic, make sure your blog post is useful and easy to read. I'm a strong believer that great content is the single best way to get a lot of traffic to a new site.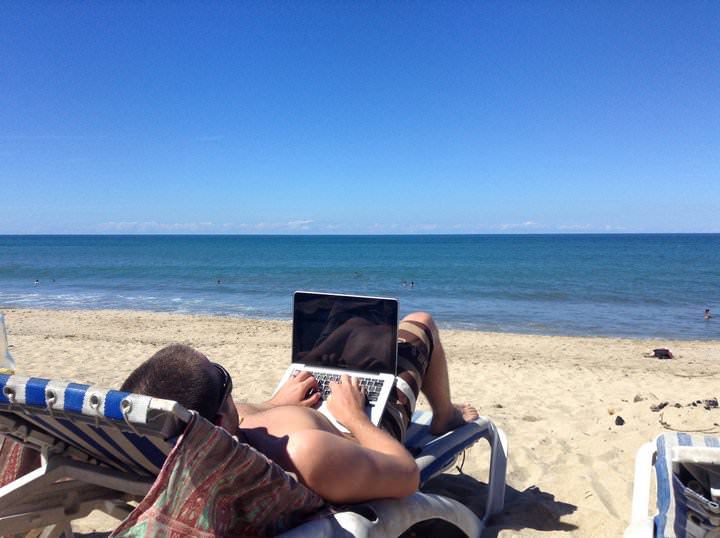 If you don't feel like you're an expert on the topic you're writing about, then you should do some research, or choose a different topic. In the example above, if you're writing the "Ultimate Guide To Travelling Thailand", enter that title into Google. You'll see a lot of other blog posts on the same topic, click the top 5 results and read them. Take notes. What sections do they have, what do they cover?
By checking out 5 different blog posts, you can usually take ideas from each blog and then use those ideas to create an even better blog post on your own site (Note: never copy and paste another writer's content). Your main goal should always be to create a better post than currently exists online. You want readers to come to that post and have no reason to go anywhere else for information, because you've answered it all. That's what a pillar post is all about.
Before you move onto number 8 in this article, you should have at least 5 pillar posts created. After you have all 5 of those posts created, you'll want to create 5 supporting articles for each.
A supporting article is a smaller article that goes into more depth about a specific topic from the main article. For example, if you already wrote the "Ultimate Guide To Travelling Thailand" and in that post you talked about Visas, Hotels, Activities, Transport and Food. Then you should also create a post for each of those topics.
These are called supporting articles and they should be around 800+ words and they should all link to the main pillar post. This is just good SEO, but it's also good for your blog readers. As they're reading through your epic guide, they may decide that they want to learn even more about Thai Food. They can then click over to that 800 word post that's all about Thai food. It's good for user experience and your readers will love you for it.
8. Promote Your Blog
This is where you will really start to see the biggest amount of growth on your blog. Promoting and marketing a travel blog is a never-ending, ongoing job, but it pays off. As a brand new blog, the best thing you can do is guest post on other travel blogs and get featured on big media sites.
We've already written a lot about guest posting in our Guide to Guest Posting, so I won't go to in-depth with it here, but basically every week you should be reaching out to 10 other bloggers and pitching them story ideas. If, out of those 10, just 1 actually accepts your post, then you should write the best post you possibly can and then submit it to the blogger to publish.
If you're constantly getting 4-5 guest posts published each month, your blog will grow quickly. But this isn't the only way you promote your blog. We've also covered social media and email lists in this post, which are other great ways to promote, but you should also be commenting on other websites, submitting answers to travel forums and trying to get your stories featured on big media sites like Forbes and Lonely Planet.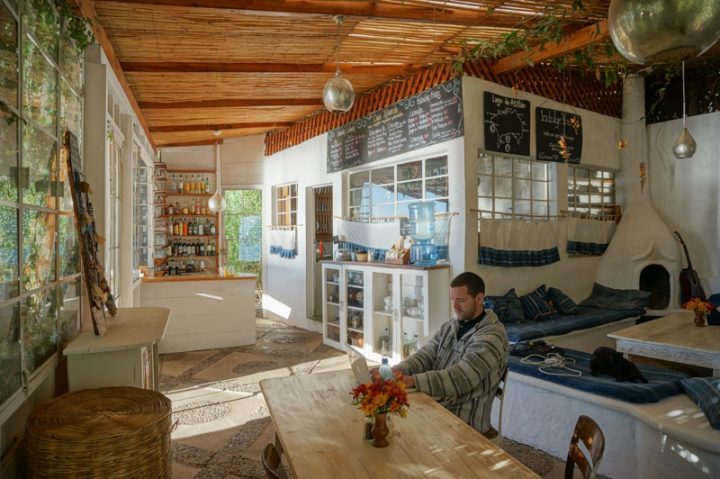 It's all about sitting down at your computer and working efficiently to promote your blog. Set a schedule for yourself (like our 6-day blog success schedule) where you reach out to 5 bloggers, pitch a story to 3 big media sites, comment on 10 blogs, answer 5 questions in travel forums like BootsnAll, TripAdvisor and Lonely Planet ThornTree, write an email to your subscribers, share on social and write a guest post.
If you set aside a few hours out of each day to do all of these things, you'll start to get into a rhythm. It's this rhythm that is the key to a blog's success. For every hour you spend writing great blog posts and designing your new website, you need to spend an hour marketing and promoting your blog. Get into a routine and you'll crush it.
9. Monetize
Trying to figure out when to monetize your blog and start making money from it can be a difficult task. It all depends on your traffic, your followers, your niche and how you've grown your site. But monetizing itself is actually quite easy. Building a blog to the point that it can earn money is difficult, but once you have the traffic, the content and the following, earning money from it doesn't take much work at all.
In my opinion, the best way to earn money from blogging is through a passive income strategy. I've talked about it a lot on this blog before. Basically passive income means that you're earning money without doing anything. I don't really like the term "passive income" anymore, because you don't earn the money by not doing anything, you earn it by working hard at first to set something up that can continuously earn money down the road.
Once it's set up, you're essentially earning money in your sleep. Money that then pays for your travels when you're awake! It sounds too good to be true, but it is possible. A good way to do this is through affiliate marketing. Currently this blog earns about 40% of its total income through affiliate marketing, and that money alone is far more than enough that we need to travel on a mid-range budget.
We've use and trust some great products and services in the past, like Booking.com, Osprey Backpacks and WorldNomads Travel Insurance, so we recommend them on this blog. When our readers click on our links to book hotels on Booking.com, order travel insurance through World Nomads or purchase an Osprey backpack online, we get a commission. It never costs our readers extra and it's a good way for them to help support the blog. A win-win!
Getting affiliates set up is easy and we talk a lot more in-depth about it in our blogging courses. Most companies already have affiliate programs set up so all you have to do is sign-up for free and then use the special tracking links when you mention the brands in your blog posts.
For example, if I were to recommend Bluehost Web Hosting in this post, instead of just linking to Bluehost.com, I would use the special tracking link that I created in my affiliate account which is Bluehost.com/track/GOTR. Simple. Then when someone starts a blog through that link, Bluehost tracks it and sends me my commission.
The same is true for big companies like Amazon, Expedia, Booking.com, Agoda and basically every travel / gear website online.
Although affiliate marketing is one of my favourite methods for monetizing a site, and can be done as soon as you start your blog, it's not the only way. Another great way is through in-content ads. If you look on most pages of this blog (including this one) you'll see a few ads. These are added to the site automatically through a company called MediaVine and we earn an income from it.
We currently earn around $2500 / month from these ads alone, but as you can see we hardly have any. Most websites have them in the header, the footer, the sidebar, floating on the screen and just about everywhere you can jam them in. We have our ads almost entirely turned off because we don't want to annoy readers with too many flashing ads. If we turned them all on, we would likely earn twice as much.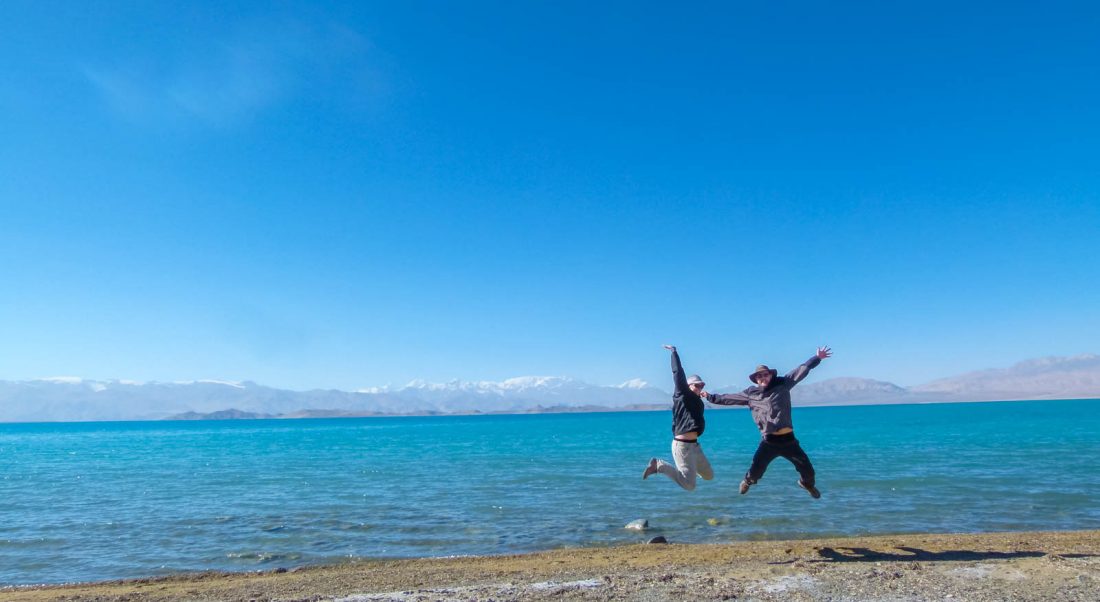 When you're first starting out, you wont be able to turn on MediaVine ads. They have a minimum traffic requirement of 25,000 page views per month. But don't worry, if you follow my steps to boosting blog traffic quickly and the information in our blogging course, you should easily get there within 6 months to a year.
By my calculations, fully turned-on MediaVine ads earn around $0.008 per visitor. So if you want to find out what your traffic is worth, you'd simply use the below calculation:
Sessions Per Month X 0.0185 = $/month
In the example above, when you reach 25,000 page views and are eligible to start with MediaVine, you could be earning $462 / month from ads. That's money that will come in while you're sleeping! You simply turn on a switch and voila, money starts coming in. Cool right?
Some other great ways to monetize a travel blog include:
Freelance Writing: Check out our Guide To Freelance Writing. It will show you how to earn money by writing for other websites. As an added bonus you can link those posts to your own blog to help SEO.
Selling Ebooks: Simply write a really long post (10,000+ words) with photos and convert it to a PDF and sell it on Amazon as an ebook. You'll want to give it a sexy design. Try Canva.com. It's free and we use it to create all of our ebook products.
Selling Courses: If you are an expert at something, consider creating a multimedia course with video tutorials, modules and PDF downloads and selling it from your site. It could be a course about anything, like planning for travel, packing light, house sitting or getting free travel through points hacking.
Selling Products like T-Shirts & Hats: Open an online store on your site, or go the easy route and just design t-shirts on Teespring.com or VistaPrint.com and sell them to your readers.
Sponsored posts: A company pays you to write about them and share their product with your audience. These tend to pay anywhere from $200 – $1,200 / post depending on your traffic and other things.
Social Media & Blog Management: You take over a company's social media or blog and get paid for it.
Banner Ads: We are strongly against these (you'll never see any on our site), but they're basically flashy ads that are placed around your blog, when someone clicks / purchases, you get paid.
Twitter Chats: Once you have a lot of Twitter followers, brands will contact you to host their Twitter chat. These typically pay around $300 each and last 1 hour.
Sponsored Social Sharing: A brand will contact you and ask you to share their brand or product on your social media. Depending on your numbers, these can be charged at around $200 / share.
Instagram Takeover: Basically, you post your own photos on another company's Instagram account, or you run their InstaStories. You promote the takeover on your own account, and engage with the followers during the duration of the takeover. Typically this is paid per image or story at around $200 / photo depending on your influence, and the company's budget.
Brand Ambassadorships: A brand asks you to continuously use their product / service and write about it, and they pay you a monthly salary.
Press Trips: A tourism board or tour company invites you to their country to write about your experiences. They do this because your blog has large numbers and they want to introduce your readers to their tour or destination. The deal typically includes flights, all transport, food, travel and entertainment for the duration of the trip and you can charge for your services on top of this (upwards of $10,000 / trip).
10. Persist
I can't stress this enough. Basically every blog that is created is a good blog with the potential to earn money – the problem is that the blog owner usually quits too soon. There are thousands of blogs being created every second, but only a fraction of those actually become successful. It's not because the bloggers weren't good at what they were doing, or because they didn't have enough followers, it's usually because they gave up too soon.
When you start your blog, do it with the intention… no… with the CERTAINTY that it will be successful. You need to know that it will work out if you keep at it. Don't quit. Keep going. Even if you've been blogging for 6-months and you still have no traffic and you haven't earned a dime. Instead of giving up, take another online course, read some more information, watch some more tutorial videos on YouTube and learn how to improve.
Even though the other 9 steps that I wrote in this post are very helpful, this one is the most important. Don't be the next six-figure blogger who quit before making any money. It happens a lot. Too much. Instead, persist. Stick with it and one day your blog can earn money. Learn from Our Travel Blogging Section, our online course, our ebooks and our SEO Check-List and continue to absorb all of the blogging knowledge that you can. 
Have fun every step of the way and get into a routine with your blog. Once you find you can fill 20 or 30 hours / week with productive work on your laptop, you'll start to see your blog and your online income grow.
The best part is that you can work from anywhere in the world and if you love travel, then none of this will feel like work. We love our job so much that we have to pull ourselves away from the computer. A far cry from when I used to watch the clock during a 12 hour shift in Canada, dying to go home and sleep…
Like This Article? Pin it!