Exactly a decade later, we returned to Gili Trawangan, one of the three little Gili islands located off the coast of Lombok in Indonesia.
With white-sand beaches, calm turquoise water, numerous accommodation options, and excellent nightlife and diving, Gili T attracts a wide range of travellers.
Even though many things had changed over the past decade, some things remained the same: it's a busy, beautiful, party island.
Read on to learn about our personal experience on the largest of the Gili islands, the things to see and do there, where to stay, and more.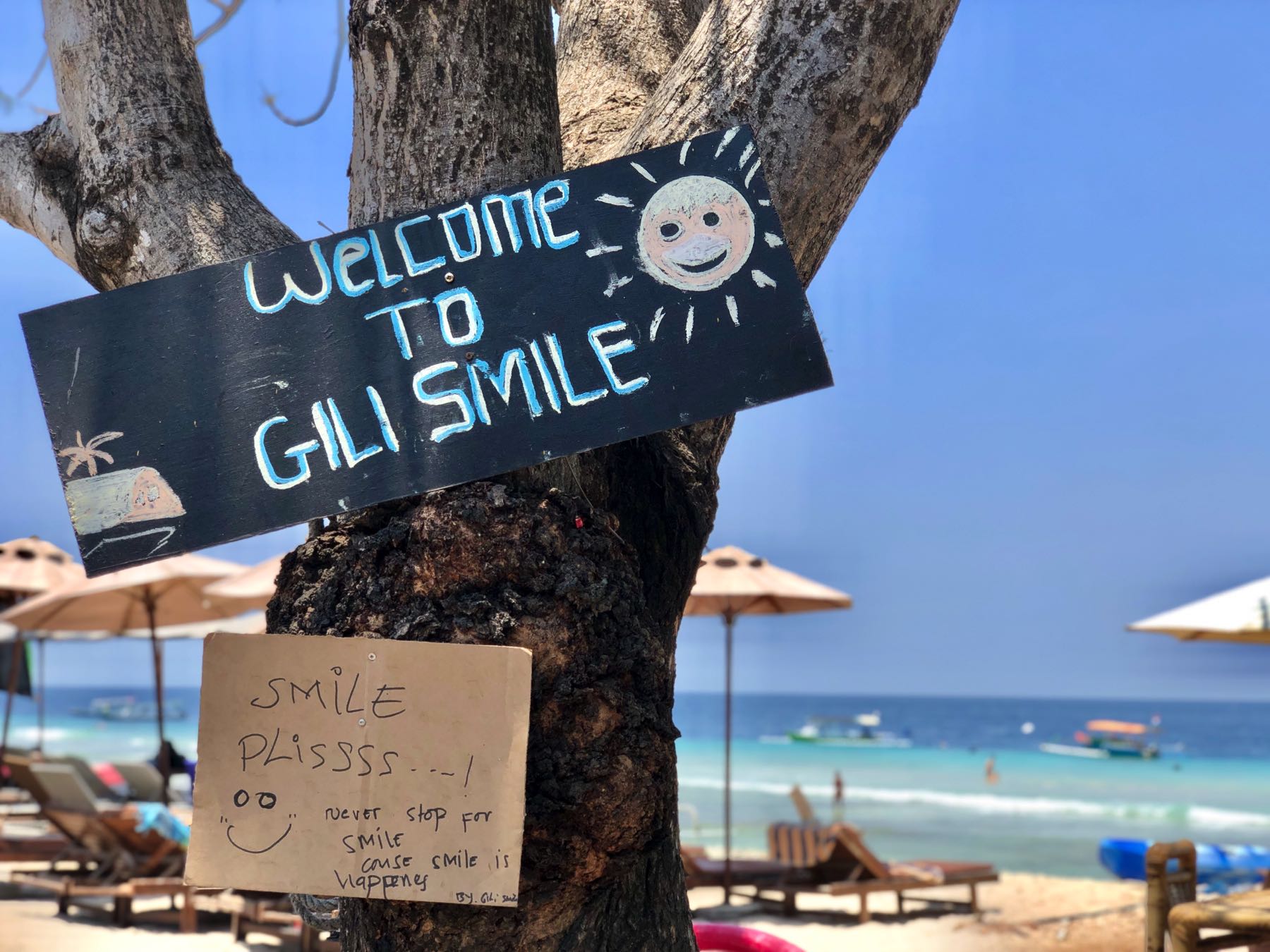 Why Gili Trawangan?
According to stats on Statista.com, from January to October 2018 Bali received over 5.1 million arrivals at its international airport. Since there's an easy, direct fast ferry boat from Bali to Gili Trawangan, it's no surprise that this island receives a lot of those visitors.
There are no motorized vehicles or dogs on the island, meaning you won't choke on vehicle pollution or have to deal with dogs barking through the night. If you're looking to chill out on the beach with a good book, there are lots of sandy spaces to do just that. And, for those who are keen to do some scuba diving, there are loads of dive shops here as well.
If you're a backpacker, a solo traveller looking to have a good time, a beach bum, or a scuba diver, then Gili Trawangan is the place for you.
Where to Stay on Gili Trawangan
When thinking about where to stay on Gili Trawangan, you'll want to consider what sort of holiday experience you're looking for. If you want to be in the thick of it, party at night, scuba dive during the day and have easy access to restaurants and bars, then you'll want to be on the east coast.
The western part of the island has some luxury hotels and resorts, and not a lot else (it's much less developed on this side). The south and north ends of the island are fairly quiet as well. The center of the island, down the small roads, is where you'll find residential homes and some Airbnbs.
In 2009 when we visited Gili T, we arrived during the high season and the island was full of (mostly) Australian travellers who were all on vacation. Finding a room in our budget was difficult and we ended up in a very small, very dark room for around $10/night — which was over our budget at the time!
Fast-forward 10 years and we found ourselves staying in a lovely villa in a nice part of the island. While we were invited to stay here by Lotus Hotels, this is exactly the type of place that we would've booked for ourselves anyways, especially considering their basic rooms are still very bright, large and quite affordable at around $57 / night.
We were greeted by the receptionist at Villa Almarik and together, we walked behind the property and down a flower-lined pathway to our room. As we opened the door, we were pleasantly surprised at the height of the ceiling, the king-sized bed and the large bathroom with outdoor area.
The room also had a reading nook, two closets, and tile flooring. The private verandah had a couple of chairs and a table and was a nice spot to have a drink — although, with the beach just steps away, we were more tempted to head seaside for our sundowners.
Villa Almarik is located on the east coast, at the northern end of the party zone, directly across the road from the sea. Since it was tucked away from the main drag, we weren't disturbed by any music or other noise and had a peaceful sleep each night (something that can't be said for many other hotels in this part of the island).
A large breakfast buffet was served in the upstairs dining area, with custom-made omelets, fruits, bacon, pastries and more all included in the room rate.
The property offered an onsite spa and saltwater swimming pool, both of which were great places to relax when it was low tide at the beach.
Across the road, right on the water, was the attached restaurant. With a hilarious slogan plastered on the road reading "Probably the best pizza on the island", how could we not eat here?!
With our toes in the sand, we ate lunch and dinner here frequently. We looked around for other restaurants that we might want to dine at, but always came back to the tasty and consistently delicious Indonesian and Western meals served here by the talented chef. And yes, the pizza was probably the best on the island.
To learn more about Villa Almarik and the room rates, click here.
(I also have to give a shoutout to Coffee and Thyme which serves amazing iced and hot coffee! We popped into this little place near the port every morning to start our day.)
Things To Do in Gili Trawangan
For such a small island (3 kilometers long, 2 kilometers wide), surprisingly, there are quite a few things to do here — with most activities being centered around the sand and sea.
Water Sports
Since the sea is typically calm, many people rent SUPs or kayaks in the late afternoon or early morning and enjoy a bit of paddling around.
With an offshore reef, snorkelling is a popular beach activity as well. Mask and fin rentals are available all around the island for just a couple of dollars, but many people bring their own gear if they plan to do a lot of snorkelling.
Snorkel day trips are available, but as with everything, always check reviews of the tour company and the quality of their equipment before setting off on a boat day trip.
Scuba Diving
Known for its shark and turtle sightings, crystal-clear water, and a WWII shipwreck, Gili T is a popular place for scuba divers — of all levels. Some of the most popular places for diving on Gili T are Shark Point, Meno Wall, Halik and Deep Turbo. Expect to spot hawksbill and green turtles, numerous fish, healthy coral and larger pelagic as well.
Some of the dive sites around the island have a strong current. Based on your abilities and certification, your divemaster will choose a site that you'll be comfortable with.
If you're not yet certified, this is a popular place to obtain your PADI Open Water. Just ensure you do your research and be mindful of which company you choose. As I said above, this is a laidback, party island and the safety scene can be a little lax. 
*Note: When Nick went diving with Villa Almarik, he was amazed by the clarity of the water, health of the coral and the abundance of sea life (including lots of turtle sightings). Unfortunately, the other two divers he was with had been up late partying the previous night and were completely irresponsible divers. Even though they supposedly had the proper certifications, they were panicking above and below the surface, and going from 22 meters to 2 meters in a matter of seconds which could easily lead to the bends. This made for a stressed-out dive for both Nick and the divemaster, and in fact, Nick decided to opt-out of the second dive. He was disappointed with the fact that the divemaster allowed the inexperienced divers to go on the second dive. If possible, find out who you'll be diving with and do your research about the best dive shops on the island.
Watching Sunset
There's nothing better than relaxing with a cocktail in hand while watching the sun dip into the sea.
There are a few places to enjoy the sunset on Gili T (of course, anywhere on the west coast would be great), but I recommend Paradise Sunset which has swings in the water. Other options include sitting on a vacant bit of sand with your own Bintang beer from the shop, or hiking up to the viewpoint for epic sunset views.
Hiking to the Viewpoint
Gili T is basically flat, except for one hill in the southern part of the island. Since most travellers are here for a beach vacation, they often overlook this hike.
The whole walk is only about a 20 minutes, yet the terrain and sights are quite varied!
Walk up cement steps, through a nutmeg forest, and past a small Hindu shrine until you reach ruins from the Japanese WWII machinegun bunker.
After you've taken a few pics of the ruins, continue on to where the landscape opens up and you'll be rewarded with a view across the Gilis. If you've hiked up in the morning, you can enjoy the sunrise over Lombok Island.
When we walked up for sunset, there were only a handful of other travellers here — making it a peaceful spot to end the day.
Rent a Bicycle
You could walk around the island in around 1.5 hours, but since temperatures can soar at midday, I recommend renting a bicycle. The entire island isn't paved, and you'll need to push your bike over the sand in a couple of spots, but it's still a lot of fun. 
Cycle for a bit, stop off to snorkel, cycle some more, grab a drink, and repeat! Bike rentals are found all around the island, and usually, hotels and hostels have them for rent. We got ours at the place right beside Villa Almarik and they were 50,000 IDR each ($3.50) for 24 hours.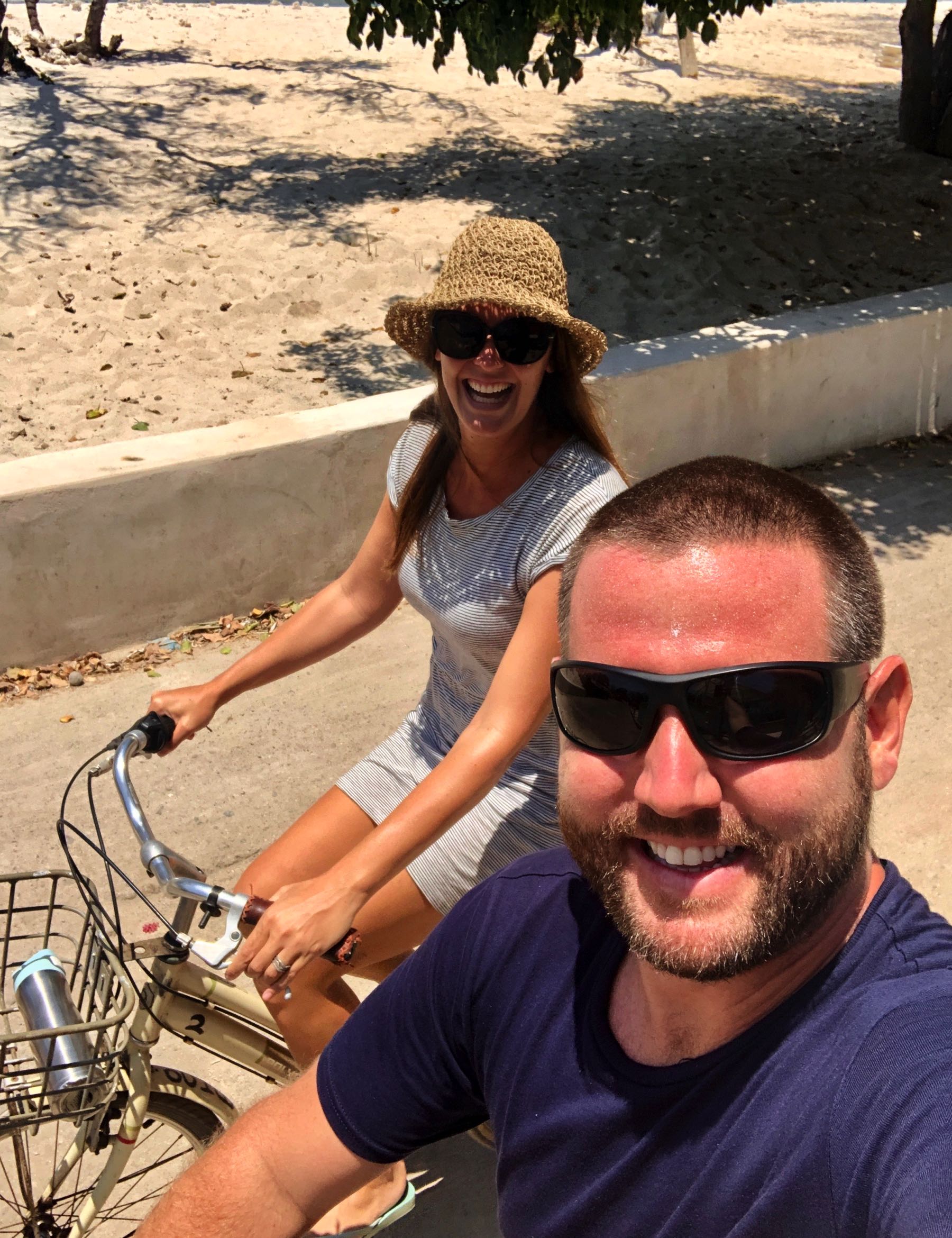 Getting To and From Gili T
Basically, you have two options for getting to Gili Trawangan.
Take a boat from Bali to Gili T
Fly from Bali to Lombok, then take a boat from Lombok to Gili T
As a person who doesn't love the thought of being out in the open sea, in rough sea conditions, in a country where safety standards aren't always up to par, I was a little bit nervous about our journey aboard the Eka Jaya from Padang Bai harbour on Bali island to Gili Trawangan.
The journey on a fast boat from Padang Bai to Gili T can take anywhere from 1.5 hours to 2.5 depending on the sea conditions. January – March, and July – September are the months when the Lombok Strait can be rough (in some cases, boats are cancelled due to bad weather).
Luckily, during our trip in October, even though the sea had some decent-sized swells, I didn't feel unsafe on the journey there — uncomfortable in a seat with no legroom, but not unsafe.
The journey back to Bali, on the other hand, was a different story. We endured an overfilled boat, delayed departure, and transferring of passengers (and luggage) from one boat to another in the middle of the sea!
---
There are no airports on the Gili Islands, but you can fly direct from Bali to Lombok with Lion Air or Garuda (around 25 minutes), and then take a boat from Lombok to Gili T. I recommend exploring the Island of Lombok as well and then head over to Gili Trawangan.
You can take a speed boat from Lombok Island to Gili T (10 minutes), a public boat (no set duration, but expect a long ride), or public ferry (45 minutes).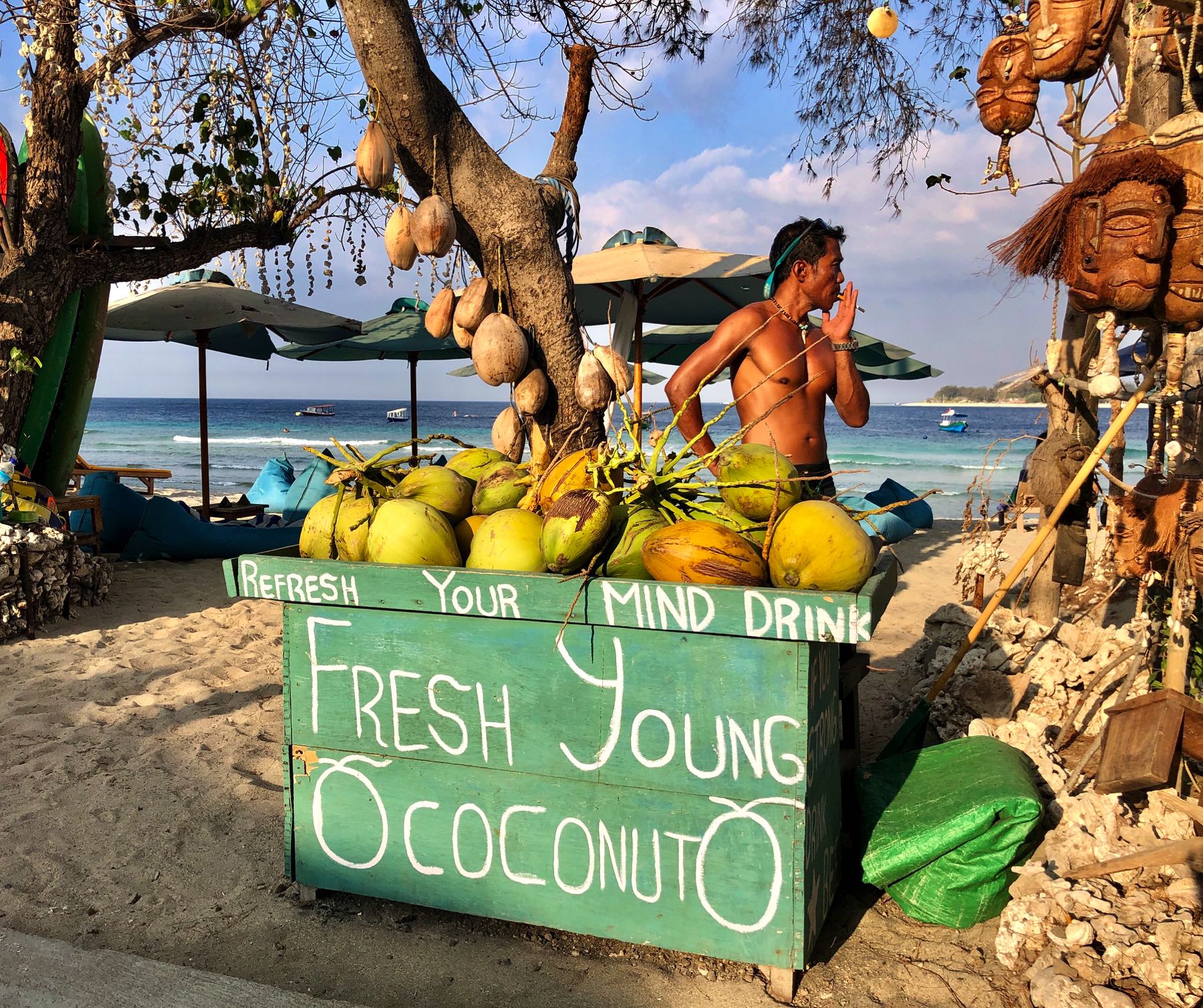 Things To Keep in Mind
A few things you should know and be aware of when visiting Gili Trawangan:
There weren't any police on the island when we visited 10 years ago, but this time around we saw a small police station. Regardless of their presence, this party island has many illegal substances on offer. Drugs are readily available and you'll be constantly offered them (mostly marijuana and mushrooms, but everything can be found). Keep in mind that possession and trafficking of drugs are punishable by death in Indonesia (a warning you'll receive on the flight into the country).
As with everywhere, plastic is an issue. We saw a couple of great initiatives here, including a large fish-shaped container on the beach where you deposit plastic bottles. Rather than dumping bottles into the sea, put them into the fish structure instead, share the photo using the hashtag on social media, and receive free water refills during your stay on the island. Tapaz Gili restaurant across the street from the fish had an eco wall that was filled with over 500 plastic bottles and hundreds of bottle caps. It was a beautiful design, and a great way to use plastic waste.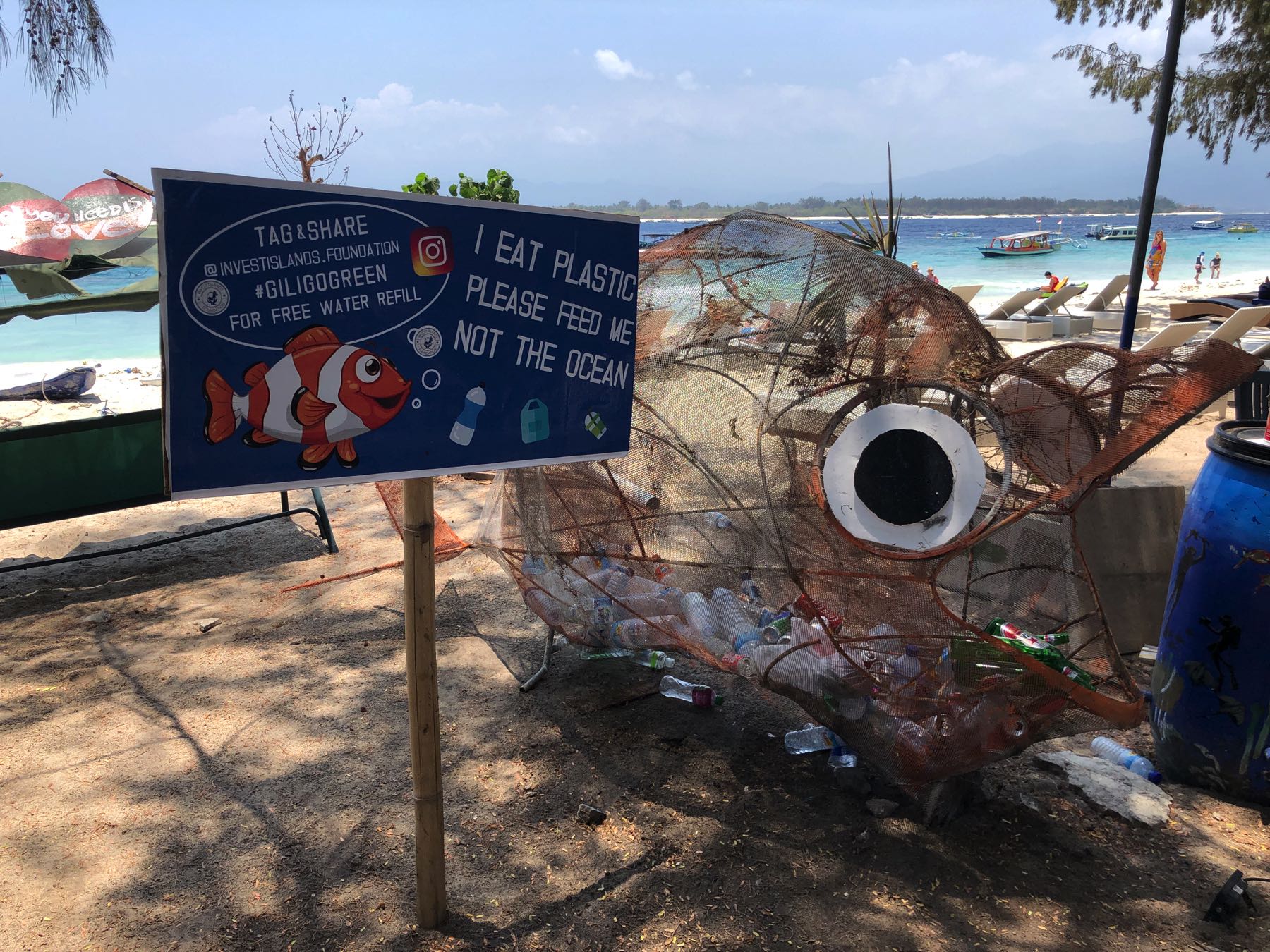 While scuba diving, lazing on a beach and partying are all fun, why not help out during your stay on Gili T? Beach clean-ups, animal clinics, and reef protection projects are all in place here on the island. Have a look at Gili Eco Trust and Invest Islands Foundation on Instagram and see how you can participate and give back.
Unlike Bali which is a Hindu Island, the locals of Gili Trawangan are predominantly Muslim. There are a few mosques on the island, with the main one juxtaposed across the street from the beach on the eastern, busy side of the island. The Call to Prayer rings out several times a day, residents wear traditional clothing, and there are no dogs on the island (Muslims believe dogs to be impure). In the midst of all this, there are half-naked, drunk tourists. You are a guest on this island, so it's important to be respectful of religion and culture here — even if it doesn't seem like anyone else is. The main thing you can do is to cover up and wear appropriate clothing when you're not on the beach. During Ramadan, restaurant and bar hours are shortened, and locals won't have eaten or drunk anything from sun up to sun down — even though they are working hard. Patience and understanding on your part during those fasting hours will go a long way. Also, if you've befriended someone on Gili T who is a Muslim, giving a small gift during Eid (the celebration after Ramadan) would be a nice touch.
Final Thoughts
We were looking forward to returning to Gili Trawangan to see how it had changed over the past decade. Apart from there being more restaurants and hotels, which equals more foot and boat traffic, it was still a party place, with (basically) no rules and an emphasis on relaxing and chillin' out.
As a 35-year-old couple who weren't interested in partying, this wasn't exactly our favourite place to visit in Indonesia. Of course, there's a lot more to do here than just partying and more mature travellers still love the island for its beaches, restaurants and amazing diving and snorkelling. We were grateful for Villa Almarik, which was like a little oasis from the madness of the island's east coast.
In the end, we prefer the offtrack island of Gangga, the epic scuba diving and nature of Raja Ampat, and the quieter areas of Candidasa and Sanur in Bali.
If you're looking for a younger vibe with lots of great bars, beaches, and nightlife and don't mind crowds, then Gili T is an amazing place. If we were still in our 20's now, I'm sure we'd be singing a different tune. The island has a lot to offer and it's easy to see why it's so popular.
What do you think? Does Gili Trawangan sound like your kind of island?
Check out our video of our time spent on Gili Trawangan here:
A special thank-you to Lotus Hotels for hosting our stay at Villa Almarik. As with all promotional campaigns on Goats On The Road, all thoughts and opinions remain our own, regardless of any complimentary services received.
Like This Article? Pin it!