With nothing more than one dive resort and two small villages, Gangga Island in North Sulawesi is truly off the beaten path. If you're looking for a tropical Indonesian island getaway filled with scuba diving, snorkelling, village visits, and lounging poolside, read on to learn more about Gangga.
---
It was 6:30 pm when our boat docked at Gangga Island Resort and Spa. The sun had just set behind us, illuminating the sky with a purple hue. Even in the dim lighting, we could see all the way to the rocky bottom of the sea.
Nick and I looked at each other and smiled — if the clarity of the water was this incredible at night, imagine what it would look like during the day.
Greeted by a team of porters and staff, we were led through the property. The air was humid, the ground was sandy and we were surrounded by palm trees. What more could we ask for?
Why Choose Gangga Island?
Ever since our first trip to Indonesia in 2009, we've been fascinated with this diverse country. This was our first visit to North Sulawesi and as our van drove from the airport to the pier, we were in awe of the landscape. Passing through the little villages (while dodging sleeping dogs), with volcano and palm tree views, we knew this region of Indonesia would be an exciting adventure.
Gangga Island is located off the tip of mainland North Sulawesi and is part of the Sangihe chain of islands — many of which are still inhabited. While on Gangga, you feel worlds away from the hustle and bustle of the busy cities, and can completely relax.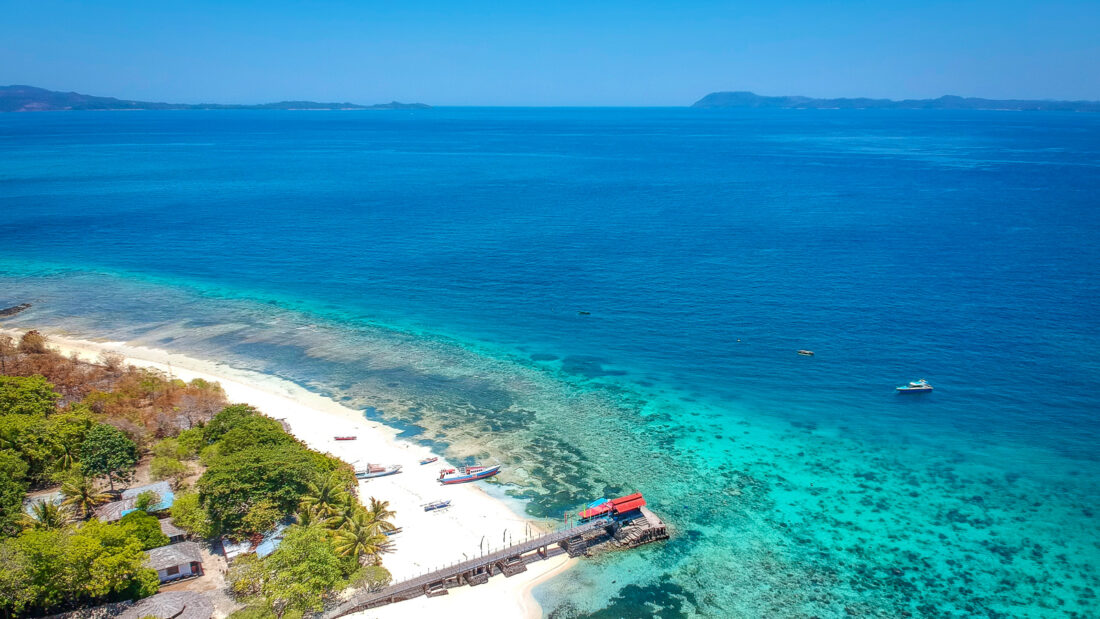 Getting off track is always something we seek to do. Gangga Island provides that Robinson Crusoe feel, but it's easy to get here and has all the amenities you need. With culture, natural beauty and numerous day trips on offer, Gangga Island is a traveller's dream.
Getting to Gangga Island
You're probably thinking it's difficult to get here, but it really isn't. You just need to get to Manado (the capital of North Sulawesi). From there, you take an hour-long van ride to the Serei port (arrange this with the resort, or take public transport). At the port, hop on the private Gangga Resort and Spa boat for a 15-20 minute ride to Gangga Island.
If you're coming from North America, you can fly to Bali via Taiwan, Japan, or Korea. From there, you can take a direct flight to Manado.
Another option is to fly from North America to Singapore, and fly directly to Manado from there.
Our route was from New York to Bali via a 5-hour layover in Taiwan. We decided to spend a few days in Bali enjoying some downtime before hopping on another plane to Manado.
Gangga Island Resort and Spa Accommodation
Famished after our travel day from Bali, we were offered a fresh coconut, a sandwich, and some fruit to snack on (plus a cold hand towel to wipe off the travel grime from the day!). Inside the main common area/dining area, we were given a quick orientation of the property.
I was paying attention, but I kept looking around at the beautiful structure we were sitting in. The round, wooden, open-air building was stunning. This common area is where breakfast, lunch and some dinners would be served.
We were led to our room down a pathway lined with palm trees, before arriving at our deluxe beachfront bungalow with private gazebo and lounge chairs — this would be our home for the next 4 nights.
As a bonus, we were in the second to last bungalow on the beach, providing extra privacy (fewer people passing by our room), and more tranquillity. There are generators used at the property, but when we visited, all of the solar panels were installed and they were just waiting for one final part to arrive in Manado — things don't exactly move quickly in Indonesia.
Sliding open the glass doors, we were greeted with high ceilings and lovely dark wood interior, complete with a four-poster bed, air-conditioning and a huge (modern) bathroom. There was a TV, but we didn't plan on turning it on.
Not only was the inside of the bungalow perfect, but there was a large verandah with a comfortable seating area out front — the ideal spot to watch sunset, and enjoy a morning coffee.
We had just arrived and we already knew four nights wouldn't be enough in a place like this!
The following morning we were able to see Gangga Island in the light of day, and it was even more stunning than the night before. Seashells littered the white sand, palm and frangipani trees dominated the property, and the Celebes Sea was glistening.
The Underwater World: Scuba diving and Snorkelling
Gangga beach was gorgeous, but we were eager to see what the surrounding islands and reefs had to offer — we didn't come all the way to North Sulawesi to just sit on a beach.
The first thing on our island holiday itinerary was a snorkel excursion. After only a 5-minute boat ride, we arrived at little Lihaga Island, and jumped in the water with Dolfie, one of the divemasters at Gangga Divers.
The visibility was amazing.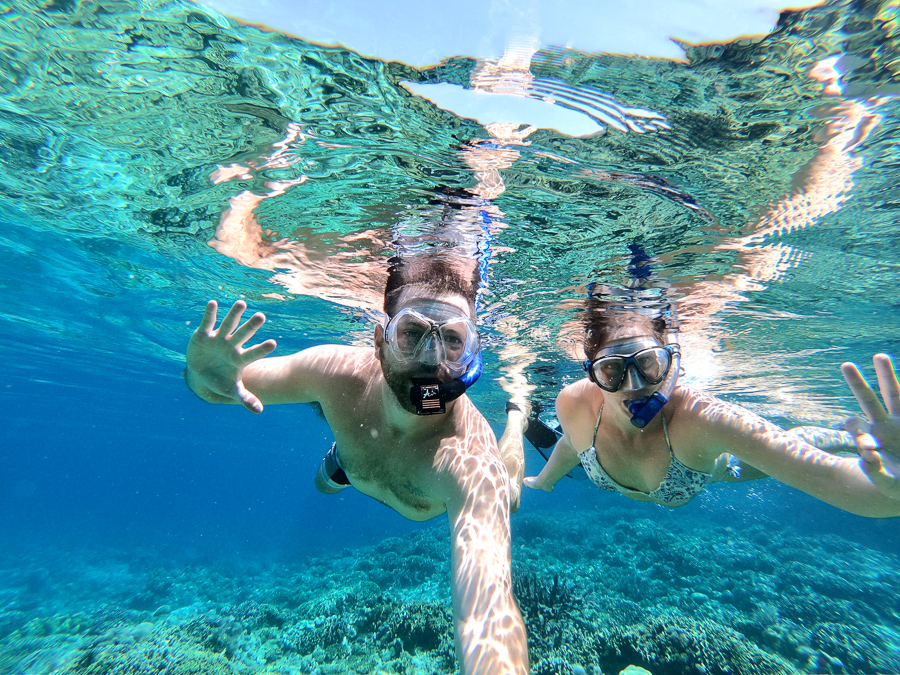 The coral was bright and healthy, and within minutes, we spotted some baby sharks, batfish and angelfish. I was excited to be snorkelling again, but Nick was mainly looking forward to doing some scuba diving the following day.
This area of Indonesia is known for its excellent diving and unique underwater critters of the famous Lembeh Strait and Bunaken National park. There are around 50 dive sites within reach of Gangga Island Resort and Spa, making it a great base for dive trips.
Nick sorted out his gear and had an orientation with the Gangga Divers PADI shop. Safety and professionalism are at the forefront of this dive center and we were pleased to see just two divers for every one divemaster. Plus, the equipment was in great shape, the dive boats were new, the dive briefings were thorough, and Nick was able to dive with nitrox.
Nick headed out on two dives, Sempini and Pulisan.
While there were lots of fish species and coral, the highlights included a cuttlefish, turtle, ornate ghost pipefish, seahorses, blue-spotted stingray, and a pinnatus batfish.
For divers and snorkellers, this part of Indonesia is a great place to visit. And, if you're not a diver yet, you can take your PADI Open Water course here at the dive resort — what a beautiful place to get certified.
The Villages on Gangga Island
During those "non-diving days", there are two small villages on this island you can visit — Gangga Satu and Gangga Dua. This translates to Gangga "one" and "two", not the most imaginative names.
Gangga Satu is predominantly Christian, while Gangga Dua is Muslim.
After completing a few dives and a snorkel trip with Dolfie, we asked him if he'd like to show us around his village (Satu). Dolfie agreed, and together we set off by foot down a dusty, dirt pathway.
The residents of both villages have a strong tie with the ocean and are either boat builders or fishermen. This was evident after walking for just a couple of minutes when we saw 4 men sanding and painting some wooden boats.
Within seconds of arriving at Gangga Satu, we spotted two boys running down towards the water. Dolfie asked what was going on and they said a man had caught a huge marlin and had just brought it in.
We made our way to the shoreline and sure enough, there was a massive marlin that had just been gutted, cleaned and cut into chunks for sale. Without a proper fishing rod, and with just a small wooden boat, this man was able to pull in a 50 pound fish with his hands!
Continuing on, we were greeted numerous times with Ciao!. We found it odd that these villagers on such a remote island were speaking Italian to us, and later found out it's because the owner of Gangga Island Resort and Spa is Italian and they think this is the way to greet all foreigners.
We eventually arrived at Dolfie's home where his son climbed a palm tree to retrieve hydrating coconuts, his brother-in-law was building a boat, all of the women were doing each other's hair and tending to the children, and the older kids were running around or riding their bikes. Chickens and dogs came and went — it was a very lively scene.
It seemed as though everything happened in the front yard of the home. We sat there and took it all in.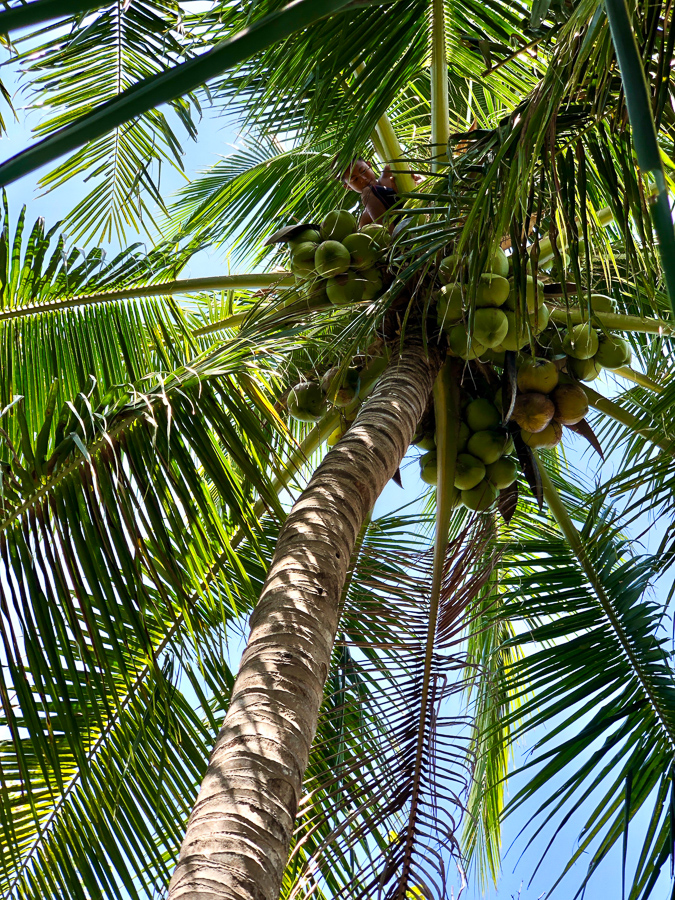 Saying our goodbyes and thank-you's to Dolfie's family, we continued on the hot pathway to Gangga Dua, and arrived just in time for the Muslim call to prayer.
We spotted the small mosque bellowing the prayer in the distance, and we also noticed right away that there weren't any dogs here (Muslims believe that dogs are impure), but instead, lots of goats were roaming the roads.
We came across a group of people playing cards and right away one of the women grabbed my hand to shake it and welcome me to her village. Performing the customary handshake, followed by touching your heart, I thanked her for having us.
Next to them was a group of giggling teenagers — one of whom could speak a bit of English and was eager to practice with us. A few minutes later, a woman holding her baby wanted a photo with me, and a group of kids ran over for a picture as well.
A man was snoring on a wooden table, an elderly woman gutted some small snapper fish, and everyone gathered around us to get a better look — some kids were even touching our skin, and most were staring at our blue/green eyes.
It was such a great experience!
Feeling overheated, rather than walking back to the resort, a boat came to Gangga Dua to take us to our bungalow. The villagers waved goodbye as our boat whisked us back to the southern end of the island.
It was a perfect day.
Gangga Island Resort and Spa helps out these villages in many ways, both financially and in the form of education.
Numerous people from the villages are trained in hospitality and tourism, and many are employed full-time (divemasters, waiters, cleaning staff, etc.).
The resort has renovated one of the schools and built a new kindergarten school.
They offer scholarships to students.
Gangga Island Resort and Spa is constantly educating the people on the importance of protecting the sea and marine life.
Locals are employed to do beach clean-ups.
A portion of profits are donated towards community development & education programs.
When travelling, it's always nice to know where your tourism dollars are going. And in the case of Gangga Island Resort and Spa, a portion of your room rate goes to the village. Plus, as a guest, you have the option to donate some money towards school supplies for the children.
Environmental Projects
While we were enjoying a morning beach walk at low tide, we noticed some round, metal humps in the water just out front of our bungalow.
We initially guessed they were lobster or fish traps (and assumed that the locals had set them there), but later found out they were placed there to prevent erosion.
Prior to 2015, there was a serious issue with erosion in the area — due to changes in the environment, higher seas, stronger storms, and currents.
The destruction was so devastating that the beach was practically lost, trees were uprooted and falling into the sea, and the bungalows were close to being washed away.
Thankfully, in 2015 the artificial biorock reef project was created.
Under the water, numerous concrete and iron structures were sunk (the metal "humps" we had seen), which would act as artificial reefs. This not only helps the marine life population (coral grows on these structures), but it also acts as a natural breakwater during storms (breaking up the strength of the waves before they reach the shore).
A small amount of electricity is passed through the biorocks, which assists with the growth of coral, and the prevention of rust. Today, these artificial reefs are flourishing and are home to coral and many fish. Plus, the erosion has been completely reversed and there's once again a sandy beach on Gangga Island.
We've seen manmade reefs before, but never heard of biorocks, or seen erosion completely fixed. This is such an incredible project.
Gangga Island For Non-Divers
Even if you're not a scuba diver or snorkeller, you can still enjoy a holiday on Gangga Island.
We spent our days snorkelling, scuba diving, visiting villages and enjoying the large saltwater pool at the resort, but you can also take some day trips from here.
The Tangkoko Nature Reserve is home to tarsiers (one of the smallest primates), Celebes black Crested Macaque, marsupials, wild pigs and much more. This offtrack nature reserve here is pristine and if you're into jungle hikes and wildlife, you don't want to miss Tangkoko. Starting around 11:30am from Gangga Island Resort and Spa, this is about a 9 hour day.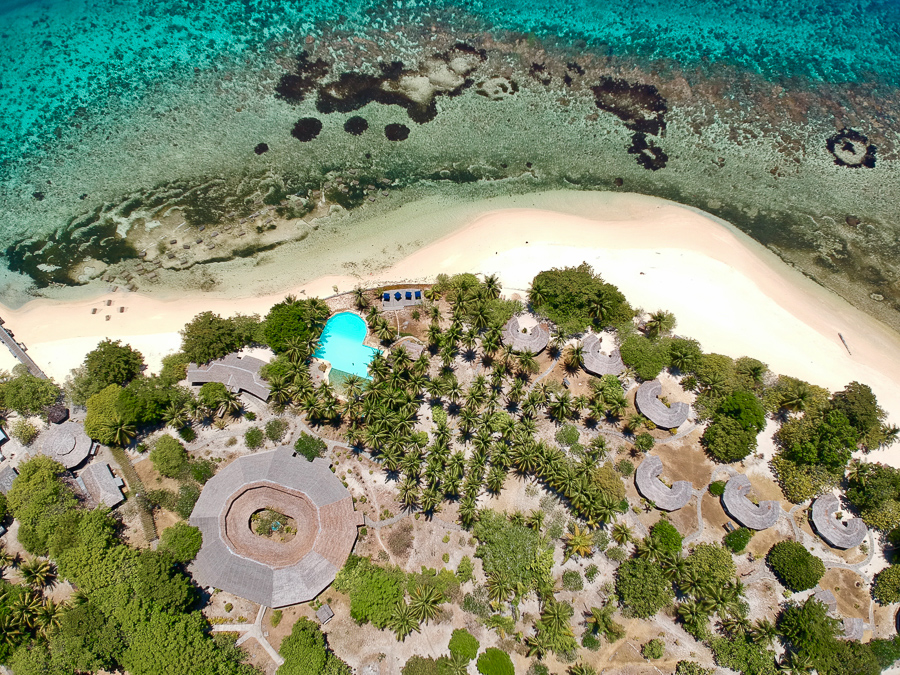 Other day trip options include hiking to the active Mount Mahawu volcano and visiting the traditional Minahasa houses, Buddhist temple and colourful lake in the Sulawesi highlands.
For a relaxing hour or two, book a treatment at the Pasung Spa which offers everything from body scrubs and massages to facials and manicures. The spa can also accommodate a couple's massage.
If you'd rather just relax at the resort, that's a great option as well. The large saltwater pool is surrounded by palm trees offering shade during the day. This is a great place to chill out with a book and enjoy the afternoon. Of course, you could always just go for a dip offshore (ask the staff about any current in the water), or simply wander around the property.
We were blown away by the hospitality of the staff and the quality of the meals. The only thing is, mealtimes are set.
I brought snacks from Bali thinking that we'd probably be hungry outside of mealtimes. The snacks never left my bag. We were full and satisfied the entire stay.
Depending on how many guests are staying at the resort, meals will be either served a la carte, or buffet style. We experienced both during our four-night stay, and while a la carte is always a better option, the buffet was fresh and offered a variety of food, both Indonesian and western.
How to Book Gangga Island Resort and Spa
As I said at the start, there's only one resort on this island, so choosing where to stay is easy! There are two types of bungalows — deluxe and superior (deluxe rooms are better than superior).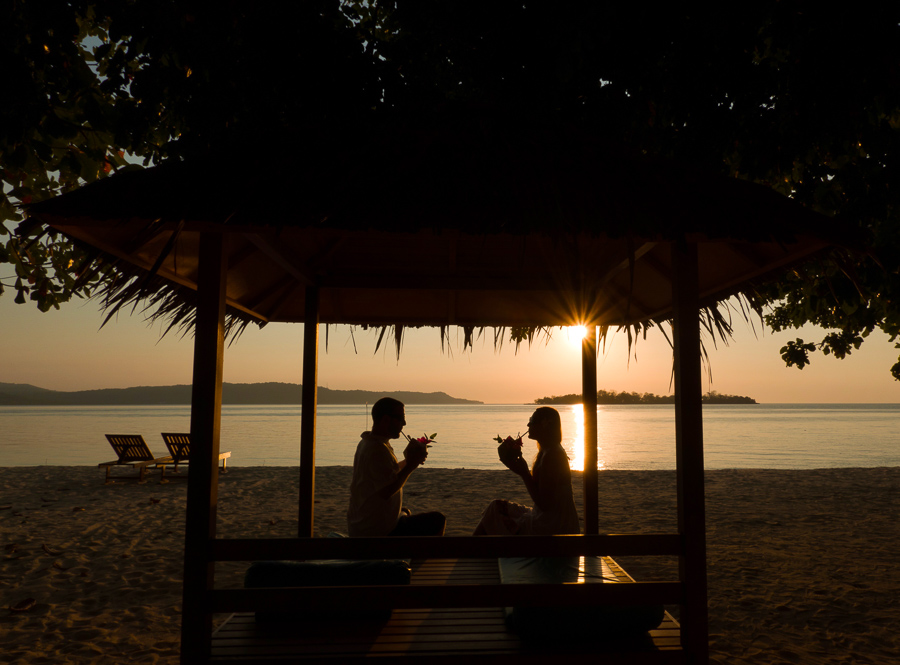 You can book scuba diving and accommodation as a package deal, or just the room by itself. Three meals are included in the cost of your stay.
There are a few different packages you can choose from, click here to learn more.
Final Thoughts
When we left after 4 nights, it felt as though we had just begun to really get to know the staff and were just beginning to settle into island life.
If (when) we return to Gangga Island, the only thing we would do differently would be to stay longer. With a week here, Nick could do some scuba diving further afield, I could visit more snorkel sites, and we would both go on a couple of day trips.
If you're an adventurous traveller who loves nature and activities with a side of luxury, Gangga Island is a destination you don't want to miss.
A special thank-you to Lotus Hotels for hosting our stay at Gangga Island Resort and Spa. As with all promotional campaigns on Goats On The Road, all thoughts and opinions remain our own, regardless of any complimentary services received.
Like This Article? Pin it!