Ah, Grenada, what a fantastic country! This is a place we knew little to nothing about before deciding to move here to pet-sit for 7 months, which turned out to be one of the best decisions we've ever made. We knew a little bit about the Caribbean, but the countries that came to mind were St. Lucia, Barbados, the Virgin Islands, Turks & Caicos and the Dominican Republic.
We hadn't even heard about the Spice Isle of Grenada until reading a fellow traveller's blog. It's one of those places that isn't often seen on travel brochures, and is just far enough away to avoid mass tourism.
The Caribbean is typically known for its luxurious accommodation, blindingly white sands and perfect waters for sailing. Unfortunately, due to the popularity of the area, and ease of access from North America, many of the islands in this stunning string of countries have become over-developed and over-priced.
…except for Grenada!
Located in the very southern reaches of the Lesser Antilles, just 140 kms north of Venezuela, this is a country that has slipped between the tourism cracks. You'll have to get here soon to enjoy the natural beauty and authentic feel before everyone starts realizing what a jewel Grenada truly is.
The Outdoors
Many of the island nations in the Caribbean are flat and sandy. Grenada is unique in that it's volcanic, mountainous and sandy! This makes for some refreshing waterfalls and amazing views when hiking and trekking.
There are more trails and hikes than I could even begin to tell you about. Living here has given us insight to many of the off-the-beaten-path treks that even some of the locals don't know about. The jagged shoreline, numerous bays and thick jungle make for some interesting walks.
The Beaches
When going on an all-inclusive holiday somewhere in Mexico or the Caribbean, it's almost guaranteed that the beach will be packed with people. Here in Grenada, the most popular, 3km long, Grand Anse Beach is virtually empty in comparison, even during the peak season. The busiest we've seen it was during mid-late August when many of the local Grenadians who live abroad came back to their home country to partake in Carnival.
Apparently there are around 45 different beaches on the island! Three of which are the most popular with tourists, while most of the other 42 are quiet and perfect for a walk, swim or a picnic.
We love being able to choose which beach we feel like visiting – White sand, or black? Busy with beach bars, or quiet with no one around? Calm waters, or wavy? A beach with sunset, or sunrise? A beach on our doorstep, or one we have to drive to?
There are so many amazing beaches in Grenada, it has every type of beach we could possibly ask for.
Like the view in the photo above? Stay at Mount Cinnamon Grenada! But, be warned, you may never want to leave your room…
The Authenticity
Grenada is one of those countries that's not putting on a show. It's rugged, unpretentious and naturally breathtaking without having to try.
The people here aren't jaded by tourism, instead, they're inquisitive and real. You'll often see local fishermen walking home after a day at sea, and men carrying machetes. This may seem bizarre and a bit scary to some, but the machete (or "cutlass" as the English-speaking Caribbean countries call it) is the tool of choice here in Grenada. They chop down tree branches, brush and jungle to make paths, and crack open coconuts with two swift swings.
There's a term in Grenada called "liming", which is basically the art of doing nothing! You can't lime alone though, so you're only truly liming if surrounded by friends. Local rum shacks are popular liming hangouts, as are untouristed beaches and the front porches of colourful homes.
We love feeling like we're actually in the Caribbean and not in a built-up tourist trap.
The Activities
Even though lazing on the beach is relaxing, it can get boring after a while. When family came to visit us in August, we had a huge list of sights and things to do in Grenada for them to choose from. They were here for two weeks, but could've stayed for a month and still had things left to see and do.
The Caribbean is known for being a top scuba diving, fishing and sailing destination, but again, Grenada often gets overlooked!
Sailing around Grenada and up north to Carriacou and The Grenadines is an amazing trip. We can't imagine never having seen the Tobago Cays or sailing up the western coast of Grenada and seeing the island from the water.
The scuba diving here is incredible with large animals, colourful coral and the first Underwater Sculptures in the world. The Marine Parks here are well looked after and the diving is superb. The deep-sea fishing is world class and we can't wait to set off on a fishing tour in October! Yellowfin tuna, mahi-mahi, barracuda and marlin are just some of the many fish that we'll hopefully hook into.
There are so many activities both on and off the water, and we're looking forward to doing a cycle tour and a kayak tour as well!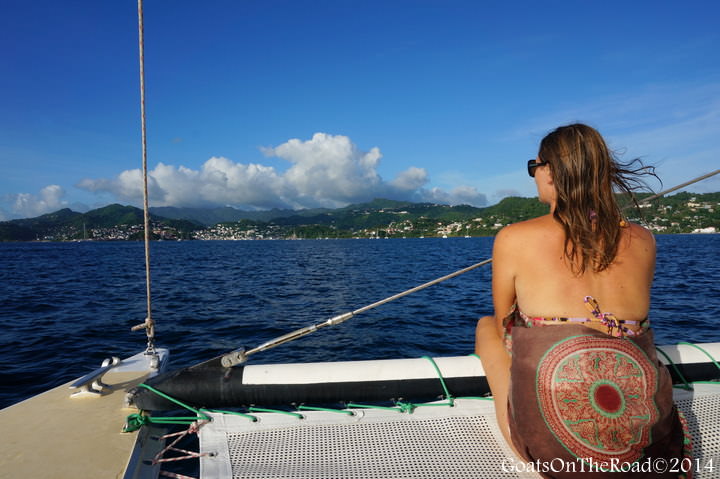 The Lack of Tourists
This is probably the best (and worst) thing about Grenada.
Most flights coming from England, Canada and the United States go via Trinidad, and many have multiple layovers. There aren't nearly enough direct flights to Grenada to make visiting easy for tourists. However, things are getting better and more airlines are providing flights to Grenada each day.
Even though this lovely island is a cruise ship port, hardly any vessels reach it's shores because Grenada is so far south. This leaves the vendors and tour guides here empty-handed.
To be honest, since we're living here for just a short time, we're quite happy that there aren't loads of tourists around, and we sometimes feel like we have the island all to ourselves! Of course, it's not ideal for the business owners who are trying to make a living off of the few tourists they see each year. For their sake, I do hope tourism improves in Grenada.
Hopefully people will start to realize what a unique and exciting destination Grenada truly is. If you're looking for a little piece of paradise in the Caribbean, definitely make the effort to come down here, you won't be disappointed.
Click here to read more of our articles about Grenada.
Like it? Pin it! 🙂