Situated in southern Poland along the Vistula (Wisla) River is Kraków, Poland's second-largest city. This "city of science and culture" is both modern and historical, featuring one captivating juxtaposition after another—glossy art galleries amongst abandoned factories and pulsing nightclubs just minutes from centuries-old universities.
Luckily for travelers, this magical city also remains budget-friendly, despite its growing popularity as a tourist enclave. Poland is one of the top European countries to visit and here I'll share our tips for navigating Krakow without breaking the bank.
Activities in Kraków (that are completely free!)
Art and history buffs will savor every minute of their time in this enchanting city, as a great number of museums offer free admission for one day each week. Some of our must-sees include:
The Museum of Contemporary Art in Kraków (MOCAK). Free admission on Tuesdays
Schindler's Factory. Free admission on Mondays
Rynek Underground Museum. Free admission on Tuesdays (save for the first Tuesday of every month)
Those hoping to learn more about postwar Europe or pay their respects to the victims of the Holocaust may wish to devote an afternoon (at least three-and-a-half hours are recommended) to visiting Auschwitz-Birkenau, the largest of the German Nazi concentration camps.
Admission to the grounds is free of charge, though you'll need to reserve an entry card in advance.
Once you've checked a few museums off your list, rejuvenate with a relaxing bike ride along the cycling trail that borders the Vistula (Wisla) River.
If nature isn't your thing, take your time perusing vintage clothing, hand-crafted souvenirs, and wartime antiques and memorabilia at one of Poland's sprawling flea markets.
I recommend hitting up Plac Targowy Unitarg (AKA Halą Targową) for the best deals. Held every Sunday morning starting at 6 a.m., this market is rowdy, fun, and filled to the brim with one-of-a-kind treasures.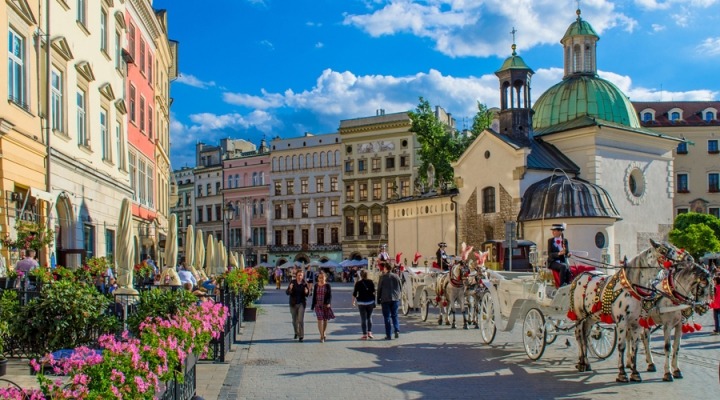 PRO TIP: Halą Targową is crowded, so arrive early for the best goods. And look for the lowest-priced items on the ground!
If you're traveling in the summertime, keep an eye out for free, open-air events like concerts and theatre. Poland is known for its vibrant nightlife, as well, and clubs that rarely charge weekend covers.
And what's a trip to Kraków if you don't spend a few hours in Rynek Glowny, the city's 10-acre plaza?! This is the largest of Europe's medieval city squares. A must-see.
Getting Around On a budget
The train is your best bet for cheap transportation from the airport; the 15-20 minute ride to the City Center costs about $2USD for a one-way ticket.
And while Kraków offers sufficient bus and tram lines (single tickets within the city are only about $1USD), the city is small enough to explore by bike or foot. Bike rentals and docking stations are scattered all along the streets and rides under 20 minutes long are free of charge.
PRO TIP: Transportation apps can provide you with real-time information on bus/tram routes and schedules and nearby points of interest. Jakdojade and CoPilot are two definitely worth the download!
Affordable accommodations
When it comes to budget accommodations, consider snagging a bed in a hostel. A stay in a hostel dormitory starts at around $4USD per night, with private rooms typically ranging from $20-$70USD.
Some of Booking.com's top-rated and top-reviewed Krakówian hostels include:
Oleandry Hostel: Offers free Wi-Fi and dorms starting at just $8.10USD
Chili Hostel: Offers free Wi-Fi and dorms starting at just $9.82USD
If hostels aren't your cup of tea, consider booking a bed-and-breakfast, a guest house, or an Airbnb (private or shared). Plus, there are many holiday apartments for rent in Kraków, especially in Old Town and Kazimierz Town.
And if you're traveling in the summer months, consider staying in a student-dorm-turned-cheap hotel! Check out Booking.com for accommodations in Krakow.
PRO TIP: If you're planning to book a hostel for your stay, choose one that provides free breakfast!
Low-Cost Food in Krakow
If you're most looking forward to indulging in the local fare, you'll be pleased to learn that you can do so quite easily on a budget. Stop by one of Kraków's popular farmer's markets, like Stary Kleparz, for fresh, low-cost produce.
Or, turn down nearly any city street to find a delicious Obwarzanek (Krakówian bagel) at about 40 U.S. cents a pop. Another must-try is the popular Zapiekanki, which is an open-faced sandwich on a grilled baguette. You can have one for about $2-$3USD.
Travelers seeking an old-world Polish experience should visit one of Kraków's notorious milk bars, known as "bar mleczny." These dirt-cheap cafeterias, leftover from the Communist era, continue to offer subsidized meals to locals and foreigners alike.
And if you're staying in town a couple of days and have somewhere to store refrigerated food, take a trip to one of Kraków's many affordable grocery stores. Try Biedronka or Zabka if you're looking for a smaller store or Auchan, Kaufland, or Carrefour for something more along the lines of a Super Target.
A final word of advice
Kraków provides no shortage of cheap eats and affordable entertainment, so be sure to take advantage of all this extraordinary destination has to offer. What are your budget-saving tips for Krakow? Share in the comments below!
Like it? Pin it!