With charming cobblestone streets, lively beer gardens, and centuries of Bavarian culture, Munich is one of Europe's hidden gems. This liberal city welcomes foreigners with open arms, which makes it an ideal place for expats, freelancers, and digital nomads. This is a great city to work and travel.
After traveling around Europe by myself for eight months, I finally settled down in Bavaria's high-tech capital in the summer of 2017. Even as a freelance writer with absolutely no knowledge of the German language, I found that living in Munich was much easier than expected.
Between the expansive expat community and the plethora of co-working options, Munich is an excellent destination to live as a digital nomad. While it may not be one of the cheaper European destinations, it offers excellent value for money, and there are still bargains to be had.
In this article, I'll cover everything about living in Munich — from visiting the city's top attractions and restaurants, to the cost of living in Munich and finding accommodation.
Cost of Living in Munich
For Europe, Munich can be cheaper than destinations like London, Paris, and Amsterdam. On the other hand, it has seen significant growth over the last few decades and has transformed from a small farming town to an international city filled with major corporations and businesses. For this reason, Munich is widely considered the most expensive city in Germany.
Despite Munich's expensive reputation, you can still find good deals on accommodation, food, and travel.
Munich Accommodation Costs
For Germany, Munich has a high cost of living, especially when it comes to flats and housing. If you're looking for a private studio or one-bedroom unit within the city center, you can expect to pay around 1000€-1500€ ($1,100 – $1,650) each month, including utilities. Sharing a flat is cheaper, and can cost anywhere from 400€-1000€ ($440 – $1,100) per month.
In Germany, apartments and homes are rented either "warm" or "cold". If you opt for a warm apartment, this means that utilities will be included in your rental rate. If you choose a cold apartment, your utilities will be extra. Always read the contract thoroughly to know what you are responsible to pay for.
Furnished apartments will also cost more than if you rent the flat empty or "cold". On the other hand, furnished "warm" apartments are easier for short term visitors, expats, and digital nomads.
The cost of Munich accommodation also depends on the included amenities. Higher floors, balconies, and washing machines can increase the cost of the rent. It's also important to note that some Munich apartments do not come with basic kitchen appliances. If you have to provide your own cabinetry, fridge, and appliances, then you should consider the additional costs for rent.
Cost of Living in Munich: Groceries and Restaurants
Compared to the UK and the USA, fresh groceries and produce are far cheaper in Munich. Here's an example of the prices you can expect when shopping in a grocery store or market.
Loaf of bread: 1.35€ ($1.50)
Local cheese: 4.30€ ($4.75)
12 eggs: 2.30€ ($2.55)
Bottle of wine: 5.00€ ($5.50)
Bottle of beer: 1.17€ ($1.30)
1kg chicken breast: 4.00€ ($4.40)
You can save a lot of money by cooking your own food instead of eating in restaurants. However, you should definitely splurge on restaurants every once in a while. Munich has thousands of mouthwatering culinary options. There's anything from cheap doner kebabs to Michelin restaurants — and everything in between. On average, you can expect to pay the following prices in restaurants:
3-course meal for two people at a mid-range restaurant: 60€ ($66)
Fast food meal with drink: 6€ ($6.60)
.5 liter of local beer: 3.50€ ($3.90)
Bottle of wine: 18€ ($19.90)
Bottle of water: 3€ ($3.30)
You can also find cheap drinks throughout the city, in one of the many bars, nightclubs, or beer gardens. Of course, there are expensive lounges that serve craft cocktails for 13-15€ ($14.35 – $16.60), but you can still drink for cheap if you know where to look.
Cocktail in a mid-range bar: 7€ ($7.75)
Cocktail in an expensive bar: 14€ ($15.50)
.5 liter of beer in beer garden: 3.50€ ($3.90)
1 liter of beer during Oktoberfest: 12€ ($13.25)
Glass of wine in a mid-range bar: 6€ ($6.60)
Cost of Living in Munich: Transportation
Germany is known for having some of the most efficient methods of transportation in Europe, and Munich is no exception. For public transport, you can choose between the underground subway, overground subway, tram, or bus. If you buy a ticket for the public transportation system, you can use it on any of the trains, trams, or buses in Munich.
Single ticket (1 zone) : 2.90€ ($3.20)
Day ticket: 6.70€ ($7.40)
Monthly ticket: 55.20€ ($61)
If you prefer something more private, then taxis and Ubers are also available. Munich also has several rideshare options for driving in the city, including DriveNow and Car2Go. You can also rent bikes, e-bikes, e-scooters, and Vespa scooters by the minute.
Best Neighbourhoods in Munich
If you're planning on living in Munich, you'll first need to decide where in the city you want to live. Here are my recommendations for the best neighborhoods in Munich.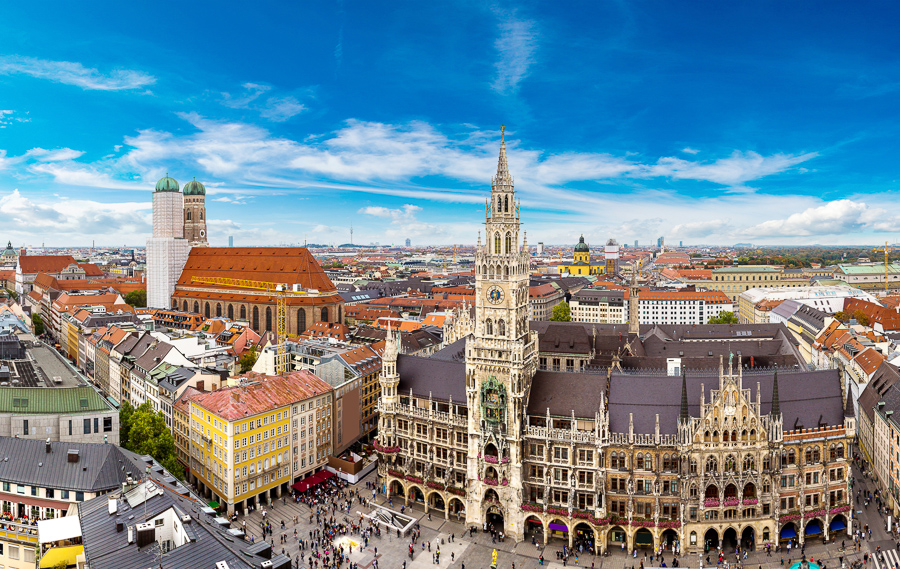 Altstadt
Munich's old medieval town, Altstadt, is the beating heart of the city. Located near Marienplatz, Munich Main Station, and Karlsplatz Stachus, Altstadt is filled with old-world charm and character. It's also home to Munich's town hall, a lively square surrounded by restaurants, cafes, and shopping centers.
However, Altstadt tends to be more touristy than other neighborhoods. For that reason, the cost of living (including accommodation, food costs, and other expenses) might be more expensive.
On the other hand, being in the middle of the city means you're never more than a short tram or subway ride to other parts of Munich. Altstadt is the ideal jumping-off point for exploring the best attractions that Munich has to offer.
Schwabing
Once considered the bohemian and artistic hub of Munich, Schwabing is a lively neighborhood for both locals and expats. It's a great location if you want to experience authentic local life while in Germany. From Schwabing, you're just a 10-minute ride to the city's top attractions, like Altstadt, English Garden, and Olympia Park.
Schwabing is also home to some of the city's best shops and restaurants. You'll find everything from independent boutique shops, big-name department stores, and tons of gourmet dining options for every taste.
Price-wise, Schwabing tends to be one of the most expensive residential areas in Munich. But due to its proximity to the city's universities, it's also possible to find affordable flats or shared housing.
I live in Schwabing and I love it because it's a good mixture of restaurants, bars and cafes. It's also quieter than most neighborhoods, but everything is within walking distance right out your front door! And I'm only 5 minutes from the city center and main station.
Maxvorstadt
Located just above the Altstadt is Maxvorstadt, one of the most diverse neighborhoods in Munich. The area is home to the city's two most prominent universities, Ludwigs-Maximilians-Universität and the Technical University of Munich. For this reason, Maxvorstadt is popular with students and young locals.
You'll also find the Pinakotheken, or museum district, in Maxvorstadt. Not to mention, the area is teeming with affordable cafes, international restaurants, and alternative boutique shops.
Due to the neighborhood's small size, there are fewer housing opportunities available. But if you're able to snag a room or flat, you'll be in one of the trendiest and liveliest districts of Munich.
Haidhausen
Located across the Isar River, Haidhausen is a quaint neighborhood with some of the most affluent townhouses and flats in the city. There are multitudes of restaurants, cafes, and shops within walking distance. Haidhausen is also home to the Gasteig, a concert venue and event hall for Munich's Philharmonic Orchestra.
If you're looking for nightclubs and lounges, Haidhausen is also a good choice. Although it's not as busy as other nightlife areas like Aldtstadt or Schwabing, Haidhausen does have some of the largest and most popular clubs in Munich.
Although you're located on the other side of the river, you're still within walking distance of the city center. Not to mention, you're also just a stone's throw away from the East Station, Munich's second busiest train station.
☞ SEE ALSO: The Pros and Cons of Working Online as a Digital Nomad
Co-working Spaces in Munich
Munich is an innovative city full of start-ups, international companies, and large-scale businesses. For this reason, it's relatively easy to find a shared co-working space. Depending on your budget and preferred amenities, there are several co-working spots to choose from.
MATES – With two offices in Munich's city center, MATES is a modern and intimate co-working space for all types of digital nomads. They offer hourly, daily, weekly, and monthly passes. MATES also hosts a variety of networking events, such as professional speed dating, throughout the month. And as a bonus, you can take advantage of the state-of-the-art espresso machine on site.
WeWork – Although it may cost more than other offices in Munich, WeWork is a reliable co-working space. You can choose between a private office, a dedicated desk, or hot desk for your workspace. Both of their dog-friendly locations are located in the middle of the city and provide high-speed wifi, meeting rooms, and phone booths, as well as monthly networking events
Werk1 – Located across the Isar River on the Eastern side of Munich, Werk1 is a budget-friendly option for a co-working office. They have a silent space (for workers who need some peace and quiet), as well as a communication space (for those who would like to brainstorm with others). There's even an on-site cafe where you can indulge in delicious pastries and freshly-brewed coffee.
☞ SEE ALSO: 7 Best Jobs For Digital Nomads – Get Paid With These Remote Careers
Finding Munich Accommodation
Whether you're looking for short term or long term accommodation, there are several sites to help you find the right flat.
ImmobilienScout24 – As Munich's most popular rental sites, Immobilibilien Scout 24 has thousands of furnished and unfurnished flats to lease. Browse by neighborhood, number of rooms, and desired price to find your next apartment in Munich.
WG Gesucht – WG Gesucht is your go-to website for finding shared accommodation in Munich. You can find long term or short term rentals in a shared room, flat, or house throughout the city. As you browse through "wanted ads," you can apply for listings looking for new flatmates and tenants.
Facebook Groups – One of the best options for finding accommodation in Munich is by browsing Facebook Groups. There are dozens of groups to choose from, and you'll find up-to-the-minute posts on rentals and available flats. You can even post your own profile to let others know you're in the market for a new place to live.
Of course, you can always search on Airbnb.
Top Things to Do in Munich
Munich has something for everyone and caters specifically to foodies, history buffs, creative artists, and even party-goers. When living in Munich, you'll have plenty of time to explore some of the many attractions and events that happen around the city. However, don't miss the opportunity to check out the following top things to do.
Viktualienmarkt
Located in the center of Munich's Old Town (or Altstadt), Viktualienmarkt is buzzing at every hour of the day. It's the oldest market in the city and attracts both tourists as well as locals. Here, you can shop for fresh produce, sample a variety of local delicacies, or relax with a pint of cold, crisp, German beer.
The market is open every day, but the best time to visit is in the early morning or around lunch, when most of the food stalls are open. Viktualienmarkt is also a great place to pick up souvenirs for family back home. You can find cured meats, homemade honey, aromatic spices, and of course, tons and tons of mustard!
English Garden
Did you know that Munich's English Garden park is larger than New York City's Central Park? Built in the 18th-century, this lush oasis stretches through the middle of the city and is an excellent location for sunbathing, picnics, and sports games.
As one of the world's largest urban parks, the English Garden is an outdoor lover's paradise. There's a Japanese tea house, lakes for boating, several beer gardens and restaurants, and even a river for surfing! That's right, you can watch amateur and professional surfers ride the waves at the Eisbachwelle, a stream on the southern tip of the park.
Nymphenburg Palace
Built in the 17th-century, Nymphenburg Palace is a beautiful example of German Baroque architecture. This ornate palace sits in the middle of the 200-hectare park, complete with waterfalls, gardens, and other royal villas.
The wings of the main pavilion also contain different museums, such as Carriage Museum, Porcelain Museum, and Museum of Man and Nature. And if you prefer to be outside, the Palace gardens are perfect for sunbathing and relaxing in the summer.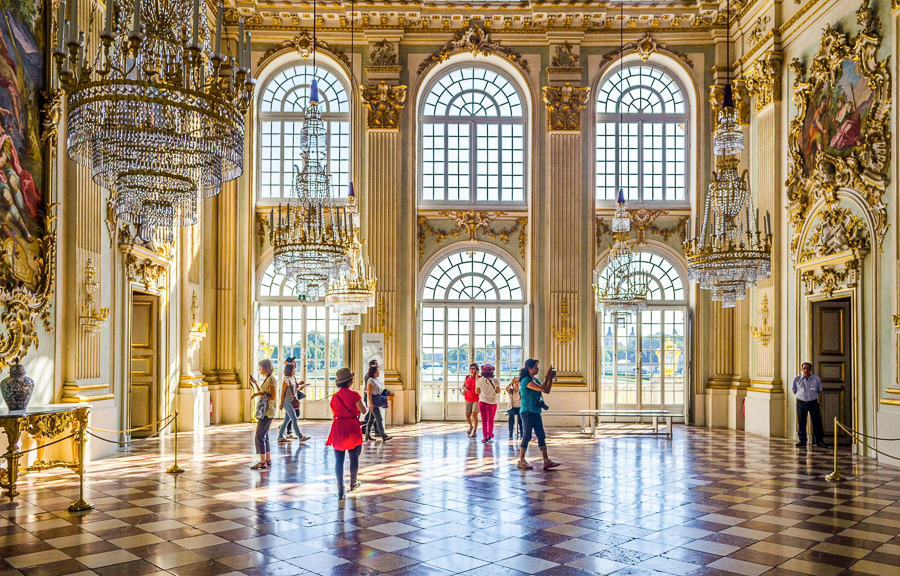 Hofbräuhaus
No trip to Munich would be complete without visiting one of the many breweries — or as the German's say, bräuhaus. Hofbräuhaus is one of the most famous breweries located right in the middle of Old Town. Here, you can try a traditional German lager and dine on specialties like sausages, fried pork knuckles, and roasted chicken.
During the evenings, Hofbräuhaus comes alive with live Bavarian music. You can also find locals (dressed up in traditional lederhosen and dirndls) that come to dance and enjoy the vibrant atmosphere.
Olympia Park
Take a step back in time to the 1972 Summer Olympics with a walk through Munich's Olympia Park. Located in the Northern part of the city, Olympia Park is home to Olympic Stadium, the city's main sports and events hall. For the best birds-eye view of Munich, take a ride up the Olympic Tower for unobstructed views of the park and city center.
The park also hosts a variety of events throughout the year, such as Tollwood Festival, Summerfest, and Open Air Concerts.
WiFi and SIM Cards in Munich
Staying connected while traveling through Germany is easier than ever. Prepaid SIM cards can be purchased at most mobile phone service stores, such as O2, Vodaphone, and Deutsche Telekom. SIM cards can also be found in grocery stores and drug stores. Just make sure your smartphone is "unlocked" so you can insert an international SIM card.
Best of all, most SIM card plans allow free roaming in the EU and EEA. That means your German data and voice plan will work throughout other countries in the EU.
WiFi is also readily available throughout Munich. Most shopping centers, restaurants, and cafes provide Wifi access codes and passwords to their customers. Keep in mind that Germans refer to WiFi as WLAN, so don't be confused if you see this word written down.
Best Restaurants in Munich
It shouldn't come as a surprise that Munich is home to a variety of mouth-watering restaurants and culinary options. Not only will you find plenty of traditional German restaurants, but you'll also have tons of delicious Asian, Turkish, Italian, and American restaurants at your fingertips. When living in Munich, there's no shortage of amazing restaurants.
Although you'll likely find delectable dishes no matter where you eat in Munich, here are a few of my favorite restaurants:
Augustiner Keller – Home to one of Munich's most famous beer gardens, Augustiner Keller is an excellent option for the Bavarian atmosphere. Inside the historic beer hall, you'll have the opportunity to dine on classic dishes like roasted pork knuckle, currywurst, and schnitzel. During the summer months, I recommend stepping outside to their beautiful garden, where you can wash down your meal with a refreshing stein of Augustiner lager.
Gaststätte FAUN – This modern take on a traditional Bavarian pub attracts a mainly local crowd interested in strong beers and hearty food. Not only will you find traditional German dishes, but FAUN also serves up delicious international cuisine like chili con carne, bacon cheeseburgers, and curry soup.
60 Secondi Pizza Napoletana – With Italy just around the corner, it's easy to see why Munich is home to authentic Italian restaurants. At 60 Secondi Pizza Napoletana, you can indulge in traditional Naples pizza, cooked fresh in the on-site pizza oven. For dessert, you can't go wrong with their Pizza Nutella, a sweet pizza topped with banana, strawberries, and other German candies.
TÜRKITCH Köfte & Kebap – For the best kebab in Munich (and quite possibly in all of Germany), head to Türkitch. This take-away dining establishment serves meat, vegetarian, and vegan dishes using only the freshest ingredients and herbs. Don't be surprised if the queue is long. But trust me, it's definitely worth the wait!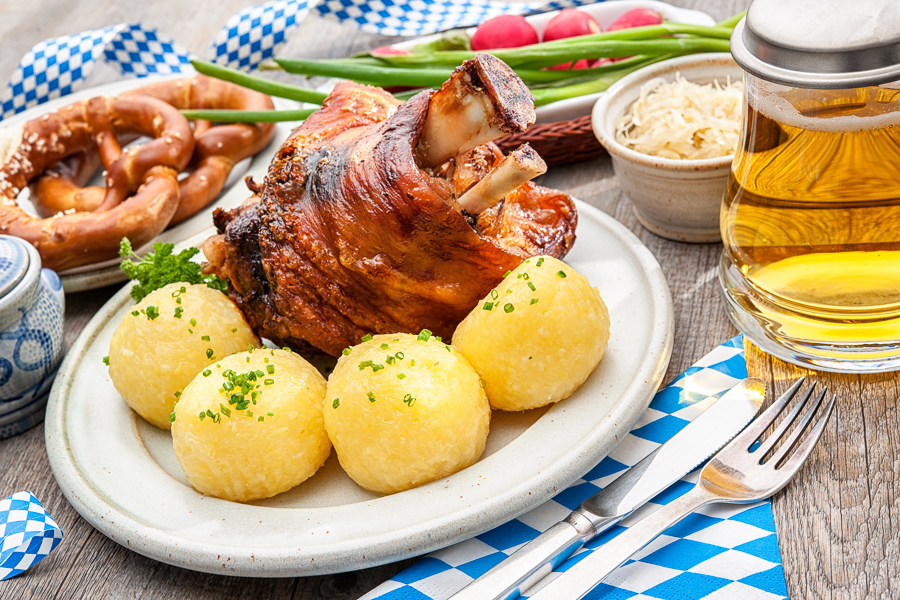 Transportation in Munich
Germans are known for their efficient transportation system, and Munich is no exception. You can reach almost any part of the city by using the U-Bahn (train), tram, or bus system. Even if you don't read or speak German, you'll have no problem navigating around the city.
The public transportation network is centered around the Munich central station, otherwise known as Hauptbahnhof. Located in the heart of Munich, Hauptbahnhof is connected to most stops around the city, including the airport. It's also the main station for taking long-distance trains to other cities in Germany, as well as outside the country.
Public transportation tickets can be purchased at the station stops, on the buses and trams, and even though the MVG mobile app. Best of all, tickets can be bought and used for all methods of transportation. That means you don't need to buy a specific ticket for the bus or tram — the same ticket works on everything.
It's also important to validate your ticket before entering the train, bus, or tram. Munich transportation is based on an honor system; there are no turnstiles or security checks before entering the train. However, disguised security officers can check your ticket at any time, and if you didn't validate your ticket beforehand, you'll be slapped with a 60€ fine.
Obtaining a Visa for Germany
Depending on your citizenship, you may be required to obtain a visa before entering Germany.
US and Canadian citizens do not need to have a visa before entering Germany or any of the participating Schengen countries. Once you arrive in Germany, you'll be allowed to stay for up to 90 days.
If you plan to stay longer than three months, you will need to obtain a long-term visa. This could be a student visa, Blue card work visa, or language school visa. You can check the exact requirements for obtaining a long-term visa with the Munich Foreign Office Authorities.
When you apply for your long-term visa, there are some requirements that you must have. Generally speaking, all long-term visa holders need sufficient health insurance coverage and funds to support themselves in Germany. You will also need to register where you're living with the Bürgerbüro, or registration office.
British citizens can currently stay in Germany for up to 90 days without a visa. However, Brexit might impact how British citizens can enter Germany in the future. Specific details will be released once Brexit has been finalized.
If you meet the requirements, you could also look into obtaining a working holiday visa for Germany here.
Pros and Cons of Living in Munich
Personally speaking, living in Munich has been one of the best experiences of my life. But just like any other country, there are some advantages and disadvantages to living abroad.
Pros of Living in Munich
English is spoken in most restaurants, hotels, and shops in the city
Amazing and efficient public transportation system
Clean buildings and streets
A diverse selection of food and restaurants
Fun, lively nightlife and beer culture
Modern and international co-working spaces
Close to beautiful mountains, lakes, parks
Great expat community
Close proximity to Austra, Switzerland, France, and Italy
Extremely safe for solo travelers, families, and women
Cons of Living in Munich
Expensive rent, petrol, eating and drinking out
Difficult to find an apartment
Cold, dark, and often snowy winters
Can be challenging to make German friends
Hard to understand rules and bureaucracy
Final Thoughts
If you're looking for a clean, safe, and modern city to work as a digital nomad, then look no further than Munich. Not only can you immerse yourself in German culture, but you'll also be close to some of the best cities and countries around Europe. Give it a try, you never know living in Munich might just steal your heart — like it did mine.
Note: All images in this article are courtesy of Shutterstock.com.
Like This Article? Pin it!