Having traveled through 7 different countries in Africa I can say without a doubt that travelling in Namibia is like no other. Driving through the country is like a feast for the eyes. The topography constantly changes and if you happen to nod off for a nap you will definitely miss out on the bizarre, but beautiful landscape that makes Namibia so brilliant.
The Himba People of Namibia:
This desolate country is the second least populated country in the entire world, but has a long lineage of various indigenous groups which include the famous Himba Tribe. The Himba women stand out in a crowd because they still dress traditionally.
The topless women paint themselves with red clay mixed with butter to help protect them against the harsh sun and natural elements. They wear skirts made of goat skin and usually have long braids that are also covered in clay.
It is not an uncommon sight to be walking side by side through a grocery store with the Himba people; the contrast of their traditional dress in a western store is something that will forever be locked in my memory!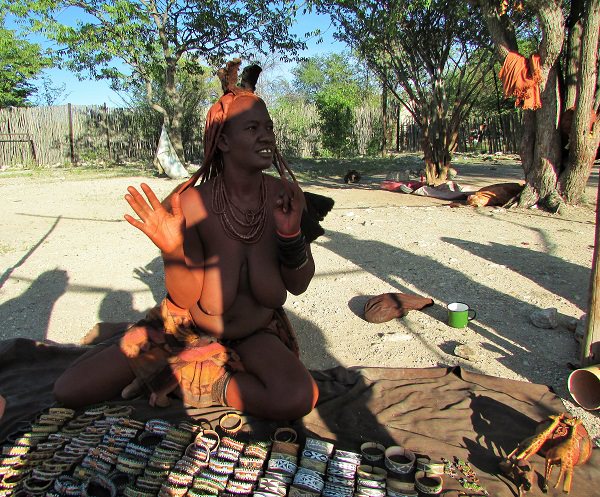 Where to Stay in Namibia:
There are a few hotels/resorts that stand out from my time in Namibia. They are the places that are fairly remote and don't have an abundance of other competitors near them.
Norotshama River Resort
This beautiful resort is situated on the banks of the Orange/Gariep River and in the heart of the Assenkehr Grape Valley, which is the largest export table grape farmland in the southern hemisphere.
The resort itself is beautiful with a pool overlooking the river and rooms that make you feel like you are in the lap of luxury. Take a canoe out for a spin, take part in some wine tasting or relax by the pool while watching the sun set over the river. You will leave Norotshama feeling like you just left the spa.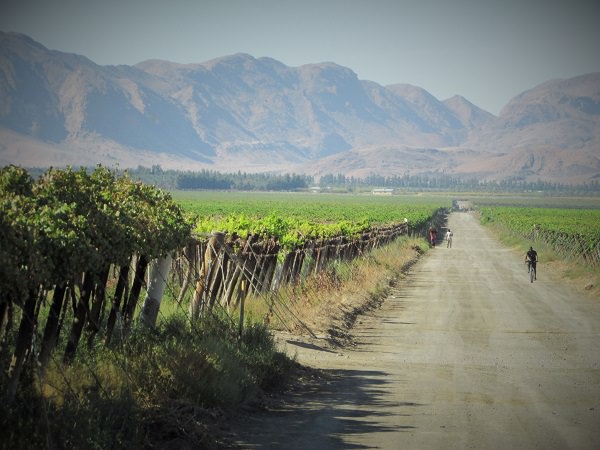 The Seeheim Hotel
The second hotel is quite different from the first; a little more quirky but memorable all the same. The Seeheim Hotel was built from a rock in 1896 into a house, and then converted into a hotel in the twenties.
Because of the diamond rush, Seeheim was a booming town in the forties and fifties. It had a railway station, several churches, shops, a school, hotels and a vibrant residential area. Eventually it became a ghost town, and in 1974 the Seeheim Hotel closed its doors.
After standing empty for nearly 30 years the now owner, Zirkie Kloppers renovated the entire place and brought it back to life. With his marvelous woodworking skills, Zirke has handcrafted each piece of furniture (right down to the toilet seats).
Zirkie's wife is also a taxidermist and touches of her work can be found throughout this unique and fascinating castle-like hotel. There are only 23 residents in the town of Seeheim, and all 23 work here. You will be treated like family in this oddity of a hotel, and will feel right at home.
Okaukuejo Rest Camp
At the Etosha National Park, there are several different campsites to stay at but the one that I would highly recommend is the Okaukuejo Rest Camp. They offer a wide range of accommodation options from camping to luxury suites, as well as two massive pools and a restaurant.
But the highlight of the Okaukuejo Rest Camp has to be that it has its very own floodlit water hole. With benches and many different viewing areas you will have the ability to watch the wildlife come to you.
You never know what magnificent creature will come and give you your own personal show. It truly is the perfect way to relax and watch the sun set at the end of the day.
Foods to Eat in Namibia:
Depending where you are in the country will determine what kind of food is served. The German influence is seen in a lot of cake shops and bakeries which serve delicious apple strudel or kirschtorte (black forest cake).
South African dishes like bobotie (a meat pie with a savory egg custard crust) or koeksesters (mini donuts that drip in honey) are also common at many stops.
Braais (barbecues) are popular among the Afrikaaner and German groups and no matter where you turn you will be able to find biltong (an air dried meat that is used as a bar snack staple – usually beef or kudu).
But what you will find with an overwhelming abundance throughout Namibia is game meat – kudu, oryx and zebra to name a few.
And finally, a dish that is served in most African tribes is mealie pap (a doughy maize paste); this is commonly served with meat or vegetable stews.
Must-See Sites of Namibia:
There are endless amounts of both adventurous, and relaxing things to do in Namibia. This list only scratches the surface of what this incredible country has to offer.
Quiver Tree Forest
Seeheim is a great base to explore the Quiver Tree Forest. The Quiver Tree Forest was declared a National Monument in 1995 and is comprised of about 250 specimens of aloe.
Namibian history says quiver trees are good luck and some of the tallest trees in the forest are at least 300 years old.
The Fish River Canyon
Another site that is easily reached from Seeheim.The Fish River Canyon is the largest canyon in all of Africa. It features a gigantic ravine, about 160 km long and 27 km wide and in places 550 meters deep.
You can hike along the edge and feel like you truly are at the end of the world because there are so few tourists in the area.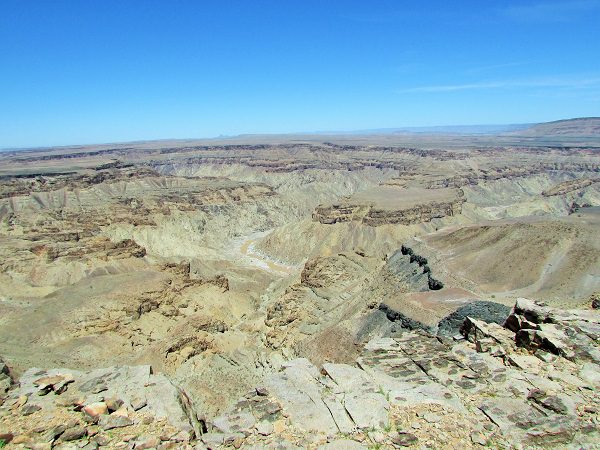 The Namib Desert
One of the most iconic attractions of Namibia is the Namib Desert. Famous for its bright red dunes towering against the indigo sky, this is a place that cannot be missed.
Sossusvlei is a salt and clay pan that is surrounded by the oldest and tallest dunes in the world.
The sand is said to be over 5 million years old and because of the shifting winds, many dunes form a star shape with multiple arms. Dune 45 is the most photographed dune and is approximately 85 meters in height!
Climbing to the top and watching the sun rise over the valley is simply breathtaking, but I definitely suggest getting an early start so you can beat the intense Namibian heat.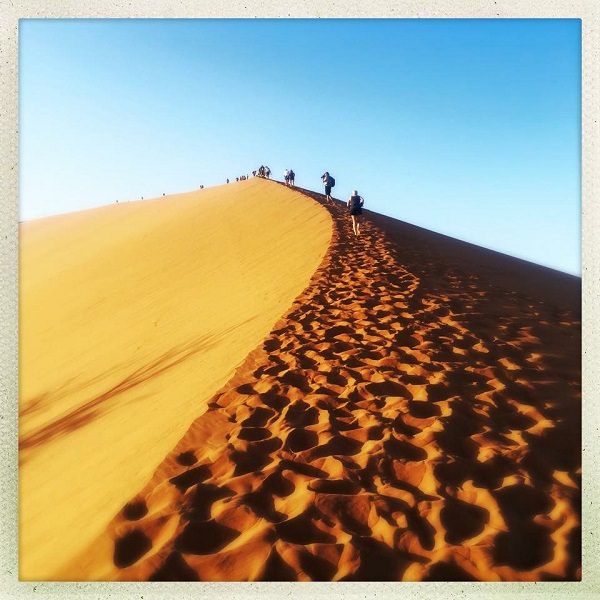 Deadvlei
Deadvlei is another part of Sossusvlei that every traveler must see. It was formed when the Tsauchab River flooded and the abundance of water allowed camel thorn trees to grow.
Now approximately 900 years later, these trees still exist due to the dry climate and provide an abundance of amazing photographic opportunities.
It is about a 1 km walk to the white salt pan so make sure to bring plenty of water and a hat.
Sesriem Canyon
Another place that you must see when you are in Sossusvlei is the Sesriem Canyon. Climb down into the canyon and discover all the stunning rock formations.
The Tsauchab River flows through the canyon every five to ten years and even though it may be very sparse, this is the one place that you can find water all year round.
Walvis Bay
En route to coastal town of Swakopmund, make sure to make a stop at Walvis Bay. Walvis Bay is situated near a wide lagoon and is home to hundreds of flamingos. The endless sea of pink is incredible and one that any wildlife lover would enjoy.
Swakopmund
30 km up the road from Walvis Bay is the unforgettable picturesque town of Swakopmund. This is Namibia's number one holiday destination. With its well-preserved colonial German architecture, quaint cafes, unique shops and a seaside promenade, this is definitely a place that you will not run out of things to do.
There are numerous adventure activities available, such as dune boarding, skydiving or deep-sea fishing, to name a few. But what makes this such a great base to stay is that there are several day trips that you can take that are worthwhile and so unique to Namibia.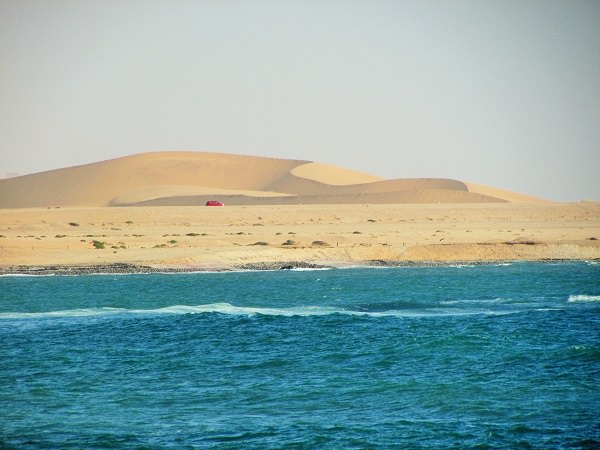 Swakop River Canyon
Take a tour inland to the Swakop River Canyon where the land makes you feel like you are on the moon. A botanist's playground, you will see vibrantly coloured lichen fields, many different floras and as well as the famous Welwitschia Mirabilis plant.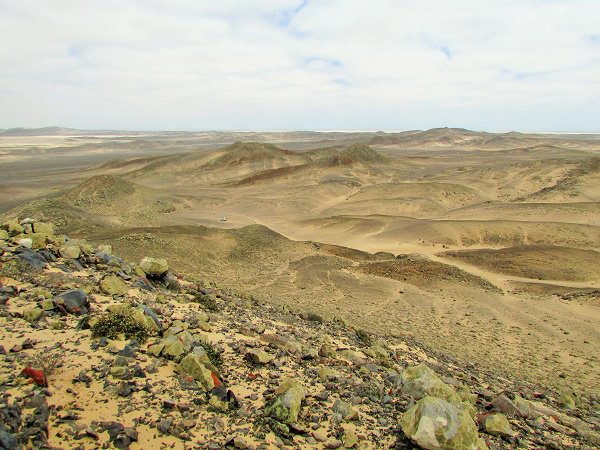 Skeleton Coast
Driving north of Swakopmund will take you to the Skeleton Coast. This stretch of land extends all the way up to the Angolan border and it doesn't have a name like this for just any reason.
Namibia's Bushmen call this region The Land God Made in Anger due to its dense fog and inhospitable living conditions. The skeletons of rusting shipwrecks are commonly found along the entire coast line and although this barren stretch of shore may seem a bit eerie, the scenery is truly like nowhere else.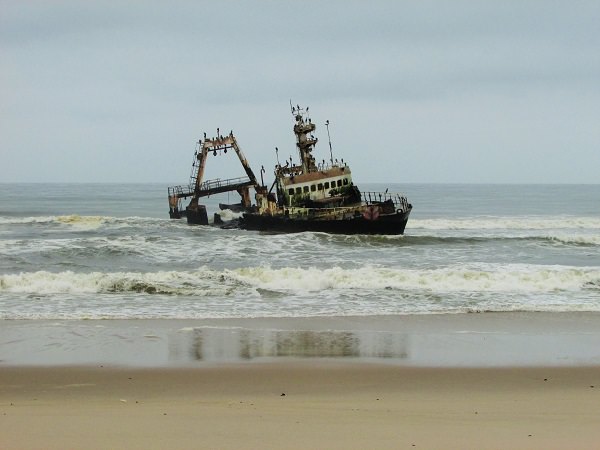 Cape Cross Seal Reserve
Approximately an hour and a half north of Swakopmund is the amazing Cape Cross Seal Reserve. Here you will encounter the largest breeding colony of the Capefur Seal in the world.
As you drive toward Cape Cross it looks like you are coming upon black rocky cliffs. When you near closer however you will soon notice that these rocks are in fact moving.
With over 200,000 seals in this single colony, capturing the perfect photo of these amazing creatures is relatively easy. I was lucky enough to visit in February and I got to see thousands of baby pups barking back and forth with their mothers.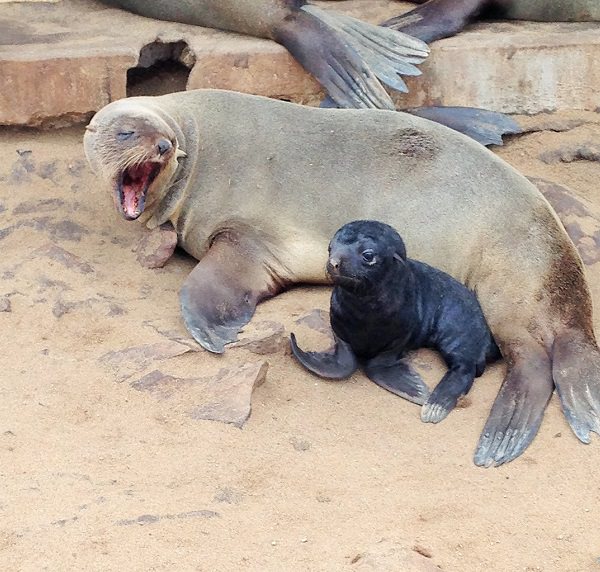 Etosha National Park
Etosha National Park is the next place that should be on your Namibian bucket list. This game park's main characteristic is a salt pan so large that it can be seen from space! In the language of the native Ovambo Tribe, Etosha is translated into Great White Place.
The National Park spans 22,270 square km and is home to hundreds of species of mammals, birds and reptiles including the endangered black rhino.
Namibia Has it All!
Having only gained independence in 1990, this young country has an abundance to offer its visitors. It is unique in that the land changes from lush green vegetation, to fields of yellow flowers, to white salt flats that trick you to believing you are looking at snow, to the oldest desert in the world.
Namibia is so diverse that at every turn you will encounter something completely different from the day before. Come and experience this beautiful country for yourself and I promise you that it will not disappoint!
Have you travelled to Namibia before? What were your impressions of the country? Tell us in the comments below 🙂
Author's Bio: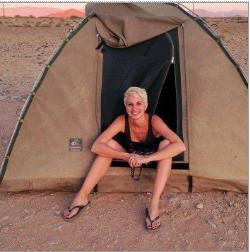 My name is Heather Halpern and I am from Edmonton, Canada. I caught the 'travel bug' many years ago when I was a competitive rhythmic gymnast and since then I haven't been able to quench the thirst for seeing more of the world. Even though I live a pretty regular life with a full time job, I try to go on at least one overseas adventure a year. This means, I skimp, save and try to live the happiest life possible throughout the year so that I can experience my one true love…travel! My hope is that through my blog I can help bring a little piece of the world to you through my art, my adventures and my blunders!
Follow my journey on my website, The Urban Gypsy and on my social media channels – Instagram, Twitter and Facebook.
Like it? Pin it!