Once upon a time, Cusco was the capital city of the Inca Empire. These days, it's more like the travel capital of South America.
That's thanks to the city's proximity to Machu Picchu — one of the Seven Wonders of the World and a major bucket-list item for travellers across the globe.
While you can just breeze through Cusco on your way to the ancient city of the Incas, this fascinating city is well worth a few days. For starters, you'll need to acclimate to the high altitude before heading off on that epic trek.
There are several amazing things to do in Cusco to keep you busy for several days. Before heading to Machu Picchu, you can visit some museums and other Inca ruins in the area to learn more about the ancient civilization.
Cusco is also full of adventure activities, including mountain biking and whitewater rafting.
After a big day of exploring, you can return to the town to enjoy some mouthwatering Peruvian cuisine and some pretty rowdy nightlife. Sounds good? Read on for more of the top things to do in Cusco.
1. Explore the Plaza de Armas
Your exploration of Cusco should begin in the Plaza de Armas.
As is the case in so many places in Latin America, this is the historic centre of town. In Cusco, the main square has a beautifully manicured garden, a central fountain, and a statue of the Incan ruler Pachacuti.
Speaking of the Incas, this was once the site of Haukaypata — the Great Inca Square. While the Spanish conquistadors built over the original square long ago, you'll still find traces of the Incas around every corner in Cusco.
Walk around the Plaza de Armas, and you'll quickly notice the different layers of history that are present here.
Around the Plaza de Armas, you'll find some of the most important cultural and historical landmarks, such as the gorgeous Cusco Cathedral.
The plaza is also surrounded by stone arcades that the Spanish built, which are now mostly full of shops and agents catering to the massive amounts of tourists who visit Cusco.
There are also plenty of cafes and bars in the area, many of which offer an excellent view of the plaza.
One of the best things to do in Cusco is simply grabbing a window seat in one of these places to enjoy a drink and watch the goings on below. I particularly enjoyed the Cappucino Cusco Cafe, which you can find on the map here.
2. Take a Free Walking Tour
While it's fun to explore the Plaza de Armas on your own, it's much better with a knowledgeable local guide and a group of fellow travellers. That's precisely what you get to do when you sign up for a free walking tour of Cusco.
Inkan Milky Way runs walking tours of the city every day at 10AM in both English and Spanish (groups are separated, not bilingual). If you miss the morning tour, you can just jump on the 1PM or 3:30 tour.
These free walking tours give you a great introduction to Cusco.
You'll learn a lot about the city's long history, from the great achievements of the Incas to their collapse and conquest at the hands of the Spanish. Along the way, you'll have plenty of chances to ask your guide questions and get some recommendations for what to do after the tour.
Tours meet in the Plaza Regocijo in front of the Chocolate Museum (check the map here). Just look for the guides wearing their bright yellow vests. Speaking of the guides, they rely on your generous tips for their income and to keep these tours running.
3. Visit the Beautiful Churches
There are several beautiful churches in Cusco that are well worth a visit. The most notable is the Cusco Cathedral, which took nearly a century to build. It's a mixture of Gothic, Renaissance, and Baroque styles, and is an absolutely gorgeous building.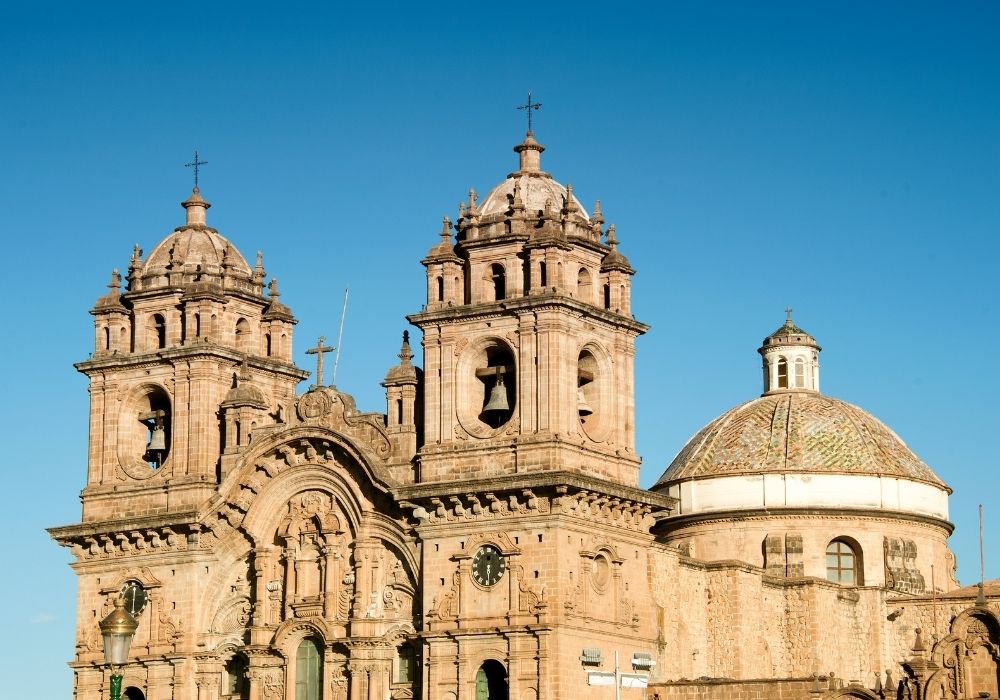 As is the case in much of Latin America, the Spanish built a cathedral over an indigenous temple. Before the conquest, this site was home to the palace of Viracocha, one of the most important deities for the Incas.
While the church is amazing from the outside, you'll have to go in to really appreciate it.
Inside, you can admire the elaborate altars covered in gold leaf. The cathedral also holds a vast array of archaeological relics and colonial art.
The most famous piece is a replica of DaVinci's "The Last Supper." Look closely and you'll see that a local specialty – guinea pig – appears on one of the plates.
You can visit the Cusco Cathedral if you purchase the Religious Circuit ticket. These cost 30 soles ($10) and also allow you to visit the Church of San Blas, the Church of San Cristobal, and the Museum of Religious Art.
Alternatively, you can just buy a ticket for 25 soles ($8) to visit the cathedral on its own. As you can see, it's a good deal to just get the combo ticket.
4. Begin Your Machu Picchu Trip
Cusco is a great city on its own, but the main reason most people come here is its proximity to Machu Picchu.
If you're hoping to visit the ancient city of the Incas – and I'm sure you are – then you'll end up passing through town before and after your trip there.
One of the best things to do in Cusco is setting out on your Machu Picchu adventure.
Every single travel agent and tour operator in Cusco can help you plan the trip of a lifetime to Machu Picchu. You have several different options for visiting one of the Seven Wonders of the World, depending on your interests and budgets.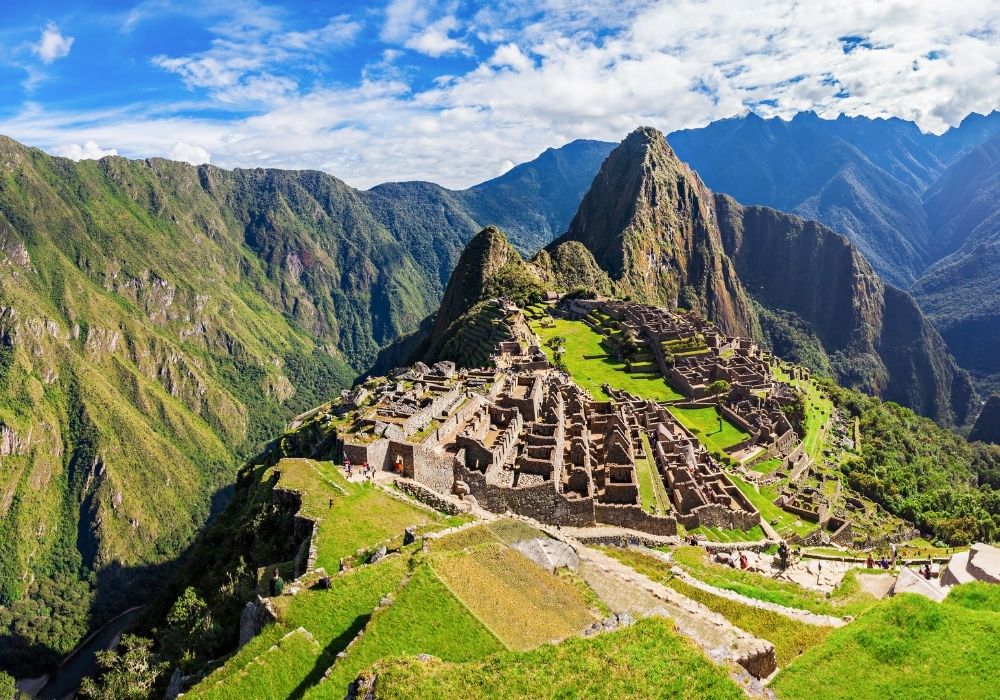 After much deliberation, we decided to do the Machu Picchu jungle trek.
This adventure-filled trip includes downhill mountain biking, rafting (weather pending), ziplining, and even a bit of hiking on the Inca Trail. You can sign up for a 4D/3N trip for less than $300 per person. Considering all the activities that are covered in this trip, it's an excellent deal.
If you'd prefer to do the classic Machu Picchu trek (4 nights, 5 days), you'll want to book that well in advance. Learn more in this detailed post about trekking Machu Picchu.
Only a certain number of people are allowed in every day, and that number is even less for being able to hike up one of the two mountains inside. Book early to avoid disappointment!
5. Hike to Cristo Blanco
Once you've gotten your Machu Picchu trip in order, it's time to get back to exploring this awesome Peruvian city. One of the top things to do in Cusco is definitely hiking up to the Cristo Blanco statue.
This large statue of Jesus sits atop Pukamuqu mountain at a height of 3,600 metres. Just look up from the Plaza de Armas, and you're sure to see the bright white statue off in the distance.
While you can get up to Cristo Blanco via tour bus or taxi, the best way to appreciate these panoramic views is by earning them the hard way! It's about a 30-40 minute hike up from the centre of town. Just be sure to bring some sunscreen and plenty of water with you.
A visit to the Cristo Blanco statue can easily be combined with a trip to the next item on our list.
6. Check Out Inca Ruins
Before you head to Machu Picchu, it's worth it to check out some of the other Inca ruins that surround Cusco. The closest option from town is Sacsayhuaman, which is located atop the hill near the Cristo Blanco statue.
There are a few theories as to what function Sacsayhuaman had. Because of its location high on a hill and its well-fortified walls, it is believed to have been a fortress. The large plaza here also points to it once serving as a ceremonial centre.
Whatever function it served, the ruins at Sacsayhuaman are quite impressive. It's estimated that upwards of 20,000 men worked to extract the stones and then haul them up the hill. They also cut the boulders so meticulously that they were able to fit them together without mortar.
Many locals jokingly refer to this Inca citadel as "sexy woman," as it's not that far off from the native pronunciation of the name. It sure is a good trick to help you remember the name!
One problem with visiting Sacsayhuaman is that you can't just buy a ticket to visit this one site. You need to either buy the full tourist ticket for 130 soles ($47) that gives you entrance to 16 different sites, or the partial ticket (circuit one) for 70 soles ($25) that allows you to visit three other ruins.
If it sounds complicated, that's because it is. Read more about the various options here.
The ruins are open every day from 7AM-6PM. You can find the ruins of Sacsayhuaman and Cristo Blanco both on the map here.
7. Sample the Local Cuisine
Without a doubt, one of the top things to do in Cusco is sampling the local cuisine. Of course, you can find Peruvian classics like ceviche and lomo saltado, but you'll also want to try some dishes that are specialties of Cusco.
To start your day off, join the queue of locals at the market to order up a piping hot bowl of caldo de gallina, a delicious chicken soup. Another local favourite is chicharrón – fried pork that's usually served alongside potatoes and corn.
While walking around Cusco, you're sure to spot plenty of alpacas. Not only are these animals kept for their wool, but they're also on the menu. In restaurants around Cusco, you can try alpaca steak and even alpaca burgers.
You may think of guinea pigs as cute pets, but here they're a delicacy. Called cuy in Spanish, they have been an important food source in the region for centuries. It's grilled up and served whole, with the head, teeth, legs, and all.
8. Study Spanish
As a major tourist hub, Cusco is very used to gringos with terrible Spanish. While you can definitely get by with English and body language here, you'll have a much better trip if you pick up a bit of español.
There are many Spanish schools in Cusco that can help you get beyond simply "hola" and "gracias." No matter your level, you can find a Spanish course that's right for you in Cusco.
Most schools offer private lessons, group lessons, and immersion programs where you live with a local family in a homestay. With so many awesome things to do in Cusco, this is a great place to hunker down for a while and improve your Spanish.
I didn't actually take Spanish class while we were in Cusco, but the folks at Peru Hop have put together this helpful guide to the various Spanish schools in town.
9. Museum Hopping
If you enjoy visiting museums when you travel, then you're in for a real treat in Cusco. The city is home to tons of excellent museums covering art, history, archaeology, and much more. There's even a museum dedicated to the coca leaf here!
Which museums you choose to visit in Cusco depends on your interests and whether or not you want to buy the tourist ticket. That's because some of the museums can only be visited with the ticket.
It's kind of annoying, but that's just the way it is in Cusco. Here are some you can visit without the complications of the tourist ticket:
The Museum of Pre-Columbian Art is the only one of its kind in Peru. Here you'll find hundreds of artifacts that were sent to Cusco from the renowned Larco Museum in Lima. Entrance is 20 soles ($7) for foreigners and they're open every day from 8AM to 10PM. Get directions by checking the map here.
If you want to learn more about the Incas, you'll definitely want to check out the Museo Inka. It's located in a grand colonial mansion and has gold, pottery, jewelry, and even mummies.
It's open from 8AM-6PM from Monday to Friday and 9-4 on Saturday. Entrance for foreigners is 10 soles ($3).
10. Go Mountain Biking
For the adrenaline junkies out there, one of the top things to do in Cusco is heading out of the city on a mountain biking tour. With so many hills and such an abundance of beautiful scenery in the Sacred Valley, the options for mountain biking are practically limitless here.
Many tour operators in town run half or full-day tours that include a bit of mountain biking mixed in with visits to some of the surrounding Inca sites. Most of the half-day tours are pretty relaxed, while some of the full-day outings feature a bit of uphill biking.
In addition, you can also sign up for multi-day mountain biking adventures that take you all the way to Machu Picchu. For advanced riders, there are some pretty amazing single track trails as well.
Since Cusco is located at such a high altitude, it's recommended that you take at least 2-3 days to acclimate before doing strenuous activities such as mountain biking.
Of course, you'll also want to make sure you have good travel insurance before speeding down a mountain in rural Peru!
11. San Pedro Market
The best place in Cusco to eat and shop like a local is the San Pedro Market. Experiencing the sights, sounds, tastes, and smells of San Pedro is definitely one of the best things to do in Cusco.
This bustling market is home to a wide array of vendors selling everything from fresh produce, to Peruvian comfort food, to herbal remedies, to souvenirs, and so much more. Be sure to come hungry and take your time here!
For just a few bucks, you can enjoy a fresh-squeezed juice and a cheap, tasty local lunch. If you're looking to bring some souvenirs home from Cusco as well, this is a great place to get your shopping done.
The San Pedro Market is open every day. From Monday to Friday, the hours are 6AM-8PM. On Saturdays, it closes at 7 and on Sundays it shuts down around 6. You can get directions to the market here.
12. See the 12-Angled Stone
Coming in at #12 on our list of things to do in Cusco is the 12-Angled Stone. While looking at a rock may seem like a boring thing to have on this list, it's an important part of the city's history.
This legendary stone was once part of an Inca palace and is said to hold up the entire structure. It's actually categorized as a national heritage object in Peru.
The 12-angled stone shows just how advanced the Incas were when it came to construction and stonework. Go see this important historical relic and see for yourself! It's located right here near the Museum of Religious Art.
13. Day Trip to the Salt Ponds
Even though there's enough to see and do in Cusco to spend your entire trip in town, there are so many amazing places that are just a day trip away. One solid choice for a day trip is a visit to the incredible salt ponds of Maras.
Salt has been harvested from these beautiful, terraced ponds for thousands of years. There's an intricate network of channels that feed the ponds with salty water. Once full, the water is cut off and the ponds are allowed to dry out. After they dry out, the salt can be harvested.
There are upwards of 5,000 salt ponds here, each one harvested by a local family. The bigger the family, the bigger the pond! To visit, you'll need to pay a fee of 10 soles ($3) that goes to the local community.
The best way to get to the salt ponds is by signing up for a full-day tour of the Sacred Valley. These tours usually make several stops, including Moray – an Inca agricultural laboratory. You can see the location of the salt ponds on the map here.
14. Shop in San Blas
If you need a break from the busy centre of Cusco, take a short walk uphill to the area known as San Blas. This is a laid-back area full of great cafes and artisan shops, set around a scenic plaza.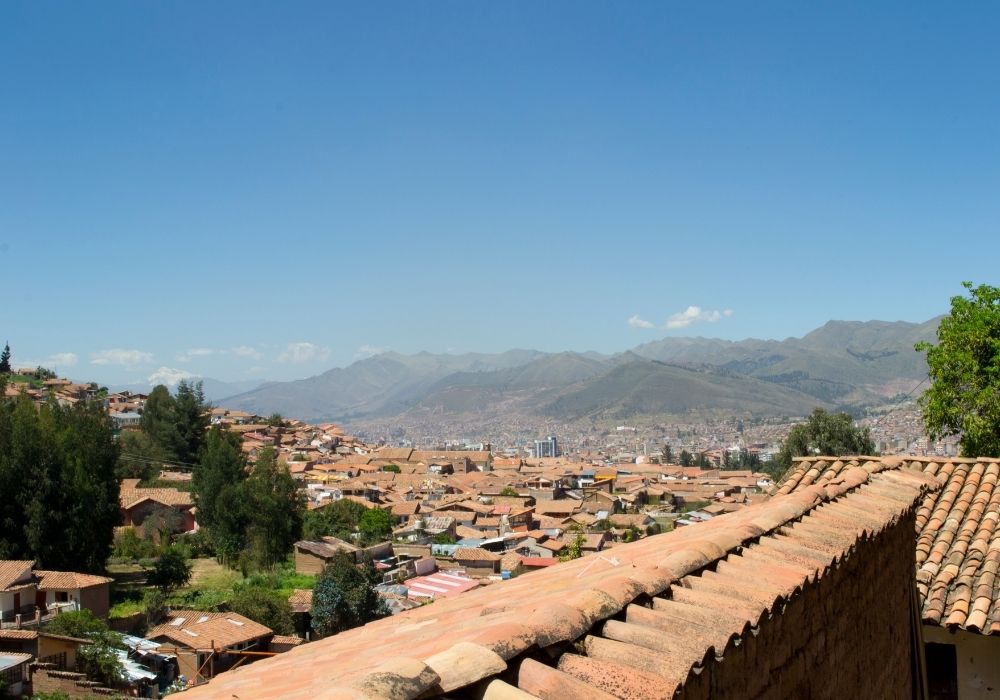 If you've purchased the religious tourist ticket, you can check out the San Blas Church while you're here. Climb to the top of the clocktower to enjoy some pretty awesome views.
One famous shop that's worth visiting is Arte Mendivil. It features the work of Hilario Mendivil, a local artist famous for his religious sculptures depicting people with very long necks.
Any day of the week is good for perusing the many artisan shops here, but Saturday is when you'll find a market going on right in the plaza.
You can find the Plaza San Blas on the map here. It's a short, but uphill, walk from the main square to get here. It's also a great part of the city to stay in.
15. Learn How to Make Chocolate
One of the tastiest things to do in Cusco is learning how to make chocolate. That's precisely what you can do at the very popular Choco Museum here.
In their 2-hour workshop, you'll learn how to go from bean to bar as you make chocolate right from the cacao bean. The workshops go on every day at 8:30, 11:00, 1:30, 4 and 6:30. It costs $20 for children and $25 for adults to join a workshop.
Even if you don't sign up for a workshop, it's worth visiting the Choco Museum just to try some free samples and pick up a few bars of your favourite variety. We grabbed several before our Machu Picchu trek and were very happy we did!
The Choco Museum is open every day from 9AM-7PM and can be found on the map here.
16. Go Whitewater Rafting
If you need a bit of adventure on your trip to Cusco, you might want to sign up for a whitewater rafting excursion. Cusco is ideally situated near the Urubamba River, making it a great place for rafting.
Rafting conditions vary depending on the time of year and the rainfall. Generally speaking, you'll find class II and III rapids most of the year. However, during the rainy season (December-March), these can reach class IV and even higher.
As I mentioned earlier, whitewater rafting is usually included in the Machu Picchu jungle trek.
Just be aware that it is often cut from itineraries during the rainy season. We did our trek in March and the water levels were deemed unsafe at that time, so we ended up having to skip out on the rafting.
17. Drink Chicha and Play Sapo
If you like shooting a game of pool and drinking a beer at your local watering hole back home, you'll want to try the Cusco equivalent — playing a game of sapo while drinking some chicha.
First of all, let me explain the game.
There's a table with several holes on it and a bronze sapo (toad) attached. You stand a few metres away and chuck little coins at the table, getting points for making a shot in the holes depending on the difficulty.
Apparently, you get 5,000 points if you can get the coin in the sapo's mouth!
Next up, the drink. Chicha is a fermented corn beverage that has been consumed since the time of the Incas. It's definitely an acquired taste, but it's not too strong or overbearing.
When you play sapo, you keep taking turns throwing your coins until they're all gone. The scores are added up at the end, and the loser buys chicha for all.
The fun and games continue until everyone is nice and buzzed. Make sure you give a game of sapo and a few glasses of chicha a try when you visit Cusco!
18. Experience a Local Festival
One of the top things to do in Cusco is experiencing a local festival. There are several different festivals in Cusco throughout the year, so chances are high there will be one going on during your visit!
Semana Santa (Holy Week) is a very important time in Cusco and Latin America at large.
There's a very special procession in Cusco on the Monday before Easter dedicated to the Lord of the Earthquakes – an image of Jesus on the cross that is believed to have saved the city from complete destruction after a horrible earthquake.
In June, you can take part in the festivities around Inti Raymi (Festival of the Sun). This ancient Inca festival is celebrated on the winter solstice here and honours Inti – the sun god and most revered deity for the Incas.
For a more detailed look at the festivals in Cusco, be sure to check out this guide.
19. See a Football Match
Football is so huge in Latin America that it's basically a religion. If you have the chance, you should definitely catch a football game while in Cusco. Even if you're not a huge sports fan, it's a fun thing to experience.
Cusco is home to Club Sportivo Cienciano, which was founded back in 1901 by students at the city's National School of Science. The team received worldwide recognition after its stunning defeat of River Plate from Argentina in the 2003 finals of the Copa Sudamericana.
Cienciano plays their home games at Estadio Garcilaso, which has a capacity of 42,000.
Some of their biggest rivals are actually other Cusco squads – Deportivo Garcilaso and Real Garcilaso. All three teams share the same stadium, so there's a good chance there will be a home game during your stay!
If you find yourself visiting Colombia, don't miss a football match there as well — so much fun.
20. Get a Massage
All that walking on cobblestone streets and hiking around ancient ruins is sure to leave you a bit sore and exhausted. Cue the many massage parlours in Cusco, who are eagerly awaiting your business!
Just take a walk around the Plaza de Armas, and you're sure to be offered a massage several times.
While these makeshift spas aren't going to win any awards, they're pretty good and are quite cheap. You can get an hour-long massage for as little as 20 soles ($7), so porque no?
Especially after you return from a long trek along the Inca Trail to Machu Picchu, it's hard to beat a nice full-body massage! One place that comes recommended is Cusco Therapeutic Massage.
21. Enjoy the Nightlife
While most of the awesome things to do in Cusco take place during daytime hours, the nightlife here is nothing to scoff at. With so many backpackers constantly passing through town, it should come as no surprise that Cusco likes to party.
Walk around the Plaza de Armas at night, and you'll find people passing out fliers for different bars and clubs.
There's a new hot spot every night, and they often include free drinks to get you in the door. Many places stay open as late as 3AM here if you don't have an early morning planned.
Since we had to get up early every day we were in Cusco, we didn't sample that much of the nightlife.
A few places I can personally recommend based on our low-key nights out include Nuevo Mundo (excellent craft beer selection) and Paddy's Irish Pub. For you party animals out there who want to tear up the dance floor all night, you might want to check out the nearby El Muki.
Now You Know What to Do in Cusco
As you can see, Cusco has a lot to offer travellers. This list could easily be way longer if I included all the museums, ruins, adventure tours, and incredible restaurants that are on tap here.
If you're planning that bucket-list trip to Machu Picchu, I highly recommend booking your visit there for several days to explore Cusco. It was one of my favourite destinations in South America, and I'm sure you'll love it, too!
Don't miss our guide to the best things to do in Lima, our highlights article from Ecuador and Peru, and our guide to trekking Machu Picchu.
Like This Article? Pin it!