Lake Atitlán, Guatemala has long been a popular hangout for hippies, backpackers, expats and travellers. And, after living on the lake for two months in early 2015, we can definitely see why! There's just something about Lake Atitlán that gets under your skin, and ultimately makes it very difficult to leave.
Lago de Atitlán as it's known in Spanish, is the deepest lake in all of Central America and is flanked by three towering volcanoes – Tolimán, San Pedro and Atitlán. There are many Mayan villages surrounding the lake, but there are really only a few that you are likely to visit / relocate to indefinitely.
Please note: We travelled Lake Atitlan on a budget and this article reflects that. If you're looking for more upscale accommodation and tours, check out LuxuryLatinAmerica.com.
Panajachel
Let's start with the most popular backpacker village on the lake. Panajachel (Pana for short) is the main port of entry to the lake, and if you're coming from Mexico, Antigua or Guatemala City, this is probably where you'll find yourself first. It's a bustling, dusty village, with a very busy main street. Due to the fact that this village is connected to the road to the "outside world", there is also a lot of traffic here.
Whether you're a traveller or someone who is looking to live on Lake Atitlán for a few months, Pana will likely be of interest to you, at least for a short time. This is where the biggest grocery store is, as well as "Sandy's" supermarket, which sells a plethora of Western goodies. If you're looking for tour agencies, transfers to Antigua and beyond, a wide range of hotels, many western restaurants, lots of bars, good nightlife, and affordable Guatemalan handicrafts, this is the place to find it.
We do suggest visiting Pana and even staying here, but we highly recommend that you take a lancha (taxi boat) and check out some of the many (more authentic) villages, surrounding Lake Atitlán.
Location:
Northern end of the lake, the village of Solola is north of Pana, most of the other villages of interest are west of here.
What to Do:
Kayaking, bar-hopping, go on day trips to nearby villages, visit Saint Francis Church, take Spanish lessons, visit the market.
What to Expect:
Lots of tourists, busy streets, a mix of people – foreigners, Spanish and (beautifully dressed) Maya people. Views of all three volcanoes. NOT a very clean place for swimming.
Top Tips:
This is one of the few places where you can take out money from an ATM on the lake, stock up in Pana! The best grocery stores are here. A reliable tour agency for booking transportation is Xocomil, located right near the lancha port.
To get a better idea of what Panajachel is like, check out our video here:
Santa Cruz la Laguna / Paxanax
Just a quick, 10 minute boat ride from Pana and you'll arrive here. We lived in a suburb of Santa Cruz called Paxanax for two months and absolutely loved it. This is our favourite village on the lake. It's true that we may be a bit bias, but with no road access, Santa Cruz manages to retain its secluded, tranquil charm. Rickety, bamboo platforms are raised out of the water on stilts creating a funky kilometre-long walkway along the shoreline.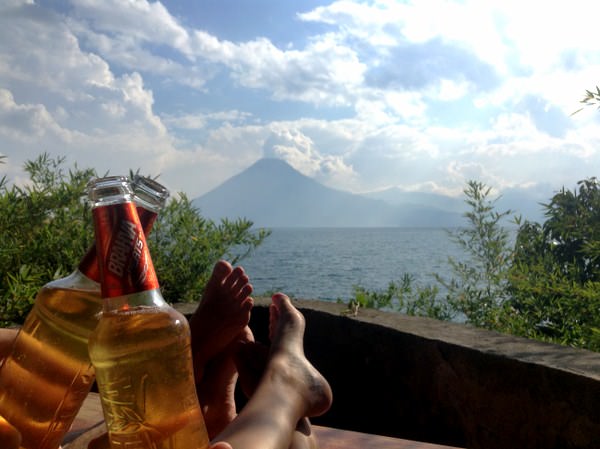 There's not a whole lot to do here in terms of sight-seeing, but for such a small, secluded village, there's actually a lot of other activities to enjoy. The swimming in Paxanax is good, the CECAP program is very impressive and there's a Spanish school as well. Check out the actual village of Santa Cruz at the top of the hill (take a tuk-tuk or a strenuous walk) and enjoy the stunning vistas!
Location:
Just a 10 minute boat ride to the west of Pana, on the northern shore.
What to Do:
Go scuba diving (the only dive shop on the lake is located here). Hangout at La Iguana Perdida hotel (happy hour, BBQs, backpackers) and enjoy wholesome food at Hotel Isla Verde. Visit the Saturday morning market. Go kayaking. Check out CECAP, one of the best pro-economic programs on the lake.
What to Expect:
A very quiet, peaceful village. No attached road to Panajachel or roads outside of the lake. Many local Mayan people.
Top Tips:
There are no ATMs here, and no grocery stores. Stock up!
To learn more about Santa Cruz/Paxanax, check out our video here:
San Marcos La Laguna
San Marcos is the place to go if you're into healings, meditation, yoga, massage and all things spiritual and holistic. But it's not just a place for spirituality and yogis, this is also one of the most beautiful villages on the lake. Narrow cement pathways meander through lush trees and flowering bushes, and the swimming here is good as well – there's even an area for jumping off the rocks.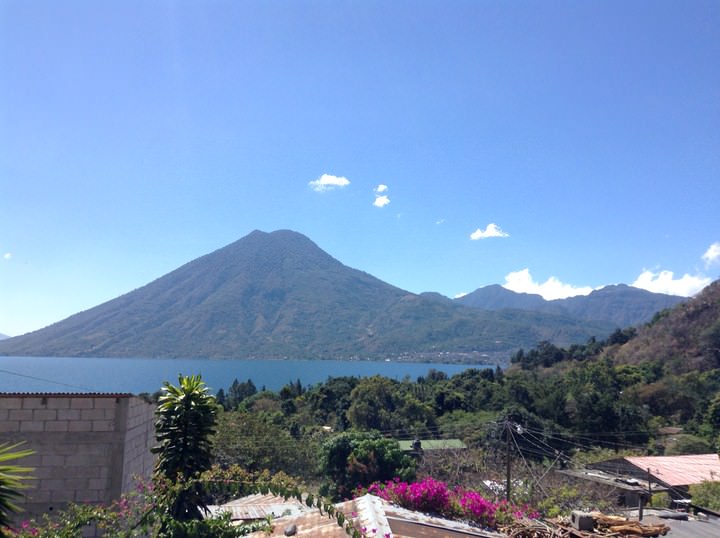 The restaurants in San Marcos are plentiful and the food is generally very healthy. The only downside is that it's quite expensive compared to the other villages around the lake. There are a couple of small shops here and there are local vendors selling produce. You can walk from San Marcos to the village of Tzununa in about 15 minutes as well. A boat ride from here to San Pedro is only 10 minutes.
Location:
On the northwestern shore.
What to Do:
Yoga, meditation, massage or reiki. Attend a spiritual gathering, go swimming, volunteer, go walking, hiking and day-trip to nearby San Pedro.
What to Expect:
A peaceful vibe, lush areas, no bars, but many good restaurants. Views of the towering San Pedro Volcano.
Top Tips:
There's no ATM machine here. Don't walk between here and San Pedro as there is a high occurrence of robberies along this route.
San Juan La Laguna
This small village is often overlooked by tourists, which is too bad. Sure, it's not as busy as the likes of San Pedro, San Marcos or Pana, but there's something special about San Juan. The people living here are very friendly, it's a safe village and the views are lovely as well. This village is serene and peaceful. There are only a couple of places to eat and to stay, but we recommend Hotel Uxlabil for food and for a night's stay.
From San Juan, you can easily walk to San Pedro, or take a quick tuk-tuk ride, which is what also makes this village so great.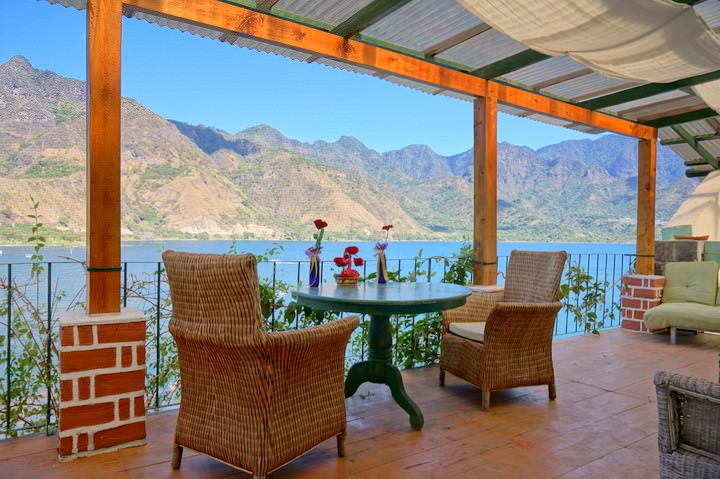 Location:
West coast of the lake.
What to Do:
Wander around town, visit the church, take a day-trip to San Pedro, relax.
What to Expect:
Hardly any tourists, friendly locals, an authentic feel.
Top Tips:
There are only a couple of small restaurants. The food at Hotel Uxlabil is good, or you can buy some small items at the shops and cook for yourself at your hotel. The swimming here is not good. A lancha boat from Pana going to San Pedro will drop you at the dock in San Juan if you ask. No ATM.
San Pedro La Laguna
This is the budget backpacker hangout on the lake. There's a direct road out of the lake from here and the vibe is great. This village has a main road running along the shoreline, which is where you'll find all of the backpacker necessities: shops, tour agencies, restaurants, bars and hostels.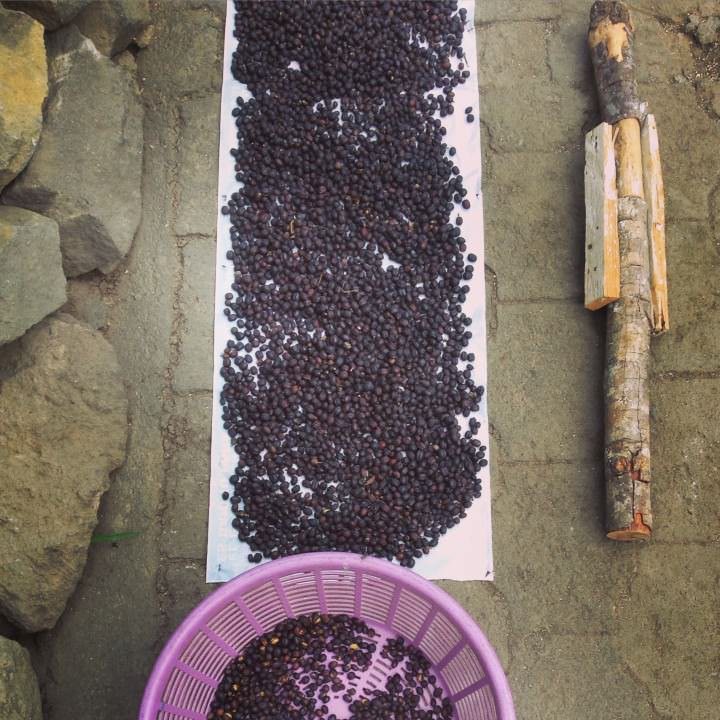 Heading up the very steep hill from the road along the lake, you'll find what seems to be a separate village, this is where the locals live, and is definitely an area that you'll want to check out.
There are lots of things to do here in San Pedro, whether you're interested in chilling out in hammocks, going to bars, learning about coffee, buying incredible artisan goods, learning Spanish or trekking up volcanoes, this is the village to come to.
If you only had time to visit one village, this would probably be the one that we recommend – it has a little something for everyone.
Location:
Western shore, at the base of the San Pedro Volcano.
What to Do:
Day-trip to San Marcos for swimming, visit the church, visit the local produce market, hangout on decks overlooking the water, go to bars, meet other travellers, learn about how the local coffee is produced. Hike the San Pedro Volcano and Indian Nose lookout.
What to Expect:
Lots of backpackers, a busy village, many restaurants/cafes/bars, friendly locals, beautiful views – but not of volcanoes.
Top Tips:
The swimming here isn't good, head to San Marcos. There are a couple of decent grocery stores here for self-catering. There's an ATM.
To learn more about the funky village of San Pedro, check out our video here:

Jaibalito
Although not many travellers stay here, this village deserves a special mention as well. Jaibalito is located just a few minutes west of Santa Cruz. In fact, you can actually walk there on a high mountain trail, or, it's a quick boat ride. There are hardly any people living here or tourists staying here, but there are a few expats and friendly locals. There are also a couple of hotels to stay in. Check out the Wednesday Jaibalito Market and Le Casa del Mundo for a drink on a beautiful patio.
Santiago Atitlán
Santiago Atitlán is the most populous village on the lake, with the majority of the people being Tz'utujil Maya. Located on the very south of the lake, on an inlet between the Tolimán and San Pedro Volcanoes. This is a very traditional, authentic village, one that every visitor should see during their stay. Friday and Sunday are the main market days, but visiting any day of the week would be good.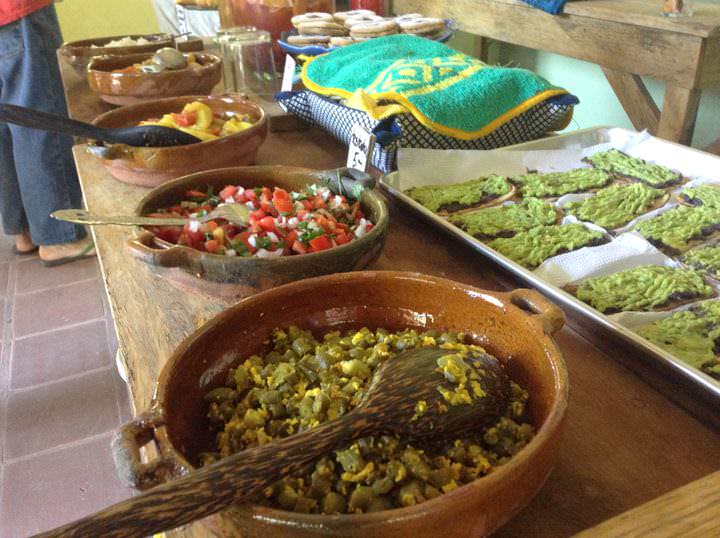 Go!
Basically, no matter which village you decide to travel to on Lake Atitlán, you'll be impressed. The surrounding volcanoes, local Mayan people and beautiful lake are what makes this area so incredible and unique. It can seem like a daunting task when trying to figure out which village is the best, so hopefully this guide gave you a good breakdown of what to expect from each village 🙂
Traveller's Notes
Cost Of Main Boat Rides:
Panajachel to Santa Cruz – 10Q ($1.67)
Panajachel to San Marcos – 15Q ($2.50)
Panajachel to San Pedro – 25Q ($4)
San Pedro to San Marcos – 10Q ($1.67)
San Pedro to Santa Cruz – 15Q ($2.50)
Dangers:
Some areas are not safe for walking, consult with a local before trekking between any of the villages. Generally each village is safe during the day, but the paths between them are notorious for robberies and muggings.
If you thought humans are the only mobs bothering tourists at night, you'd be wrong. Packs of stray dogs have been known to attack unsuspecting people, especially late at night. Always travel with more than one person after dark and consider carrying pepper spray.
Annoyances:
The boat drivers have an "official" tourist rate for boat rides. You can find a sign stating the main routes in San Pedro, but if you don't know the prices, they'll probably try to rip you off. Use the price guide above and don't pay any more.
Like this article? Pin it 🙂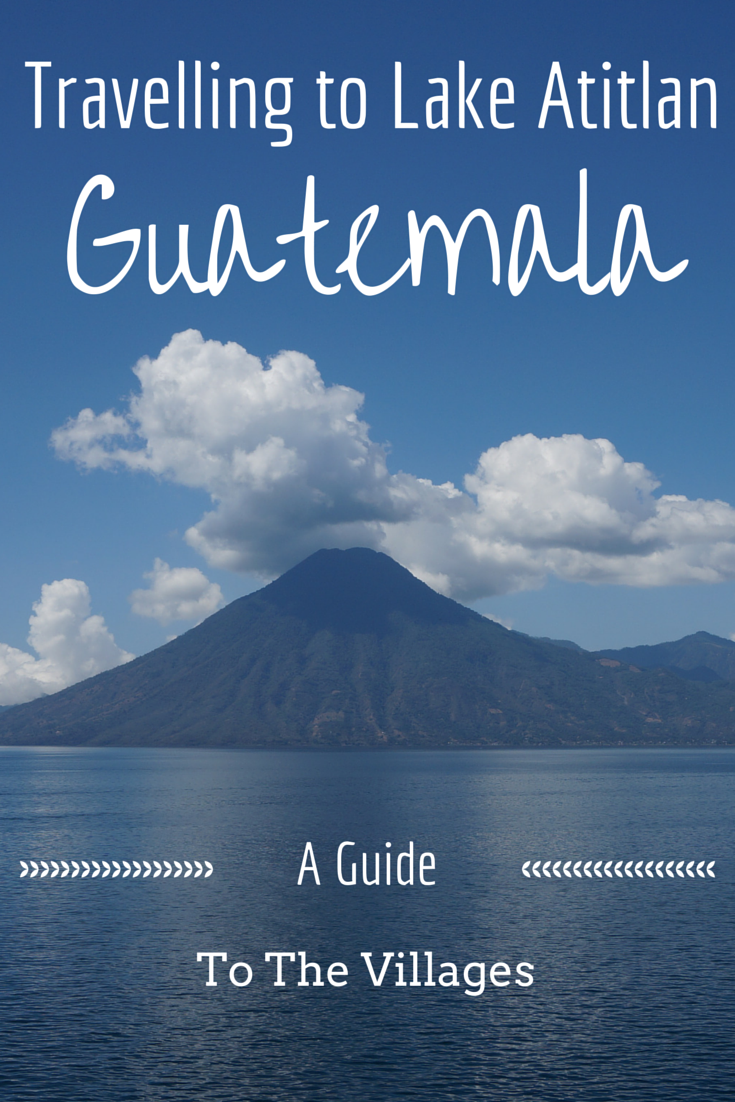 For more information on Lake Atitlán, check out our articles:
Essential Tips & Information: Border Crossing from San Cristobal to Lake Atitlán
Our Digital Nomad Life on Lake Atitlán, Guatemala
The Cost of Living on Lake Atitlán, Guatemala
Have you travelled to Lake Atitlán before? Which village do you think is the best?