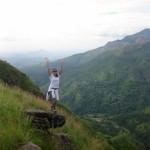 Sri Lanka, a tear-shaped island located just off the eastern coast of India is one of the most underrated countries in the world! When you travel to Sri Lanka, you really feel like you're somewhere far off the map. This fascinating country has everything an intrepid explorer looks for and more.
We loved our month spent backpacking through Sri Lanka and will definitely be going back!
Here's our list of 5 Reasons Why You Should Travel To Sri Lanka:
1.  The Ancient Ruins & Sites: Unlike its neighbour (India) the religion here is mainly Buddhism, rather than Hinduism. You'll find amazing Buddhist sites scattered around the town of Kandy itself and the surrounding areas, including Buddha's Tooth, the Cave Monastery which houses 157 Buddha statues, the World Heritage Site of Sigiriya and the UNESCO World Heritage Site of Anuradhapura, one of the oldest continuously inhabited cities in the world! All of the sites in Sri Lanka are in immaculate condition.
2.  The Landscapes & Scenery: The views in Sri Lanka are stunning. The mountains are amazingly lush with spices, tea and vegetables thriving in the highlands. There are many cascading waterfalls, especially around the Ella and Badulla areas and the ocean is wonderful.  Definitely bring your bathing suit and enjoy a day cooling off in the waters with the local people.
3.  The Cuisine: The food here is generally cooked to order and made from scratch, which is great in terms of freshness and authenticity, but it means you'll have to decide what you want for dinner at about noon so that it can be prepared in time! The food here is quite a bit more spicy than in India and there aren't as many bread options, but it is still delicious and has loads of flavour.
4.  Off The Beaten Path Places: With Sri Lanka being off of most traveller's radars (for now), there's lots to explore and not many people around. Head up north to the untouched reaches of Jaffna, check out the quiet beach towns of Mirissa and Unawatuna or simply find your own area away from the main tourist spots. If you venture out to find a place of your own, you'll have experiences and moments you'll never forget. Travel to Sri Lanka can be as off-the-beaten-path as you want, or as on-the-beaten-path as you want…it's up to you to decide!
5.  Welcoming Local People:  The people of Sri Lanka are kind, helpful and always smiling! We met so many people during our travels here, and it didn't matter whether is was on a  hot bus ride, during our treks through the mountains of Ella, a guesthouse owner, a small family out in the tea plantations or the patient owner of a very small restaurant, they were all hospitable, welcoming and inquisitive. Sri Lankans are a beautiful people.
These are just some of the many reasons why "Travel To Sri Lanka" should be making its way onto your list of things to do in the near future! Sri Lanka has been listed by the Lonely Planet as one of the top travel destinations for 2013 and we're not surprised.
From the crystal clear waters of the south, to the central jungle clad mountains to the history filled north, this country has something to suit everyone. We suggest getting here soon before the serenity of Sri Lanka is long forgotten…
For more information on travelling to this tiny country, check out our extensive Budget Backpacking Guide To Sri Lanka. 
Have you ever been to Sri Lanka? What did you think?! Leave a comment below.
 Like this Post? Pin it!