Isla Mujeres (the Island of Women) is definitely worth a day-trip from Cancun. However, if you have the time, we highly recommend staying a week, or longer, on this idyllic island!
Here are some tips and information to help you enjoy your stay on Isla Mujeres.
Transportation on Isla Mujeres
The fast ferry from Cancun to the island is very safe and efficient. If you want air conditioning, head into the main cabin area. If you want to feel the wind in your hair and enjoy the views and sunshine, head on to the upper deck. Large bags are stored at the back of the boat in order to keep big bags from blocking the aisles. Safety seems to be a priority on this boat, which is always comforting.
Boat from Cancun to the Island departs from Puerto Juarez (or three other locations in the Hotel Zone) located at Av. Jose Lopez Portillo MZ 84 M 5 L 6 Puerto Juárez.
The ferry departs every half hour starting at 5:00 AM to 8:30 PM, there are three more ferries at 9:30, 10:30 and 11:30 PM.
Boat from Isla Mujeres to Cancun departs from the main terminal with departures every half hour starting at 5:30 AM to 9:00 PM, there are three more ferries at 10:00 PM, 11:00 PM and 12:00 AM.
To get from Puerto Juarez to the ADO Bus Station downtown, take a collectivo, which costs 8 pesos and can be found on the street just across from the ferry terminal.
The cost of the ferry is 146 pesos return.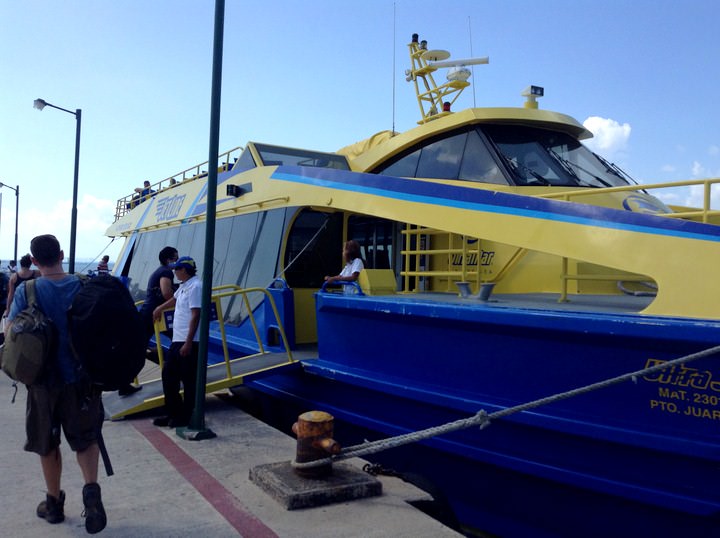 Where to Sleep
For budget travellers, check out Poc Na Hostel (although be warned, it's a party place), which is located on Av. Matamoros and Carlos Lazo. Camping is available at 80 pesos / person. Dorm beds range from 145 – 185 pesos / person. Double rooms start at 350 pesos / room. A small breakfast is included Check it out here.
For midrange, we recommend Hotel Las Palmas, which is located at 20 Av. Guerrero. Rooms are $65 – $100. The rooms are clean and large, there's wi-fi, a communal kitchen and beach amenities (towels, air mattresses and coolers) are available. At the hotel, you'll find a library with loads of books, a masseuse, a beautiful terrace with a small dipping pool and loads of tables and chairs. Highly recommended for location, atmosphere and comfort.
Check out their website for more here.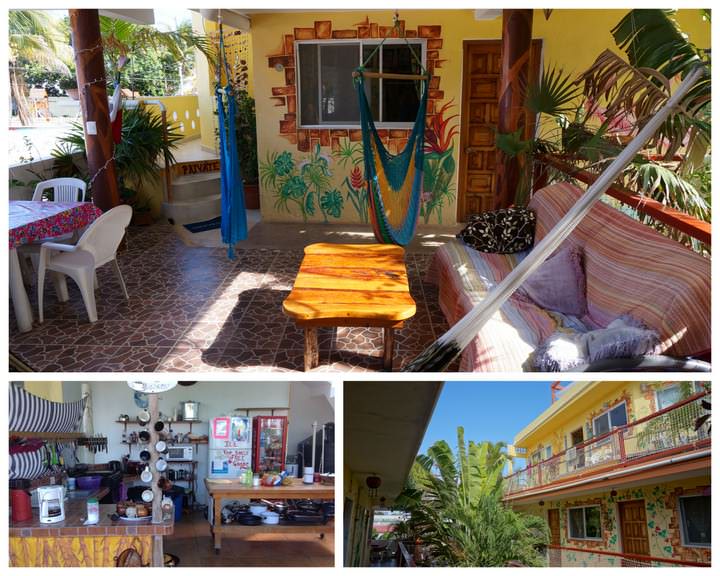 Where to Eat
The options for food on Isla Mujeres are endless! For being such a tiny island, it really does offer a lot for travellers. From Italian and French to Cuban and Mexican, there's a cuisine to satisfy everyone here. There's something for all budgets as well. The more expensive, fancier, sit-down restaurants can be found along the pedestrian-only Hidalgo Street.
☞ SEE MORE MEXICO ARTICLES:
For a cheaper meal, check out the group of local restaurants on Av. Guerrero in front of the Mercado. Here you'll find a set of four stalls selling all sorts of local, affordable food. This is a popular place with tables and chairs set up as well. Big breakfasts are around 40 pesos, tortas are 25 pesos and soups are 45 pesos.
Ruben's – Next door to Hotel Las Palmas on Av. Guerrero, between Lopez Mateos and Matamoros. This new restaurant has efficient staff, huge portions and great prices. A big taco salad with chicken is 80 pesos, a big burrito is 90 pesos and a plate of fish, rice, salad bar and soup is 95 pesos. Buckets of beer are 5 for 100 pesos.
Pita Amore – On Av Guerrero near the Main Square, opposite the hospital. The chicken pitas here are incredible! They cost 65 pesos.
Roosters Cafe & Bistro – Located on Hidalgo and Guerrero. There are actually 3 of these small cafes around the island. The coffee here is great, and the home-made cookies, muffins and bagels are the perfect breakfast. They have some brunch and lunch options as well – salads, wraps and sandwiches. Prices are reasonable with coffees at around 30 pesos and breakfast plates (eggs benedict) for 95 pesos. The wi-fi here is also very good.
Caffe Italia – Across from the cantina on the corner of Av Guerrero and Av Matamoros. Owned by an Italian, proper pastas are served here, with the cost ranging from 90 and 130 pesos. They also offer appetizers, salads and pizza.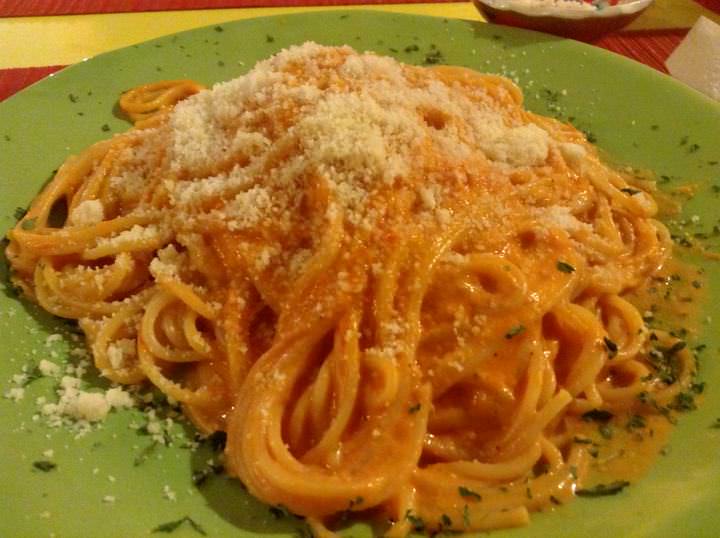 For Drinks, check out the local cantina just across from Caffe Italia (above). It's only open until around 6:30 though, but the music and customers are local, the beers are cheap (20 pesos) and you get a small tapas with your drink.
There are many street side tamale and taco vendors as well, which are cheap and very good.
Things to Do in Isla Mujeres
The island is small and its main attraction is simply relaxing and enjoying the beach. Playa Norte is a gorgeous white sand beach and is the best for swimming and sunning yourself.
If you're interested in being more active during your trip, the scuba diving around Isla Mujeres is incredible, with up to 30 meters visibility! Snorkelling is an option as well. Expect to see turtles, loads of fish and eagle rays. Check out Squalo Adventures for information on scuba diving and snorkelling.
If you time your trip for mid-May to September, you'll be able to spot Whale Sharks in their natural habitat. It's important to choose your operator wisely to ensure you're going with an ethical Whale Shark tour company who doesn't feed, touch or harass the sharks.
Renting a golf cart is a great way to explore the island. You'll see shops all over the streets offering up their carts for full day, 24 hour or weekly rentals. The cost of a 9:00am – 5:00pm rental is 500 pesos. Bicycles and motorbikes are also available.
Check out this quick video of us exploring the island by golf cart!
There's a church and a main plaza, which is a great spot for people watching and enjoying the day. Just off of the plaza, along the water's edge, there's a lovely promenade. This runs for quite some time up the length of the coast and is the perfect place for jogging or walking. But be warned, as there is no shade, it can be quite hot during the day. Wear sunscreen and bring water.
Along Av. Guerrero, there's a small, local market (Mercado) which offers fresh fruits and vegetables at a good price.
At the most southern end of the island (Punta Sur), you'll find a National Park, some small Maya ruins and gorgeous views off of the point. There's food available here at the restaurant for a reasonable price, however, we recommending bringing your own picnic. Not only is it a fun way to spend the day, but it's easy on the budget. Leaving the point and heading up the east coast of the island, you'll come across a beautiful church with glass windows and a very colourful cemetary, both are worth the stop.
When to Visit Isla Mujeres
The high season runs from November to March, which can make for some busy beach days. On Sundays, many locals come over from Cancun as well, and so do many boats. Try to time your visit for the shoulder season – October or May – and you'll have the place virtually to yourself. Keep in mind that the Easter week sees lots of Mexican visitors.
Final Thoughts
Isla Mujeres is busy, but not too busy. There are enough activities and food options to keep the visitor happy and full for at least a week! If you're really into having a relaxing time, longer than a week could easily be spent here, with many people choosing to rent apartments.
Consider Isla Mujeres for your next trip, you won't be disappointed.
Like This Article? Pin it!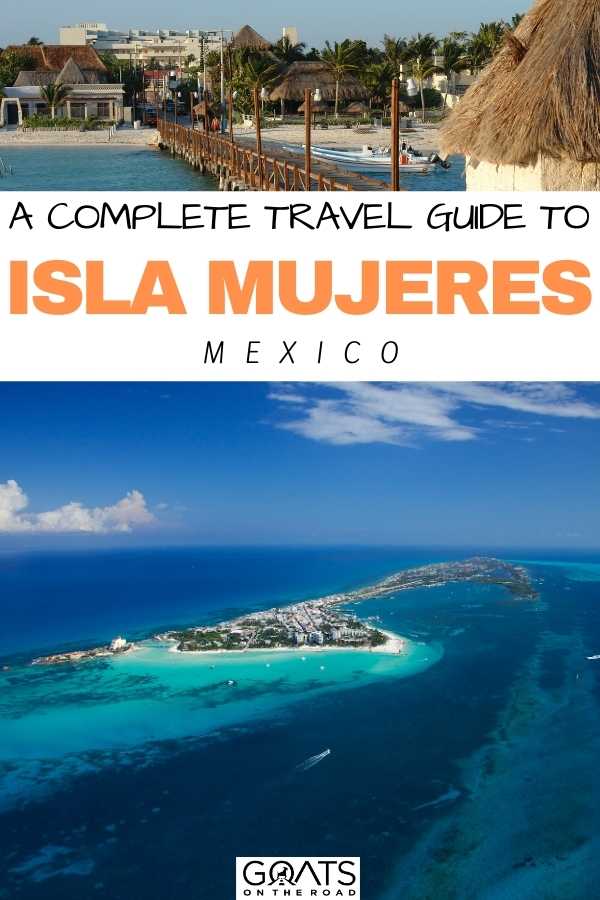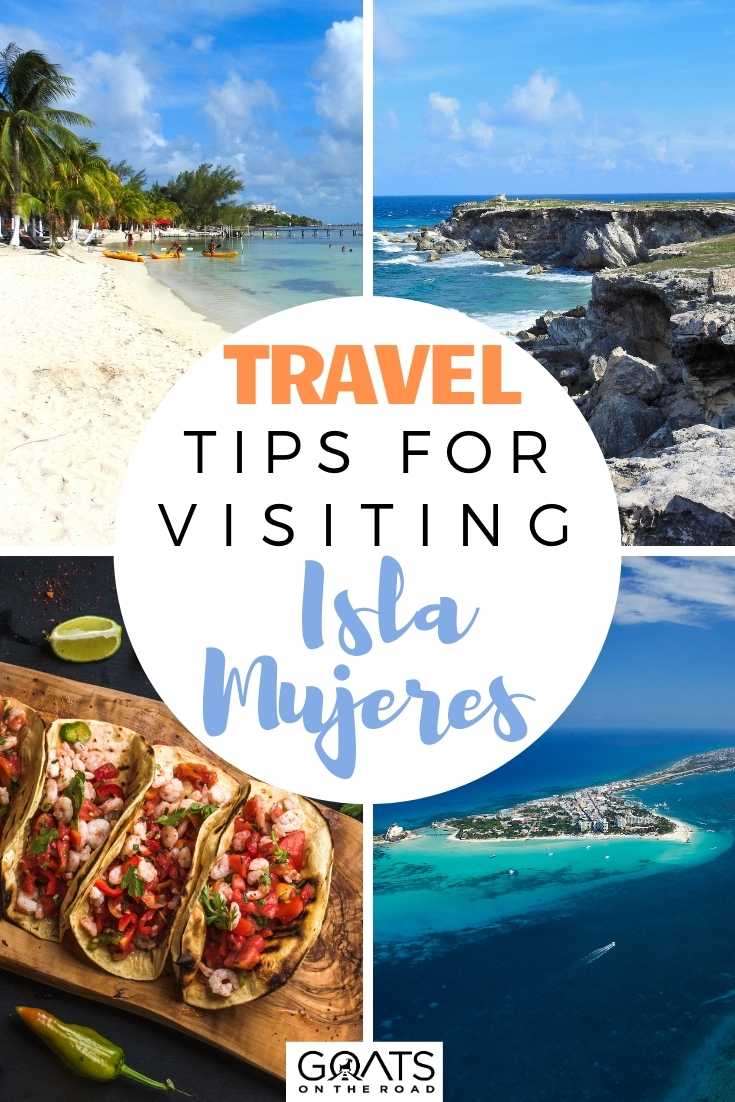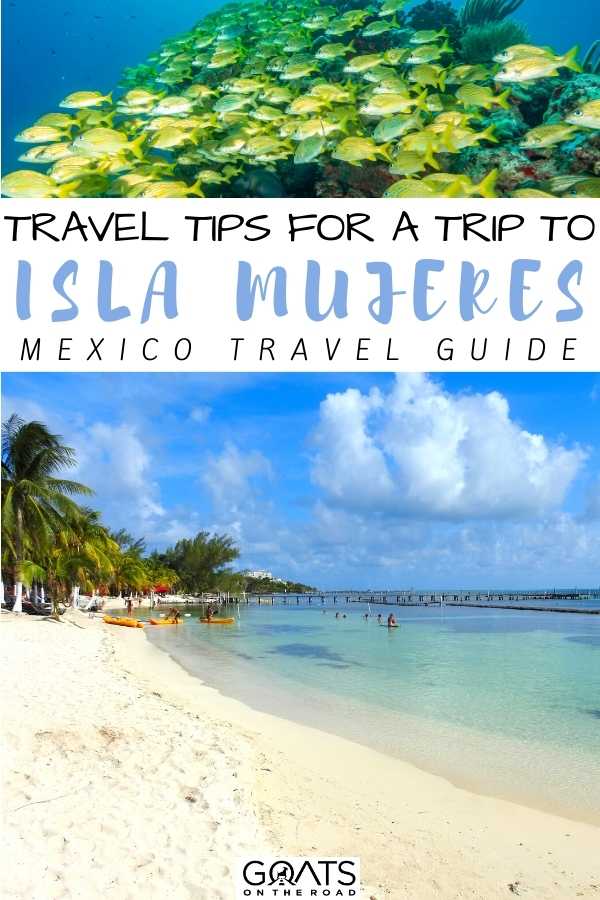 Anything you would add to the list? Share with us in the comments!