One of the many great things about backpacking Mexico is the incredible transportation system. Luxurious buses run like clockwork and depending on the company, they depart every 15 – 30 minutes. There are numerous direct buses to choose from and many, if not all, have wi-fi on board, air conditioning, bathrooms, comfortable seats and offer a drink and a small snack.
The only downside to this fantastic transportation system is the cost. Other parts of the world that we've been to, we typically spend about $1 for every hour of travel. Here in Mexico, we're finding that many of the buses are around $8 – $10 / hour!
Our bus trip from San Pancho (via Nuevo Vallarta) to Guadalajara was 5 hours long, and regardless of price (490 pesos), it was a very comfortable journey. Arriving inland, after being on the coast for so long, was a welcomed change. We were both craving the real Mexico, and as amazing as San Pancho was, we were desperate for some local music, authentic food and colonial architecture.
Lucky for us, the capital city of the Jalisco state curbed our cravings – it's definitely one of the best places to visit in Mexico.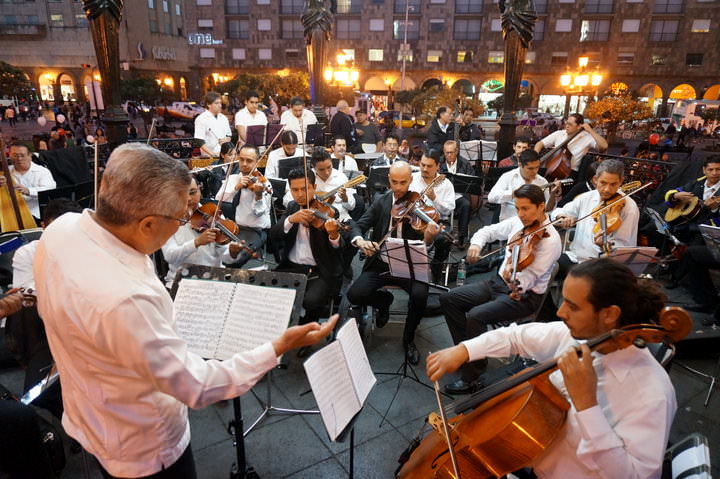 (Don't miss the video down below!)
Guadalajara has a population of just over 5 million people and has various neighbourhoods and suburbs forming the outskirts of the city. Known for contributing tequila, mariachi music, rodeos, delicious food and big-rimmed sombrero hats to the Mexican lifestyle, we were eager to get out and explore this diverse and sprawling city. With only 5 nights there, we didn't waste any time getting started.
We created a walking tour of our own and set off from our hostel to see the sights. Dominating the Historical Center is the lovely Guadalajara Cathedral. The plaza facing the front facade of the cathedral is where we spent many afternoons and evenings people watching over a cup of delicious coffee. A great aspect of the city is the numerous pedestrian-only walking streets that extend off of the main plaza.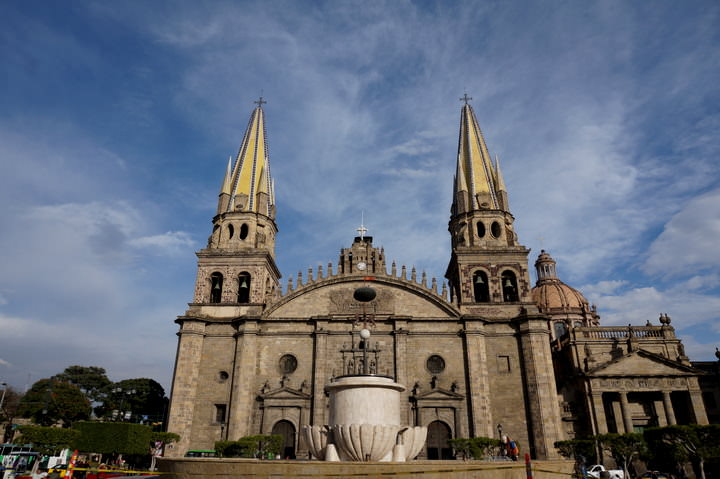 Even though the Guadalajara Cathedral is the most recognizable site in the city, there are numerous other churches, cathedrals, plazas, palaces, museums and markets. Each day that we spent wandering around, we saw something new. There was so much going on and having not been in a big city for quite a while, it was a little overwhelming at first…not to mention, chilly. For the past year, we had spent our time primarily at sea level, so it was a bit of a shock to the system to be at an altitude of 1540m!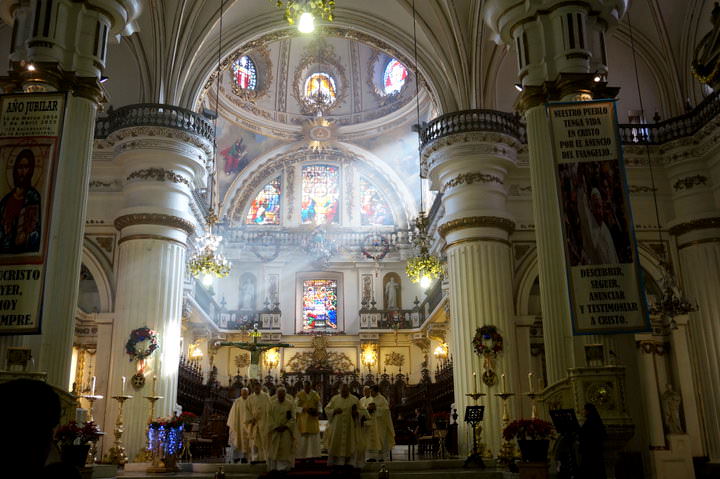 We bundled up in the mornings and evenings, and enjoyed the clear blue skies and warmth of the sun during the day.
Even though there's more than enough to see and do within the city limits, we decided to take a few day trips. We checked out the surrounding neighbourhood of Tlaquepaque, the municipality of Tonala and the town of Chapala. As I said above, the transportation options in Mexico are excellent, and in this case, affordable! Depending on which day trip we were taking, we were able to travel there for a mere 7 – 50 pesos ($0.47 – $3.40).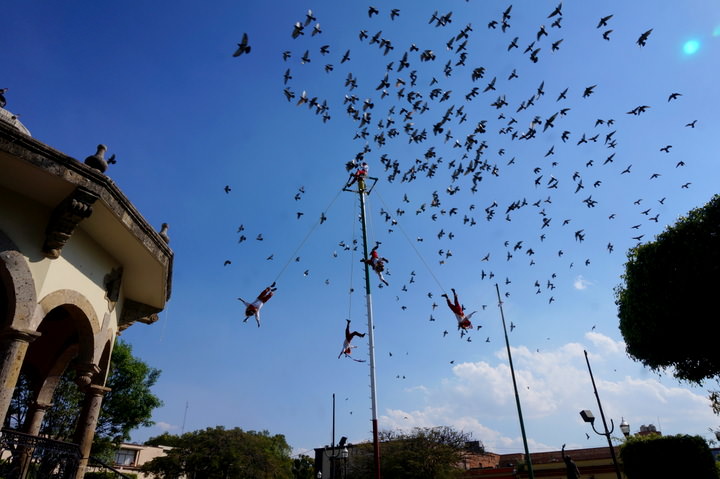 Tlaquepaque is a smaller artisan community of 500,000 + people, and is known for its arts, ceramics, wood work, sculptures and cantinas. The vehicle-free streets make this a pleasant place to spend the afternoon. We roamed the manicured walkways and gazed in awe at the men performing the ancient ritual of the Danza de los Voladores (Dance of the Flyers). We watched local vendors creating their crafts from scratch, and sipped beer at the El Parian cantina while watching local folk dancing and mariachi bands!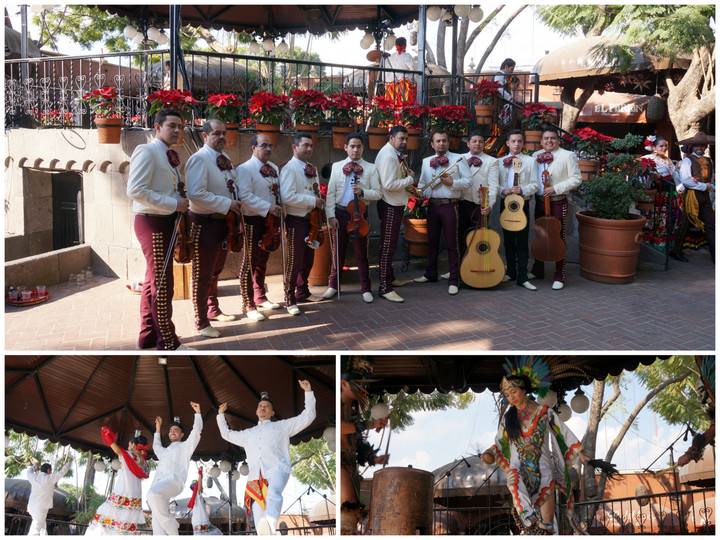 Our day trip to Tonala wasn't as successful. We thought we were on the correct bus, but after being on it for about 30 minutes, we started to wonder if we were going the right way. We then noticed signs that said we were returning to Guadalajara city center! Looking like we were totally lost, and straining our necks to see out the windows, other passengers on the bus piped up and tried to help us out. One woman even spoke English and told us where to get off in order to switch to the right bus.
Once that was sorted out, we arrived at the Sunday market in Tonala, which sprawled across dozens of streets. This town is known for its pottery and handicrafts and even though we love markets, we found this one to be a bit too busy for us. Row after row, for as far as the eye could see, were vendors selling everything you can imagine. It was interesting for a bit, but after an hour, we were ready to head back to the city, and luckily found the right bus to do just that.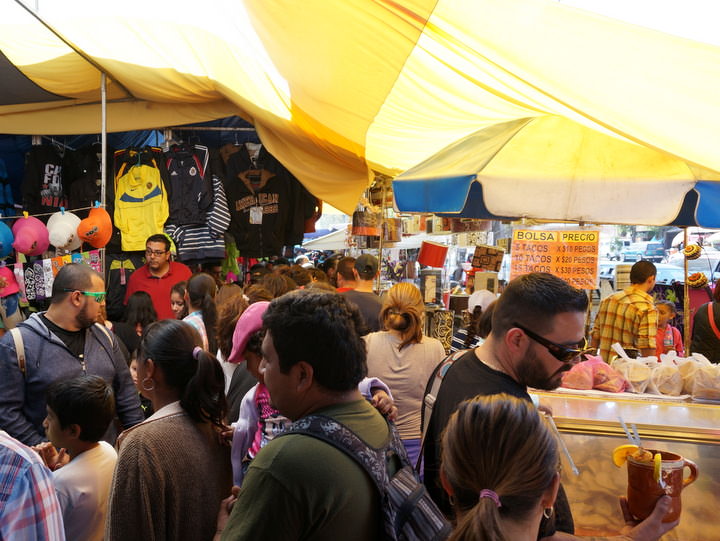 Our third and final day trip was to Chapala, which is the largest fresh water lake in all of Mexico! This excursion was much more successful than the last. We arrived early, just as the town was waking up and the morning mist was hovering over the water.
Street side vendors were setting up their food stalls, clothing merchants hung out their wares, shops began to open up and after a few hours, the little town was buzzing. We strolled the waterside promenade while enjoying the fresh air and great views of the mountains.
☞ SEE MORE MEXICO ARTICLES:
We even found a little cafe serving up delicious breakfast and coffee. It was a relaxing day and a great way to recharge our batteries after being in the city.
After 5 nights of day-tripping around Guadalajara, eating delicious food, discovering markets, people watching in plazas and slowly sauntering around, it was time to pack up and leave. Our next destination was one of our favourite cities to date, stay tuned to find out more 🙂
Check out our quick video of the sights of Guadalajara here:
Like This Article? Pin it!
Have you ever been to Guadalajara? Did you like the city? Tell us below!