It seems that despite our many articles on the subject, there is still some doubt about the idea that travel blogging can actually be a reliable, stable source of income.
In this article, I'm going to break down our different revenue streams and show you exactly how we support our travelling lifestyle (and save extra money), through earnings that stem from this blog.
Any time we are interviewed, or write about our career on other websites (like Forbes, The Independent & Business Insider), the comments tend to pertain to the fact that "travel blogging isn't a career choice".
We're here to say that it is! It's a great career choice and one that has proven quite lucrative for us and many others.
Belive us! Travel blogging is the best career move we ever made and there are hundreds of thousands of people earning money from blogging. We have an easy, step-by-step guide on how to Start a Travel Blog Today. Don't miss it!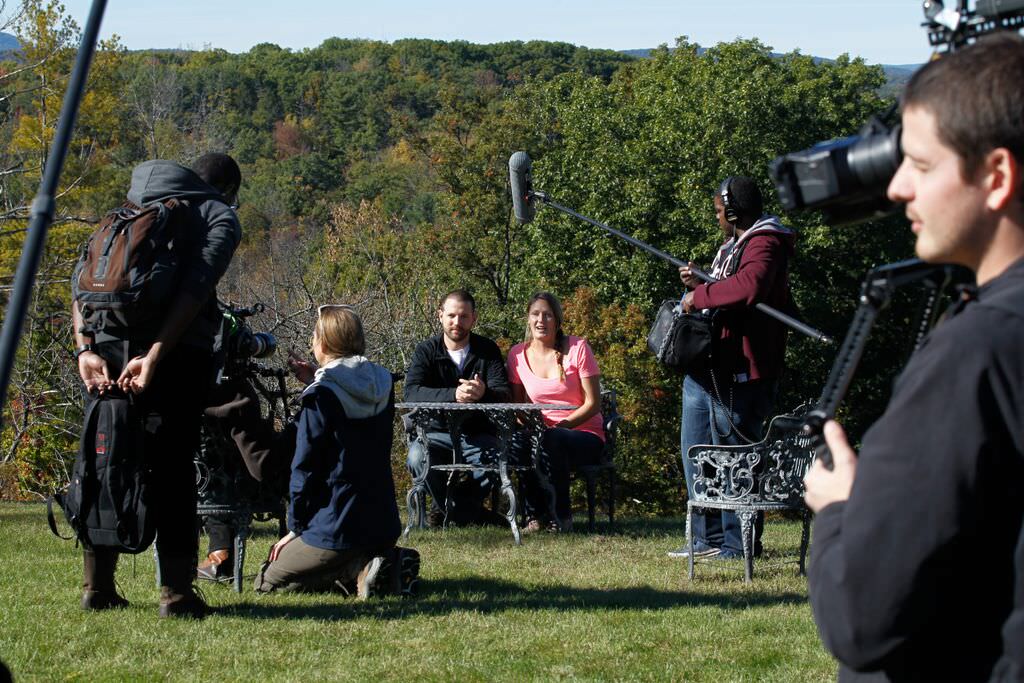 We are always very transparent about our wages and it's never to brag (we were transparent when we made no money too!). It's to show others that working from your computer and travelling the world full-time is definitely possible for those who have the passion and the drive to do so.
I think that telling you guys – our readers – exactly how much money we make, and how we're able to do it, is the best (and only) possible way of giving you proper guidance, inspiration and encouragement to start the journey into a location independent lifestyle.
Our Income Streams
Currently we have a wide range of income streams, and while half of our earnings are not made directly from the Goats On The Road blog, they are all avenues that have branched off of our blogging career over the years – much like a carpenter who works for a building company, but also makes furniture and finishes his friends floorboards on the side.
"You will not make much money OFF your blog (you can but you need super high traffic numbers) but BECAUSE of your blog." – Caz of yTravelBlog.com
The Blog – Right now about 50% of our monthly income comes directly from advertising and affiliate sales on our blog. Our readers don't see much of this advertising because of the way we've structured our pages, but it comes in the form of giveaways, links, banner ads and affiliate sales.
This income varies from month to month, but it is very reliable and is growing over time.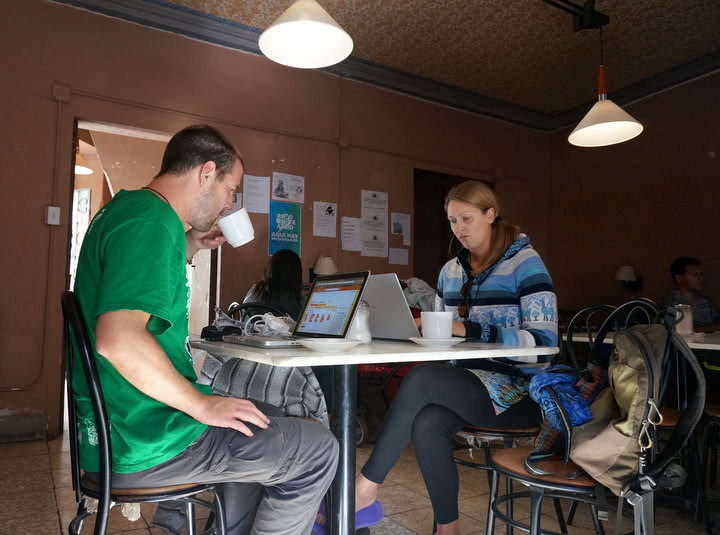 Social Media Marketing – About 10% of our total monthly earnings come from our Social Media Marketing work. This is a new revenue stream for us and it's a little bit more hands on than our other earning methods.
In essence, we take over a company's blog and social media accounts and help them to grow their online presence. We charge a monthly fee for this service, so it's very reliable money and helps us to ensure a base amount of cash flow each month.
Freelance Writing – A very steady and reliable source of income, freelance writing accounts for 40% of our monthly salary. Our freelance writing is completely linked to our blog because we've landed these jobs by using our blog as a writing portfolio, and we link to our blog from every article that we write on other sites.
We currently write for Wise Bread, Canadian Traveller Magazine, Travel Pulse and Credit Walk for a total of 21 articles every month. These articles pay between $75 and $200 each.
Our Guaranteed Earnings
Of course, as with any entrepreneur and business owner, none of our earnings are 100% guaranteed (clients could drop off, websites could go out of business etc.). However, we are fortunate to have our steady freelance work which ensures that we have a comfortable base wage each month.
Between our freelance writing and social media marketing work, we earn a minimum of $2,500 USD / month. This is more than enough to live overseas. This money is like a salary, because it is paid automatically to our accounts at the end of each month.
UPDATE 2016: Our base earnings are now over $5,000. The blog and other income streams that stem from it now earn $10,000 USD / month after tax.
In Canada, this amount would have barely covered our mortgage, bills and car insurance, but when we live in places like Mexico and Guatemala, or House Sit in Grenada, it's hard for us to spend more than $1,500 on all of our expenses!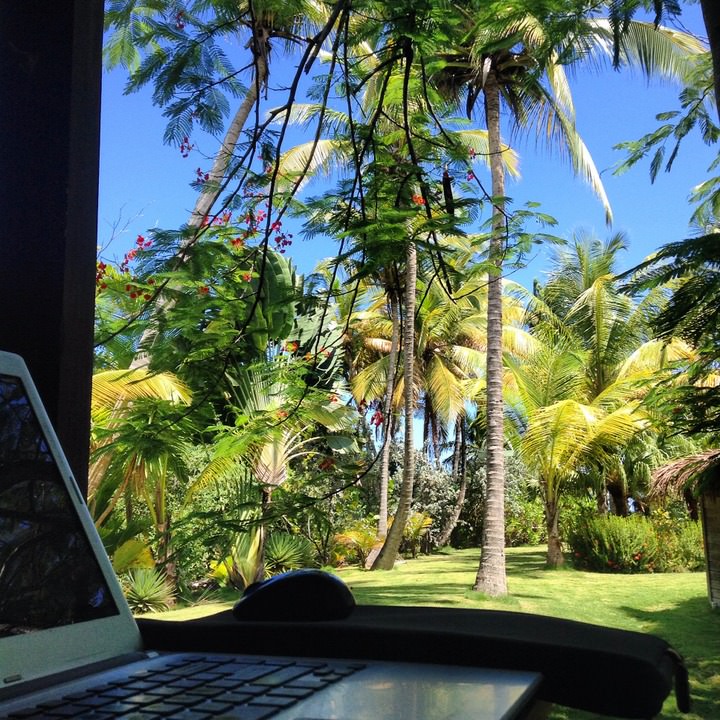 That monthly figure includes going out often, drinking wine, eating fine cheeses, and living a pretty luxurious lifestyle. As bloggers, we are in no way "scraping by" or "living by frugal means". We don't have to!
Living abroad can be a very inexpensive when compared to life in western countries and this is part of the reason we are able to save so much money each month. When I lived in Canada, we couldn't imagine we'd ever be able to save more than half our wages as we do now. Canada is too expensive!
Our Other Earnings
Our earnings from affiliate sales and website advertising are far less stable, but they tend to be around $3,000 each month. We earn some through direct advertising and banner placement, and some through affiliate sales.
World Nomads travel insurance is our best affiliate and we often make over $500 / month from insurance sales made through our blog. Other top affiliates include My Tefl and Trusted House Sitters.
We also recruit teachers for a school in China, occasionally write for newspapers, work on campaigns for large brands and do some other, random, one-off type jobs.
Total Earnings
In total, we average around $5,000 USD (after tax) from our travel blog and other income sources. While it does vary from month to month depending on affiliates, one-off freelance articles and advertising, for the fourth quarter of 2015, it was never below the $5,000 mark.
UPDATE 2016: The blog now hovers around $10,000 USD / month after tax.
We are not the only bloggers making this kind of money either! In fact, some of the top bloggers that we look up to (like YTravelBlog.com) make over $100K / year from their website.
One of my favourite bloggers is Pat Flynn of SmartPassiveIncome.com and he makes more than $100K / month! That's right, more than $1.2 million / year from his amazing blog which is all about entrepreneurship and the journey towards making money online.
Some mommy blogs make more than $5K / month, while there are tech blogs out there (like Tech Crunch) that make over $10K / day from their websites.
Free Travel
One of the major perks about being a travel blogger is free travel. Once you've built up a solid following, you'll be able to help companies connect with your travel-loving audience and in return, they will offer you free travel, products or services.
We haven't paid for a hotel room, scuba dive, or tour in a very long time. In exchange for promoting companies and brands on our website and social media channels, we are often offered free flights, rooms, tours, products and travel.
It's better to think of this as "working for travel", rather than "free travel", as a lot of time, energy and care is put into marketing promotions. We ensure that the company sees a return on their investment, and they ensure that we are comfortable and happy with their service. It's a win-win.
You can also couple your blog earnings with house sitting, to cut out accommodation costs while on the road. Stay in a luxury villa on the beach for 4 months… for free! Click Here to learn more about how house sitting can change your life.
Hours of Work
This is where blogging can be very lucrative because you actually don't have to put in a lot of time. There are numerous bloggers out there who spend many hours each day on their blogs…which, in our opinion, isn't necessary.
Some bloggers take on enormous workloads, and therefore need to put in more hours to complete the numerous projects. Of course, many of the top bloggers have numerous opportunities, meaning that the more they work, the more money they earn.
But in general, you can make good money from your blog while only working 3 – 4 hours / day, 5 days / week. It's all about a work-life balance.
I strongly believe that if you build a passive income blog model and work efficiently, you can easily make the same amount of money, while working half the time.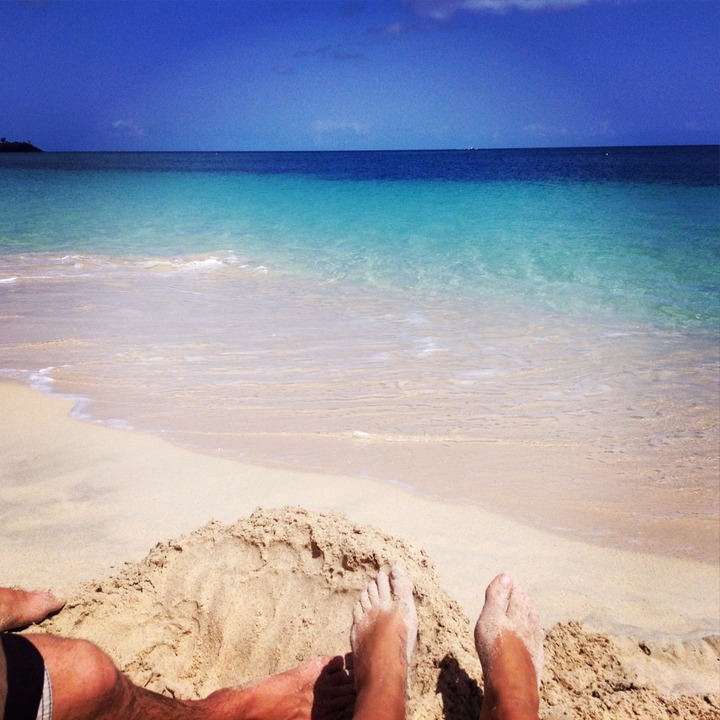 Currently, Dariece and I put an absolute maximum of 20 hours / week into our blog. If you take our wage and divide it by the hours we're actually on the computer, it works out to around $31 / hour after tax (each). That's pretty awesome!
When I worked in Canada, I made less than that hourly wage (even before tax). Sure, my pay cheque was "guaranteed" while I had a job, but in reality, how guaranteed was my job?
Is Blogging Reliable?
As far as I'm concerned, no job in the world is reliable right now. Given the current global economy and the rising rate of unemployment, I believe that everyone should attempt to earn money in different ways, if only just to have a safety net and something to fall back on.
The internet provides jobs that were never there before. You just have to know where to start… and go for it.
Online income is more reliable than a normal 9-5 job because of the nature of an online business. If you continue to put time into your website (even just 4 hours / day), your business will naturally grow, more people will read your work and your blog will expand.
Google will start to give your website more credibility and your numbers will start to rise. Slowly at first. Then faster and faster. And once your numbers are up, brands and companies will start approaching you to work on various marketing campaigns in exchange for travel. When you've built a industry leading blog, they'll even pay you a salary on top of the travel!
We don't write about travel blogging and travelling the world because we think we've somehow made a living where others couldn't. This career choice is available for everyone, even those who have no website experience. We didn't even know what WordPress was when we started.
You don't have to be a travel blogger to make money either. Blog about what you love, and what you know. If you put in the effort and spend a year or two building your website, then you will become successful and you will be able to earn a living from it.
As we wrote in The Complete Evolution Of Our Blog, we didn't earn any money from Goats On The Road for over a year, and it wasn't until two years had passed that our blog fully supported our travelling lifestyle.
It will take lots of commitment and love at first, but what business doesn't? The best part of a travel blog is that you're experiencing the world as your business grows.
We're here to tell you that travel blogging is an incredible job and it can offer a reliable income stream for anyone who puts in the time and writes about what they're knowledgeable and passionate about.
Right now I'm putting together a FREE step-by-step guide to starting a blog from scratch and turning it into a money-making machine. Stay tuned!
For more about blogging and as a career, click here.
Like it? Pin it? 🙂