When I look back at my existence before I left Canada to pursue this dream of travel & adventure, I see a life full of things that I didn't really want to do. I had to wake up early in the morning (oftentimes 6:00am, or even 2:00am) to go to work at a job that I didn't find satisfying. I would work 12 hour days with no reward other than a fat pay cheque, but the long hours and subsequent exhaustion meant that I couldn't really spend and enjoy the money as much as I would have liked.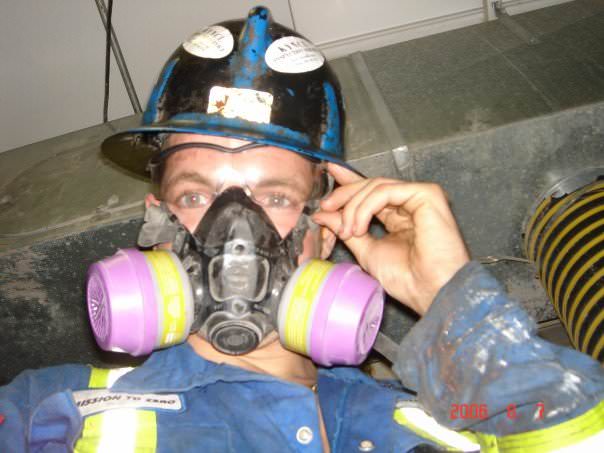 I would work all week and look forward to the weekend, but when the weekend came I was too tired to really plan anything major, plus I had a bunch of chores that needed completing and obligations that needed to be met – both of which I couldn't finish during the week because I was too busy.
I would have to take the car into the shop and spend money to fix it; the sink needed repair; the house needed to be cleaned; the laundry machine was squeaking and everything was adding up. Sometimes I would have to take a holiday, just to catch up on things that I didn't even want to do.
On top of all of that, I wanted to make time to spend with friends and family, but with so little time for myself, this wasn't all that easy.
This is not an unfamiliar story to most, in fact…  this is considered the normal life.
Please Note
This article is for those who are interested in travelling and living abroad full time. If your life is exactly where you want it to be right now, then you've already accomplished what this post is trying to get across. You don't have to travel to be happy, you just have to live your life doing what you love. As this article is written on a blog designed do inspire others to live a life of freedom, travel and adventure, it is targeting those interested in travelling as a lifestyle. 
Once I decided to jump off of the ever-growing cliff of my working life, everything changed. In the first month of travelling, I had done more, seen more and experienced more than I had in the previous decade of my life. Instead of having a few hours every weekend to do what I wanted, I had 24 hours / day, 7 days / week – now that's a lot of free time!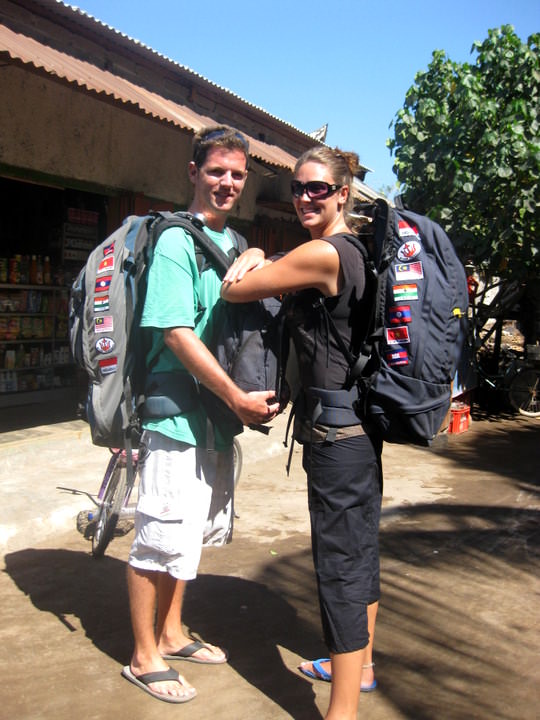 And what did I do? I snorkelled with sharks, explored ancient temples, chilled on white sand beaches, swam in tropical waterfalls, ate exotic foods and explored a region of the world that seemed so far from my own, that it felt like it was on a different planet. This was all in the first month.
Dariece and I spent over a year travelling through Southeast Asia, India and Sri Lanka and when we returned home, we were in shock. It was the same shock that all long-term travellers experience.
Our lives had completely shifted and yet we were going to have to return to work and assimilate back into the normal life.
The world had simply stood still in Canada, while we had been going 1,000 miles a minute for 13 months straight.
We did everything we could to return to the travelling life that we loved so much. It wasn't easy at first. We had to sacrifice another year of our lives doing the very thing that we had worked so hard to escape in the first place.
…But finally, after one final year of working in Canada, we were ready to completely detach from the 9-5 (or in my case, 7-7) lifestyle.
We've now spent more than 2015 days on the road and well over $100K living our dreams. That's nearly 30,000 waking hours doing exactly what we want, when we want. No chores. No broken down vehicle. No angry boss. No alarms (except for the occasional early flight). No drama. No stress.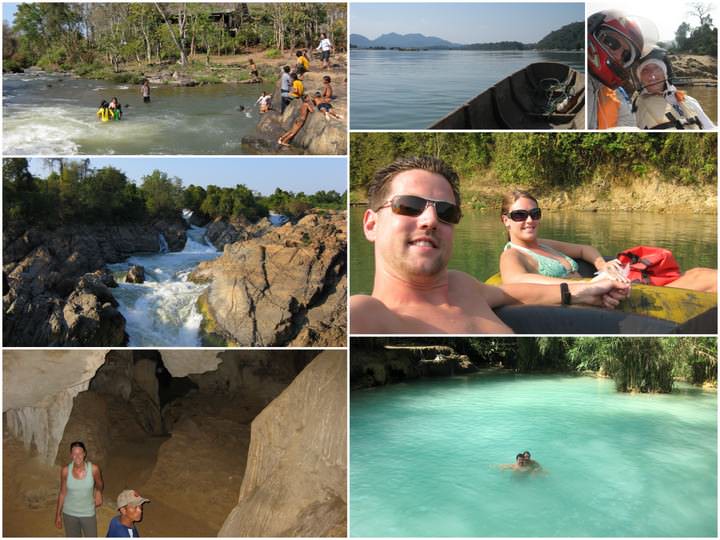 If we had we stayed at home, I would have worked around 17,000 hours, gone on a couple of week-long holidays and maybe saved a few bucks for a rainy day.
I would've spent over $250,000 on mortgage & bills. A mortgage which was bloated with interest, and came with an equity that would have crashed along with the global market.
I would have spent even more money on useless material things that provided me with a short and unsatisfying level of happiness.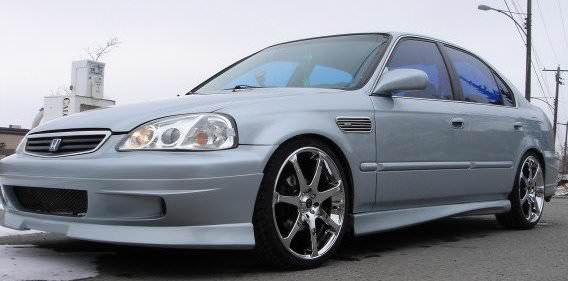 In the end, had I continued the way I was going, my life would be in much the same place today as it was on November 19, 2008 (the day we dared to jump).
What did we do to deserve this life? We simply took a risk, looked for a better way of life and followed our dreams. It may sound cheesy, but it's true.
We often write on this blog about "how you too can live a life of freedom, travel & adventure", but the truth is… all you need to do is jump.
The minute we realized that life didn't have to be a chore, everything started going our way. Instead of hurdles constantly appearing in our path, we had a clear road straight to freedom.
We don't write about our happiness, our success and our exciting life for the opportunity to brag. We feel like we've cracked some giant code and we want to tell you all about it.
We do enjoy sharing our stories about traversing Central Asia by land and climbing the Himalaya mountains, but the ultimate joy of our travel blogging life is when someone emails us and tells us that they've decided to leave it all behind to explore the world – to pursue a happier and freer life.
I'm hoping that this post will inspire some of you to consider a change. Or if you've already taken the leap, I hope you're nodding your head right now and agreeing with the sentiment of this article.
Thousands of people across the globe are waking up. There are tens of thousands of travel blogs these days and many of them are making enough money to support a life of freedom, travel and adventure.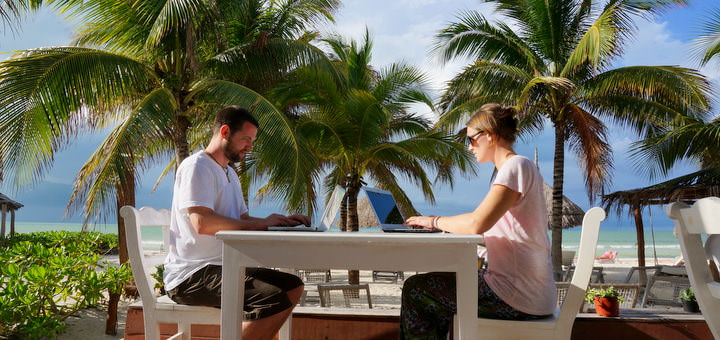 People are teaching English abroad, volunteering in Africa, WOOFing in New Zealand, leading scuba dives in Micronesia and breaking free from the shackles of a "work hard and be proud that you don't take holidays" mentality.
Dariece and I wake up every day and look at each other with huge smiles on our faces. Whether our slumber is broken by the sun reflecting off of a lake in Guatemala, or by an ocean breeze from our temporary home in the Caribbean… we are happy.
We honestly don't see how our life could get any better, and when I really think about it… this life is what it is because we don't have to do anything that we don't want to.
That level of freedom is something to cherish and it is something that anyone can attain. I choose a choreless life because one day when I'm on my death-bed, I'm going to look back at my life with a smile on my face. I'll be able to recall my life with the comfort of knowing that I truly made the most of it.
There are too many incredible opportunities waiting in the world to spend your life plagued by chores and unhappiness. Life's too short!
Once the leap to freedom is taken, safety nets appear, cushioning the fall for those courageous enough to jump in the first place.
My first safety nets came in the form of a supportive family and an amazing relationship with Dariece. Then more followed in the form of English teaching opportunities, volunteering, house sitting, and eventually my parachute deployed and I landed on this travel blog.
Your safety nets may come in different forms, but they are there, you just can't see them if you're standing at the top of the cliff. It's not hard to free-fall once you've jumped and there are thousands of happy and free people at the bottom, looking up at you and yelling: "Go For It!".
Are you ready?
If you want to take this leap, but you're not sure where to start, Check out our Sustaining Travel section for amazing ideas on how you can make money online, on the road and on the go. If you're still not convinced, Click Here for more inspiration.
Like it? Pin it! 🙂