As our time here in Mongolia comes to a close, we're both shocked and unsure of where exactly the whole month went?! It feels like just yesterday we arrived in Ulan Bator after a 30 hour journey on the Trans-Mongolian Train.
Now as we pack up our backpacks and make a plan for our next chapter of travel through Russia, we've both been reflecting on our time here with fond memories.
During our 30 days of traveling in Mongolia, we learned so much about the country, the culture and the customs. We were lucky to witness the biggest festival of all, the Naadam Festival and to hear traditional throat singing and see tribal dancing.
We helped build a ger from the ground up and were invited into gers of families who have never seen foreigners before, while being showered with gifts, food and hospitality.
We navigated our way through massive markets and pondered the past in national museums.
We rode horses through canyons and climbed up massive sand dunes in the diverse Gobi Desert. Our 6 day Mongolian desert tour was a lot of fun and an experience we'll never forget.
We used a compass and a map to independently navigate our way through an epic 8 day trek along the Chulut River. We fished, camped, hiked and walked through all sorts of terrain…while enduring torrential downpours of rain.
We saw monasteries and mountains, camels and horses, luminous lakes and rushing rivers.
We encountered more goats, cows, yaks and sheep than we could possibly count and witnessed a wild owl being saved from hungry eagles and hawks.
We ate mystery meats and dairies of all shapes, sizes and flavours, which made the seriously strange street-food in China seem delicious! We sampled some seriously potent local liquors and sniffed some sketchy snuff.
We stayed in ger camps, guesthouses, haunted hotels, hostels and camped under the stars.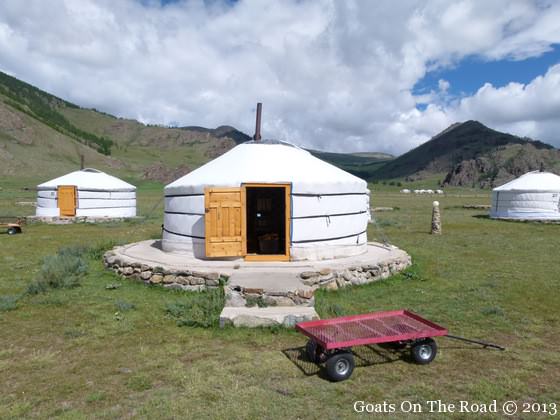 We rode by bus, van, camel, horse, car and train.
We met some wonderful people and had nothing but positive experiences in this undiscovered, wild country.
The time spent here in Mongolia has been very memorable and even though we're sad to say goodbye, we know we'll be back to this mystifying country one day soon.
Now it's time for us to embark on our next leg of our travels, we're hopping on the Trans-Siberian Train and taking the 30+ hour journey to the famous and beautiful Lake Baikal!
For more information on travelling to Mongolia, check out our Guide to Backpacking Mongolia.
Like it? Pin it!