Travel brings with it a lot of amazing and often life-changing adventures, ones that can alter the course of your life and open up new doors and opportunities. But with the dreams of travel comes the reality of figuring out how to fund your trip.
This is where the online research site Survey Junkie might be able to help you out.
Quitting your job and jetting off for a traveling adventure is often filled with a mix of emotions. Heading off into the unknown without a job and only your savings to support you can be exciting and scary. Your mind will be full of worries.
Will your savings last? How much are you going to need to have a fantastic time?
What if you want to earn a little bit more so you can save up for travel in the first place? It's not always easy to find that extra bit of money each month in order to save. Or maybe you're already off exploring the globe but your pot of cash is running thin, and you don't want to go home just yet.
When I heard of Survey Junkie, I was a little dubious – can you really make money just by filling in surveys online? What is it all about? And who wants all of these surveys done in the first place?
But money, or lack thereof, can often be a really stressful subject, and I'm always keen to discover new ways to add to my income, so here's a Survey Junkie review to figure out once and for all if we can all make some extra cash.
In this Survey Junkie review, I'll be covering whether or not it's a legitimate company, how to make money using Survey Junkie, and how to max out your earnings. It's not all amazing, and there are some things you need to know before you go full steam ahead, but it also is a pretty exciting way to top up your savings.
*Note: At this time, Survey Junkie only accepts users from Canada, the United States, the UK, Australia and New Zealand.
What is Survey Junkie?
Survey Junkie is a website which provides users with a selection of paid online surveys to fill in. Their tagline draws people with the lure to "be an influencer," and this isn't false. By filling in surveys, you can help brands shape the way their products are developed and advertised.
Survey Junkie isn't the only site out there doing this; in fact, there are a whole host of survey sites that claim to be the best. But, Survey Junkie seems to be the biggest and most well-known, with over 10 million members signed up to the platform and a host of well-known brands on their client list.
They claim that by filling in the survey, the users' opinions could be making a difference. I'm not sure how much of a difference one survey could make, but it's an interesting idea that your thoughts could be helping to shape a company or a product.
Users sign up to the service, fill in a form with their details – including information about their household and job – and then are matched up with surveys that fit their profile. The companies get the opinions of their target market, and users get paid for the hassle of clicking or filling out a few boxes.
There's the bonus of being able to fill in the surveys wherever you are, and on any device, so you could be making that extra cash on your daily commute or while you eat your breakfast.
For each survey you take, you'll get points. The more points you get, the more money you make. Once you stack up enough points, you can swap them for cold hard cash (via PayPal), or e-gift cards at various retailers.
It all sounds too good to be true, doesn't it? A real company that wants to pay you just for telling them some basic things about yourself and your thoughts on their products.
The thing is, market research is critical to companies. If they get their market research wrong, they could potentially get the whole product wrong and waste a load of money in the process. Companies are more than happy to pay the right people to answer questions about their products because your opinion could really help them make money.
⇒ See Also: FlexJobs Review – How To Find Legitimate Remote Jobs
Is Survey Junkie Legit?
This all sounds amazing, right? You can make money using Survey Junkie, from the comfort of your bed, and there's no stress. Where's the catch?
Of course, there's going to be questions surrounding the whole service, especially if something sounds too good to be true. Read any Survey Junkie review, and you'll see these questions being asked again and again.
It turns out that Survey Junkie is a legitimate company, and not some back-alley internet set-up out to steal all your opinions and leave you high-and-dry.
The company started in 2003, and you can check out Survey Junkie reviews on its Trustpilot page, where it scores 8.7/10.
Though the company claims to have thousands of users, it remains to be seen how many of them are actively using the site. But people do use it. Many people make money using Survey Junkie all around the world.
How To Make Money With Survey Junkie
Now you know that Survey Junkie is the real deal, you're going to want to know how to get the cash rolling in.
Let's be honest: you're not going to get rich from filling in surveys.
You're probably not even going to make enough to pay your monthly rent or quit your job. But it is possible to make enough money to top up your income, pay for your phone bill, or even some meals out at restaurants.
If you're traveling and want to add some more cash to your travel budget, Survey Junkie is an interesting option. Often when you're traveling – be it backpacking or working as a digital nomad – you'll be in a country where your money stretches a whole lot further than in your home country.
If you're already traveling on a budget, the dollars you can make from Survey Junkie will be very useful for you. Filling in a few surveys could even pay for your accommodation in certain places. Covering the cost of accommodation would make a huge difference to your traveling budget – and all you have to do is fill in boxes!
Filling out online paid surveys could be an excellent way to make cash on one of those really long bus journeys or during a stopover in an airport.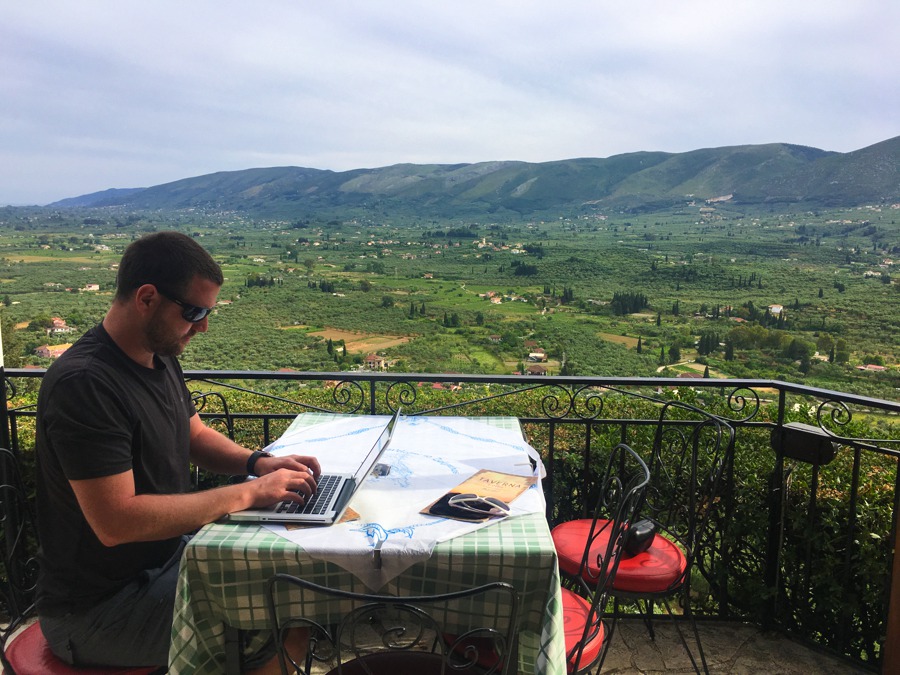 ⇒ See Also: Remote Work – The Ultimate Guide To Working Remotely
Signing up to the Survey Junkie is free.
You'll be asked to input details about yourself so the platform can match you up with a selection of surveys to suit your demographic. You will only be allowed to take surveys that your profile fits. This makes sense if you think of it as market research.
If a company is trying to put a new product out there, they're going to want to hear the opinions of the people who they're trying to sell to. So if you are a thirty-something football fan from London, a 19-year-old student from Sydney, or a 60-year-old backpacking retiree from New York, it's likely that you'll qualify for different types of surveys.
Start filling in the surveys
Once you're matched with surveys, you can start filling them in. You should try to be smart with the surveys you choose. There's a color-coded system that will tell you how suited you are for the survey. It will also tell you how long the survey will take. The longer the survey, the more money you will make.
Elect yourself for surveys that you think you will qualify for. Some surveys might not accept you because their quota for participants is filled, or your answers for the screening questions don't fit their criteria. If this happens, you will be compensated for your time by Survey Junkie, who will hand you a few free points for your trouble.
The more surveys you fill in, the more you'll become used to how the system works and realize the best ways to make money using Survey Junkie.
How Much Can You Make With Survey Junkie?
If you are looking to increase your income (and let's be honest, who isn't?), you're going to want to know just how much money you can make using Survey Junkie. Read any Survey Junkie review, and you'll see that people really do make money, and not terrible amounts either.
Filling out forms online isn't going to be a replacement for a full-time job, but you can make more than just a few pennies from sharing your opinions.
Each survey is worth a certain amount of points
Surveys range from 50 to 250 points and the time taken to complete can vary from ten minutes to half an hour. 1000 Survey Junkie points is equal to $10. On average, you will probably make around $3 per survey.
Survey Junkie isn't too keen on its users filling out surveys too quickly, so sometimes there's a limit on the amount that you can actually complete. But if you leave some time and go back on to the site later in the day, there should be more surveys for you to make money on.
When reading Survey Junkie reviews, some people claim to have made hundreds of dollars a month from filling in surveys. This sounds pretty impressive to me, and I think that you are going to need at least a few hours a day spare to be making that much. But that's not to be said it can't be done.
The likelihood is that you will make around $100 a month if you dip in and out of the site every day to fill in surveys in your free time. Still, I don't think that's too bad especially when the surveys themselves are so straightforward and easy.
You will get better with time
You will probably make more money the longer you spend filling in surveys. Over the months of being a Survey Junkie user, you'll realize the best ways to make money on Survey Junkie. Make sure to find surveys that you think you'll likely be a fit for, and work out how much time it will take you on average to fill in the forms.
Like most things, you get what you put in. The more surveys you do, the more money you get paid!
How Does Survey Junkie Pay?
You've done the surveys, you've clocked up the points, and now you want to get paid. It's time to enjoy a well-deserved reward for your time! Thankfully, Survey Junkie have a pretty straightforward way of paying their users.
Once you've completed a survey, the points you earn will be added to your account right away. You need 1000 points to cash-out and get your hands on your earnings. Again, 1000 points is equal to $10.
Users have a choice on how they receive their payment. You can get it paid straight into your PayPal account or opt for e-cards. E-cards are a good option if you are going to be spending your money online. If you want to buy things on Amazon, for example, your points earned will be worth a little bit more than via PayPal.
It's entirely up to you to decide when you want to cash out and reap your rewards.
How To Max Out Your Earnings on Survey Junkie
Making a few dollars here and there is always lovely, but if you're really serious about wanting to make money on Survey Junkie, you're going to have to put in the hours.
I will be honest and tell you that it's going to be difficult to make a lot of money from Survey Junkie. The money you make will most likely not be in the thousands. But don't let that put you off.
There are ways to max your earnings on Survey Junkie:
You will need to make sure you don't waste your time filling in surveys that you don't think you will be accepted for. Use your common sense. Choose the surveys with green colored diamonds next to them; they are more likely to accept you.
Pay attention to the time limit on each of the surveys; the less time spent filling in a survey, the more you get for your money, and the more time you will have to fill in surveys.
If you aren't getting any more surveys, you can check back later. There will most likely be a load more for you to fill out and make money on.
Make sure you log in to the site frequently to take full advantage of the surveys that are on offer for you.
Pros of Survey Junkie
It's free to join
You can make money anywhere
Make money in your spare time
Top up your travel budget
The amount made could pay for some of your travels
Use your time to make cash efficiently
No limit on the amount of money you can make
Money paid into PayPal and can change into any currency depending on where you are in the world
Option to change into online vouchers to buy goods online
User-friendly system
Well trusted site with many users
Low payment threshold before payout
You can use any device
Cons of Survey Junkie
It's not completely clear who they share your information with
You might not always fit the demographics for the surveys
You never know how much you will be able to make each month
Some surveys can feel like a waste of time if they take too long
You will need a wi-fi connection, which is not always easy to come by when traveling
It might feel repetitive if you get bored easily
To get paid in cash, you need a PayPal account
You're not going to get rich quickly!
Conclusion
There you have it. The big Survey Junkie review. There was a lot to get through there, but I thought it was important to let you know all the in-depth details about using Survey Junkie.
Online survey companies are not new, they've been around for a few years now. Many promise their users the world and get them on board with lures of high payouts and vouchers, but many fail to deliver. That's not the case with Survey Junkie.
Survey Junkie offers a user-friendly site. There's no annoying wait time before you see the points you've earned added to your account, you don't have a limit on the number of surveys you can fill in – and, unlike some companies, Survey Junkie doesn't charge you hidden fees to cash out your points.
Some users have reported frustrations with their inboxes being filled up with junk mail. To combat this, I recommend opening up a new email account strictly for Survey Junkie so your normal one isn't clogged with excess messages. Also, some people claim that they have trouble getting their payments. But usually the annoyances are few and far between, and as long as you are going to put in work, you will get paid.
If you're out there Googling ways to make a little more money each month, trying to figure out how you will afford to travel, or if you're on the road already and could really do with a payday to buy a plane ticket or fund the next few weeks of your trip, then Survey Junkie could really help you out. Click here to give it a try.
Some images in this post by: Shutterstock.com
Like This Article? Pin it!