Ahh, the nomad life. Wake up when you want, work from your laptop anywhere in the world, and make money on your own terms. Sounds ideal, right?
For us, it's the best life that we can think of! Whether you're already a digital nomad or not, this article will provide some useful tips and advice from our 7 years of travel blogging and location independence.
The term "Digital Nomad" has been used for quite a while now. Basically, it's someone who utilizes technology to make an income on the road. It's different than working remotely where you're typically contracted full-time with a company and in some cases, you need to be in a specific destination (but you get to work from home, so that's pretty cool).
The nomad life is something we hope to inspire others to achieve, and succeed at. These 10 tips will help you do just that.
1. Find a Work-Life Balance
This is something that takes many people a long time to figure out. While you might want to spend hours working on your new online venture, it's really important to maintain a healthy work-life balance.
Even though working for yourself in an open-air cafe in Bali is more enjoyable than in a cubicle with fluorescent lighting in Canada, if you're putting in more than 8 hours a day, you're not truly seeing the benefits of the nomad life.
When we were first starting out with our travel blog, we worked on it quite a bit, but much less than most people we know. When Goats On The Road began, we were travelling around SE Asia and found ourselves in cafes and guesthouses plotting out what the website would look like and be about.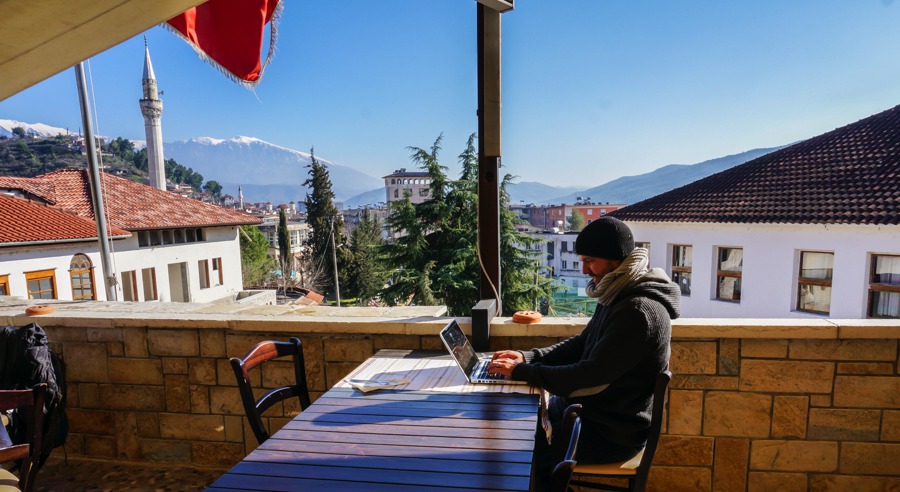 But, we still travelled around and didn't let it take over our trip.
Then, we moved to China to teach English, and spent some of our free time working on our website, with the remainder spent hanging out with new friends and visiting nearby cities.
Since then, we've been wandering around the world while temporarily living in various destinations. Our work days look a little something like this:
Wake up, have coffee, go for a walk, have breakfast and work on our website for (approx) 4 hours. After that, we're done for the day and are free to visit with friends, go to the beach, go scuba diving, swim in the pool, go for a hike, etc.
Rather than sit on your computer for 8 hours a day, figure out ways to be more efficient. Block social media from your computer, turn your phone off, make a list of the task(s) you want to accomplish for the day, and set timers for each task.
Finding that work-life balance is important, otherwise you may end up resenting your new online job, thinking it takes up too much of your time.
2. Work When You're Most Productive
Many people who decide to become digital nomads are coming from a previous job where they worked a set schedule, typically 9:00am – 5:00pm. The great thing about nomad life is you get to choose which time of day you want to work.
Are you most productive in the morning, afternoon, evening, late at night?
Test out a few different time periods and see which is right for you. For us, we're definitely most productive in the morning, after a cup of coffee and a walk. And, if we miss that time frame the day is a complete loss and it's hard to get any work done – we simply can't concentrate in the afternoons! And, evenings are meant for wine, not work.
3. Find Your Best Office
Do you prefer to work alongside fellow digital nomads? Are you a more efficient worker when you're by yourself in your apartment? Do you find cafes to be a great spot?
As with figuring out which time of day you're most productive, I suggest testing out a few venues as well. With so many digital nomad hot-spots cropping up around the world, you now have the option to work alongside "colleagues" if you want.
Coworking spaces can be an excellent place to meet others who are enjoying the nomad life, while utilizing blazing fast wi-fi, comfortable work stations and other amenities. Many coworking spots have pools and fitness studios, as well as coffee and snacks.
Another benefit of coworking spaces is that many of them are open 24 hours. As I said above, maybe you're most productive late at night, and if so, you can head to the public work space. Run a Google Search for where you are ("coworking space in Canggu") to find a coworking space near you.
If working around other people isn't your thing, or you don't want to pay the fee for utilizing the space, you can always work from home or at a cafe. Depending on where in the world you are, you may get some snarky looks from the staff if you're overstaying your welcome – especially if you only order a glass of water and a cookie.
If you opt for working at your apartment, make sure you upgrade the internet to be the fastest it can be (it's all about efficiency!), and ensure you have a comfortable home office space.
4. Enjoy Free Accommodation
I'd say that most people who are starting their nomad life are on a budget. You've probably left the corporate world behind and are running on savings. Or, you're earning an income from your online job but it's in its infancy and funds are a bit tight.
When we were figuring out how to become successful travel bloggers, we too were running off of savings. Initially when we started this website, we had jobs as English teachers, but after one year of teaching, we set off to enjoy the digital nomad lifestyle full-time.
Thankfully, when our money was running low (before we were earning money from our website), we heard about a way to receive free accommodation: house sitting.
We landed 3 jobs in the Caribbean (which were repeat gigs), plus one in Costa Rica. Offers were coming in from Europe, Canada, Australia and the USA.
Amazing!
In exchange for taking care of someone's home and pet(s), you receive free accommodation, a vehicle for your use and in some cases, a salary as well.
When you're first starting out with your nomad life, house sitting is a great way to cut back on costs, meet local people and have a proper space to work from. For more information and to see available listings, click here.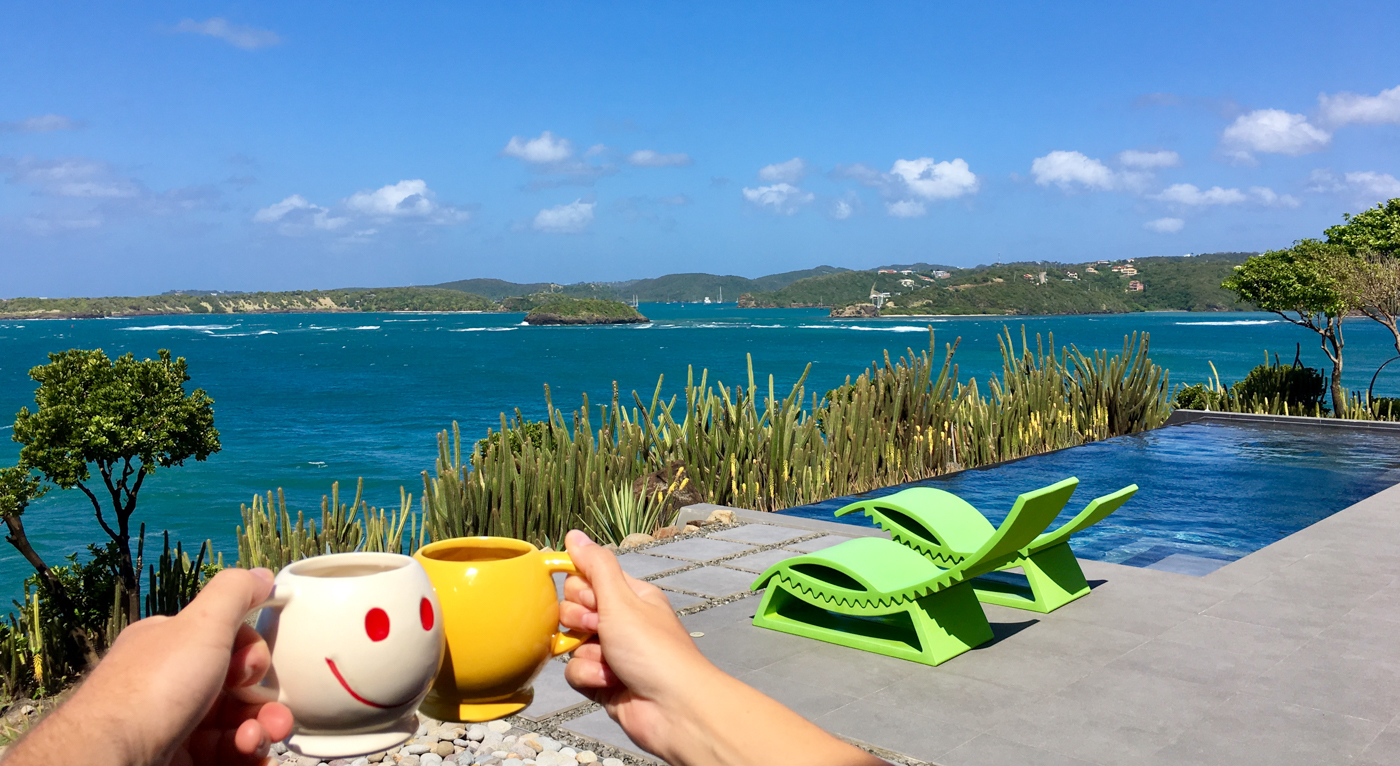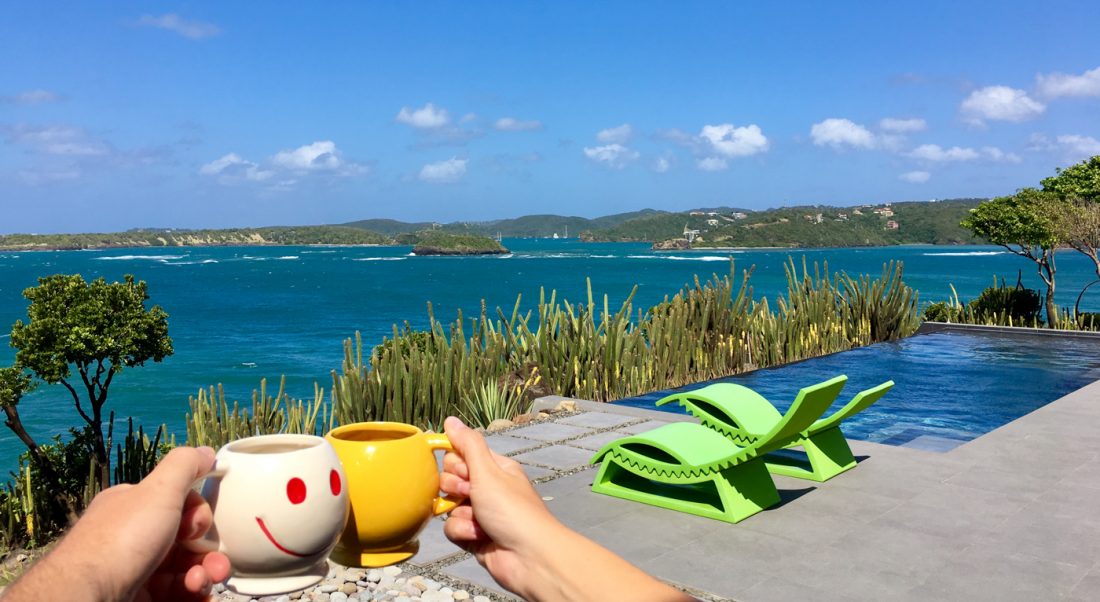 5. Always Be Learning
When trying out something new, what's the first thing you do? You research and learn from those who have already done it…successfully.
The same goes with the nomad life. Read blogs from people who are digital nomads already, search on YouTube for videos about the lifestyle, read books (The 4-hour Work Week comes to mind), and of course, take a course!
Depending on what your line of work is, there will be some sort of e-learning available for you to join. In the online world, it's important to stay on top of the latest trends, technology and practices. Skillshare is a great platform for learning new things, as is YouTube and courses or ebooks from those in your field.
Continue to learn about digital nomad life, and your specific career.
6. Pay For Insurance
From infections and broken bones to theft and cancelled flights, things can and will happen on the road. Digital nomad life is no different. You may think that you'll "just pay for something out-of-pocket if needed", but those fees can add up quickly, especially if you are in a serious accident.
Initially when we were just backpacking and travelling long-term, we went with World Nomads. They are a good option if you still have health insurance in your home country (a requirement). Also, if you plan to do a lot of adventuring, they cover many adventurous activities. Click here for a free quote.
Since we aren't residents of Canada anymore and therefore don't have any healthcare in our home country, we need to purchase "expat insurance". We've been using Allianz who have worked well for us so far. BUT, something I realized just last month is that when we return to Canada for a visit, we aren't covered! I had no idea…
A new company on the scene is Safety Wing, which are a great option for those living the nomad life. You don't need to be a resident of anywhere and you can purchase the insurance while you're abroad, on a monthly basis.
Plus, you're covered for 30 days in your home country (15 for US citizens) for every 90 days that you're on the policy.
You'll also be covered for $5K trip interruption, $100 / day for travel delays and up to $6K in lost luggage. Safety Wing is especially affordable for those aged 18 – 39 ($37 for 4 weeks).

As always, do your research and make sure to ask your insurance provider numerous questions to ensure you know what you're covered for (and not covered for).
7. Sloooow Down
We've never been advocates of fast travel, but we're especially against it when trying to be a digital nomad. Moving around at lightening speed isn't going to be easy when you also need to work online.
Rather than stress yourself out by moving from place to place quickly, plan to stay longer in one destination.
For example, if you want to travel around Thailand, rather than opting for 3 nights here, and another 4 nights there, plan to spend 1 month in Chiang Mai and another month split between maybe Bangkok and Koh Phangan.
If you continue to travel the way you did prior to living the digital nomad life, you'll probably find it incredibly overwhelming and will easily fall behind. Do yourself a favour and slow down.
8. Have The Right Tools
When you're planning to become a digital nomad, make sure you have all the necessary (physical) tools you need to succeed. Running a website from your iPad isn't ideal and neither is not having a solid wi-fi connection.
In order to succeed at nomad life, at the very minimum, I recommend having these items:
A good laptop. This is where you're going to make your money. Choose one that runs fast and has all the programs that you need for work (video editing software, photo editing programs, etc.).
A VPN. You'll be using wi-fi from a wide variety of places around the world. Many of which aren't secure. Get a VPN and protect your data. We use Nord.
Range Extender. This can be a lifesaver. If the wi-fi router is in another room, you probably won't get a very strong signal. Plug in your range extender and get faster wi-fi.
Phone Data. WiFi outages are a frequent occurance. If that happens, or if the speed simply isn't fast enough, make sure you have data on your phone so you can use it as a hotspot. In Indonesia, it cost just $12 for 34GB of 4G data! We used our phones as hotspots quite often.
Headphones. It can be distracting working in cafes and coworking spaces, or when there's construction going on next door. Pop on your headphones and listen to some chilled out music.
9. Be Happy With Your Home – no matter how temporary
This one is important. You can have all the tools you need, but if you're not happy with your home (temporary or otherwise), it'll be a challenge to succeed at being a digital nomad.
What motivates you? What inspires you? Where are you the most happy? What brings you joy?
These are things to think about when choosing where you want to live. If you love being by the water and surfing, then you probably don't want to base yourself in a city. If cities are your jam and you love nights out, you probably don't want to move to a small island.
Find a place that offers activities you enjoy, and the vibe you're after.
Once you've found a destination that resonates with you, make sure you find accommodation that does as well – especially if you'll be spending a lot of time working from home.
We search for places on Airbnb (get your coupon here), Facebook groups and by word of mouth, and have found some awesome homes in Canggu, Koh Samui, Malta, Guatemala and Grenada.
Choose a destination that checks all the boxes, and inspires you each day. You'll find it easier to get work done.
10. Find a Community
This is something that digital nomads struggle with. If you're a couple, it might not be as difficult, but if you're a solo nomad, being by yourself can get lonely. But, don't worry, there are many ways to find a great community of people, with the same mindset as you.
One of the reasons coworking spaces are so great is that you can easily meet new people. If you meet someone working at a coworking space, they obviously work online so you have that in common. If you're in a foreign destination, you have travel in common. Making friends and networking are great perks of coworking spaces.
Another way to meet people is attend meet-ups. You can find these through digital nomad Facebook groups, coworking spaces and with companies that you are a part of (Safety Wing holds meet-ups and events for digital nomads).
One of the best websites is meetup.com, which connects people with the same interests. If you're in a large city, there will most likely be a meet-up happening that you can join.
If you're living in a digital nomad hot spot (Canggu, Budapest, Lisbon, Chiang Mai, Medellin) simply search in Facebook for the "city + digital nomad" and more often than not, something will pop up.
Here's what I found for Lisbon – with the latest post asking if people wanted to get together to go for a run. See, Facebook groups work!
Live Your Best Nomad Life
Nick and I are digital nomads as well, so we know the struggles that our fellow DNs face. Hopefully the ideas and tools in this article gave you some suggestions for ways to succeed, and thrive, in your nomad life.
Where in the world are you living and working? Do you have any suggestions for your fellow digital nomads? Share in the comments below!
Like This Article? Pin it!