We've written about what we consider to be "backpack essentials" for a trip around the world, we've given a breakdown of what's in my backpack (and should be in every woman's bag), so now it's time to put together a travel packing list of what's in Nick's backpack.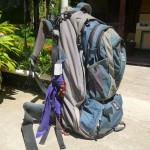 However, before you even attempt to start making a travel packing list, you'll need to choose a backpack and then purchase the essential travel item called: packing cubes. These little things are amazing. They keep your clothing squished down (so to take up less room in your bag) and keep everything organized. Priceless.
Here's our Travel Packing List For Men going on a trip around the world, from hot & humid to freezing cold climates:
Tops:
1 x thermal, base layer, long sleeve shirt
1 x tight-fitting fleece
1 x lightweight, waterproof, windproof jacket (make sure it can roll up very small)
2 x cotton t-shirts
3 x quick drying, anti-microbal t-shirts
1 x cotton, collared, button up shirt (ideal for keeping warm, travelling in conservative places, or dressing up for a night out)
Bottoms:
1 x thermal base layer pants
1 x hiking pants (lightweight, quick drying, with side pockets)
1 x khaki/golf pants (comfortable for long travel days and can also be worn for a night out)
2 x board shorts (bathing suit)
5 x pairs of fast drying underwear
1 x pair of warm socks (for cold climates and trekking)
3 x pairs of thin, quick drying socks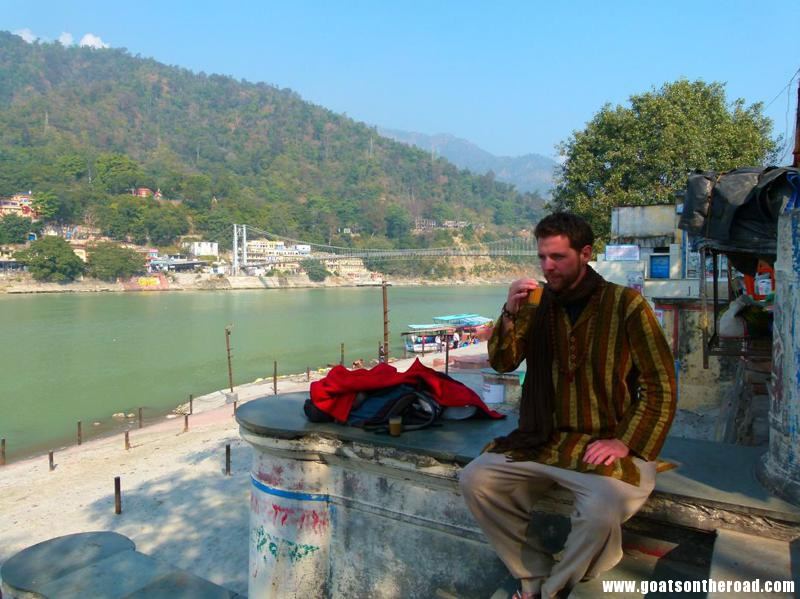 Shoes:
1 x pair of flip-flops (just a basic pair, when/if they break, just buy some new ones along the way)
1 x pair of hiking/walking shoes (Merrell and Solomon make sturdy shoes)
Toiletries:
1 x toothbrush
1 x small tube of toothpaste (buy small tubes rather than carrying a big one)
1 x small bottle of shampoo
1 x bar of soap and soapbox
1 x deodorant (available in all countries)
1 x bottle of sunscreen (available overseas but it can be expensive)
1 x electric, travel-sized razor
Other:
1 x baseball cap (you'll want a hat when you're in the sun all day)
1 x belt (Nick's weight fluctuates so much when travelling that he needs a belt to keep his pants up!)
1 x toque (for non-Canadians, this is a winter hat or beenie) – bought along the way
1 x pair of gloves – bought along the way
1 x pair of sunglasses
1 x fast-drying, anti-microbial towel (many guesthouses won't have towels)
1 x pillow case (put it over gross hostel pillows and stuff it with clothing and make your own pillow on a bus)
1 x bed sheet (We each carry one. Again, for putting over gross hostel beds and for keeping warm on an overnight journey)
1 x headlamp
1 x heating coil – We learned about this amazing item only recently. It's a small coil that plugs into the wall. You place the coil bit into a metal cup of water and within minutes the liquid is at a rolling boil. We've boiled eggs in a cup, boiled hot water for instant noodles, oatmeal and drinks.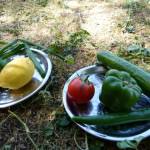 1 x stainless steel, lightweight travel cup (great for mixing instant oatmeal, having instant coffee, tea or cocktails) – bought overseas
1 x stainless steel travel plate (ideal for eating messy foods on a bus, train or having a picnic) – bought overseas
1 x multi-use knife (used for multiple things, obviously)
1 x medical kit (click here for our full list of items)
1 x money belt
1 x universal sink plug (for doing laundry in the sink)
1 x shoestring or some kind of lightweight rope (for hanging laundry and other purposes)
Electronics. Nick carries a laptop and an external hard drive (I have the other laptop, camera and Ipod).
Large/Heavy Items Purchased Along The Way:
1 x mosquito net – Depending on where you're going, this may or may not be a must-have. Some countries supply them, but they usually have holes in them or smell bad. We bought ours when we arrived in South Africa and used it all over the continent & in parts of SE Asia.
1 x downfilled, -5 degree sleeping bag (used for trekking in the Himalayas, purchased in Nepal)
1 x pair of trekking poles – unless you're planning to do lots of serious hiking/trekking, you won't need these. Nick's were bought in Nepal for trekking the Himalayas.
Guidebooks. Buy them as you need them, otherwise your bag will be super heavy. Alternatively, download them to your laptop, Kindle or Iphone.
***NOTES:
*We don't carry a tent, but if you were going somewhere specifically meant for camping, it would be worth bringing a lightweight one.
*The name of the game is lightweight, fast-drying clothes. Constantly have that in mind while packing.
*You'll end up buying new clothes, leaving old ones behind and ditching the worn-out ones. So don't bring any of your favourite clothes!
That wraps up my travel packing list for men. Everyone's packing list is different. Everyone has their personal "must-have's" but this list has worked for Nick for his 3 years of travelling the world, hopefully it'll do the same for you.
Ladies, check out: The Complete Travel Packing List For Women
What do you pack in your bag for a long trip? Did we miss anything? Leave a comment below!
Like it? Pin it! 🙂