Rome is one of those famous, historical destinations that travellers find themselves returning to again and again. There are numerous top places to visit in Italy, but with ancient monuments, delectable cuisine, and a history unlike any other, Rome is a city that should be on your travel bucket list.
But, choosing where to stay in Rome isn't always easy. There are numerous neighbourhoods to stay in, and the sights are spread out all around the city. Where you stay is key when traveling to Rome.
A Roman Tale B&B is one of the top accommodation options near the Roma Termini (Rome's main terminal station), and offers travellers a wonderful stay in a great location. In this article I'll break down the features of the property, the location, things to do nearby and how to get there.
The Location
The Roma Termini area consists of a few neighbourhoods, with Santa Maria Maggiore being where A Roman Tale B&B is found. Bordering the hip Monti neighbourhood, and just steps from the lifeline of the city (the terminal station), it seems fitting that this cool guesthouse with fabulous host would be situated in one of the most trendy areas of Rome!
Here you'll rub shoulders with locals and enjoy a more residential vibe, yet still be just minutes to all of the top tourist sights. If you're looking for a less touristy of Rome, this is it.
From A Roman Tale B&B, you are a mere 200m from Santa Maria Maggiore and 900m from Domus Aurea. The spectacular Piazza Venezia is a 25 minute walk away, the Colosseum is 18 minutes by foot and the Trevi Fountain is 22 minutes away.
The great thing about Rome is that all of the in-between bits are actually sights as well. It truly is about the journey and not just the destination in Rome.
☞ Planning to visit Florence after Rome? Make sure to check out our articles and learn what to do in Florence, and where the best restaurants in Florence are found!
Rooms and Facilities at A Roman Tale B&B
Spacious rooms are hard to come by in Rome, especially in the lower price range. With clean and medium sized rooms with a private bathroom, this B&B is a rare find in Rome. Each of the non-smoking rooms are tastefully decorated and offer guests a small terrace. You'll find air-conditioning for those hot summer days, and heat for those chilly winter and autumn nights.
You'll also have free WiFi, a flat screen TV and a common lounge area with kitchen. A savoury or sweet breakfast is served each morning free of charge.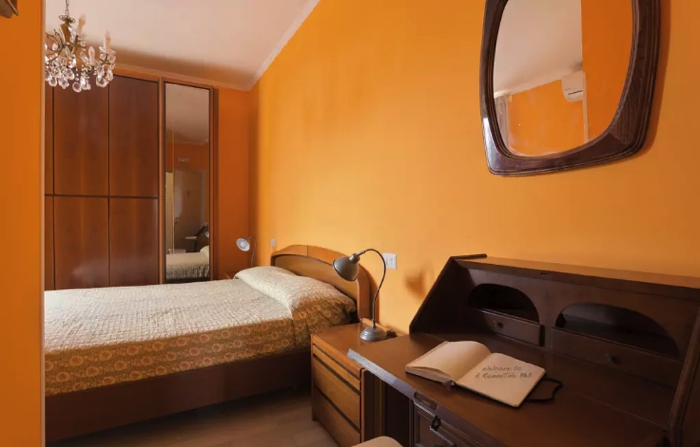 But, the best part about staying at A Roman Tale is the host himself. Valerio is considered a "super host" by his guests! Always available to offer local advice and assistance when needed, Valerio makes his guests feel welcome and comfortable during their stay.
There are only 3 rooms here. The double rooms with balconies here are rated "Exceptional" 9.5/10 on Booking.com. Double occupancy rooms go for around $90 a night in the high season.
☞ Click here to see the latest price and current reviews
Top Sights to See Near A Roman Tale B&B
Once your accommodation is sorted, all that's left to do is get out and explore the amazing city! Bring sturdy walking shoes for Rome, you'll need them. Just steps from the B&B you'll find numerous churches and Basilicas. Here I'll list some of the more famous "must-sees".
Basilica di San Pietro in Vincoli – probably best known for housing Michelangelo's statue of Moses, this Roman Catholic church was constructed in the 5th century, but has undergone many restorations since.
Santa Maria degli Angeli e dei Martiri – this unique church was designed by Michelangelo… and built into an ancient bath house (frigidarium of the Baths of Diocletian). There's also a meridian line constructed in the church which was meant to check the accuracy of the new Gregorian calendar. The design of the church and the colourful frescoes inside are absolutely gorgeous! Don't miss this church, it's free to enter.
Domus Aurea – this top sight in Rome is a must-see, and it's only 900m from the guesthouse. You'll need to book a tour well in advance to enter the remains of this great palace (which was built by Emperor Nero). Click here to learn about the tours on offer, and to book your tickets.
Piazza de Spagna – the Spanish Steps are just a 20 minute walk or so from the guesthouse. This 18th century landmark is a great spot to people watch, while enjoying some gelato!
Trevi Fountain – you can't visit Rome without making a wish at this fountain. The Baroque style Trevi Fountain is absolutely stunning, and is a must-see both during the day and in the evening. Note that most of the restaurants around the fountain are considered "tourist traps", save your euros for a more authentic dining experience.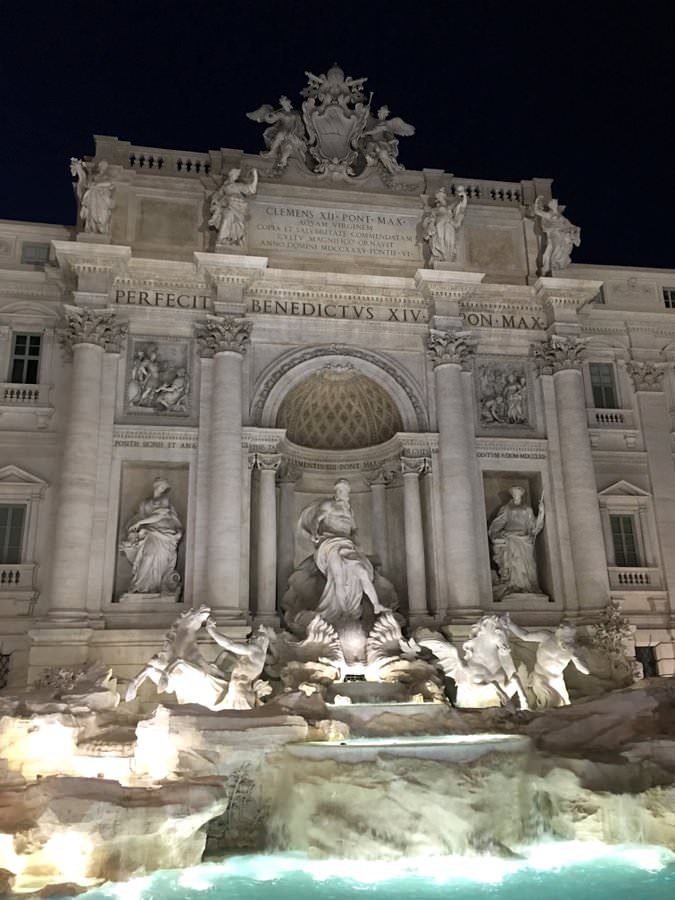 Getting to A Roman Tale B&B
This is the best part – you don't need to embark on a confusing bus ride, or take an expensive taxi to get to this guesthouse. If you're arriving by train, you simply walk 6 minutes and you'll arrive at A Roman Tale B&B.
If you're arriving by plane, from the Fiumicino – Leonardo da Vinci International Airport (which is the main airport) you can take the 30 minute journey on the Leonardo Express train. Once you arrive at the Roma Termini Train Station, it's a 6 minute walk to the guesthouse. The cost of the ticket is €11 ($12.20).
Book Your Room!
All that's left to do is book your room at A Roman Tale B&B and enjoy your stay in Rome. I hope this guide helped you learn a bit more about this accommodation. Happy travels!