Back in 2008 when we quit our jobs and started travelling full-time, we saved around $30,000 USD between us because we were able to sell a house, a car and our belongings. On top of that, we were able to work overtime and were lucky to have well paid jobs. But not everyone has the luxury of having so many possessions to sell and a good income for saving money.
So, would it be impossible to travel for a year on less than we did? Absolutely!
Since earning a full-time income from this blog, we haven't had a need to live and travel on a tight budget, but when we were first starting this business we weren't making much! At one point, we had to live off of $400 / month in Grenada, which is no small feat considering Grenada is not a cheap place to live.
In this post I'm going to show you a few key things you can do to ensure that you can travel for an entire year on $5,000.
Your travel style will be different than ours was, but you don't have to sleep in dorms and skip meals either. In fact, you can live in luxury sometimes! But you'll have to expect to travel a bit slower. You may not see as many countries as you'd like and you'll have to limit the regions you travel based on cost, but what would you rather do… see 10 countries in 3 months before your money runs out… or see 5 countries in 12 months and still have some cashflow left over?
I think for many people who are dreaming of quitting their jobs to travel, the latter is more appealing.
We've been receiving a lot of emails lately from people who believe that it's an impossible task to save up a lot of money based on their current income. We want to show that it's possible to travel on much less than what's conventionally thought.
If you've ever considered starting your own online business (like a blog or teaching English online), but you don't know how you can travel while you're starting out with no steady income, or if you just want to leave on a long trip with less cash in the bank, then this post will help you out.
How To Save $5,000 in The First Place
We've written plenty of really useful articles on saving money for travel, but usually we're talking about saving larger amounts of money. Because this post is written for those who are interested in travelling more on (much) less… we'll focus on the tactics that yield the most reward in the least amount of time.
Sell Your Stuff
If you're trying to get to $5,000 quickly, then selling your stuff is definitely one of your best routes to go. I highly recommend first trying to sell as many of your items on websites like Craigslist and through local Facebook buy and sell communities. To find Facebook communities, simply Google your local town with relevant words – like: "Vancouver buy and sell community Facebook".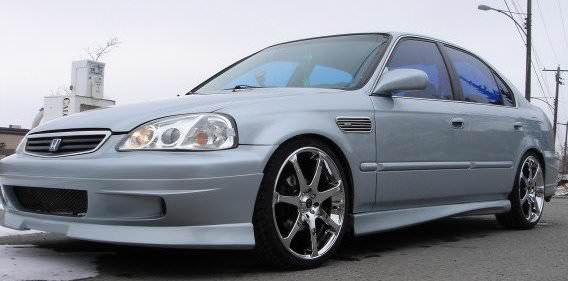 The value of items in your house can add up quickly and if you're going to be gone for a year (and potentially indefinitely), you'll want to sell them so that you don't have to store them.
If you have a couch, that's likely worth at least $200. An LCD TV? Probably around $300. I'm going to quickly add up some typical household items that would fit in a 1-bedroom apartment and what they might go for on Craigslist, just so you can get a very vague idea of what your current possessions may be worth:
| Item | Value |
| --- | --- |
| Couch | $200 |
| Love Seat | $100 |
| Table & Chairs | $150 |
| LCD TV | $300 |
| Bedroom Set | $350 |
| Stereo System | $200 |
| Barbecue | $100 |
| Dishes | $100 |
| Coffee Table | $50 |
| Old Clothes | $150 |
| Total | $1,700 |
See how fast that adds up? And that's actually valuing many of these items quite a bit lower than you may find in a garage sale.
Pick Up a Side Hustle
There are plenty of odd jobs you can pick up on the side to earn a little extra cash. Like selling your things, none of them sound very lucrative, but they can add up quickly. Some examples include:
Dog Walking: You can usually get around $10 for an hour of walking a dog. If the owners are okay with it, you can walk 4 dogs at once to earn some pretty good money. To get work, post up flyers in your local neighbourhood, talk to friends and family or put out an ad on Facebook. Once you have 4 clients that want you every day of the week… you're golden.
This experience will also help you with getting free accommodation while you're travelling (more on that later in this post). 4 dogs at $10 / walk, 7 days a week is already $280 per week. That's $1,120 per month, meaning you'll make your $5,000 in less than 5 months!
Teach English Online: These days, it's quite easy to teach English online and earn a decent income from it. If you're from North America, I highly recommend signing up for VIPKid, without a doubt one of the most trusted networks for online teaching work.
You'll have to fill out an application and go through a relatively easy interview in order to get hired, but once you're a teacher with VIPKID you can earn as much as $22 / hour online! Work 10 hours per week as a side-hustle and you can make up to $880 / month, meaning you can reach your $5,000 goal in just over 5 months.
Start a Blog: I'm going to say it here as I do many places on this blog, starting a blog is the best way to earn money for travel and it is our favourite travel job by far. The only issue is that you won't likely make money from it for a while, so this is more of a way to earn extra cash later on down the road.
The sooner you learn how to start a blog the better. So many people ask us what they will possibly write about while they're working at home not travelling and my answer is always the same. People love to read blogs that they can relate to, and while you're at home working a normal job and saving for travel, you're easy to relate to. Every traveller has had to save money for travel and they're always interested in these tips, as well as tips on planning a big trip.
Start your blog and write posts that show people how you've been able to save, what you're packing in your bags and how excited you are to travel. These types of posts are likely to be your most popular articles moving forward.
If you can grow your audience to 25,000 monthly page views (very doable within a year if you follow our free blogging course), you can sign-up for MediaVine Ads (the same ads you see on this website), place them on your site and earn $450 per month from your blog. Not to mention a travel blog can open up countless doors to free hotels, free flights, free tours and more. This blog can currently earn as much as $4,000 per month from these MediaVine ads alone, and we don't have to do anything to keep them running.
Save Smart
Saving money isn't always easy. Things pop up out of nowhere and it becomes difficult to get ahead. But there are a few key tips that I'm going to go over in order to help you save money a lot quicker than you thought possible.
Auto-Save: For some people, the hardest part of saving money is physically putting money into an account. They end up spending it on something they want or need instead of transferring it to their travel savings account.
To combat this, simply contact your bank and ask them to set up an auto-withdrawal from your main account into a separate account for travel. Any savings account will do. When I was working in Canada, I had my bank automatically take out my savings from each paycheck the day after Payday. That way I never even noticed it was gone.
Rewards Points: This is one of the most under-utilized travel savings methods because so many people just find it too confusing. Of course there are different cards in every country, so I'm going to explain the cards for the most frequent readers of this blog below:
Americans: you should get the Chase Sapphire Preferred card. Right away you'll get a $660 sign-up bonus plus you'll earn 2.5% in points when dining / travelling and 1.25% on everything else. The card normally has a pricey $95 annual fee but it's waived for the first year.
UK citizens: you'll want the American Express Preferred Rewards Gold, which also waives the annual fee for the first year, offers a $200 sign-up bonus and around 1% rewards on most of their purchases, 3X that if you redeem through the AMEX Portal, and you even get 2 lounge passes per year. Plus other bonuses for high spending.
Canadians: there's one card that rules them all. You'll want to first get the TD All-Inclusive Bank Account, which normally costs $29.95 / month, but it's waived if you keep $5,000 in the account at all times. With this account, you can get the TD First Class Infinite Visa card for free, with no annual fee (normally $120 / year). This card is amazing. You'll get a sign-up bonus worth around CAD$300, plus 1.5% rewards on all of your purchases. But you can triple the points value if you redeem through the Expedia for TD Portal. Seeing as Expedia is our most recommended travel booking site, this works out quite nicely. 4.5% back is a VERY good deal, even when compared to the best cards in the US, but with no minimum spending and no annual fee (when coupled with the All-Inclusive account), you really can't beat this card.
RRSP / PPP / 401K Savings Dump: this one is a bit advanced, and you should speak to your financial advisor before committing, but if you plan to travel for an entire fiscal year without earning any money, then there's a pretty good hack you can do with pre-tax contributions. During your work year, when you're making a decent taxable income, consider dumping some money into your tax-deductible account. In Canada, this is called an RRSP.
If you contribute $5,000 to an RRSP while you're earning $50,000 / year, you'll see an extra tax savings of around $1,500 which you'll be refunded after filing your taxes for the year. Then, when you're travelling for 1 year and have $0 income, you can take out this money tax-free because you'll be under the personal minimum amount for the year. This means that the you get that $1,500 tax break in the previous year for free. It's a win-win. I utilized this when left Canada and it worked beautifully, just be sure your total income for the taxable year is below the minimum taxable amount, including the RRSP withdrawal.
Okay now you have the knowledge you'll need to quickly save $5,000. So how can you possibly make this last an entire year on the road? Read on…
How To Travel For 1 Year on $5,000
Finally we get to the good stuff. How could it be possible to travel for an entire year on $5,000? You're going to have to travel slow and follow the steps in this article, but it's 100% possible and I'm going to show you exactly how.
House Sit
You don't have to house and pet sit for the entire year in order to make it on $5,000, but you'll definitely need to pick up a few jobs along the way. Don't worry, with TrustedHouseSitters.com it's actually really easy to find a job. You just have to pay the annual sign-up fee (which is nothing when you consider what you'll save in accommodation costs), set up a profile and start applying.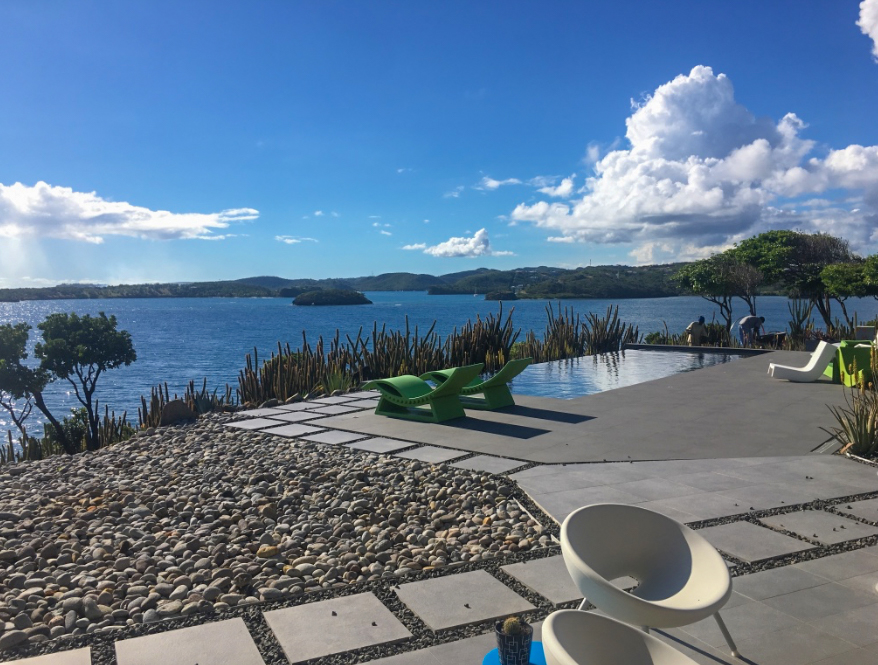 Remember that dog walking I talked about to help you earn the $5,000 in the first place? You can use that as experience in your profile and even get the owners of those dogs to write you a reference on the website.
I recommend applying for some jobs while you're saving money at home, before you even leave. That way you can line up a few throughout the year you're travelling. In our experience, most of these jobs also come with a free car for you to use, and we've even been paid by homeowners before.
There are hundreds of jobs posted every month on the site and you can find beautiful homes in Europe, South America, Canada, USA, Australia, The Caribbean, Africa, Asia… well, basically the entire world! House sitting literally changed our lives and it's a great way to save a lot of money while travelling.
If you can land a job in a cheap country (more on this later), you'll only have to pay for food and experiences. In an affordable place like Thailand and Indonesia, that means that you'll only spend around $10 / day while pet sitting. That's only $3,650 per year. Try to land pet sitting jobs for a month or two to really see the savings add up.
Click here to sign up for TrustedHouseSitters.
Choose Cheap Countries
You won't be able to survive on $5,000 per year if you're backpacking around expensive countries like Japan and England, so consider choosing some cheap countries for travelling instead. Southeast Asia, Eastern Europe and Central America are three of the most affordable regions for backpackers. While we've stated that $50 / day for a couple ($25 – $30 / day for a single traveller) is a decent low-end budget in these regions, you're going to have to live off of far less in order to stretch $5,000 over an entire year.
That's why you'll have to travel slow, consider house sitting and utilize the other tips I'm going to list in this post in order to travel for a year on $5,000.
Work Along The Way
I know, you're probably thinking you want to take an entire year off of work and not have to worry about waking up to an alarm while you're on the road. But if you only have $5,000, then picking up a few odd jobs along the way can really help you stretch out that budget.
We've written a post with over 101 travel jobs, but some of the best ones (which are very easy to find) include teaching English, bartending, working at hostels and waitering. Keep in mind as well that if you already signed up for VIPKID while you were saving money at home, you can continue teaching English online while travelling to earn $22 / hour from the road.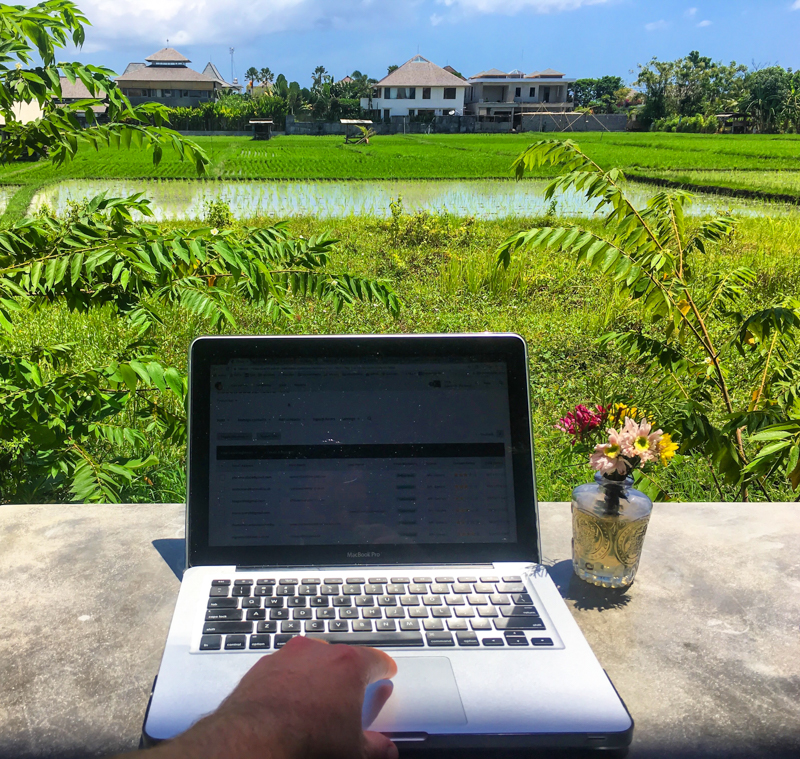 Get Free Travel
That's right, it's quite possible to travel the world for free. We've written extensively on this topic, so I recommend you click that link to read all about how you can find free food, free accommodation and even land free flights while you're on the road. It's a lot easier than you may think.
We're not recommending things that will ruin your travel experience either. Many of the ways to get freebies on the road in that post will actually enrich your travel experience, like volunteering rolling bread in a temple in India in exchange for a free lunch. There's many more cool ways to travel for free in that post, so definitely check it out when you're done reading this one.
Passive Income
I know I already recommended that you start a blog in this post, but I'm going to reiterate how valuable it can be. If you were to start your blog 6 months before leaving home, then by the time you hit the road, your blog could already be earning some money. After one year, our blog was already making between $750 – $1500 / month, and we didn't know the first thing about blogging!
With our Free Beginner Blogger Course and 200-Page ebook, you'll learn how to quickly start your own travel blog, how to grow an audience and how to earn money. If you keep working at it while you're at home saving money, then there's no reason why you couldn't be earning a few hundred dollars per month by the time you leave on your big trip.
Travelling on a savings of $5,000 for a full year would mean that you'd have to be pretty frugal, but not if you're also earning $500 – $1000 / month in passive income. I'm not saying it will be easy and happen overnight, but if you follow our course and ebook, it's definitely possible. This blog that you're reading not only pays for our travels, but it earns us more than our jobs in Canada ever did (Dariece was a legal assistant and I was working on the oil rigs).
Plus with a travel blog, if you produce great content, you can often get free hotels, flights, tours and travel and we explain how in our course and ebook.
Couchsurf
This is a great way to save a lot of money on accommodation while travelling. In fact, there are so many couchsurfing hosts available around the world this day that you may be able to cut out your accommodation costs completely.
Accommodation is one of the most expensive parts of travel. On average, in cheap countries it amounts to around $15 per night, which equals $5,475 per year! Cutting this out means that you'll only have to pay for food, so like house sitting, this method can bring you down to just $10 per day in cheaper countries.
Stay With Friends
This is definitely easier once you've got a bit of travel under your belt, because you'll have met people on the road who offer to host you "if you ever come by" their home town. But even before you've met loads of other travellers, think about people you know who live in the countries you plan to visit. Consider calling them up and asking if you can stay for a few nights. This can be a big money saver.
We've hardly paid for any accommodation when travelling in the UK, because we have so many friends there. We figure we've saved around $4,500 by staying with friends instead of expensive hotels that are often $150 / night!
Rent Apartments
If you're really trying to save money on accommodation and food, then renting an apartment long-term is the way to go. Moving from place to place every 2 – 3 days and staying in hostels is fun, but if you can force yourself to slow down and spend a month in an apartment once in a while, the savings can really add up.
By renting an apartment long-term, you'll save a lot of money on the nightly room rate when compared to a hotel or hostel, but also you'll be able to cook for yourself, which will bring your food costs down considerably.
In places like Chiang Mai, Thailand and Canggu Bali, it's possible to share an apartment and pay as little as $100 / month. That's just over $3 / night on accommodation! On top of that, you can eat cheap meals at home like vegetarian spaghetti, which can bring your food budget from $10 / day all the way down to $2 / day. That's an incredible savings.
I'm not saying you have to give up your backpacking dreams and simply go live in an apartment somewhere, but if you can split up your year with a couple of months sharing a cheap apartment, you can easily stretch that $5,000.
Volunteer
I'm not talking about those volunteer jobs where you have to pay a bunch of money in order to help "rehabilitate lions" in Africa. I'm talking about real volunteer opportunities that offer free room and board in exchange for hard work. Check out WOOFinternational.org, WorkAway.info, and IndigoVolunteers.org for some great opportunities.
Budgeting On The Road
To keep your costs down while travelling, you're going to have to keep track of your spending. I've used many different apps to help me do this, but I love TrailWallet. It categorizes your spending, displays it in cool pie charts and graphs and helps you keep on track with both your daily and monthly travel goals.
I also use the TD MySpend app which is only available for TD Canada Trust bank accounts, but it automatically tracks my spending in my bank account and on my Visa card, categorizes it and tells me how far above or below my average spending I am. For a good free option, you can set up a Google Spreadsheet with sums and calculations that will automatically tally up your daily / monthly spending.
To help you understand just how possible it is to travel on $5,000 for a year, I've created an example budget below which utilizes many of the tips that I've listed in this post so far:
Accommodation Budget
Let's say you house sit & couch surf for a quarter of the time, volunteer for another quarter and you pay for your own accommodation for the remaining half of the time. This would mean that you house sit or couch surf for a week, then the next week you volunteer, and for the next 2 weeks you pay for a hotel or hostel.
Assuming that you're travelling in cheaper countries, your accommodation will likely cost you no more than $15 / night when you're actually paying for it. But half of the time you're actually staying for free, so averaging out over the year, you'll spend just $7.50 / day or $2,737 / year (this budget is assuming you're staying in private rooms, so you could cut this budget in half again if you stay in dorm beds).
On top of that, if you spend 2 months of that year in a shared apartment spending just $100 / month, that will save you an additional $250 throughout the year, bringing your annual accommodation budget down to $2,487.
Total Accommodation Budget: $2,487 / year
Food Budget
As I mentioned earlier in this post, if you're eating on a budget in an inexpensive country, you can expect to pay around $10 per day on food at restaurants, and that's including eating 3 meals per day in a decent restaurant. However, if you're house sitting, staying in apartments, couch surfing, or utilizing the kitchen in your hostel, you can bring this food budget down to just $3 / day.
Now I wouldn't recommend cooking for yourself every meal. After all, experiencing a country's cuisine is a great insight into the culture and is definitely not to be missed. But if you can limit your meals eaten in restaurants to one per day, you can bring your food budget down to just $5 / day ($1,825 / year).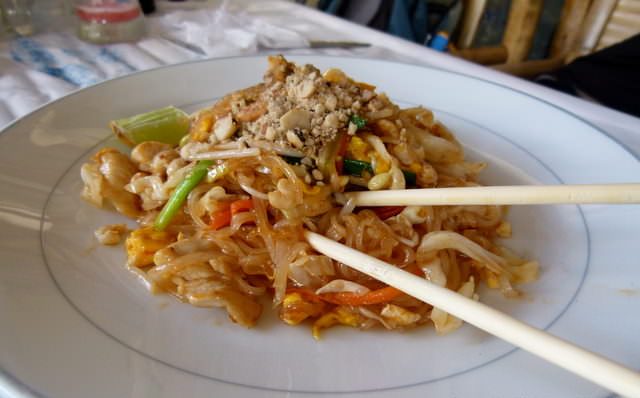 Keep in mind that while you're volunteering a quarter of the time, you're probably getting room AND board paid for, meaning that for a quarter of your trip, you won't have to pay for any food. Plus you may be able to find 2 – 3 free meals per week at festivals and temples, so this brings your total food budget down to around just $900 for the year.
Total Food Budget: $900 / year
Entertainment Budget
Okay so there is more to travel than just eating and sleeping. Of course you're going to want to experience some tours, excursions and fun festivals on your trip. With a $5,000 budget for the year, you're going to have to limit your entertainment quite a bit, but there are ways to enjoy free tours as well.
Always look for free walking tours in every city you visit, find free experiences like volunteering in Ashrams and Temples, and always be on the look out for free food at festivals and 2 for 1 discounts and happy hours at bars. If you plan to do one tour every other week at $10, and you spend $20 / month on booze, then that would add up to $520 in the year on entertainment.
This is a low entertainment budget, but throughout the year we've already established that you'll be house sitting and couch surfing, so many of your experiences will likely be free, like simply hanging out with your new group of local friends and taking your dog for a hike during those times.
Total Entertainment Budget: $520 / year
Transportation Budget
We're already at $3,231 and we haven't added in how you'll actually pay for your flights to and from your travel destination, or how you'll get from place to place while on the road. If you're travelling from Canada to Thailand for example, that return flight is likely around $800. But remember how you signed up for those travel rewards credit cards earlier in this post? Now it's time to reap those travel rewards.
With most of the cards I listed, you get around a $400 sign-up bonus, plus around 2% cash back (on average) on all your card purchases. Assuming you spend $1000 / month on your credit card for an entire year while you're at home saving money, that 2% back would add up to $480 when redeemed for travel. Coupled with your sign-up bonus that's $840, which means you've already paid for your return flight, plus you have $80 left over.
While you're travelling, you can continue to pay for as much as possible with your rewards card. Try to pay for your hotels, flights, buses and restaurant bills with your card whenever possible. Assuming that you manage put half of all your spending on your credit card while you're travelling, that's $2,500 spent on the card throughout your travel year. 2% in rewards on $2,500 is an additional $50. That, along with your left over points from before, equals $130.
That's enough for 2 return flights on a budget airline in Southeast Asia or Europe.
Now we've got the return flight to and from your destination, plus a couple of cheap domestic or nearby international flights covered. But you'll also have to pay for some buses to get you to different cities / countries. Assuming that you're following the travel plan we set earlier in this post, you'll be staying in an apartment for 2 months, volunteering for 2 months, house sitting for 2 months and travelling quite slowly for the remaining 6 months of the year.
Assuming you move once per week for the remaining 6 months of the year, that's 24 buses you'll take in total. Of course there's no way to calculate exactly how much you'll spend on buses because it depends on the company, class, distance and destination, but I can use our trip in Southeast Asia as an example.
We averaged around 6 hours per bus ride and each ride was around $1 / hour. This was enough to get us around Southeast Asia. But seeing as you're travelling slower and only taking 24 buses throughout the year, you're cost on buses will be around $144. There will also be the odd time when you'll have to take a taxi or a tuk tuk (though if you're on a low-budget you should try to avoid this as much as possible).
Lets say you take 1 taxi or tuk tuk per month for the 6 months that you're travelling while not staying in an apartment or house sitting. A very vague estimate would put the average ride in a cheap country at around $5. This means you'll have to add an additional $30 onto your transportation budget.
Total Transportation Budget: $174
Travel Insurance
We're strong believers that when you're travelling, you should have travel insurance. You never know what might happen on the road, and with companies like World Nomads offering affordable but extensive coverage for long-term travellers, you really shouldn't travel without insurance.
The cost of World Nomads Travel Insurance differs greatly depending on where you're travelling, where you're from and what kind of coverage you're looking for, but I just did a quick quote for a 33-year-old Canadian travelling to Southeast Asia for a year and it came up at US$579.
Total Travel Insurance Budget: $579
Incidentals
Currently we're at $4,660 USD for the year including accommodation, food, entertainment, transportation and travel insurance. So we've actually got $340 left! But trust me… you're going to spend it. I recommend having a few hundred extra dollars in your pocket for things that you didn't anticipate.
Total Incidentals Budget: $340
---
To Summarise
Travelling for a full year on $5,000 will require you to seek out free accommodation through house sitting, couch surfing and volunteering and will keep you on a pretty tight budget, though without having to pay for accommodation the entire time you'll actually have quite a bit of extra money to spend.
But if you really want to turn your travel dreams into a lifestyle, you should consider starting some kind of business that can support your travels financially. We've tried dozens of travel jobs and even written a book about the 101 Best Travel Jobs, but through our research and real life experience with the jobs, there is one clear winner.
It only took us 1 year to start earning money from this travel blog and within 18 months it was earning enough to pay for travel. Today it earns us six-figures per year and affords us a life we could've only dreamed of. We managed to get this far completely on our own, at a time when there wasn't very much information online to teach us how to grow and monetize a website.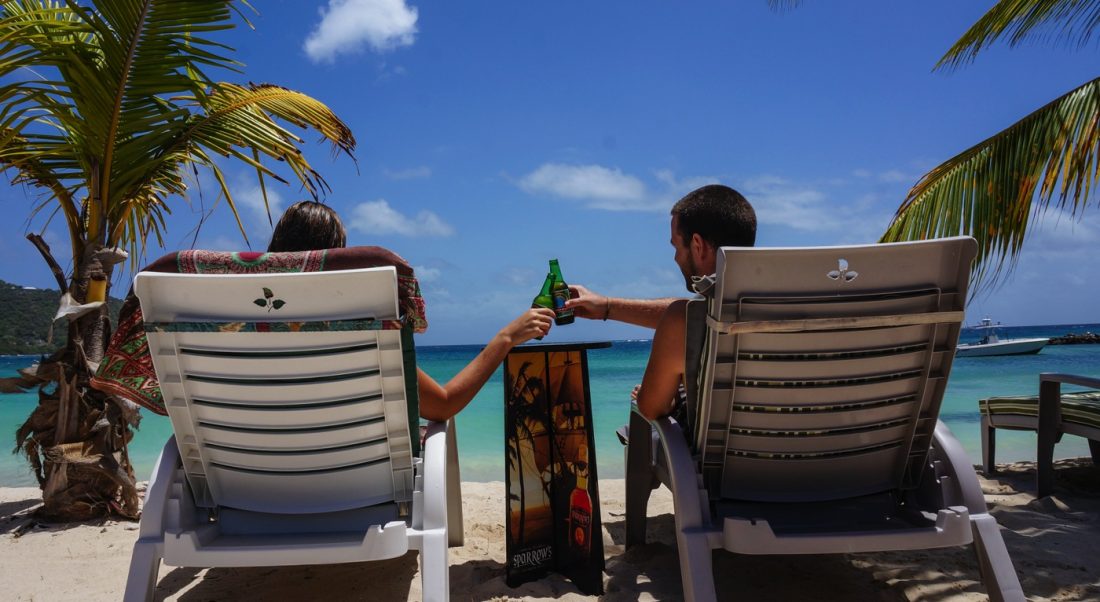 I'm telling you this because I absolutely believe that if you want to travel whenever you want, to wherever you want, for as long as you want, then there's no better way to support that dream than by starting a travel blog. Even though we got this far without any help, you don't have to. Today we're offering our 4-part video Beginner Blogger Course and our 200-page beginner blogger ebook totally free for anyone who starts a blog through our link.
Click Here to start your own blog and we'll send you the course and book for free ($119 value) right away.
If you're not interested in starting a blog, then I do recommend that you still sign up for Trusted House Sitters so that you can get free accommodation and free cars while you're on the road. While you're house sitting, you can always teach English online.
Lastly, check out sites like CouchSurfing.com, Workaway.info, WOOFinternational.org & IndigoVolunteers.org to find volunteer work and free accommodation that can help you stay on the road longer.
Remember that $5,000 in a year works out to be $13.70 per day or $411 / month. This budget is WAY too low to travel on in many countries, but not in all countries. Check out our list of the cheapest countries to travel in 2018 to find places where you can live and travel on much less.
Once you've figured out how to live and travel abroad on $411 / month, then just think of the possibilities. It's possible to earn that much from a travel blog after just 6 months if you build it properly. You could easily earn that from teaching English online and you could always supplement your travel budget by working in hostels, bars and restaurants while on the road. Consider pausing half way through your trip to work in Australia, then continue on exploring.
I hope that I've been able to show you from this post that a life of travel is definitely possible. You may have to start out on a very small budget as you figure out ways to earn a living while on the road, but this tight budget is only temporary. Give it a year and you could start earning good money. Two years and you could be earning more than you were while living at home. And after a few years you could be doing very well for yourself.
The key is to trust that it will work out. Believe that you can make it. Don't use money as an excuse to not travel. Take the leap. Explore this world. 
Like This Article? Pin it!