Do you want to travel the world, but aren't sure how to make money while doing so? In this week's article, we have an interview from Cindy Landlust who shares about her experience working on a cruise ship around the world! Wondering how much money you can make from working on a cruise ship? How to find a job? What the job entails? What are the pros & cons? Read on, while it may not offer you the same freedom as the best online jobs, this is definitely one of the most interesting travel jobs and one of the best ways for those who want to get paid to travel.
Please Tell Us a Little Bit About Yourself
Born and raised in the Netherlands, I always had a desire to go travel and see the world. When I was 19 I left home and moved to Milwaukee, Wisconsin in the USA to be an AuPair, that was 20 years ago and I have not stopped traveling since.
I have visited many cities, countries and continents, but my wish-list is getting longer instead of shorter. I am almost 40 years old and am about to embark on another adventure. I traveled a lot in my 20's and worked my way around the world in different jobs, working on a cruise ship was one of them.
I moved to London after my time at sea, I worked in the travel industry representing tourist boards. And now I am moving to Greece! I am a keen scuba diver, love photography, but my real passion is travel.
Tell Us About Your Job as a Guest Service Officer
I worked on board for Royal Caribbean as a Guest Service Officer. I was responsible for all the guests queries, problems and requests. No day was ever the same – from the daily questions about the ports of call to complaints about their cabins.
Bad weather sometimes means we have to miss ports and the first place the guest comes to complain is the guest relation desk (me!). But, they also come to ask for help with marriage proposals and birthdays and other fun things.
The hours were long, sometimes more than 12 hours a day.
Turn around day, when the ship is in the home port and the old guests leave and the new ones come on board, are busy days. The days when the ship is in port are a bit more relaxed and there is usually time to go ashore.
With about 4,500 guests and up to 1,500 colleagues, I met so many people and made life long friends.
Why Did You Choose This Job?
When I was younger I used to watch the TV show 'The Love Boat', a show about a cruise ship, and I always dreamed about working on board one day. The beautiful ports they visited and the stories they got to tell really appealed to me. It all looked so glamorous.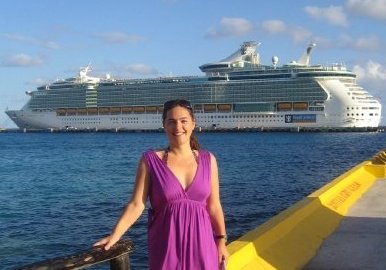 When I was in my early 20's I applied directly with lots of cruise lines, but never got a reply.
I took a job as a Holiday Rep, but never let go of my dream of one day working on a cruise ship. After 4 years as a Holiday Rep I felt it was time to make a move and this time I signed on with recruitment agents and got interviews through them.
I got offers from different cruise lines and decided to go with Royal Caribbean. I found out however that life on board is nothing like on the TV show. Cabins are a lot smaller and most likely shared with another person. The hours are long and it is definitely not glamorous. But I loved every minute of it!
Where Have You Worked?
Once I had accepted the position with Royal Caribbean, I waited to hear about the ship I was assigned to. I was dreaming of white sandy beaches and lots of sunshine. You can imagine I was a little disappointed when I found out I would be working on a ship in the Baltic Sea, with the home port being Amsterdam, which is just a few hours of where I grew up.
No white sandy beaches for me!
One week later I received an email telling me my assignment had changed and I would now be flying to Venice in Italy to join a ship that would be cruising in the Mediterranean. That sounded a little bit better to me.
I visited many Greek islands, Turkey, Italy and Croatia. All beautiful places, but I was still dreaming of white sandy beaches and was happy when I found out my next contract would be on a ship in the Caribbean. This is what I had been dreaming of!
My next contract started off amazingly. The home port was in Fort Lauderdale, Florida and I got my fix for beautiful beaches. Bahamas, Mexico, Jamaica, Grand Cayman… the list goes on and on. But after 3 months of just seeing beaches I started to miss the ports in the Mediterranean. They are so much more diverse, with a mixture of historical cities like Rome and Athens and amazing islands.
So when I was called into the office and was told they were transferring me to a ship in Europe I was not upset at all. Due to language needs they needed me on a ship in the Baltic Sea. The ship that I was supposed to go on at the start of my career at sea. This time I was really excited. I would be visiting Oslo, Copenhagen, Stockholm and even overnight in St. Petersburg, Russia. I loved this itinerary.
We were lucky with the weather and had no rough seas at all, and lots of sunshine. The ports were amazing, although a little expensive. The highlight of this contract was going on a day trip to Moscow and seeing the Red Square. May I add that I did not have to pay for this, another lovely perk of working on board a cruise ship.
When this contract came to end, once again I was waiting to hear about my next ship. I was assigned to what was then the biggest cruise ship in the world. Sailing in and out of Southampton, UK and visiting the western Mediterranean, with ports in Spain, France and Italy. Ships usually do not stay in Europe during the winter, so I got to do my first trans-Atlantic cruise. Crossing the Atlantic Ocean in 7 days and finishing up the contract in the Caribbean, where I was happy to see the beaches again.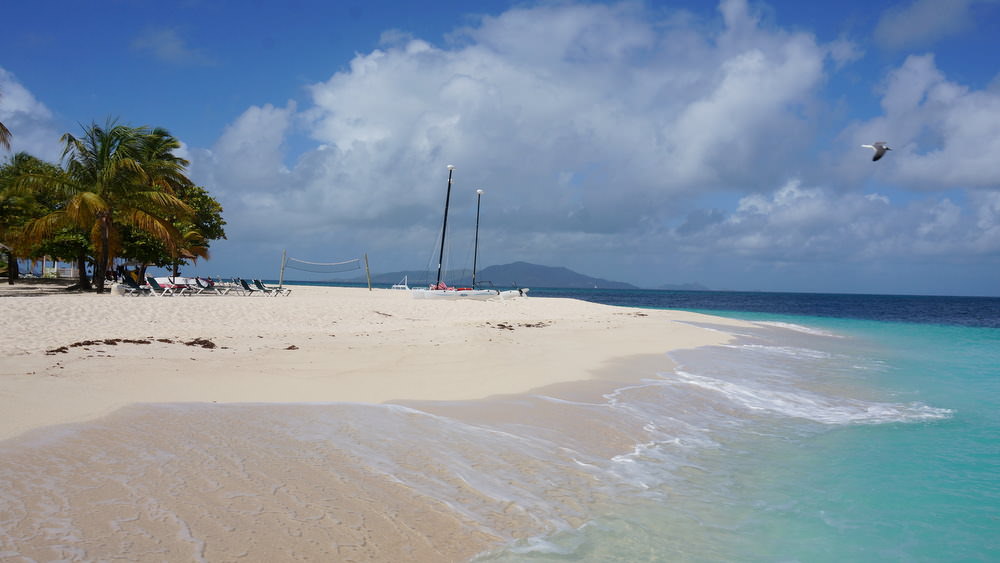 My last contract brought me to new destinations again. Canada and New England. Visiting places like Nova Scotia, Bar Harbor, Saint John and Boston.
I was lucky enough to always be able to leave the ship and explore the destinations. Although there was not always a lot of time to see everything in one day, I visited every place multiple times, so whatever I missed one day, I would see the next time.

Do You Need to Be Certified or Have Any Qualifications?
I did not have any experience as a Guest Service Officer (or any other reception job) when I applied for the position, but did have experience in customer service, which is closely related to the position. And speaking multiple languages is a definite pro if you want a job on a cruise ship.
There are many jobs available on board for which you do not need a degree, but experience in the field is always good to have. Other positions that are available for which you do not need a degree are the kids clubs, sports staff, entertainment staff, waiters, housekeeping and the shops on board.
I received training for my position on board, as well as training in crowd control, fire fighting and of course how to evacuate the ship in case of an emergency. Once on board you can be promoted to higher ranking positions, but these exclude the jobs that you need qualifications for. No matter how hard I worked, I would have never made it to Captain 🙂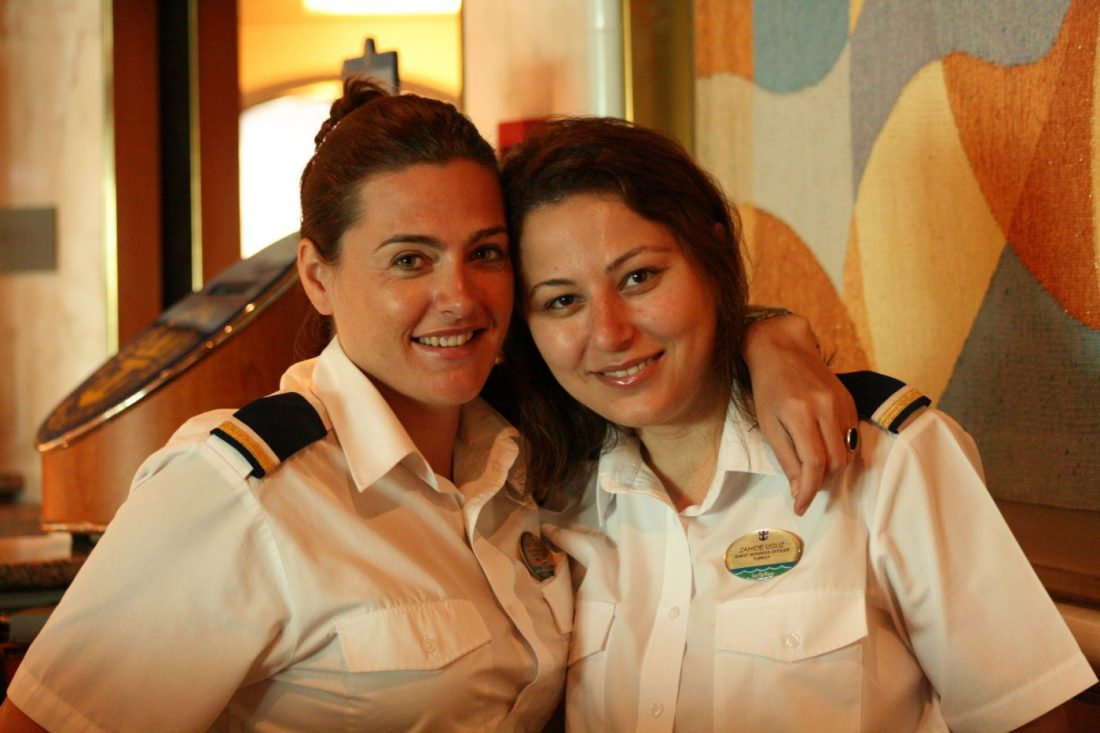 How Can People Find Cruise Ship Jobs?
The first time I applied the internet was not what it is now, and I wrote old fashioned letters to each cruise line and sent them by post. I was unsuccessful.
The second time around I applied through recruitments agents, which resulted in multiple job offers.
Be very careful with going through recruitment agents, as many charge a fee, which is wrong. You should not pay to get a job. The recruitment agents are paid by the cruise lines, that is how they make their money.
I myself used Caribbean Cruise Careers, a company based in Belgium. There are many websites with information and jobs out there, but they are not all reliable. Here are a few more sites you can try:
All Cruise Jobs – Cruise job vacancies
Carnival Entertainment – Entertainment jobs
Crown Recruitment – Hiring partner for Royal Caribbean, Celebrity and Azamara (UK only)
Disney Cruise Line – On board jobs with Disney Cruise Line
Cruise Ship Job – Cruise ship vacancies
You can find a full list of trustworthy recruitment agents and cruise lines on my blog.
Applying directly on the cruise line website is also a good way of getting a job on board a cruise ship.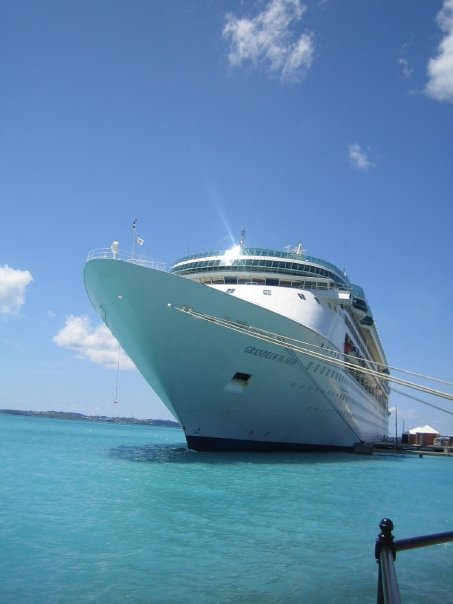 What is The Application Process Like?
I applied online with Caribbean Cruise Careers and had my interview in Amsterdam. I also had interviews in London through Cruise Carreras.
You will have a quick interview with someone directly from the cruise line. They interview many other applicants on the day, as they do multiple recruitment days every 6 months or so. So make sure you are available on your assigned day, as they will be unable to change it or you might have to wait another 6 months until they do another recruitment day.
The interview itself does not last long. They will ask you questions about your experience and will test your language skills. Your English has to be perfect and other languages will definitely be a pro, especially European languages.
After the interview it might take some time before your find out if you got the job. Once you have been hired, it can still take a while before you join the ship, as a position still needs to become available.
What About a Working Visa?
Once you secure the job, there is a lot a paperwork that needs to be done. You need to apply for a C1/D visa. The cruise line will give you the necessary paperwork that you need to apply for the visa.
You need a passport that is valid for at least one more year. You need to apply for the C1/D visa at the US embassy or consulate.
Depending on where you will cruise, you might need other visas like a Schengen Visa for Europe or an Australian visa if that is where you will cruise. You have to pay for all visas yourself. You will also need to do a full medical check up, for which you also have to pay yourself. Depending on where you live, this can cost up to €500.
What Does Working on a Cruise Ship Entail?
There are no average days on board a cruise ship. Everyday brings something new and every day of the cruise is different. A turn around day is completely different from a day in port or a day at sea.
On a port day, most guests leave the ship, but all the facilities stay open, so you might have to work. But there is less to do. Sea days are busy, as all the guests are on board. Most of my tasks consisted of settling bills, answering questions about things to do on the ship or complaints about the cabins, food and entertainment.
On a port or sea day if I had the early shift I started at 8:00am and worked until 4:00pm. Or the late shift would be from 4:00pm until midnight.
On a turn around day I usually started at 6:00 in the morning, preparing for all the guest to leave the ship. They need to settle their bills and have lots of questions about how they get to the airport. Once everybody is off the ship, at around 11:00am, we hopefully have a little break for lunch and then start preparing for the next guests to come on board.
Once 4,500 new guests come on board they have a lot of questions, luggage is missing, cabins are not what they were expecting, kids getting lost as well as husbands. This goes on to late at night, after which I desperately need a drink in the crew bar! Hopefully I am in bed by midnight.
The alarm goes off again early the next morning, either for an early shift or time off in port.
On average I would work about 10 hours a day, 7 days a week, for 7 months. And these are considered the better hours on board a cruise ship. As everybody around you works these hours, I never minded them. We were one big family and made every cruise a success as a team.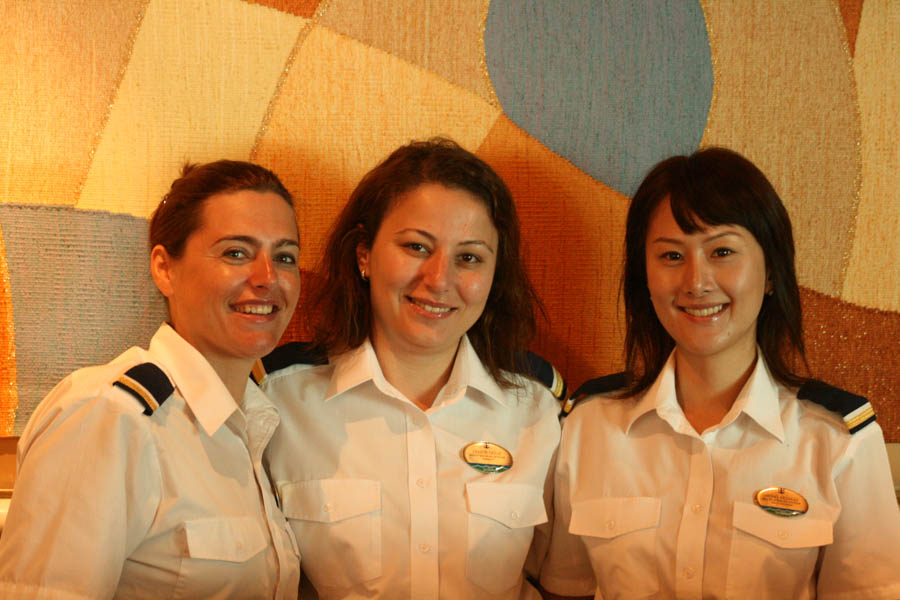 What Does a Cruise Ship Worker Get Paid?
The pay on board a cruise ship is not the greatest, for my position I received $1,800 per month. But this is tax free and I had no other costs. No rent, no bills and free travel. It is paid bi-weekly on an on board account. This is about average for any service related position on board a cruise ship.
The lowest paying positions are along the lines of the cleaners and maintenance, this excludes the housekeeping positions, as they get tips, which can add up to a lot at the end of the each cruise. Same goes for the waiters.
Higher paying positions are management and of course, the captain.
While this is one of our favourite jobs to make money on the road, we've covered many other cool ways to make an extra few bucks! Don't miss these posts:
What Are The Hours of Work?
Work on board never really ends, even after my shift was over there was work to do. Finishing off complaint reports, settling the cash I received that day for payments. And twice per cruise there were boat drills, where we practiced evacuating the ship.
Shifts on port and sea days are about 8 hours, but on turn around day the hours are long and 15 hours were not unheard of. Overtime is not paid extra.
Are There Any Other Contract Jobs Available Onboard?
I had no time to do side jobs and was not interested in the money anyway, as I was on board for the experience. Side jobs are available however. You can help out in other jobs if your position allows it. There were many cleaners that would help out housekeeping on turn around day. However it is the housekeeper that pays the staff member from his own money, it is not paid by the company.
What Are The Working Conditions Like?
I was part of a big family and had 1,500 colleagues on one of the ships, from all over the world, which is one of the things I loved about working on cruise ships. Many relationships and friendships for life are made on board.
The view from my office changed daily, one day I would be looking at the beaches on the island of Saint Thomas and the next I would be looking at beautiful blue oceans. The job is a lot of fun, meeting so many people, and after work the crew bar offers plenty of entertainment.
The job is easy enough to do, with the occasional angry guest, but mostly they are nice.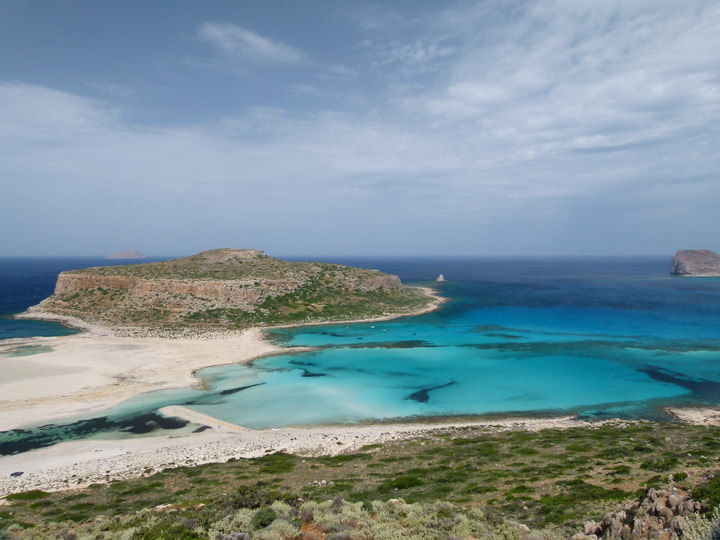 What Are The Pros & Cons of Working on a Cruise Ship?
The pros and cons in this job are plenty. The pros are obvious. You get to travel the world for free and you get paid for it. In between contracts you have about 2 months off, which gives you time for even more travel, although you most likely just sleep for 2 months. I have also noticed that applying for any job after working on board cruise ships is a pro. Companies see you can work hard, have international experience and just love hearing about it.
For me the cons were not necessarily the hours, you know this before you start the job. The money could be better, especially for the amount of hours your work. But I started feeling like a number at some point. I started making friendships on board and even a boyfriend, but was then transferred to another ship, and had to leave everybody behind.
I know of couples that are married and get separated. The company is too big to keep track of who wants to be on what ship with whom. Also, you cannot go home if a family member or friend is getting married, has a baby or gets ill.
You just do not have a life outside of the ship. I missed a lot of weddings, anniversaries and other big milestones in friend's lives.
Why Do You Love This Job?
The thing I loved most about this job was at the end of the cruise seeing all the happy guests leave the ship. All the crew and staff worked hard to make it another successful cruise. I always felt very proud to be a part of that team. The job is very rewarding in many ways – happy guests and the time off in port.
One day you are exploring the Vatican and the next day you on a beach in Greece. I got to save a lot of money, as I had no costs on the ship. Plus, you can work your way up on board and can end up having a really good, well paid position. You will never want to leave ship life!
Any Final Advice For Someone Wanting to Work on a Cruise Ship?
If you have always been dreaming about one day working on cruise ship, the only thing I can advise you is to just do it. It was some of the best years of my life and to this day I still talk about it. I have so many stories to tell!
No job is perfect, neither is this one, but it will give you so much life experience and is helpful for your future career too. You get to see the world and it could turn into a real career at sea. I know plenty of people that have been on board for most of their working lives.
Give it a try and see where it takes you. It has opened many doors for me and still does until this day.
For more information on making money abroad, check out our other posts here:
For all other travel job posts, click here!
Like it? Pin it! 🙂