Depending on who you ask, Mexico City is either chaotic, fast-paced and dangerous, or it's chaotic, fast-paced, dangerous… and exciting! With a population of approximately 22 million people, this sprawling city can be perceived in many ways.
For the inhabitants of the city, many of whom are forced to deal with poverty, pollution, crime and kidnappings (it's thought that around 76 people were nabbed each day in 2013), there are more inherent dangers than there are for tourists only exploring the historical center.
Regardless, the city is a melting pot of culture, creativity, crime and cuisine and its electrifying vibe is undeniable. This is one city that you won't want to miss, it's definitely one of the best places to visit in Mexico.
In order to make the most out of your visit, you'll want to choose a good area to stay in so that you're close to the main sights and fantastic restaurants, yet far enough away that it's not too noisy while you're sleeping. To figure out which area is right for you, check out this neighbourhood guide to Mexico City.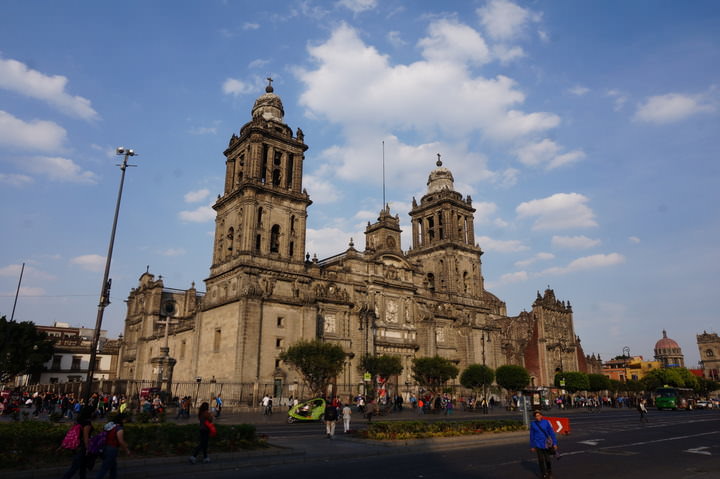 Note: For Gringos there are some things to be cautious about, but there's no need to be paranoid about safety. The biggest concern is pickpocketing and snatch n' grab robberies, many of which can happen in busy markets, or on the subway (metro) late at night. If you're just enjoying the sights, exploring the historical center and not getting yourself involved in anything illegal, you'll have a safe and enjoyable time in this thriving metropolis.
During our stay, we checked out a couple of museums, but not being museum people, we quickly grew bored of reading plaques and examining art and artifacts. We were however blown away at the enormity and immensity of the Museo Nacional de Antropología (National Anthropology Museum), a world-class museum that can take some visitors a full day or even several days to explore. We were overwhelmed, but impressed and satisfied after just 2 hours.
Our visit to Mexico D.F was a comfortable one. We lazily walked down the bustling streets, excitedly navigating our way past dozens of street hawkers, performers and enthusiastic restaurant touts.
We took in the main sites of the museums, churches, the Zocalo and the Palacio de Bellas Artes, all the while struggling to keep our cameras secured at our sides. It was as if every building, balcony, basilica and boardwalk was posing for our photos. The entire city was alive and its energy pulsated through us, seemingly causing a twitch in our shutter fingers.
Walking down La Calle Francisco I. Madero, the main pedestrian walkway and shopping thoroughfare, was exhilarating, exhausting and frustrating all at the same time. At peak hours, people were shoulder to shoulder, deeking and dodging each other to make it to their respective destinations.
Street performers twirled hoops, spun balls, played music and danced, all effectively capturing the attention of walkers by. Music echoed against the stone carved buildings and the scents of freshly brewed coffee, grilled meats and car emissions all mixed in the cool and familiar urban air.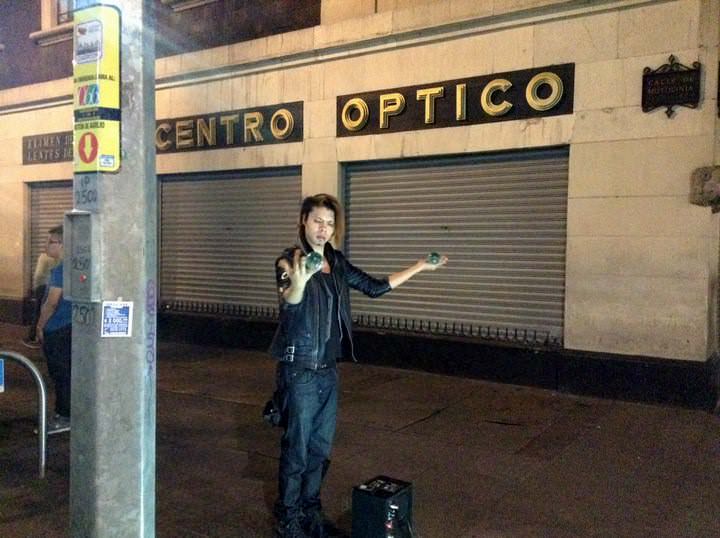 At night the historical center truly came to life, with the amber lamplight bringing new colour and clarity to the antiquity of the faded facades around the city. Each preserved, restored and crumbling edifice proudly displayed centuries of decay, while somehow retaining much of their beauty and intricate detail.
Under the scrutiny of the evening city lights, Madero had its own character, separate from the buzz of the rest of the city. People were out to be seen, money was changing hands and the shops were all crowded with people.
A cool chill came over the high altitude metropolis at night, but everyone was somehow kept warm by the constant activity that surrounded them. At the core of Mexico City, the vibrance was palpable and yet, somehow not overwhelming. We loved it.
Aside from days (and early evenings) spent walking the streets, Dariece and I enjoyed a Market Food Tour with Eat Mexico and we decided to do one day trip outside of the city. A short 1 hour bus ride took us to the colossal Mesoamerican pyramids of Teōtīhuacān, a Nahuatl-Aztec name meaning "birthplace of the Gods". We are still amazed that we had never heard about this place before our arrival to Mexico City (although we probably learned about it in high-school).
The Pyramid of the Sun is what put Teōtīhuacān on the map and it is the third largest pyramid in the world. With a base perimeter of nearly 800 square meters and a height of 71 meters, the Sun Pyramid is almost unimaginably grand, especially when considering the ancient tools and techniques that were used to build it nearly 2,000 years ago.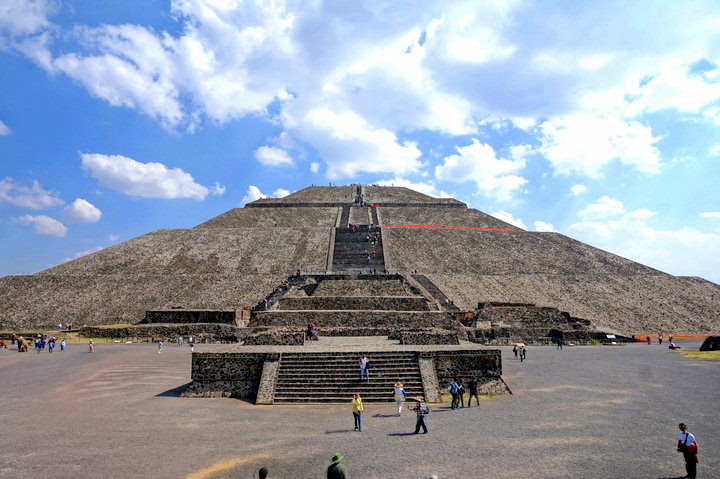 The 5 kilometer long, 40 meter wide "Avenue Of The Dead" runs the length of the ancient city, which, at its peak, housed over 100,000 residents, making it the most populous city in the entire pre-Columbian American continent.
The broad walkway made it easy to visit the site with a clear view of what lay ahead. About a kilometer to the north of the entrance, on the right hand side, was the Pyramid of the Sun and adjacent to that enormous structure was the smaller, but more intricate, Pyramid of the Moon.
These Pyramids were so huge that they appeared surreal, their pale grey bricks shining in the mid-day sun. They towered towards the sky, with a constant flow of tourist traffic scrambling up and down their steep, stone-stepped sides like ants in a colony.
☞ SEE MORE MEXICO ARTICLES:
We climbed to the top of the sun pyramid and by the time we reached the top we were hot and out of breath, but the views of the rest of the ruins and the surrounding valleys made it all worth while. From the top of those ancient pyramids, we thanked the Aztec gods, grateful that we were able to see such an amazing site in Mexico.
For sheer size and awe-factor, these are the best ruins we've seen in the Aztec world.
After 5 days in the world's 6th largest metropolis, we were ready to leave. Our eyes ached from darting back and forth, or throats scratched from the dry, sometimes polluted air, and our legs tired from days of walking on pavement. It was time to move to warmer climates and softer terrain. The white sands and balmy weather of the Yucatan were calling us and on our last day we headed to the airport and boarded a flight to Cancun.
Caribbean beaches, here we come!
A special thanks to: AeroMexico for flying us to Cancun on their comfortable and spacious Boeing 787 Dreamliner jet, and for the return flight on the Embraer 190. The airline staff were friendly and welcoming. Everything went very smoothly, we were even served some snacks which we haven't had on a short distance flight in a long time! 
Like This Article? Pin it!