Everyone, both local and foreign, told us that when we're in Mexico, we must visit the State of Oaxaca. Known for its incredible cuisine, beautiful beaches, colonial cities and indigenous culture, we agreed that this would be our kind of place, and decided to take a flight from Mexico City to the west-coast paradise of Puerto Escondido.
The pilot put on a show, tipping his wings from left to right, allowing us to see the ocean, a very long stretch of sand and brown trees through our tiny plane windows.
Except for the massive body of water, everything down below was so parched! The trees, foliage and grass were pretty much all dead, and looked like they would spark at any minute. This was definitely the dry season, and it only reminded us of how much we prefer to travel in the off-season, when the hills and plants are vibrant and full of life.
☞ SEE ALSO: Things To Do in Puerto Vallarta – A List of 20 Awesome Things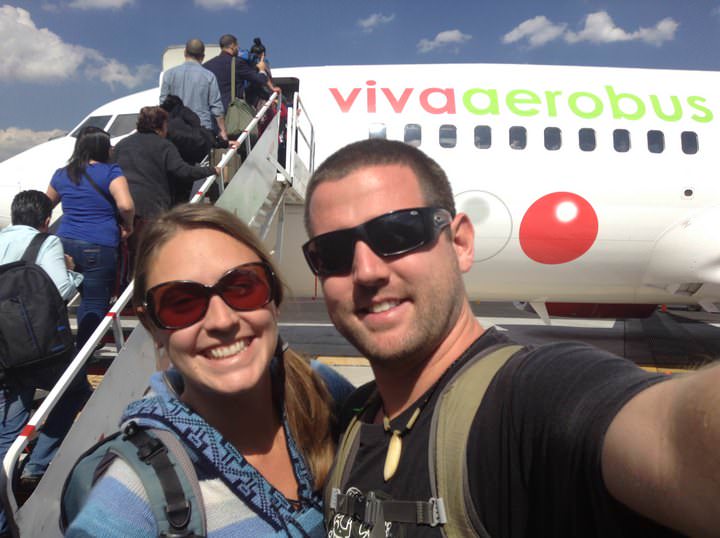 As we exited the airport, we were given two options: pay 50 pesos each for a shared taxi, or 150 pesos for a private one. Neither of which we thought was a good deal. So, we hoofed it out to the main road, sweating in the hot sun, until we reached the turn off to the airport. We were greeted by a long line of cabs just waiting to take us into town, for the more reasonable price of 20 pesos each.
We were given a warm welcome upon our arrival at Hostal Losadeli. Before us was a wonderful woman waiting to check us in, a smiling man to take our bags, and a glistening pool beckoning for us to jump in and cool off.
The hostel is located outside of the main town of Zicatela. The waves there have been dubbed "the Mexican Pipeline", and with swells reaching 16 m high during the summer, it's no wonder this is a world-renowned destination for surfing competitions.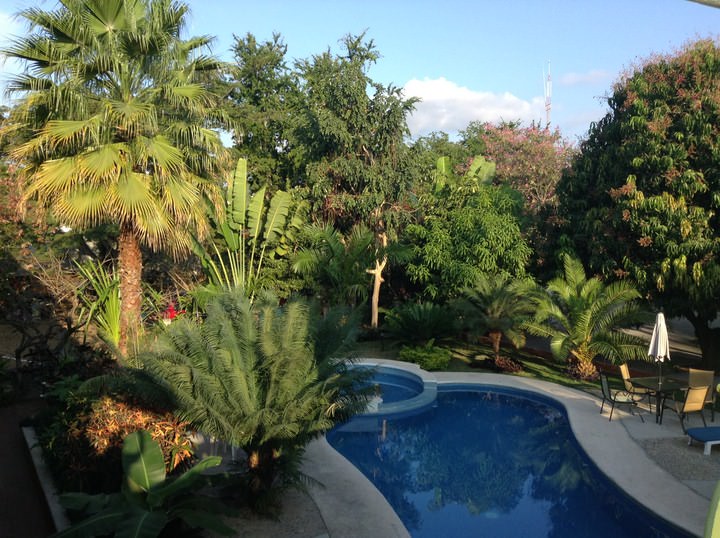 Zicatela town is busy and filled with numerous accommodation options, bars, restaurants and shops. We were more interested in chilling out and having a relaxing beach holiday, so we opted for the area near the three beaches northwest of Zicatela which are safe for swimming: Playa Manzanillo, Puerto Angelito and Playa Carrizalillo.
The sunsets on the pacific coast are magical, and having not seen one since San Pancho, we were desperate to head down to the beach for a late afternoon swim and sunset. After a steep descent of 157 cement steps, we arrived at a secluded cove with about 6 little palapa bars serving up simple food and beers. Hardly anyone was on the beach and the royal blue water was calm and welcoming.
There are numerous things to do in Puerto Escondido, but I think chilling out and watching sunset was our favourite.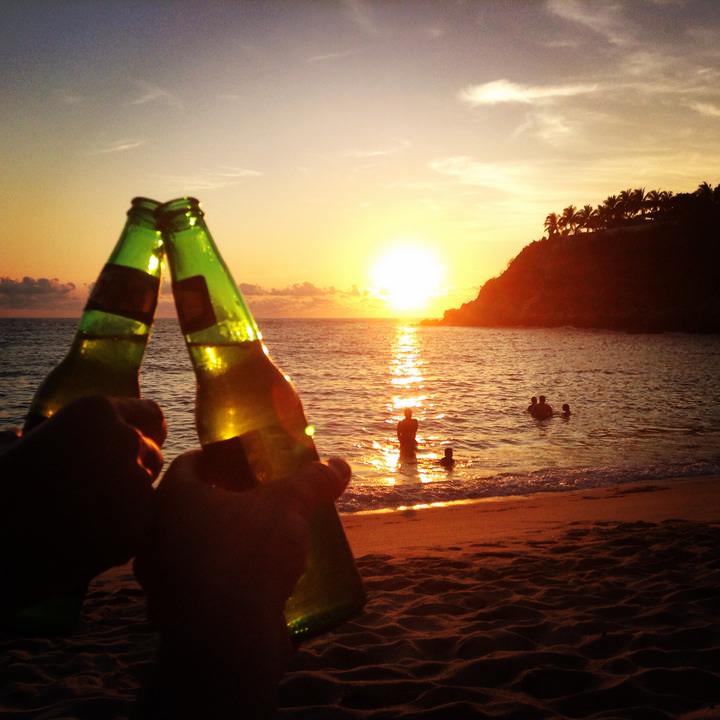 The gradient dropped instantly as we entered the water and we were only about three meters away from the shoreline, yet we couldn't touch the bottom. The ground below us was soft and sandy and gazing back up at the swaying palm trees was a great reward after a long day of bussing, flying and taxing around Mexico. We sipped our beers, dug our feet into the sand and gazed out from our chairs at the sun hitting the water. Paradise.
Our days were mostly spent at our favourite little cove, or lounging poolside at the hostel. We had some work that we needed to catch up on, and this seemed like the best place to get it done. We did, however, venture into Puerto Escondido town which had a great grocery store and a market, but not much else. We took a cab down to the surfing beach and walked along its sandy shores until we couldn't walk anymore. At 4 kms long, it was virtually impossible to conquer the entire stretch in the mid-day heat.
(Check out the quick video of us exploring Zicatela and our favourite beach spot at the bottom of this post…also, don't miss the traveller's notes at the end!)
One day in particular did stand out for us though: the day when someone recognized us from this website!
We had just returned to the hostel from a delicious dinner of chicken mole, when we heard it, a shrill that made us stop dead in our tracks, one that practically gave us a heart attack…
"OMG! It's GOATS ON THE ROAD!!!"
The woman was Nadine and together with her 16-year-old son, Sam, they are known as AdventureSpeirs. These fellow travellers are on an epic, one year road trip from Canada to Guatemala, and back again! They have a massive van stocked with supplies, camping gear, bikes and even a Vespa. They're totally set for the journey and are incredibly inspiring.
So, what do 4 crazy Canadians do when they meet up? Drink too much and talk about all of the places we've visited recently, and those we want to see soon, of course 🙂 We've never met up with any of our readers before, so this was pretty exciting for us.
After 8 days of beach-bumming, eating great local food and having our moment of fame, it was time to move on. We were heading inland to the mountain town with much hype surrounding it: Oaxaca City.
Check out our video of Puerto Escondido here!
Traveller's Notes:
When figuring out how to get to Puerto Escondido from Mexico City, keep in mind that internal flights can be cheaper than the bus! In our case, it was cheaper, and much faster to fly. Check out Viva Aerobus or Aero Mexico.
Hostal Losodeli is a gem. Rooms here are 600 pesos for two people, which includes private bathroom, daily cleaning, wi-fi and air conditioning. There is a communal kitchen for use and a swimming pool. The staff are excellent. Dorm beds are 150 pesos/person. Discounts available for long stays. Check them out here.
Just past the road leading down to Puerto Angelito, on your way to Playa Carrizalillo, there is a row of restaurants and shops on Benito Juaraz Av. Check out El Sultan for cheap and delicious Middle Eastern fare, Estrellas for incredible homemade Mexican food (and big portions) and Mediterraneo for great pizzas.
A taxi from the row of restaurants on Benito Juaraz Av. to Zicatela area is 30 pesos.
There is a great cement, waterfront walkway leading from Playa Principal to Playa Manzanillo, this is a great walk, but make sure to do it early in the morning or late afternoon, as it's quite hot – no water is available along the way.
Walk outside of the airport to the main street for significantly cheaper taxis.
To leave Puerto Escondido to Oaxaca City by bus, there's a small shuttle bus stop in town. A minibus to Oaxaca costs 200 pesos/person and takes 7 hours. The journey is windy, but not too bad. Ask at your hotel, they'll point you in the right direction.
Like This Article? Pin it!