Have you ever considered work exchange programs? While you won't make money this way, you also won't be spending much either. Nick and I first heard about Workaway when we were backpacking in Turkey in 2011, and although it has always interested us, we never really knew much about it until interviewing Erin here in this article.
Not only do these jobs abroad come with accommodation, but three meals a day are included as well! And in many cases, a vehicle for your use (depending on your relationship with the host, or the previous agreement).
Workaway is a great way to immerse yourself in the countries you visit and meet interesting people — while not dipping into your savings.
In this interview, we're chatting with Erin who has done a few work exchange gigs around the world. Read on to learn about Workaway, how to sign up, how to pitch yourself to hosts, the pros and cons of work exchange programs, and Erin's recent experience with Workaway Europe at a villa in Montenegro.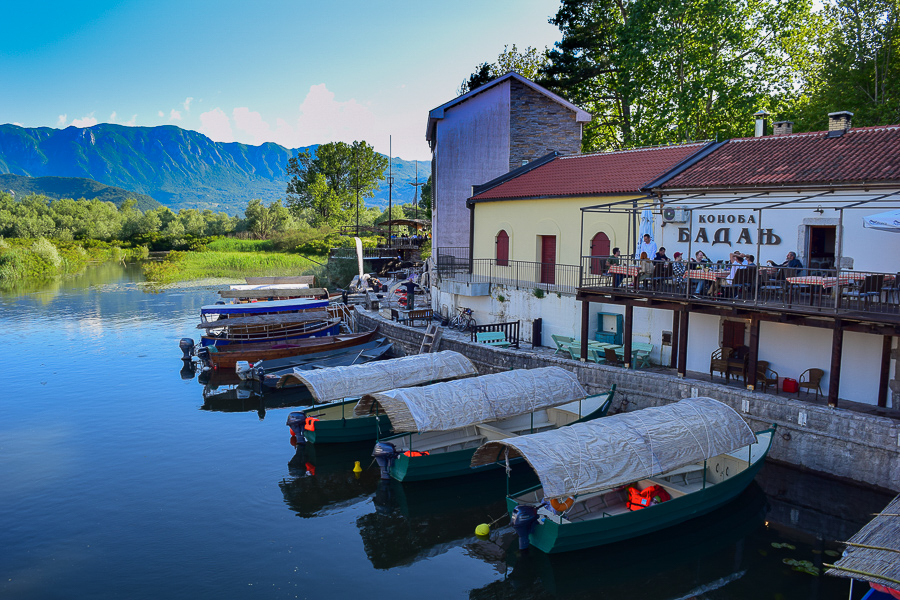 Jump To:
First of all, tell us a bit about yourself.
I'm Erin from the Curiously Erin travel blog. Since finishing school over 10 years ago I have been travelling and working my way around the world. I'm not a digital nomad nor have I ever had a job that allows me to work remotely. Instead, I have found jobs and volunteer positions in the locations I travel to.
A few highlights of my time working abroad include teaching children to ski in California and Australia, living on a superyacht throughout the Caribbean and the Mediterranean, and working in paradise at Australia's Lizard Resort.
Having previously been a predominantly solo traveller, I am now on a long-term trip through Europe with my boyfriend. We had some savings before leaving home but keep our costs low by doing volunteer programs like Workaway. Most recently we spent 7 weeks volunteering at an activity centre and villa in Montenegro.

What is Workaway and how did you get started with it?
Workaway is this great online platform that connects volunteers to hosts all around the world. The volunteers are a community of travellers who are looking for a more enriching travel experience than the usual tourist stops.
Workawayers (volunteers) are on the site for a few reasons: to help aid in community projects, develop language skills, experience living life as a local or just because it's a great way to keep costs low as a budget traveller. Anyone can sign up to be a host, so you can find volunteer opportunities doing all kinds of work, in all corners of the globe.
I got started with Workaway when I first quit my full-time job to go travelling in 2015. I wanted to travel as long as possible and didn't have the savings to be paying for accommodation everywhere I went.

What is the compensation? Are you paid, or is it a work exchange?
There is usually no payment involved when doing a Workaway.
In most cases, you do 5 hours of work, 5 days a week. And in exchange, you receive free accommodation and 3 meals a day.
Each program does vary slightly. Some programs will ask you to do fewer hours per day, but work every day. Others will ask for 3 hours of work, 5 days a week but not offer any food (this is common in hostels or they just offer breakfast).
The last program we were on, we weren't given any meals but were given a weekly food allowance of 75 Euros between the two of us and we cooked our own meals.
Each host will list what they expect from you and what they give in return on their Workaway profile. If it isn't specified you should ask before your arrival to know what you're going into.

What made you choose the Workaway Europe program in Montenegro, as opposed to another country?
There were a few things that drew us to the Workaway Europe program in Montenegro. Firstly, we had spent 90 days in the European Schengen zone, and as Australians, we were required to leave the Schengen for a further 90 days.
So our first search criteria were countries that weren't part of the Schengen. We didn't have a plan for which countries we wanted to visit, so we were open to anywhere if the program sounded good.
Secondly, we searched for a program that had interesting jobs or things to do when we weren't working. The hosts we found in Montenegro run weeklong mulit-activity tours that include hiking and kayaking. We are very outdoorsy people and thought that sounded right up our alley.
The third thing that drew us to Montenegro was that the hosts offered a car for us to use when we weren't working. That was a massive draw for us as it allowed us to explore so much more of the country than what we could have seen just by bus.
What were your daily tasks in Montenegro?
The daily tasks at the villa were very straightforward and easy to complete. Our hosts had been using Workaway volunteers for a few years now, so everything was very well organized and the communication was great.
The guests who were part of the activity tours stayed in a villa that was on the property where we lived. Every morning we would wake up and start work around 8:00 am. One of our main jobs was to water the plants (but due to half of our time in Montenegro being torrential rain storms we didn't have to do this).
Next, we split up and I would work inside the villa and do a basic clean which included a sweep of the common areas, loading or unloading the dishwasher, wiping the benches and taking out the rubbish and recycling.
My partner Ben would do the outdoor areas. This included pool maintenance and cleaning, general garden upkeep, sweeping the paths and putting out sun lounge cushions.
Once a week, a mid-week clean was required. This was a tidy up of the bathrooms and rooms so that it looked nice when the guests returned in the afternoon.
Each Sunday was guest changeover day. This was our biggest day of work, as the 4 rooms in the villa required a deeper cleaning and all the bed linen to be swapped over. We were also expected to keep the grass cut, weed and do odd jobs that came up around the property.
In addition to the villa jobs, we were sometimes required to drive the guests to the starting location of their daily activity. Usually when this was the case, we would also get to join the guests on the tour. We also would take the recycling to the depot, make the occasional packed lunch for the guests and do a little bit of babysitting for the hosts.

How many hours per day did you work?
At this particular Workaway program, each day and week was a little bit different. We were required to do our morning duties 7 days a week; this took one hour at most.
On the day of the midweek clean, we would work up to 4 hours. On Sundays we worked for about 6 hours.
We had two official free days a week after our morning duties.
Some days we could get asked to help out with certain jobs, although there were many days when there were no extra tasks. Usually, if we did need to do a few odd jobs we wouldn't work more than 2 to 3 hours on that day.

What were the hosts like?
Our hosts were amazing. As a result of them having hosted numerous Workawayers in the past, they had really figured everything out. The couple was originally from the UK and had lived in Montenegro for 11 years, so we didn't have a language barrier to deal with.
Also, unlike other places where you are expected to put in 5 hours of work per day, they were happy for us to be finished once we had completed our daily tasks — even if it only took us an hour.
Another great thing about them was their flexibility. We wanted to take a couple of days off and explore Durmitor National Park during our time in Montenegro. They were happy to work around this request and allowed us to take some time off.
Getting close to the end of our stay we hadn't had the opportunity to go kayaking with the guests, so they brought in their cleaner on a midweek clean day and took us along with them. As we didn't live in their house, we were often invited into their home to have drinks with them and they even took us out for a farewell dinner on our last evening.
The hosts had 3 children, aged 8 and 5-year-old twins. They had two cats and a dog that we loved dearly and would often come and visit us.

What was your accommodation like?
The accommodation in Montenegro was an eco-hut on the property. It was really nice that we had our own space as we had been living with others since we started travelling 6 months prior.
The eco hut was a converted animal shed and had been fitted with a double bed and a gas stove cooker. There was also a sink with running water, a cold shower and a composting toilet. At the time of year we were there it was still cold in Montenegro. We weren't expected to have cold showers and were able to go in and out of the host's house whenever we wanted.
Another great thing about this Workaway was that the hosts went away for a week. During this week our duties changed and we became house sitters.
We were able to spend a week living in the guest villa (which was easily the nicest place we have stayed on our 'budget' trip). Our hosts were so lovely; they even let us spend an additional week after they had returned, as there was a spare room.

What was your experience like in Montenegro? Were you able to travel around on this Workaway?
Montenegro quickly became a highlight for us. Because we had a car to use during our Workaway we were able to explore so much more than without one. As we finished a lot of our workdays early morning, we had not only 2 days off a week but also most afternoons free to discover Montenegro.
Montenegro is a beautiful country with a lot of natural unspoiled areas. For anyone who loves nature and the outdoors Montenegro is the perfect place for you. We had a list of everywhere we wanted to explore in the country, which we didn't think we would manage to do all of. Yet after 7 weeks, we managed to see everything on our list.
Montenegro has a stunning coastline, although, it's overdeveloped. The seawater is crystal clear and usually completely calm. We travelled and explored the whole coastline, from the northern Herceg Novi, and Bay of Kotor, down through some of the smaller beachside towns right to Ulcinj on the southern border with Albania. We spent days hiking throughout the country and visited 3 of the 5 national parks.
The highlight of the Workaway in Montenegro was definitely how much of the country we were able to explore.

Do you need to have any qualifications to join Workaway?
You don't need to have any qualifications to join Workaway just a willingness to spend your travel time helping in someone's home or business. It's a great opportunity to receive free accommodation and food, so it's important not to abuse this opportunity and work hard.
Workaway is more so about community and cultural immersion than free accommodation.
Certain hosts will require you to have a specific skill or experience level before accepting you. For example, a host may want to build a new deck for their house and want someone with carpentry knowledge. Another example would be if you were to be working reception, language fluency could be a requirement.
If a host were looking for previous knowledge or experience they would list this on their profile. Other placements may not require any specific skill sets so take a look through the site and you will find something that suits your needs.

What are the pros and cons of the Workaway program?
Pros of Workaway
I love Workaway as it has allowed me to travel for longer periods of time and also to live within a community I wouldn't get to otherwise. Financially I wouldn't have been able to afford to travel as long as I have without it. The main perks of doing Workaway programs are:
Great for budget travellers – As you get free accommodation and food (in most cases)
You have the opportunity to live in non-touristy areas. Many places you find hosts are in local towns that don't have hotels or hostels.
It's a wonderful way to immerse yourself within the culture of different countries. You have the opportunity to experience first hand how locals live, what they eat, how they celebrate certain events and festivities.
Language exchange. What better way to learn new languages than with total immersion?
You learn new skillsets. The range of skills that you have the opportunity to learn is endless: hospitality and tourism based skills like reception work, running hostels and customer service, maintenance and building knowledge, and day to day household tasks like canning fish and vegetables for an upcoming winter (this is something I learned while in British Columbia).
Volunteer on projects that are giving back to local communities. You have the opportunity to do something good with your time away and help on NGO projects or in a local community.
You are able to travel longer. Spend more time overseas doing the things you love.
New lasting friendships. When you spend more than a few days in one place you will develop lasting and lifelong friendships. Some of the people I stay in touch with today are people I met doing my first Workaway programs back in 2015.
Cons of Workaway
Like everything, there are always some downsides. A few of the negative aspects would be:
Not seeing eye to eye with your host. Sometimes this is due to a language barrier, miscommunication or even just a personality clash.
Your duties at the Workaway aren't how you expected them to be or they are different from what was listed in the profile.
You don't like the duties you are doing.
You don't get as much time to explore the area as you had imagined.
In some remote areas, you can feel 'stuck'. Not having a car or a way to get around might make exploring impossible.
The food you are given may be basic or not what you are used to.
Hosts can be flakey or unorganized.
You don't get paid; so you will need enough savings to get the basics.
While this list of cons does seem like a long one, the best part is most of these issues can be avoided if you ask the right questions prior to your arrival.
My first Workaway experience wasn't the best one, as the jobs I was required to do were different than what was listed online. There was also a lot of outdated information on the profile.
Rather than letting this negative experience stop me from doing additional Workaway programs I ended up leaving early and finding last-minute placements nearby.
I would definitely recommend asking the following questions once you have been accepted into a program to avoid miscommunication and manage expectations.
How many hours per day will I be required to work?
Do I have days off?
What duties will be required of me?
Is it possible to get around the area and explore without a car?
Will you be cooking my meals or am I expected to?
What foods do you eat? (If you are a fussy eater).
What cooking facilities do I have access to?

Who can join Workaway?
The best part about Workaway is that anyone can join. There is no age limit and it's perfect whether you are a solo traveller, travelling in a pair or even want to travel with your family. Different hosts require different people to perform the duties required.
For example, the Workaway in Montenegro only accepts couples due to the cabin arrangement they have. Earlier this year, we spent the winter in Slovakia and lived in a hotel full of volunteers. At one point we had as many as 36 Workawayers, both couples and solo travellers. At a Workaway I did in Canada, I met a lovely couple who were travelling with their 10-year-old son.

How far in advance do you need to plan a Workaway?
Again, this varies a lot from host to host. Some of the popular hosts will organize their Workawayers months in advance. So if you have your heart set on a particular place make sure to contact them early on. On the other hand, other hosts may like to arrange volunteers only for the month ahead. Plus there are plenty of last-minute listings that pop up all of the time.
You can add to your profile where you will be travelling. When you do this, hosts will also contact you for last minute positions also.

How can people do what you do?! Where can they join Workaway? Is there a fee?
The first steps to doing a volunteer program through Workaway is to have a look at the website. One great thing is you only need to pay for a membership once you are ready to contact a host. This means you are free to browse hosts and see if anything appeals to you before paying a membership fee.
Once you've decided you're ready to sign up, you will be prompted to create a profile. It is very important that you put some time into this and fill out every section completely and honestly.
One reason for this is because when you start out you don't have any reviews verifying your work ethic or personality. Instead, you need to stand out based on what you write on your profile. Also, make sure to upload a few (good) photos that show your happy, smiling self.
I like to include on my profile some basic information about who I am, why I am travelling, what I hope to gain from Workaway and that I have a strong work ethic and a willingness to learn new things.
After the initial profile set up, you will be prompted to pay an annual membership fee. The fee is $42 USD for a single account or $54 for a couple one (this option is for any two people travelling together, whether you are friends or in a relationship).
While this might sound a bit pricey for a budget traveller, you have to think about how much money this will save you in the end.
My partner and I have been in Europe for 224 days on this trip and 183 of those we have had free accommodation and meals due to Workaway. Assuming we were spending $20/night on a room we have saved almost $4,000 without including food costs.

Tips for contacting a Workaway host
When you first join Workaway, it can sometimes feel a bit disheartening to message a host and get no response. This could be due to you having no reviews or because some hosts literally receive numerous requests every day. I used to send one or two requests at a time, but now I will send 10 or more to maximize my responses.
One major thing I have learned over the years doing Workaway is that it is extremely important to write a personalized message to each host. Some hosts are inundated with messages, so you need to make yours stand out and create an initial connection.
Take some time to read their profile completely and find their names. I try to find the hosts name in the reviews people have left for them. This tiny step will instantly put you ahead of more than half of people who can't be bothered to make it personal. I also like to leave my dates open, to increase the chances of being accepted. This may not be possible for you.
You can follow this Workaway pitch template that I use:
Hi [insert name],
Your [hostel, farm, ranch, town, etc] sounds and looks absolutely amazing. My boyfriend [name] and I would enjoy helping you this summer (Our dates are flexible depending on your needs – from insert date).
We are a respectful, reliable and clean couple, eager to give any jobs a go and always work hard.
We do not mind doing physically demanding jobs and are happy to work in the house, garden or spending time with your kids. [Replace with relevant skills the host has asked for help with here]
We love nature, hiking and the outdoors and Switzerland has always been a dream of ours to visit. We hope to meet you and the kids and learn about your traditions. [Again, replace to suit the area, hosts interests and country you are applying to volunteer in]
We look forward to hearing from you.
[Your names]
Final words
Something I truly believe is that money shouldn't be a barrier to travelling and seeing the world. Workaway is a great option for budget travellers and it's actually a lot of fun. I hope this post has inspired you to consider Workaway and look into doing work exchange or volunteer projects around the world.
Like This Article? Pin it!