Mexico City is a place of epic proportion. The largest city in North America, Ciudad de México, (CDMX), is home to over 22 million people. It's one of the most vibrant, cultured and exciting cities on Earth. If you're looking for the best things to do in Mexico City at night, I have you covered.
The nightlife in Mexico City is legendary. From world-class bars and restaurants, to heart-pounding Mexican wrestling and football matches, as well as stunning historical monuments, there's something for everyone.
Earlier this year, I spent some time living in Mexico City as a digital nomad and can confidently say that it's one of my favourite cities in the world. There's just so much to see and do here – day and night – the options are practically endless.
Here are the 15 best things to do in Mexico City at night.
1. Enjoy Sunset From the Torre Latinoamericana
The Torre Latinoamericana is one of Mexico City's most recognisable landmarks that offers some of the best views in the city. It's also a stunning place to watch the sunset. For more amazing places in Mexico City with rooftop bars, have a look at this article.
The observation deck on the 44th floor offers 360-degree views, and on a clear day you can see for miles. The deck is open daily from 10am – 9pm and costs around $8 USD to enter.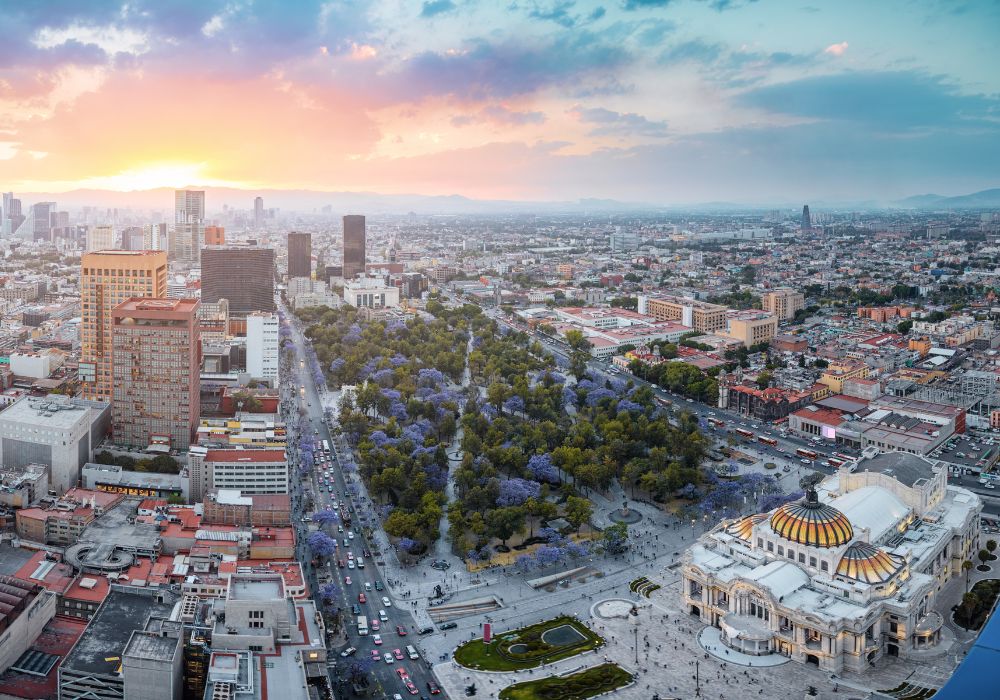 There's also a restaurant on the 43rd floor where you can enjoy a meal with epic views. Alternatively, head to the bar for a sundowner or two.
Watching the sun set behind the volcanoes surrounding the city is definitely one of my favourite things to do in Mexico City at night. It's also a great way to begin an evening of enjoying the nightlife in Mexico City.
Just be sure to book your tickets in advance as they regularly sell out.
2. Go to a Lucha Libre (Mexican Wrestling) Match
Lucha Libre – Mexican wrestling – is a national sport in Mexico and the matches are always entertaining. The wrestlers wear colourful costumes, including full-face masks, and fight it out in front of packed audiences.
Lucha Libre matches are held in huge arenas and the atmosphere is incredible. The Arena México, (sometimes called the Catedral de la Lucha Libre), is one of the most popular places in the city to watch the sport.
If you're looking for something really unique to do in Mexico City at night, attend a Lucha Libre match. You can buy tickets at the arena or online in advance.
One thing to bear in mind is that the Lucha Libre stadiums are generally located in slightly sketchier areas of the city. It's a good idea to only bring essential items with you when you go out, and take an Uber to and from the event if you can.
Alternatively, there are many group tours that include tickets to the Lucha Libre. These tend to also include dinner and/or drinks, either before or after the match. Typically, transport is included too. Click here to learn more.
3. Do a Mezcal Tasting
Mezcal – tequila's smokey, complex cousin – is one of Mexico's most iconic drinks. It's made from the agave plant and can only be produced in certain parts of the country.
There are many mezcal bars in Mexico City, and Conejo en la Luna is one of my favourites. They have a huge range of different mezcals to try. The bartenders here are extremely knowledgeable and will be happy to help you find one that you like.
Conejo en la Luna is located in La Condesa, one of Mexico City's most vibrant and trendy neighbourhoods. It's a great place to start your night out, with plenty of other bars and restaurants nearby.
If you're into cooking classes as well, during this experience, you'll cook traditional Mexican food while sipping on cocktails. And, if you're a fan of mezcal and tacos, then you'll definitely want to go on this fun mezcal and taco tour around the city.
A tour is a great way to learn about this traditional Mexican spirit, and to try some of the best mezcals in the city. Click here for more information.
4. Sample Local Craft Beer – One of My Favourite Things to do in Mexico City at Night
The craft beer scene hasn't yet reached all of Mexico, but in Mexico City it is booming.
If you're a fan of craft beer, there are plenty of places to sample local brews. One of the best is La Roma Brewing, a microbrewery in the Roma Norte neighbourhood.
La Roma Brewing offers a variety of different beers, most of which are made with local Mexican ingredients. Whether you prefer lager, IPA, APA, stout, or sour beer, you're almost certain to find a beer you love here.
They also have a restaurant on-site, so you can enjoy a Mexican meal alongside your beverage of choice. I spent a fair amount of time here when I lived in Mexico City.
Another more authentic option is to go on a cantina crawl. Drink beers, mezcal and micheladas with locals in a non-pretentious setting, while listening to traditional music. On this tour, drinks, dinner and a guide to the best spots are included.
5. Eat World-Class Street Food
With so much excellent street food on offer throughout Mexico City, it's really not difficult to find something to satisfy your culinary cravings, no matter the time of day or night.
Two of my favourite places for a late-night kerbside meal are:
El Borrego Viudo: some of the best tacos al pastor in all of Mexico, (a bold claim, I know), together with other Mexican street food classics such as suadero, (richly flavoured brisket), and cabeza de res, (slow-cooked beef head – a lot tastier than it sounds, I promise!).
Taquería Los Parados: these guys offer a huge range of delicious meats cooked al carbon, (i.e. over coals), including chicken, chorizo, steak, ribs, and much more. All served with tortillas, (of course!), and an amazing spread of homemade salsas. Come here, you won't regret it.
6. Take a Mixology Masterclass
Ever wondered how to make the perfect margarita? Or what about something a little more complex?
If you're a fan of cocktails, then you'll definitely want to take a mixology class whilst you're in Mexico City. The city is home to some of the best bartenders in Latin America, and there are plenty of places that offer amazing classes.
Learn how to make classic Mexican drinks, including margaritas, micheladas, mezcalitas – my favourite, cantaritos, carajillos, and more.
Most classes are taught in Spanish, but a few are conducted in English too. This is a really good one. You'll really impress your friends back home. Plus, it's a lot of fun!
7. Eat at one of Polanco's Chic Restaurants
Polanco is one of the most exclusive neighbourhoods in Mexico City, and is home to some of the best restaurants. If you're looking for a luxurious dining experience, you'll want to have dinner at one of Polanco's chic restaurants.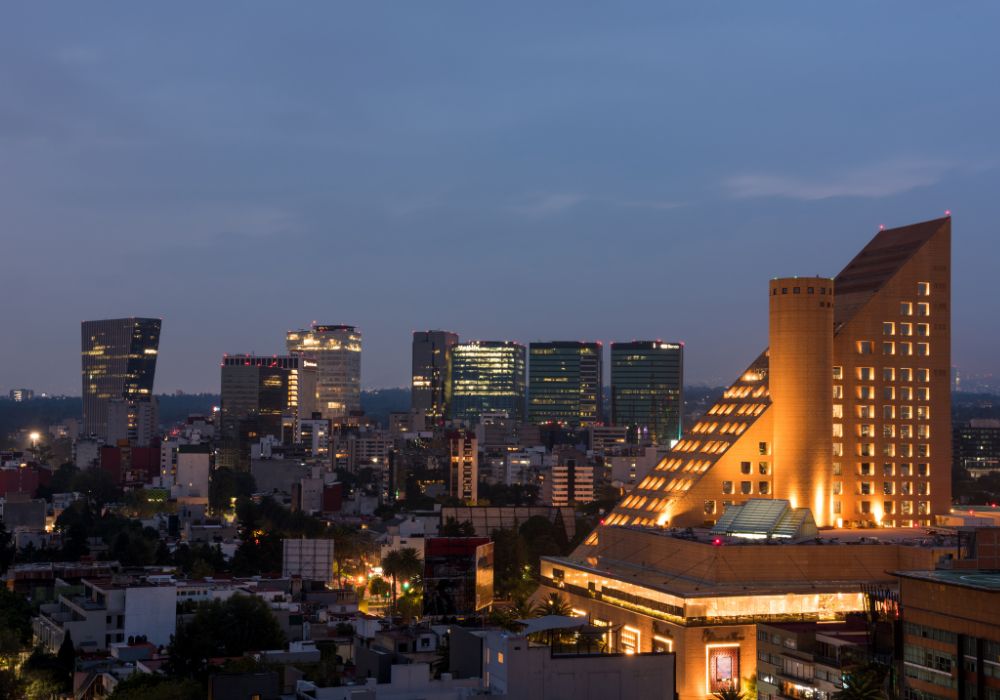 Two of the finest restaurants in Polanco are Pujol, (supposedly the best restaurant in the city – and one of the best in all of Latin America), and Quintonil. However, there are plenty of other great places to choose from too.
Don't forget to reserve ahead of time, and dress to impress!
8. Take a Taco Tour
No article about what to do at night in Mexico City would be complete without mentioning the famous taco tours!
Mexico City is well known for its tacos, and there's no better way to try them than on a taco tour. You'll be able to sample tacos from all over the city, and will even get to learn about the history and culture of tacos in Mexico too.
There are plenty of taco tours to choose from.
The tours with Sabores Mexico Food Tours are super popular and they have lots to choose from. This Night of Tacos and Mezcal tour includes food, mezcal, beer, and guide – it's a top choice for sure. Another great option with the same company is Authentic Downtown Food Tour, which includes much more than just tacos. Click here for more information and to book.
9. Watch a Football Match at the Azteca Stadium
If you're a fan of football, (soccer), then you won't want to miss the opportunity to watch a match at the Estadio Azteca — it's one of the top things to do in all of Mexico.
It's home to Club América, Cruz Azul and the national Mexican football team, and is one of the most iconic stadiums in the world.
The atmosphere here is always electric, and going to an evening game is definitely one of the best things to do at night in Mexico City.
You can buy tickets for matches online, or you can try to get them at the stadium. However, it's best to get tickets in advance, as they tend to sell out quickly.
If you can't get tickets for a match at the Azteca, fear not. Football is a big deal in Mexico City, and there are plenty of other places to catch a game. Other popular options include the Estadio Olímpico Universitario, and the Estadio Azulgrana.
☞ SEE ALSO: 10 Best Mexico City Tours
10. Listen to Live Music in the Zócalo
The Zócalo, (or Plaza de la Constitución), is the main square in Mexico City, and is a great place to listen to live music. There are bands and musicians playing here most evenings.
From traditional (pre-Columbian) Mexican performances, to mariachi bands, folk, reggae, even metal music, you'll find all kinds of music here. The atmosphere is always lively and fun, and it's a great way to immerse yourself in the local culture, and get a feel for life in Mexico City.
Afterwards, if you're in the mood for something even more upbeat, there are plenty of bars and clubs in the area around the Zócalo. Just follow your ears!
11. Visit the Best Bars in Mexico City
There are countless great bars in Mexico City, and sometimes it's hard to know which ones to try.
If this sounds familiar, consider taking a guided tour of some of the very best. This way, you'll be able to sample some of the best drinks in the city, whilst learning about the history of some of Mexico City's most notable bars at the same time.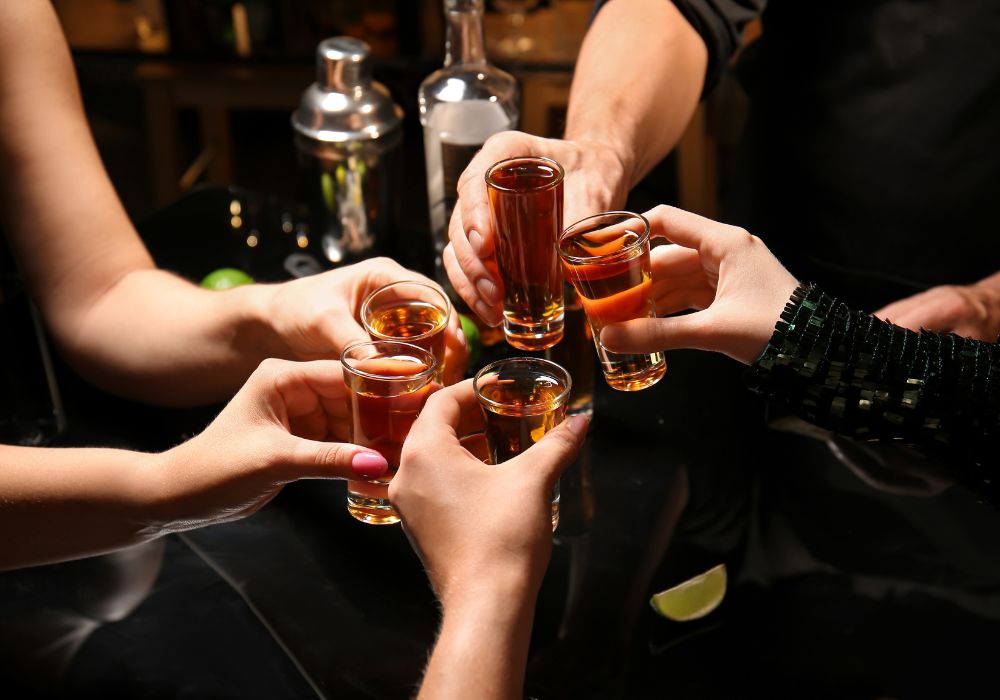 There are plenty of bar tours to choose from, to suit all schedules and budgets. $30 USD per person is the average cost.
Most tours include transport and cover charges, and typically take you to at least one "hidden"/speakeasy bar, in addition to the more famous ones. Usually, you have to pay separately for drinks – check in advance if it's not clear.
One of the top-rated tours is this one. If you're spending a weekend in Mexico City, make sure to do a bar crawl — it's a lot of fun. And if you have some extra time, grab a drink at one of these top rooftop bars in Mexico City.
12. Take a Salsa Lesson
Salsa dancing is extremely popular throughout Mexico. Taking a salsa lesson during your time in Mexico City is one of the best ways to fully embrace, (pun intended), the local culture and spirit.
If you've never danced salsa before, that's totally fine. There are lessons for all abilities, ranging from total beginner, to seasoned elite. This class is an excellent option for beginners.
Whatever your age or ability, learning to salsa dance is an extremely fun thing to do, and definitely one of the best things to do in Mexico City in the evening.
You might even get to show off your new moves at a club later on!
13. Put Your Salsa Skills to the Test in the Parque México
Okay, so now you can dance salsa. At least a little, anyway.
One of the best places to put your new skills to the test is at the Parque México, in Condesa. This is a popular spot with locals, and people gather here most nights to dance with total strangers.
The atmosphere here is really fantastic. I went several times during my time in Mexico City and was always struck by the friendliness and positivity of everyone there.
Plus, it's a great way to meet new people and see the city from a different perspective.
14. See the City's Historical Monuments Lit Up at Night
Mexico City is full of historical monuments, and many of them are lit up at night with impressive displays of light, colour and shadow. This is a great way to get some unique night photography. Plus, it's just really cool to see!
Some of the best places to see lit-up monuments include the Palacio Nacional, Catedral Metropolitana, Templo Mayor, Palacio de Bellas Artes, Monumento a la Revolución, and the Ángel de la Independencia.
Just be on your guard for bag snatchers, pickpockets and other criminals when standing around taking any photos. And be aware that openly carrying around an obviously expensive-looking camera at night, generally isn't a great idea – in Mexico City, or anywhere for that matter.
If you'd prefer a guide to show you around the city at night and explain the history and significance of some of these monuments, there are a few different tours to choose from. This is a good one that's affordable and includes a guide, walking tour and a Ticket to Torre Latinoamericana Viewpoint (if the option is selected)
15. Explore Coyoacán at Night
Coyoacán is a historic neighbourhood in Mexico City, once home to the iconic Mexican artist Frida Kahlo.
The area's most famous landmark is Kahlo's former home – La Casa Azul, (the Blue House), – which contains an excellent museum. After you have visited this, (and you definitely should), don't zoom off to another part of the city straight away.
Coyoacán is also a great place to explore at night, with a wide range of excellent restaurants and markets to discover.
During the day, on this tour, you'll learn about the history and distinct culture of Coyoacán, join a Xochimilo, and check out the Frida Kahlo home. It's great value for money. Learn more and book here.
FAQs About Mexico City at Night
Here are some answers to commonly asked questions about the nightlife in Mexico City.
Is Mexico City Safe at Night?
The short answer is: it depends. Crime rates vary drastically depending on where you are in the city.
There are parts of Mexico City that you should definitely avoid, especially at night. These include the Iztapalapa, Ciudad Neza, Tepito and Doctores districts, among others. Other areas, such as La Condesa, Roma and Polanco are generally fairly safe.
Wherever you choose to visit, it's always best to be aware of your surroundings and take precautions when travelling after dark.
As with any large city, stick to well-lit areas when walking around at night, try to avoid walking around on your own, and don't visibly carry expensive-looking items with you whenever possible.
What is There to Do in Mexico City at Night?
There's plenty to do in Mexico City at night, from exploring the city's many bars and clubs, to taking a walking tour of a historic neighbourhood.
No matter what you're looking for, you're sure to find something to do in Mexico City at night. So, get out there and enjoy the city!
Does Mexico City Have Good Nightlife?
Yes, the nightlife in Mexico City is excellent. There are plenty of bars and clubs to choose from, and there's always something going on.
Whether you're looking for a laid-back bar or a wild club, you're sure to find it in Mexico City. The city is one of the top places to visit in the country for nightlife!
What's the Best Way to Get Around Mexico City at Night?
Uber. Although Mexico City has a fantastic public transport system, it's highly advisable to take Ubers after nightfall. Not only is this generally quicker and more convenient, but it's also much safer.
Some areas such as Condesa, Roma, etc., are generally fine to walk around in after dark, especially if you're in a group. But in general, it's usually best to avoid being alone on the streets at night.
What's the Best Neighbourhood to Stay In to Enjoy the City's Nightlife?
Mexico City is huge and there are countless places you could stay and enjoy the excellent nightlife.
My top recommendations would be La Condesa, Roma, Reforma or Centro Histórico. These are all fairly safe neighbourhoods in Mexico City and have a wide range of great bars, restaurants, and other night-time activities to find.
Have a look at these top Mexico City Airbnbs, and if you plan on staying in La Condesa, check out these top Airbnb stays. For all hotels, villas, apartments, guesthouses and hostels in Mexico City, search online here.
Do I Need a Tour Guide to Enjoy Mexico City's Nightlife?
No, but it can certainly help. A good tour guide will be able to show you the best places to go, and help you avoid any trouble spots. If you're new to Mexico City, I would highly recommend getting a tour guide.
Now You Know What To Do in Mexico City at Night
Mexico City is a huge and vibrant city with plenty to offer all kinds of visitors. Whether you're interested in its history, culture, cuisine, or nightlife, there's something for everyone in this amazing metropolis.
Whilst some areas are best avoided after dark, there are plenty of great places to explore and enjoy the city's nightlife safely. So make sure to add some of these activities to your list when planning your trip to Mexico City.
Like This Article? Pin it!