Vibrant, enormous, and exciting. Mexico City boasts numerous historical sites, delicious traditional food, and endless things to do. The capital city of Mexico is easy to access and incredibly affordable. There are many things to do in Mexico City, but above all, it's a city of surprises.
While it's known worldwide for its enormous urban sprawl and troubles with pollution, what often gets left out of the story are the city's lovely parks, friendly people, easy-to-use metro system, and quirky highlights — like being home to the only castle in North America that ever housed actual sovereigns.
Best Things To Do in Mexico City
There are many places to visit in Mexico, with Mexico City being a top choice. Even if you just have a couple of days in the city, you'll be able to see and do a lot. It's one of the more interesting cities to visit and I enjoyed my stay here.
Here are 25 exciting and unique things to do in Mexico City that you won't want to miss.
1. Visit the Zocalo
There's no better place to start a trip to Mexico City than in the Zocalo, the city's main square and the heart of the Centro Historico neighborhood.
What you find in the Zocalo will depend on when you visit Mexico. When I travelled to Mexico City in December, I was greeted with a giant Christmas tree and an ice skating rink, but regardless of when you go, you're guaranteed to find the Zocalo teeming with people.
For a cheap and informative tour around the Zocalo and the rest of Mexico City's historical zone, check out this highly-rated walking tour.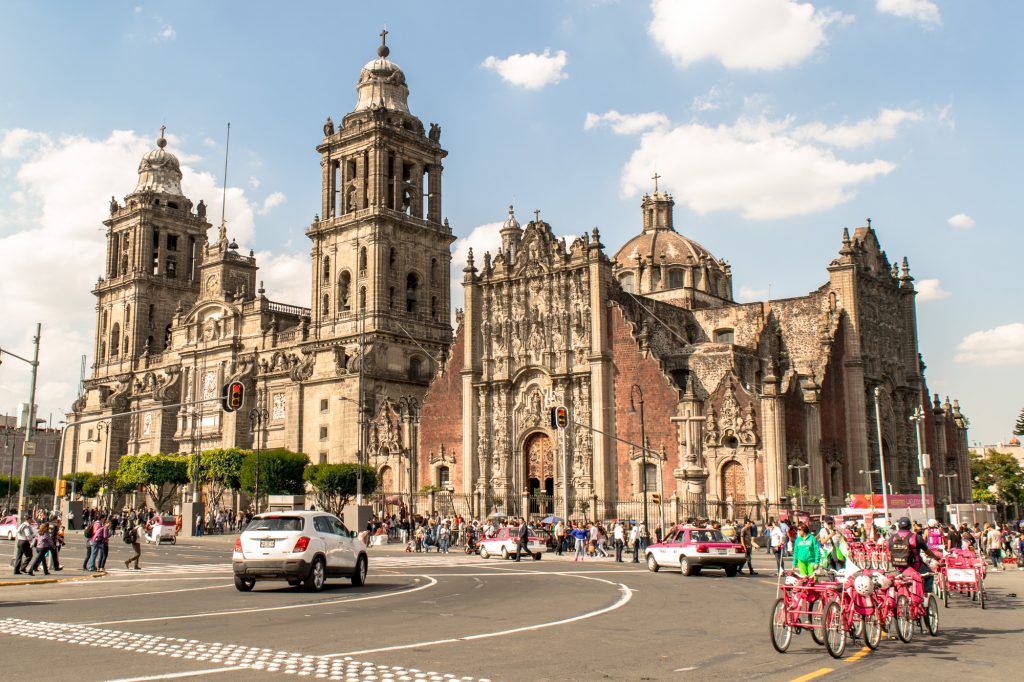 2. Check Out the Metropolitan Cathedral
One of the first things you'll notice in the Zocalo is the Metropolitan Cathedral, which dominates the square and immediately draws the eye.
This tour takes you to the Metropolitan Cathedral and many other sites with a friendly and knowledgable guide who will help bring these attractions to life with stories, history and humor.
Click Here to learn more about this tour including a visit to the Metropolitan Cathedral.
Opulent on the outside and gilded in gold on the inside, the Metropolitan Cathedral is (unsurprisingly) reminiscent of the cathedrals in Spain.
Going inside is definitely a must, and if your Spanish is strong enough to listen to a tour in the language, definitely consider taking a rooftop tour of the cathedral. The tour will allow you not only to admire the beautiful rooftops but to see the Zocalo from above.
The cathedral is open from 8am – 8pm, and is free to enter. There is a small additional charge to visit the rooftop. A visit here is one of the top things to do in Mexico City.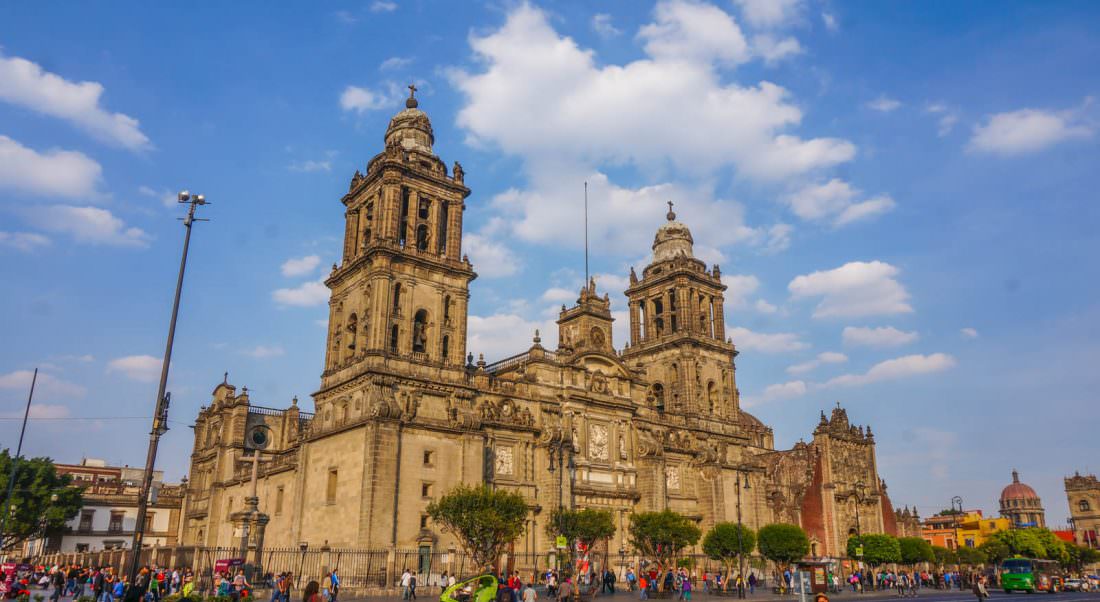 3. Step Back in Time at Templo Mayor
Everyone knows about Teotihuacan (and you should definitely add it to your list of things to do in Mexico City!), but you don't need to head outside the city center to admire Aztec ruins.
Templo Mayor is one of the coolest Mexico City attractions and during this fun walking tour, you'll be given detailed explanations about this attraction and many more around the historical center of Mexico City. Click Here to learn more about the tour.
What we now call Mexico City was once called Tenochtitlan by the Aztecs, and as the modern Mexico City, Tenochtitlan was the capital city and the center of their society.
Templo Mayor was destroyed by the Spanish in order to make room for the Metropolitan Cathedral that now sits next door to the ruins. It was a central religious point for Aztec society and made up of two temples that sat side-by-side.
Today, it's fascinating to walk among the ruins of the Aztec temples, especially as you can see the passage of time by looking up at the Metropolitan Cathedral and hear the hustle and bustle of modern Mexico City beyond the complex walls.
Templo Mayor is open from 9am – 6pm every day except Mondays, and costs 70 pesos ($3.75) to enter.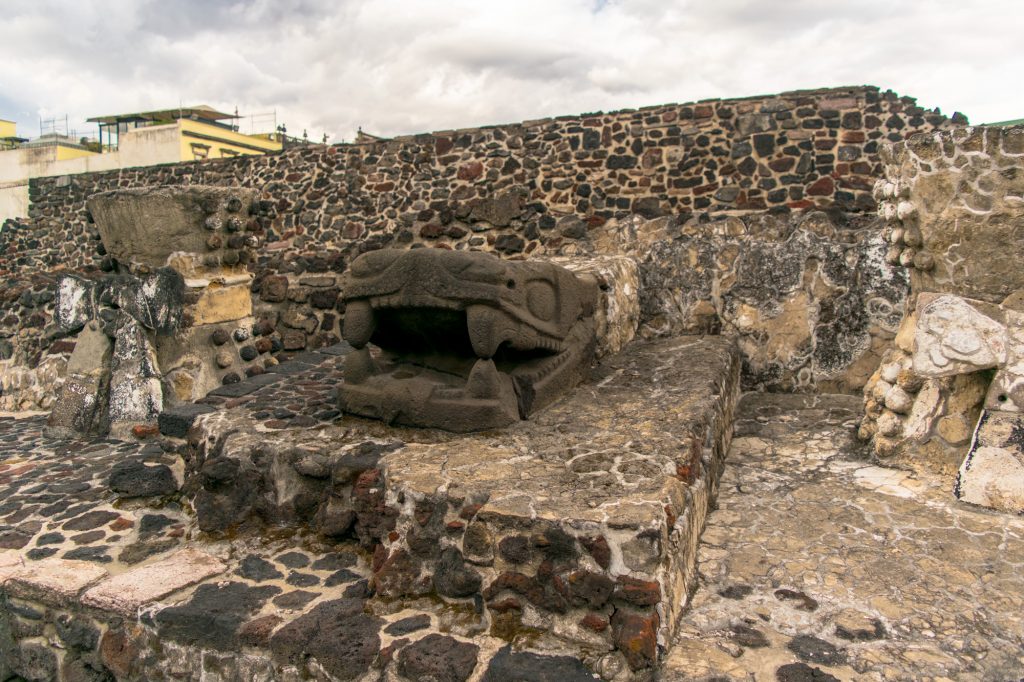 4. Visit the National Palace
The seat of Mexico City's government has sat on the site of the National Palace dating back to the Aztecs. In fact, much of the modern palace is built from materials that were previously part of the former palace used by Moctezuma II.
Dramatic history aside, there's another reason to visit the National Palace while you're in Mexico City. The palace houses several murals by famous artist Diego Rivera that depict the history of Mexico in vivid detail.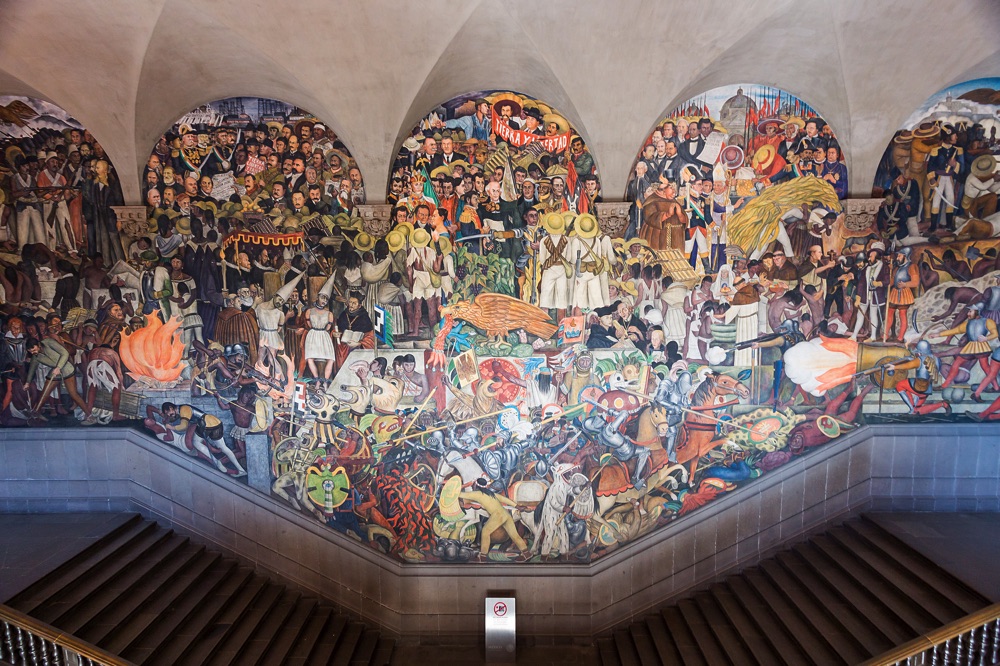 The National Palace is free to enter and is open from 9am – 5pm, every day except Monday. Find it on the map, here.
You can also join this cool walking tour and the first stop on it is The National Palace. With your knowledgeable guide, you'll get a much better understanding of the palace and other historical sites in Mexico City.
Click here to learn more about this tour including The National Palace.
5. Spend a day at Teotihuacan
When travelling to Mexico, you won't want to miss the ancient city of Teotihuacan, which is best known in the English-speaking world by the nickname that the Aztecs gave it: The City of the Gods.
If you do head out to the ruins, don't miss this incredible Hot Air Balloon Tour over Teotihuacan. This is definitely the coolest way to see the ruins.
Alternatively, you can join this small group tour to Teotihuacan, the Guadalupe Shrine, & Tlatelolco. The 9-hour tour includes transport, a guide and lunch. Click Here to learn more.
Carefully laid out, mysterious to behold, and dotted with several pyramids, Teotihuacan is not to be left out on any list of things to do in Mexico. A visit here is an easy day trip from Mexico City and is a must-do if you have the time.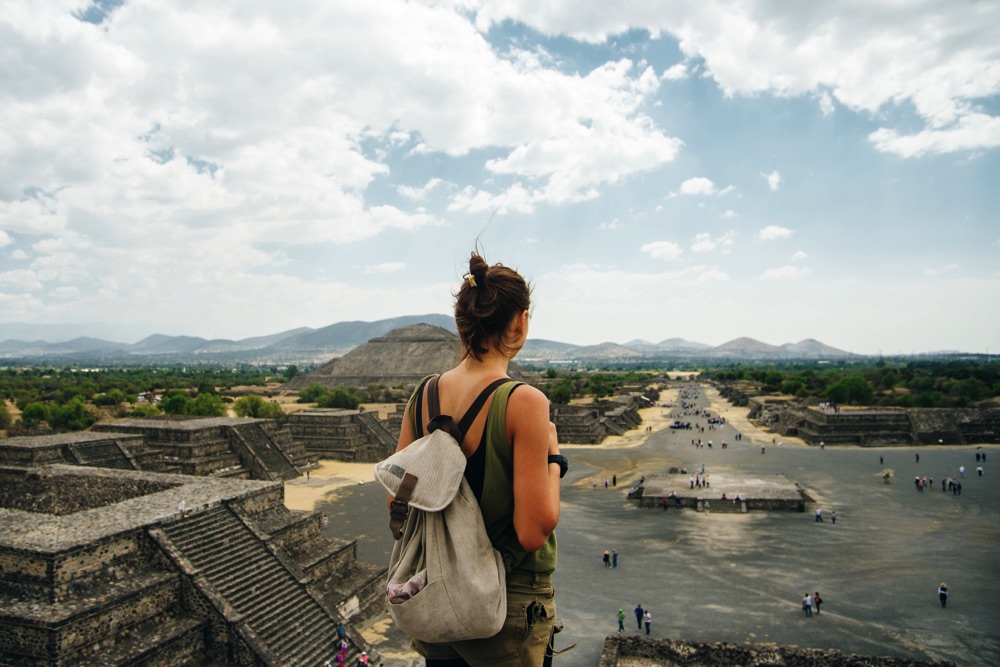 Visit to admire the archaeological ruins and history, to marvel at the architecture, or simply climb a pyramid. The Pyramid of the Sun and the Pyramid of the Moon can both be climbed, though prepare yourself for the heat and challenge!
My favorite part of Teotihuacan is a piece of its history — or rather, a missing piece of its history. Though today we associate the city with the Aztecs, it was built a full thousand years before the Aztecs ever got their hands on it.
As for who built it in the first place… well, that remains a mystery.
Teotihuacan is easily reached via buses leaving from the Autobuses del Norte station in Mexico City. The bus ride takes about an hour each way. The complex is open every day from 9am – 5pm, and costs 70 pesos ($3.75) to enter.
However, the best way to visit is to join a tour which includes transport, entrance fee, and a guide. This way, you won't have to sort out your transportation and you will learn about what you're looking at!
A visit here is easily one of the top things to do in Mexico as a whole, and is one of the top Mexico City tours. Find out more about the Teotihuacan tours here, or see our post about how to visit Teotihuacan.
6. Wander Through Chapultepec Park
Covering nearly 1700 acres and housing everything from museums to a castle to the world's friendliest squirrels, Chapultepec Park is a shady, green oasis that is the perfect spot to retreat from the densely populated urban areas that surround it in Mexico City.
Many popular sights and cool things to do in CDMX are located inside the giant park, including Chapultepec Castle and the Anthropology Museum.
The first stop on this fun walking tour is Chapultepec Park and it also visits other sites in the city like Altar a la Patria, and
Museo Nacional de Antropologia.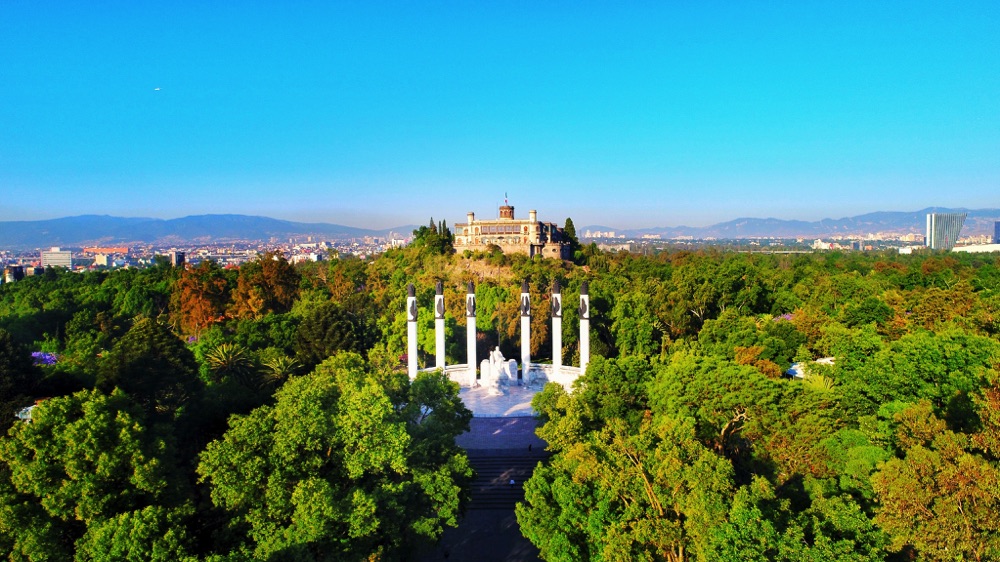 ☞ See Also: Things To Do in Isla Mujeres: Mexico's "Island Of Women"
7. Soak in Views of Mexico City
Located inside Chapultepec Park, Chapultepec Castle boasts the curious designation of being the only castle in North America that was ever lived in by actual sovereigns.
Though the castle itself is pretty in its way (to me, it has quite a modern feel, though construction began in the last 18th century), it's the views that are the real showstopper.
Set at the top of Chapultepec Hill, you can stand on the grounds of the castle and admire the wide swath of green that is Chapultepec Park, plus you'll get amazing views of the skyline of Mexico City, skyscrapers and all, that rise up beyond the trees. Chapultepec Castle costs 59 pesos ($3.15) to enter.
This tour takes that all in and much more. Click here to book.
⇒ See Also: 21 Top Things To Do in Mazatlan
8. Visit the Anthropology Museum
Often touted as the best museum in Mexico City, the Anthropology Museum holds the triple threat of being set in a lovely location (Chapultepec Park), impeccably designed with captivating architecture, and stuffed to the brim with fascinating exhibits.
The final stop on this tour (also listed above) is the Anthropology Museum and offers a great introduction to the museum's architecture and exhibits. Click Here to learn more about the tour.
Focused on pre-Columbian civilizations in what is today modern Mexico and the southwest United States, visit the Anthropology Museum to get a taste of what Mexico was like before the Europeans ever arrived.
The Anthropology Museum is open from 9am – 7pm every day except Monday. There is a 70 peso ($3.75) entrance fee. Even if you're not into museums, don't miss this one. It's one of the top things to do in Mexico City for good reason. Find it on the map here.
☞ See Also: Things To Do in Guadalajara: A List Of The Top 21
9. See the Independence Angel
Built in 1910 as a celebration of the centennial of Mexico's declaration of independence from Spain, the golden independence angel is one of the most recognized symbols in Mexico City.
You can visit the angel for an up-close look on Paseo de la Reforma (the statue is placed on a roundabout in the middle of the street), but you can also catch a glimpse from the veranda of Chapultepec Castle and admire it from above.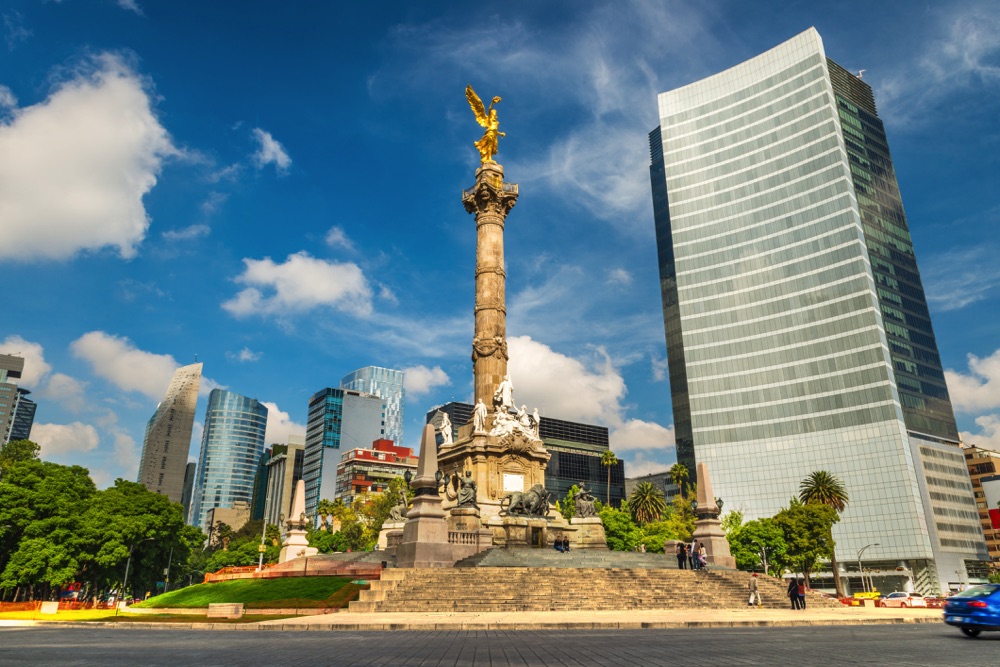 ☞ Are you planning to visit other places on your Mexico travels? Check out our articles: Things To Do in Cancun (including ideas for things to do away from the beach), Things To Do in Playa del Carmen, Things To Do in Cozumel – Mexico's Top Island and Things To Do in Tulum.
Also, have a look at the awesome things to do in Puerto Vallarta, La Paz, Cabo San Lucas and San Cristobal de las Casas.
10. Embrace Your Inner Tourist at Xochimilco
Unapologetically touristy and over-the-top amusing, visiting Xochimilco is one of the fun things to do in Mexico City with friends.
Xochimilco is covered in canals that serve one main purpose today: carting drinking tourists around in colorful boats while they let loose and have an excellent time.
Hire a boat, pack a cooler of snacks and drinks, or just pick some up on the way.
Be warned that the vendors onsite will charge predictably high prices given the area's tourist status. Grab some friends, and you'll be able to kick back and have a delightful time in Xochimilco.
You can reach Xochimilco via public transportation by taking the Tren Ligero, which runs all the way to Xochimilco. The Tren Ligero can be picked up at the end of the Blue Line 2, at the Tasqueña station.
A ride up and down the river on a shared boat runs about 40 pesos ($2.14) per person, or you can rent an entire boat with a group for about 350 pesos ($18.70) /hour. You can also join a tour, which takes in other sights of the city, provides transportation, plus the Xochimilco boat ride.
11. Check out the Soumaya Museum
Focusing almost entirely on European and Central American art, the Soumaya Museum in Mexico City is distinct for a few reasons.
Its impressive 66,000 piece collection was donated entirely by one man (Carlos Slim), the building itself is bizarre and worthy of photographing, and admission is always free.
The best way to see the museum is with an experienced guide. This highly-rated tour includes a friendly guide who will help bring the museum to life through stories and history. Click Here to learn more about the tour.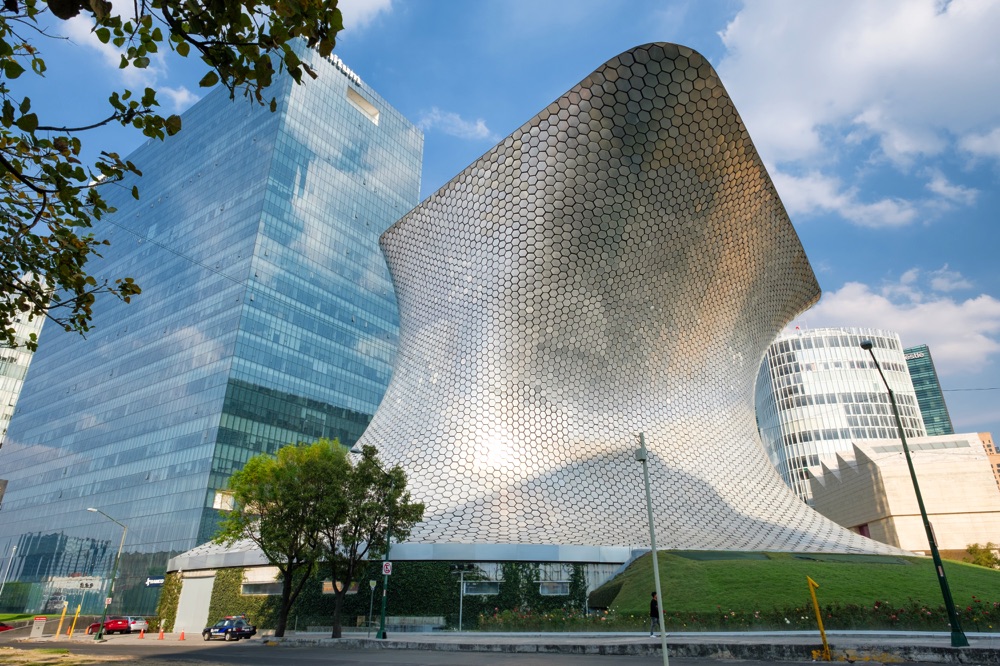 ⇒ See Also: 21 Things To Do in Oaxaca City You Don't Want To Miss
12. Visit The Palacio de Bellas Artes
Though it is home to Mexico's premier fine arts collection and regularly hosts operas and theatre performances, the Palacio de Bellas Artes is primarily known for one thing: the building's impressive and beautiful facade. This is one of the most beautiful things to see in Mexico City for sure.
Though I highly recommend stepping inside and admiring the art, definitely plan on being distracted on the palace's exterior for a bit.
The Palacio de Bellas Artes is open from 10am – 6pm every day except for Monday. This walking tour with a guide takes in the palace as well.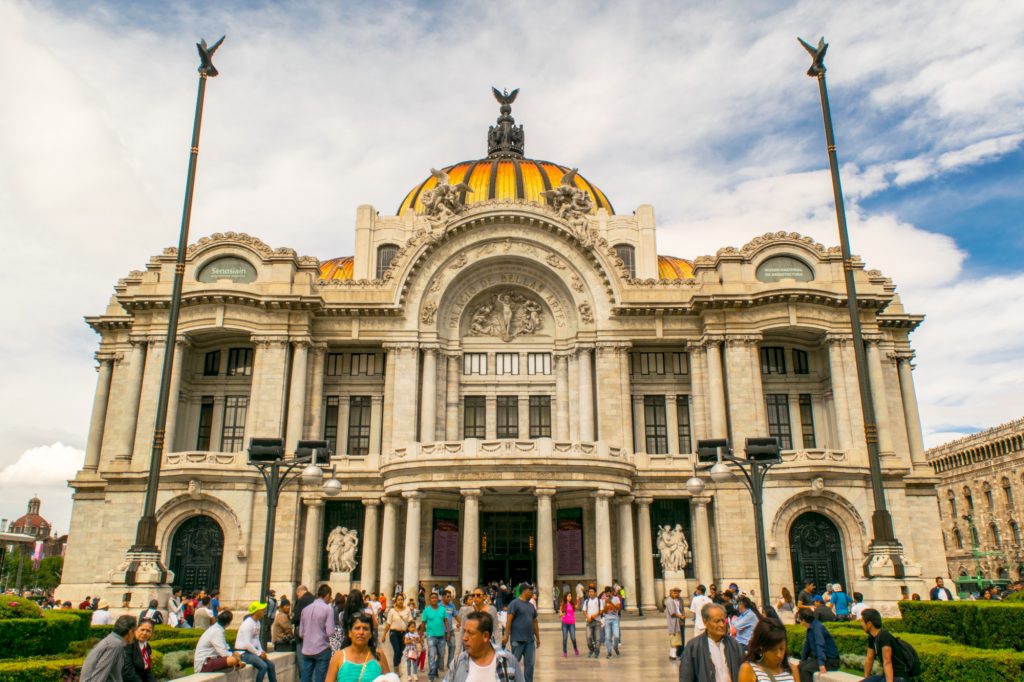 13. Stroll Through Alameda Central
Located right next door to the Palacio de Bellas Artes, Alameda Central is a beautiful, shaded park, perfect for walking around or resting on a bench in the shade.
Alameda Central is impeccably and purposely laid out, and as it was founded in 1592, also boasts the distinction of being the oldest public park in the Americas!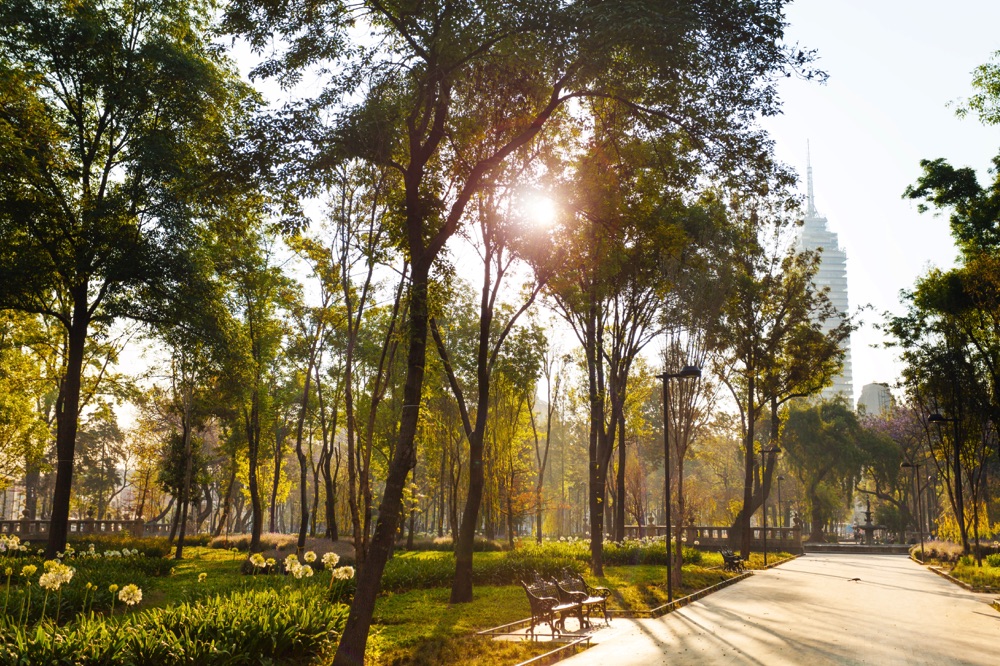 ☞ SEE ALSO: 15 Best Airbnbs in Mexico City
14. Admire Mexico City From Above
The observation deck of Torre Latinoamericana is home to the best view of Mexico City. It's on top of this tower that I was first able to fully appreciate the sheer size of the sprawl that makes up Mexico City.
Definitely make sure you add this to your list of things to do in Mexico City — even with only a few days in Mexico City, it's a must-do while you're there.
The Torre Latinoamericana is open every day from 9am – 10pm. You can get your entrance ticket here.
15. Visit the House of Tiles
Built as a palace in the 18th-century, today the House of Tiles is a restaurant and is known for its facade which is covered entirely in tiles from Puebla on three sides.
Blue and white and beautiful to photograph, the House of Tiles is worth a stop whether or not you plan to eat there. The exterior alone (plus its close proximity to the Torre Latinoamericana) is enough of a reason to visit.
16. Devour Some Street Food
No trip to Mexico City would be complete without plenty of street food. And, if you're backpacking Mexico on a budget, you'll definitely eat your fair share of it – which is a good thing!
Mexico City is known for its vibrant street food scene, and you'll find everything from freshly fried potato chips to tamales available from tiny stalls that will beckon you with each sizzle of the stovetop.
My personal favourite street food in Mexico City is tacos al pastor.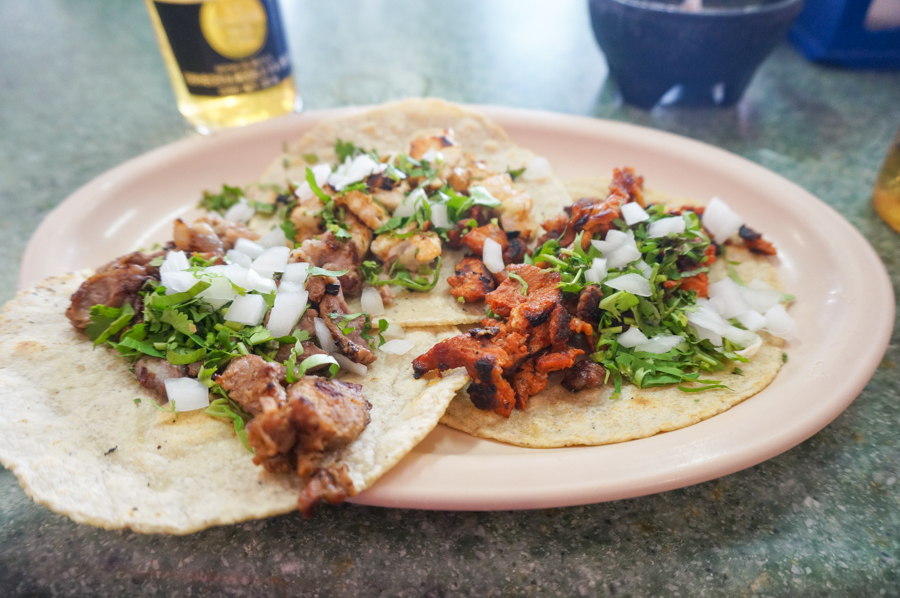 Made of meat similar to a Turkish kebab or Greek gyro (tacos al pastor were actually invented by Lebanese immigrants to Mexico that brought shawarma with them), these inexpensive and delicious tacos are typically served up on corn tortillas and topped with chopped red onions and lime juice.
Sampling local food is definitely one of the best things to do in Mexico City. If you'd rather head out on a food tour with a local who knows the best spots, click here.
Eating street food is one of the best things to do in Mexico city in the morning, afternoon or at night…basically, anytime!
☞ SEE ALSO: Where To Stay in Mexico City – Best Areas and Places
17. Walk Through Roma & Condesa
If you're looking for trendy cafes and cups of coffee galore, you need to add visiting Roma & Condesa to your list of things to do in Mexico City (in fact, you might even want to pick a hotel that is in that area).
These neighborhoods are known for their hipster vibe, a plethora of cafes, tree-lined streets, and excellent coffee. There are many fun things to do at night in Mexico City in the Roma and Condesa areas.
For digital nomads living in Mexico City, these two neighbourhoods offer great accommodations, many cafes, coworking spaces, and all the amenities a remote worker could need. Plus, there are some great rooftop bars here!
Have a look at our guide to where to stay in Mexico City, and our list of the best Condesa Airbnbs.
⇒ See Also: Puerto Escondido, Oaxaca – A Guide For Travellers
18. Check out Frida Kahlo's House
If you're a fan of the history of Frida Kahlo or her husband Diego Rivera, don't miss a visit to the Frida Kahlo house while you're in Mexico City!
Also known as "The Blue House", the home tells the story of Frida Kahlo (she lived there most of her life, including her childhood), and though not much of her art is on display here, her history is. You can find it here on the map, and make sure to book your entry tickets ahead of time.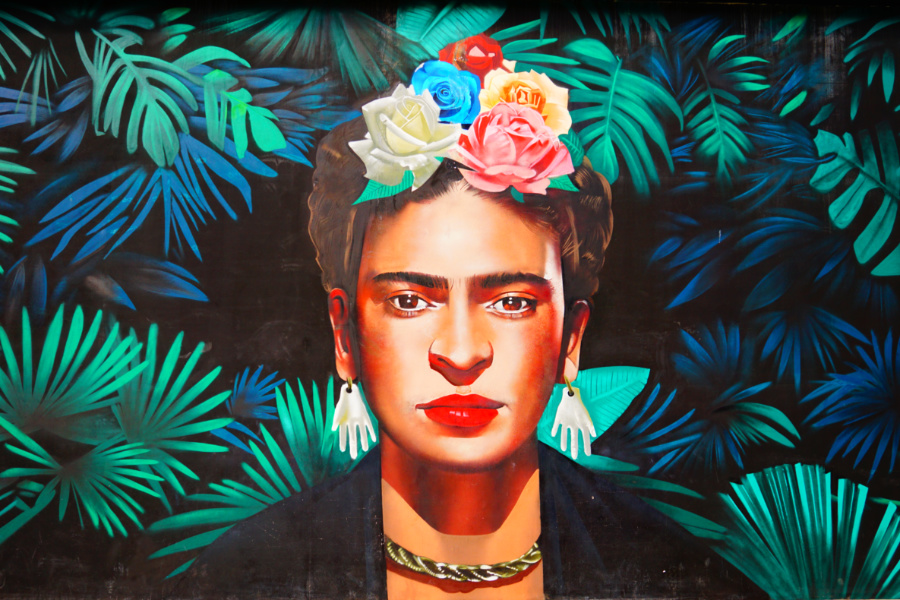 19. Visit the Home of Leon Trotsky
Just a short walk away from Frida Kahlo's house sits the former home of Leon Trotsky, where he lived, was assassinated, and where his ashes (along with those of his wife) are now interred.
Though the house-turned-museum is small, it provides a look inside the personal life of Leon Trotsky. A visit here is one of the more offbeat things to do in Mexico City.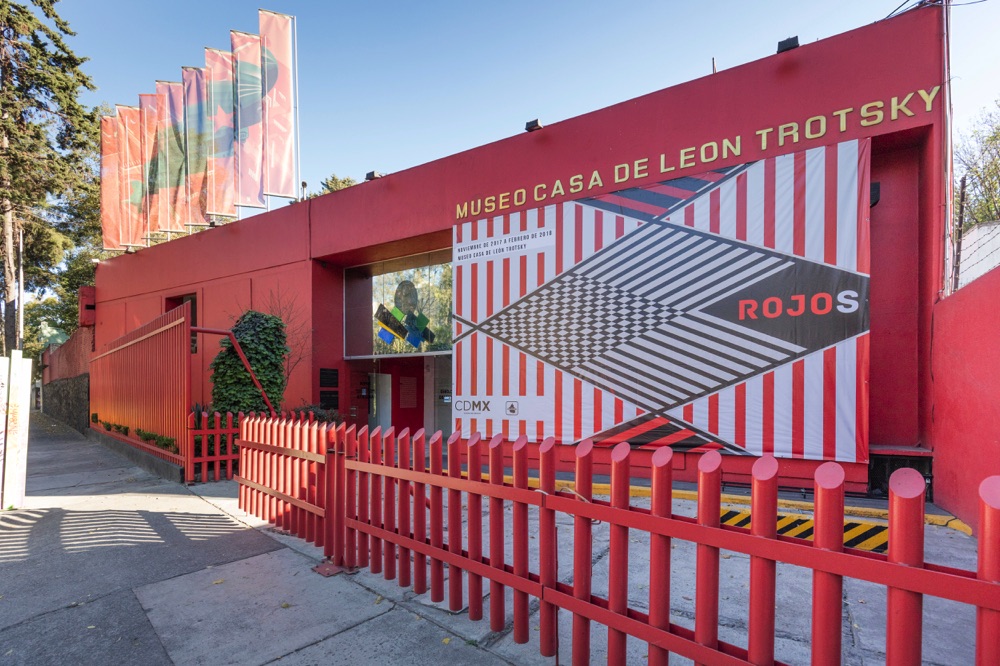 ☞ See Also: Things To Do in San Miguel de Allende: 21 Things You Don't Want To Miss
20. Visit The Witchcraft Market
Looking for a market experience that goes beyond fruits, vegetables, and souvenirs?
Head to the Mercado de Sonora – also known as the witchcraft market. A visit here is one of the weird things to do in Mexico City you won't want to miss out on.
While typical wares are available here, so are all manner of goods associated with spells and rituals intended to alter your world through witchcraft. Several religions are represented in the market, including Voodoo. This market tour with a guide takes in this Sonora Market plus the bustling La Merced Market as well. Book your spot here.
⇒ See Also: 10 Things To Do in Guanajuato
21. Peruse The Books at Cafebreria el Pendulo
One part bookstore, one part cafe, Cafebreria el Pendulo is a must-see for book lovers visiting Mexico City.
Decorated with living plants, the shop manages to feel pristine, modern, and also a little bit wild all at the same time. Come to enjoy a cup of coffee, read a book, or both. If you're wondering what to do in Mexico City for a relaxed, chilled-out afternoon, this is it.
22. Have a Fabulous Meal at Pujol
After all the street food you have (hopefully) been consuming in Mexico City, definitely consider mixing it up and going in the opposite direction for dinner one night.
Pujol is one of Mexico City's top restaurants, and though it's not inexpensive by Mexico City standards, it's worth the money considering it's listed as one of the World's 50 Best Restaurants.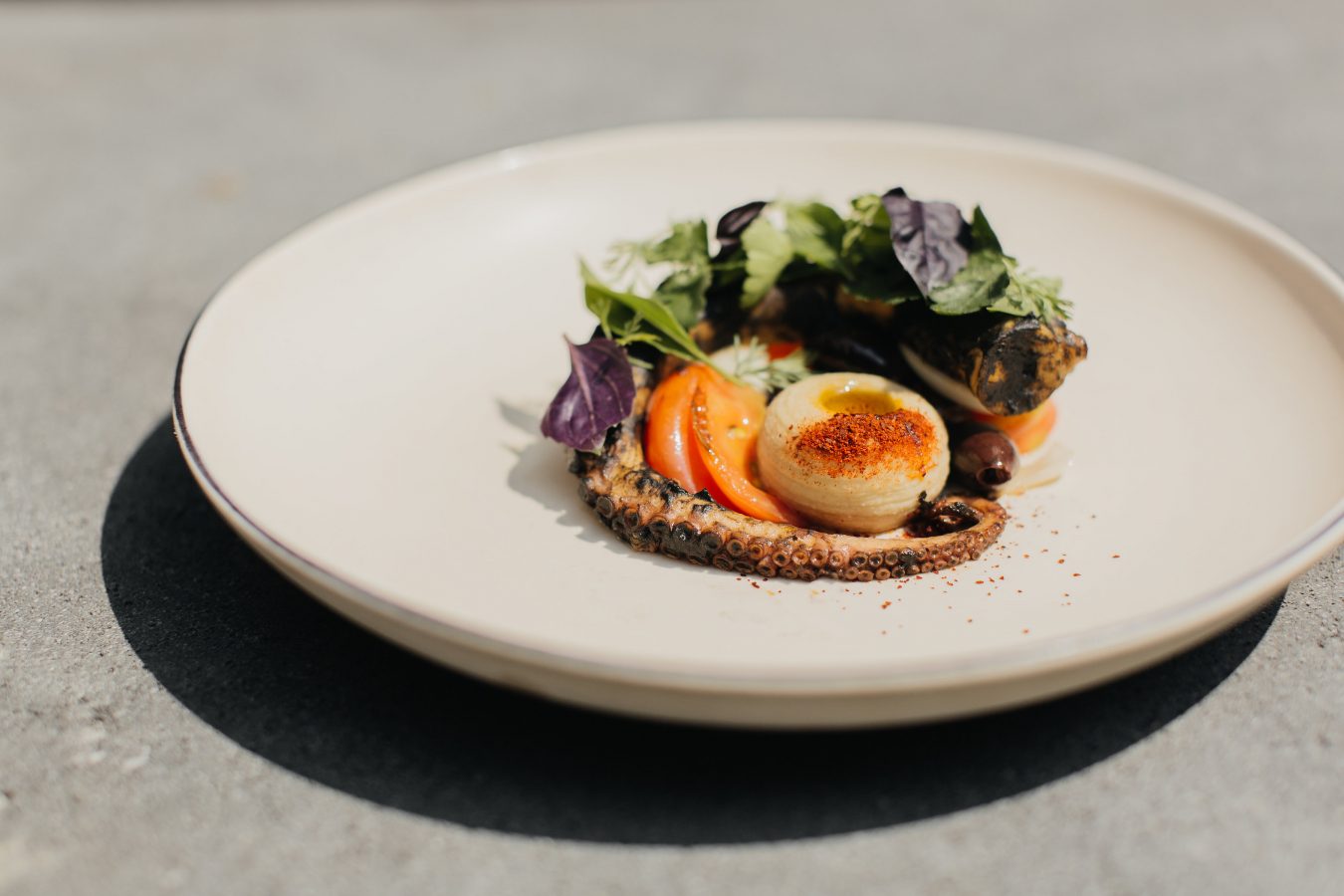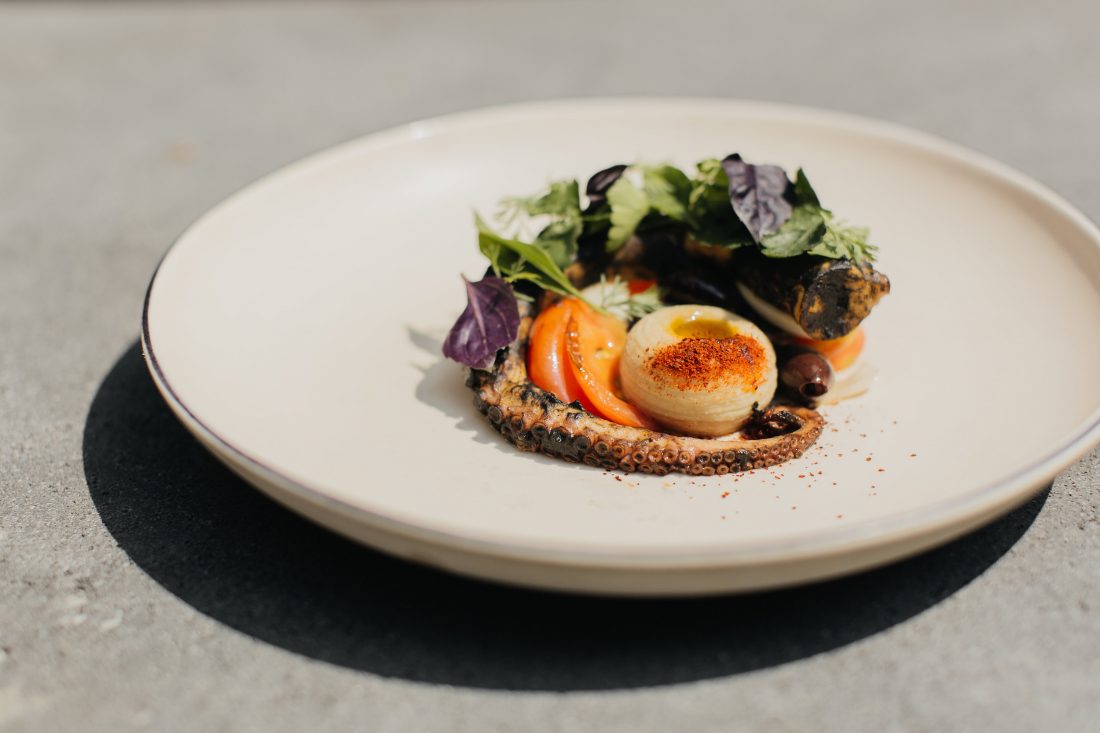 23. Step Inside the Post Office
Mexico City's Palacio Postal (also known as its Main Post Office) is known for a few things: its incredible beauty, its unique architecture, and the fact that – even through a couple of sizable earthquakes – it has operated continuously for more than 100 years.
Step inside to fully appreciate the pedestrian, everyday business of a post office set against a gilded, golden interior that seems like it would be better suited for a palace than for something as mundane as sorting mail. Don't miss this walking tour which takes in the Post Office as well.
24. Watch a Lucha Libre Match
Whether you like wrestling or not, a night of Lucha Libre should be high atop your list of things to do in Mexico City. It's an important part of the culture, and the luchadores sure put on an amazing show!
The best place to see a match is in the capital at the Arena Mexico on Tuesday and Friday nights, as well as on Sunday afternoons. Fridays are the most exciting matches, because, well, it's the weekend!
Click here to book a tour to a night of Lucha Libre, including tequila, ringside seating, a Lucha libre mask, transportation, and guide! This is one of the more crazy things to do in Mexico City, don't miss it.
25. Explore the Markets
Mexico City is home to many markets that are filled with locals going out their day, purchasing goods for the week. From the butchers and bakers to the produce vendors, these markets can be a one-stop shop.
For tourists, visiting the markets can give you a glimpse into the everyday life of a Mexican, and can be a very interesting experience. You can also purchase some items for the day, or if you're living in Mexico, for the week.
La Merced is one of the city's most bustling, local, and hectic markets. But, that's what makes it so amazing! Join this walking tour to discover this incredible market, which includes food tastings along the way.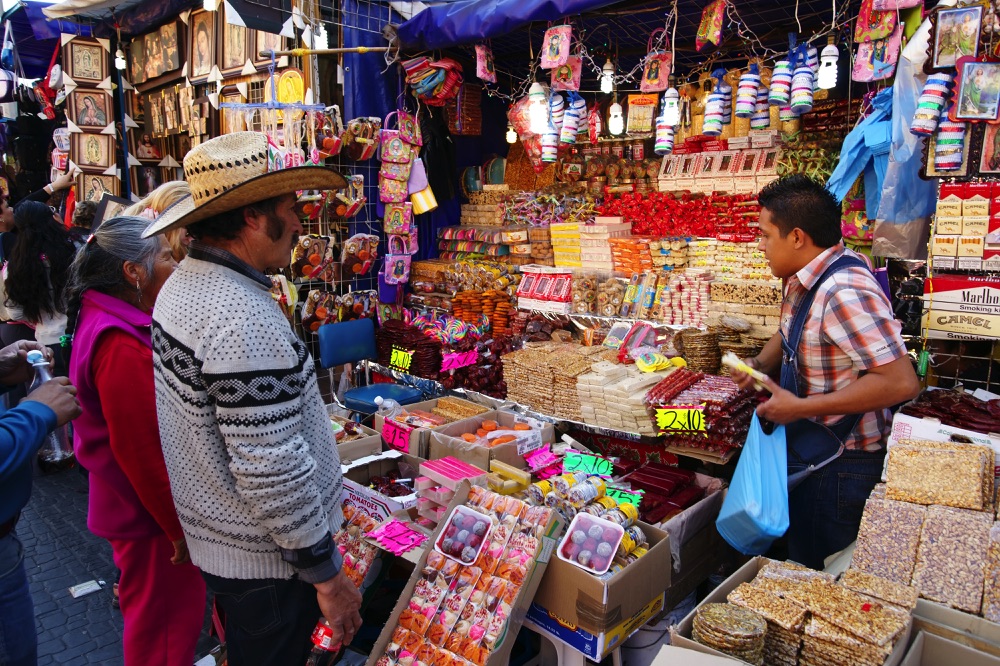 Things To Do in Mexico City: FAQs
Here are answers to some commonly asked questions about visiting Mexico City's top sights and attractions.
What is Mexico City best known for?
Mexico City is known for being one of the oldest and largest cities in the Americas. It's a populous city with endless cultural attractions, world-famous restaurants, and top museums.
How many days do you need in Mexico City?
A week in Mexico City would be ideal, a couple of days is doable. However, many people visit on just a weekend and you'll still be able to see the main sights. With a week, you'd be able to add on some great day trips to see the Frido Khalo House, the incredible ruins of Teotihuacan and Xochimilco. The city is so huge and there are so many things to see and do in Mexico City that you could spend a month and still have more to see.
Is Mexico City worth visiting?
Mexico City is worth a visit on any trip to Mexico. It's a buzzing city with many museums to see, markets to visit, architecture to admire, and fabulous food to feast on. No matter what you're interested in, you'll find it here.
Is Mexico City safe?
As one of the largest cities in the Americas, there is crime in Mexico City. Keep your wits about you, especially at night, and stick to tourist-friendly areas (La Condesa, Roma, Polanco, Reforma, Santa Maria La Ribera, Coyoacán, and the Centro Histórico). It's advised to avoid the Ciudad Neza, Iztapalapa, Doctores and Tepito districts. Act as you would in any major city in the world, and you should be fine.
What are the top attractions in Mexico City?
The must-see things in Mexico City are: the Zocalo, Bellas Artes, Metropolitan Cathedral, National Palace and Anthropology Museum. Most of these can be visited on a walking tour in a day.
In Conclusion
As you can see, Mexico City is a place you could spend a while…there's just something about the exciting vibe here that will have you coming back for more.
Although a bit intimidating at first due to its size, you'll soon realize that the city is actually quite manageable. With fantastic dining options, wonderful architecture, ancient sites, and a vibrant atmosphere, give yourself at least 5 days to enjoy all that Mexico City has to offer.
Images in this article are courtesy of Shutterstock.com.
Like This Article? Pin it!