As Europe's economic powerhouse, Germany has become one of the most desirable destinations for expats, freelancers, and digital nomads. Whether you're working out of a shared co-working office or embarking on an entrepreneurial adventure, you'll find plenty of opportunities while living in Germany.
This culturally rich country has something for every type of traveller. You can live high in the snow-capped Bavarian Alps, on the port-side harbor in Hamburg, or in the buzzing center of Berlin. With amazing, hearty food, plenty of affordable beer, and rich culture, Germany is calling your name.
I spent the summer months living in Munich as a digital nomad, and in this guide, I'll cover what life in Germany is like, and what to expect when moving to a new country. You'll also learn about the cost of living in Germany, as well as a few cultural differences you might encounter.
Cost of Living in Germany
Although Germany is considered one of the biggest economic powers in Europe, living in Germany doesn't have to be expensive. Especially compared to other European countries, Germany is relatively affordable. Here are a few sample costs that you can expect to pay in some of Germany's biggest cities.
Cost of Accommodation in Germany
The cost of your apartment in Germany will depend on several factors. For one, some cities are more expensive than others. If you plan to live in Munich, you can expect your rent to be higher than if you live in Berlin, for example.
Another factor to consider is where you live within the city. Although living in the inner city center might bring you closer to the main attractions, it will inevitably be more expensive than if you lived in the suburbs or outskirts.
If you want to save money, sharing an apartment or house is an excellent option. Not only will you save on accommodation costs, but you'll have friends and roommates you can explore the city with.
Generally speaking, you can expect to pay the following accommodation costs when living in Germany:
Private 50sq meter apartment in Berlin center: 650€
Private 50sq meter apartment in Cologne center: 800€
Private 50sq meter apartment in Munich center: 1100€
Room in shared apartment in Berlin: 400€
Room in shared apartment in Cologne: 450€
Room in shared apartment in Munich: 500€
Cost of Food and Drink in Germany
The cost of food and drink in Germany will largely depend on what and where you eat. If you know where to look, you can fill up on some of your favorite German dishes for under 10€ ($11) a meal. On average, restaurant prices remain consistent, no matter what city you're living in.
Meal in an inexpensive restaurant: 8€ ($8.85)
Three-course meal in a mid-range restaurant: 30€ ($33.20)
Bottle of beer in a restaurant: 3€ ($3.30)
Glass of wine in a restaurant: 5€ ($5.50)
Bottle of water in a restaurant: 2.50€ ($2.75)
Cooking at home is an excellent option for saving money while living in Germany. Food in supermarkets or grocery stores is far cheaper than dining out in a restaurant. Not to mention, meats, cheeses, and fresh produce are often cheaper in Germany than in the US or UK!
Cost of Transportation in Germany
Thanks to the efficient public transportation system, getting around Germany is fast, pain-free, and in many cities, affordable. Whether you're bar hopping between different neighborhoods or traversing cross-country around Germany, taking the train, bus, or subway is an excellent option.
One-way bus/subway ticket in Berlin: 2.80€ ($3.10)
One-way bus/subway ticket in Cologne: 2.50€ ($2.75)
One-way bus/subway ticket in Munich: 2.70€ ($3)
Train ticket from Berlin to Munich: 80€ ($88.50)
10-minute taxi ride: 10€ ($11)
Daily Life When Living in Germany
Living in Germany is an exciting opportunity for many digital nomads. Whether you're exploring the country by train or sipping ice-cold lager in a beer garden, Germany presents many new experiences for travelers.
To help you adjust to your new home in Germany, keep the following in mind to make your transition an easy one.
Cash is Mandatory
Whether you're dining in a restaurant or shopping in a market, you should always carry Euros in cash. While most department stores and large-scale restaurants accept credit cards, it's not guaranteed. In fact, I've even been stuck in a grocery store that only took German bank credit cards!
For this reason, it's crucial always to have cash at hand.
Additionally, sales tax is usually included in the price you see on the label or menu. Unlike America, where the sales tax is added after, you can always expect to pay the price you see.
Relaxing on Sundays
When in Germany, make sure you do all your shopping during the week or on Saturday. Once Sunday rolls around, markets, stores, and even family-owned restaurants close their doors for the day. That's because Sunday is reserved for relaxing and spending time with family and friends instead of shopping or running errands.
Although most restaurants and cafes stay open on Sunday, especially in the big tourist neighborhoods, everything else is usually closed. You'll also notice the cities feel a lot emptier during the day, as most people stay in their apartments or houses on Sundays.
Public Transportation is Based On The Honor System
When you take the train or subway in Germany, you probably won't see any security turnstiles or places to scan your ticket before entering. That's because most trains, buses, and trams are based on the honor system. While you are expected to buy and validate your ticket, there's no mechanical system that checks before you hop on board.
However, there may be disguised workers that will ask to see your ticket every once in a while. If you're caught without one, you'll be slapped with a hefty fine.
Recycling is a Very Serious Matter
As one of the most eco-friendly countries in the world, Germany has a complex but efficient recycling system. Not only do you need to separate trash from plastics, but you also need to sort your glass into brown, green, and clear containers.
Along the same lines, Germany also adds a "pfand" or deposit to plastic and glass items. If you bring the empty bottle back to the grocery store, you'll get that money back. On average, the pfand is between .08€ to .25€ per item.
Work-Life Balance is More Flexible
Unlike other companies in the Western world, Germany businesses place a strong emphasis on work-life balance for employees.
Not only do most employees get a minimum of 24 holiday days off, but they also tend to work fewer hours during the day. On the other hand, German employees need to be more productive during the workday. Although they may work fewer hours than their American or UK counterparts, they still have the same amount of work to complete.
You also might find that many German employees do not work after leaving the office. While other cultures tend to answer emails at night, or even on weekends, this is relatively unheard of in Germany.
Check out these other Digital Nomad destinations:
Cultural Differences to be Aware of in Germany
Although moving to a new country can be exciting, you don't want to be completely taken aback by the German lifestyle. Once you move to Germany, you might encounter a few cultural differences from what you are used to in your home country.
Communication Style is Different
To say it frankly, Germans can be very direct communicators. Unlike other western cultures where it's common to be passive and polite, Germans are known for being practical, honest, and straightforward.
For this reason, Germans sometimes come across as rude or negative to outsiders. However, this is rarely a malicious attitude and can be mostly blamed on the difference in cultures between Germany and other countries.
On the other hand, this means that many Germans are very true to their word. If a German makes plans with you, you can usually count on them to show up (and of course, to be on time).
Customer Satisfaction isn't a Top Priority
If you expect that the customer is always right, then you might be in for a culture shock while living in Germany. Waitstaff, customer service agents, and service personnel generally favor process over customer satisfaction. That means, as a client or customer, there's far less leniency in getting what you want.
Along the same lines, don't expect your waiter or bartender to be over-friendly. While they should always be polite, it's not common for them to make small talk or go out of their way to enhance your experience.
Remember your "Du" and "Sie"
The German language consists of a formal and informal way of speaking to others. "Sie" is used in a formal setting, for elders and acquaintances, while "du" is used with friends, family, or other close relationships.
If you're learning German or speaking to others in a workplace, remember that there are stark differences depending on who you're addressing.
Transportation in Germany
The German transportation system is not just efficient and timely, but also easy to navigate.
Germany is home to several international airports, including Frankfurt, Cologne, Berlin, and Munich. If you plan on traveling outside the country, then flying out of one of Germany's airports is an excellent option.
However, if you plan to travel domestically, or to cities in neighboring countries, then taking the train can be easier and faster than flying. Long-distance high-speed trains and regional trains are the preferred transportation options for locals and travelers. They're usually on time, and are clean and comfortable for traveling around Germany.
If you're on a budget, traveling by bus is another option. FlixBus and BlaBlaBus are two domestic and international bus companies with hundreds of routes around Europe. Tickets can be booked last minute and are often much cheaper than flying or taking the train. The only downside is, your travel time might be two or three times longer!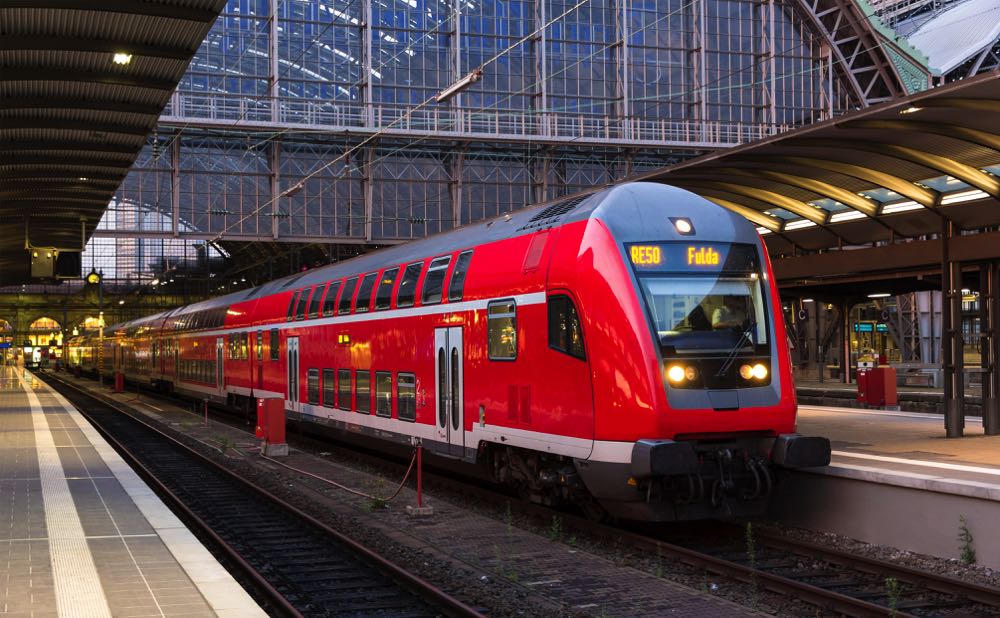 Once you're in the city of your choice, you'll have several options for getting around. The underground metro, or U-Bahn, can be found in most major cities in Germany. Other cities might have a bus or tram system as well.
If money isn't a big concern, then you can also take taxis or ride shares around Germany. FreeNow (formerly MyTaxi) and Uber are just two companies that operate in major German cities.
Your last option for getting around Germany is by car. Not only will you have the freedom to explore the country at your own pace, but you'll also be able to speed down the world-famous autobahn! Keep in mind that most cars are manual transmission. An automatic transmission is rare, and usually costs more than renting a manual car.
Where to Live in Germany
Before you move to Germany, one of your first steps will be deciding where to live. Depending on your budget and lifestyle, there are several wonderful and exciting cities in Germany to choose from.
Berlin
As the most progressive and diverse city in Germany, Berlin is a fabulous option for digital nomads and travelers. Along with Berlin's vibrant and arguably complex history, it remains one of the most popular destinations for expats and foreigners. In fact, more people speak English in Berlin than any other city in Germany.
It's also considered one of Germany's newest cities. Since Germany's reunification in 1989, Berlin is slowly transforming to become one of the trendiest and most economical towns around. You'll find world-class museums and busy restaurants amid historical relics like Checkpoint Charlie, Brandenburg Gate, and the Berlin Wall. There are numerous things to do here, you'll never be bored.
Not only will you find a wide range of co-working spaces and start-ups, but you'll also be immersed in one of the most creative cities in the world. Berlin is known for attracting artists, musicians, hipsters, entrepreneurs, and everyone in between. This is a very unique city.
Best of all, Berlin is one of the cheapest places to live in Germany. Flats are far more affordable than most major cities in the country, which makes it the ideal destination for digital nomads.
So, if you're looking for a creative, international city with a touch of alternative edginess, look no further than Berlin!
Cologne
Located in the heart of Rhineland, Cologne manages to seamlessly blend urban life with decades of history. It was one of the most bombed cities during WWII, which left the majority of homes, buildings, and shops burned to the ground.
Since Germany's reunification, efforts were made to rebuild Cologne's Old Town (Altstadt) into the charming, cobblestone neighborhood that stands there today. Although much of the city is reconstructed, Cologne is still a beautiful and culturally diverse place to live.
Many people consider Cologne to be a smaller version of Berlin. Dotted around the city are lush parks, trendy neighborhoods, and international communities.
There are several iconic landmarks to visit during your stay in Cologne. However, the most prominent attraction is the grand Cologne Cathedral, which looms over the entire city. Situated on the banks of the Rhine River, the Cologne Cathedral is the tallest twin-spired building in the whole world.
If you're interested in experiencing traditional German life, then make Cologne your next home away from home.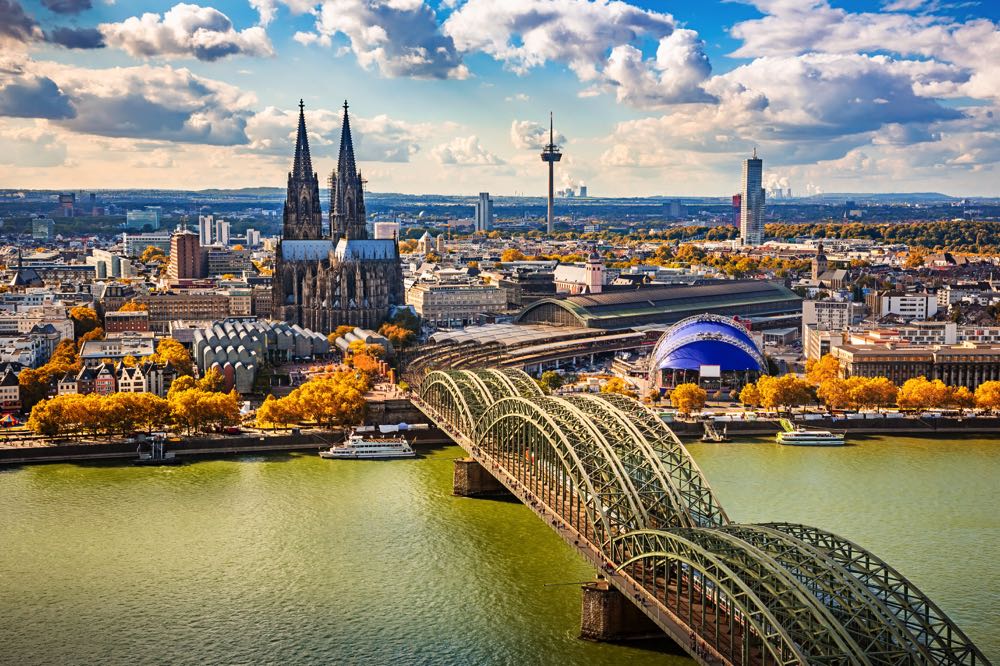 Munich
When most people think of Munich, they conjure up images of lederhosen, liters of beer, and jolly Oompa-music. But in reality, there's much more to Bavaria's capital than meets the eye. Munich is a clean, business-friendly city that is sure to delight any digital nomad and freelancer.
Although Munich is one of the biggest cities in Germany, it resembles a large village rather than an international city. Neighborhoods are flooded with students, expats, and fun-loving locals, which gives Munich a laid-back and relaxed vibe.
The historic city center is lined with Gothic, Baroque, and Neo-classical architecture, while the surrounding neighborhoods maintain a more early 20th-century feel.
During your stay in Munich, you'll have the opportunity to visit many attractions. Enjoy a picnic in the English Garden, explore the automotive industry at BMW World, and chow down on pretzels and sausages at Viktualienmarkt. And when Autumn comes around, you'll have Oktoberfest to show you how Bavarians truly like to celebrate!
However, you should also keep in mind that Munich is the most expensive city to live in Germany. You can expect to pay more for rent and food in Munich compared to other places around the country.
If you can afford to live in Munich, then you should take the opportunity. Munich is a wonderful city overflowing with traditional Bavarian culture and life!
☞ SEE ALSO: 10 Offbeat Museums in Germany
Accommodation Options in Germany
Once you move to Germany, you'll need to find a place to stay. Fortunately, Germany offers many different types of accommodation, from shared apartments to private houses and everything in between.
As a general rule of thumb, the closer you live to the city center, the more expensive your accommodation will be. On the other hand, you'll be within walking distance (or short train ride) from the city's most exciting attractions and sites.
If budget is a concern, you can find accommodation in the outskirts or surrounding neighborhoods. Fortunately, Germany's well-connected transportation system makes it easy to get from the suburbs to the city center quickly. That means you can save money while also being close enough to the best sights in the city.
It's also common to find shared temporary housing, especially in student and University areas. By renting a room, you'll share a kitchen, living room, and possibly a bathroom with one or more people. Not only is this an excellent option for saving money, but it's also an easy way to make friends when you move to a new city.
Visa Situation for Americans, Canadians and UK Citizens
If you plan on visiting Germany for a short period, then you might not be required to obtain a visa before entering. American, Canadian, and UK citizens can come and stay in Germany for tourism for up to 90 days within a 180-day period.
For long-term stays, you will be required to get a visa. In Germany, there are several options for long-term visas. If you are working for a company based in Germany, you can be issued a work permit or EU Blue Card. Germany also provides visas for students or German language learners. Click here to learn more about obtaining a working holiday visa in Germany.
If you're a freelancer or business owner, you can also apply for a freelance visa. This would allow you to hire clients and pay taxes while living in Germany.
Finally, Berlin residents can apply for a special artist freelance visa. If you're a creative professional, such as a painter, dancer, or musician, you might be eligible to apply for this type of visa.
At the moment, it's unclear how Brexit will affect the visa procedures for British citizens. The specific details for moving and living in Germany will need to be finalized by the UK government.
Pros and Cons of Living in Germany
From the friendly locals to the free-flowing beer, there are many advantages to living in Germany. However, moving to a new country presents its own challenges and difficulties. Here are some pros and cons to keep in mind before deciding to live in Germany.
Pros of Living in Germany
Clean, safe, and friendly to foreigners
Plenty of bilingual co-working spaces and offices
Central location which is ideal for traveling around Europe
Fast, efficient, and reliable public transportation
Fun nightlife and party culture
Many foreigners and expats
Cons of Living in Germany
Can be expensive, depending on where you live
English not widely spoken outside the main cities
Can be difficult to find long-term accommodation
Might experience a few culture shocks
Final Thoughts
From the glistening lakes to the charming rural villages, Germany is a diverse country that should be at the top of your travel bucket list. Not only is it an ideal destination for travelers and visitors, but it's also one of the top places in Europe for expats and digital nomads.
In Germany, you'll have the opportunity to experience a new culture and meet other like-minded and creative individuals. And if traveling is one of your passions, then you'll be happy to know that you can easily travel to dozens of other countries in just a few hours! Italy, France, Switzerland, Belgium, and the Netherlands are just a short drive away.
So don't wait! It's time to take the leap and say Guten Tag to a new life in Germany.
*Note: Images in this article are provided by Shutterstock.com.
Like This Article? Pin it!