Travel is full of memorable experiences. But there are those moments in time that feel as if they were placed before you simply for your enjoyment. Times when everything comes together to create a memory that will stay with you for a lifetime.
Here is a list of our favourite travel experiences to date, but there are so many to choose from that it's really hard to narrow it down to 10!
Goat Note: Click on each title to see detailed blogs, videos and guides for each of these experiences!
Our first introduction to the sheer beauty and simplicity of desert life and landscape was a bewildering journey that brought us all the way to the Pakistan Border.
We spent 3 nights under a star-studded sky and became good friends with our guide Machmood. We reached villages where wells had been dry for 3 days. We mingled with the locals and played with the children. We spent full days seeing nothing more than sand, shrubs and dunes, all to the tune of Machmood singing enchanting desert songs.
It was a life-changing experience that we will never forget.
Boasting the most beautiful beaches we've ever seen, the Quirimbas Archipelago was a place to remember. The journey to get there was all part of the fun.
We were able to experience the dazzling beauty with 2 close friends and we spent the nights sleeping on the sand, under nothing more than a mosquito net and a moonlit sky. We bought our meals from local fishing boats and cooked them with the most basic of utensils.
With nothing more than a small village on each island, we had the place completely to ourselves. A paradise truly undiscovered.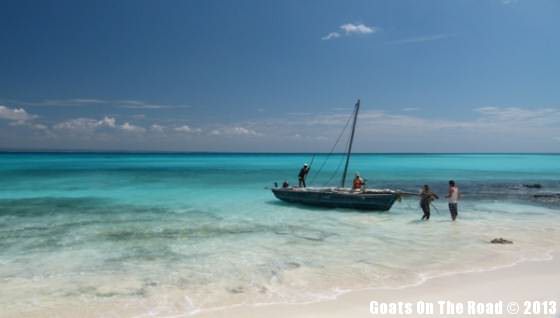 We had already done a few safaris before coming to Kenya to enter the great plains, but none of our previous experiences could compare with the sheer size and diversity of the Masai Mara. We saw all of the animals we had hoped and then some. Our guide had a great eye and seeing the sun rise and set over the massive plains each day was worth the trip in its own right.
With big changes coming to this region, we feel as though we arrived here just in time. Trekking the Annapurna was not only one of our greatest travel memories, but it was also one of our great life accomplishments.
It opened our eyes to the world of multi-day trekking and gave us new respect for the outdoors. Hiking past tiny villages, crossing hundreds of waterfalls and traversing huge swaths of cliff-cut rice terraces all under the towering goliaths of the Annapurna mountain range, this is a trek that everyone should experience at least once!
Being just 3 weeks into our first-ever trip around the world, making it to Koh Rong Cambodia in 2008 was a real accomplishment. These were the days before the ferries and before any development had reached the island.
It took us 3 days of constant searching before we could find someone to take us there. We ended up hitching a ride with a local fisherman who had built two small bungalows on the island in hopes of one day attracting visitors to this little piece of paradise.
We roughed it on the island with no electricity and no food. Our captain had to go and fish for us during the day so that we could eat at night. We spent the day on 8 kilometers of silky soft white sand with not a soul in sight, aside from the odd wandering buffalo. This trip still remains as one of the most intrepid, off the beaten path experiences that we've ever had.
If relaxation could be measured, then we would have broken the meters during our stay at Parmarth Niketan in Rishikesh, India. We spent nearly a month at this ashram and we spent at least 6 hours a day practicing yoga, which included meditation, silence, serenity and absolute peace.
We're not religious people, but the energy we felt when we were at this ashram was palpable. We left more recharged and rejuvenated than we've ever felt in our lives. We made close friends with people at the ashram and shared experiences that render the words in this article unworthy.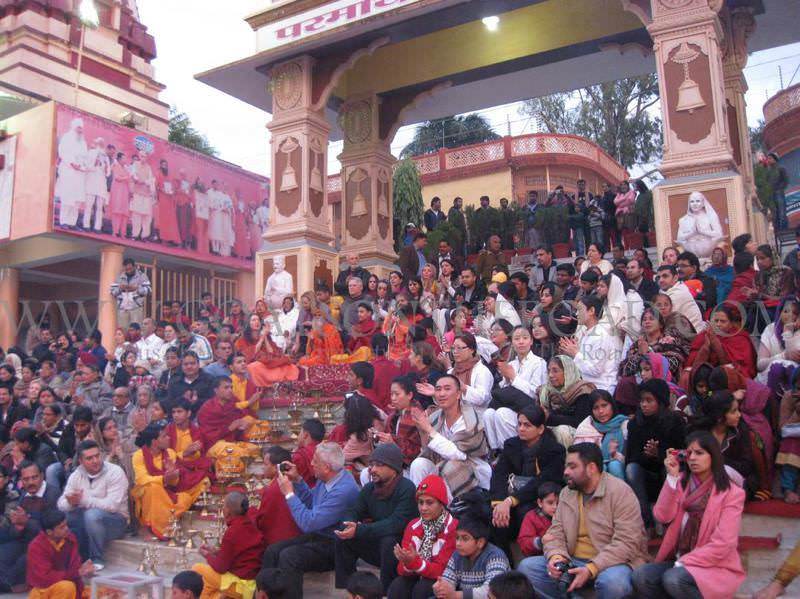 An experience made better by the life long friendships we forged along the way. This trip was enjoyed in the company of our travel buddies Micheal, Chisa, Bernie & Toni, with whom we are still close friends.
We spent 5 days sailing north, passing by villages and taking in the world's most stunning ancient tombs and temples along the way. Our days consisted of relaxing on the boat, smoking sheesha, drinking beer, stopping for swims and sites and talking amongst each other. The Nile was relaxing and breathtaking and we would love to return one day.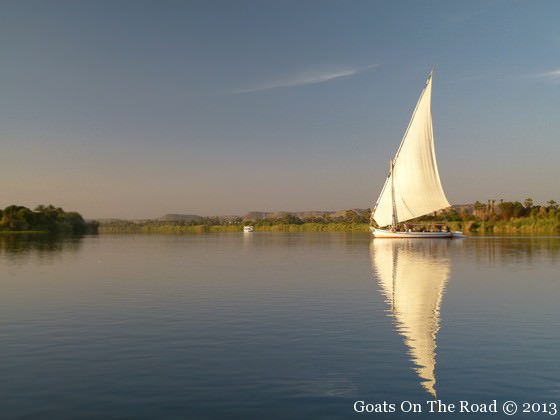 It seems as though most of our favourite travel memories are close to the water. Cruising the backwaters of Kerala in India was no different. For less than $75/day, Dariece and I had a massive, 2 bedroom houseboat all to ourselves, along with a cook, a captain and a mechanic.
The food we ate on this boat was some of the best Indian food we've ever had and our three Indian companions were complete gentlemen. They did everything they could to make our experience perfect and that's exactly what it was.
There was something great about sailing past villages and through stunning scenery and knowing that we got to spend each night in one of the most beautiful rooms we've ever had on our travels. The Kerala backwaters are an oasis, miles away from the chaos that is India.
We went to Myanmar with images of serene untouristed Eden and when we arrived we were surprised to see that there were loads of other travellers enjoying the country's beauty. Of course, we weren't upset about it, but we were hoping to find a piece of true Myanmar and have it all to ourselves (selfish, I know).
It wasn't until we were reaching the end of our trip in the country that we were able to find that experience. We had made it all the way up to Hsipaw in the far north and upon our arrival, we were again amazed by the number of tourists and fully booked guesthouses.
Instead of taking a tour, we decided to just trek by ourselves out to some of the nearby villages. We still thank the travel gods that we stumbled across Hope's tiny English school in Naloy Village.
Hope introduced us to the village leaders and to all of her students and allowed us to teach them for 8 days. We spent our afternoons teaching a class of 25+ students, all sprawled out on a tarp behind the village leaders' (Mama & Papa) house. Pigs squealed and chickens ran around as we enjoyed our first taste of teaching abroad, an experience that changed our lives forever!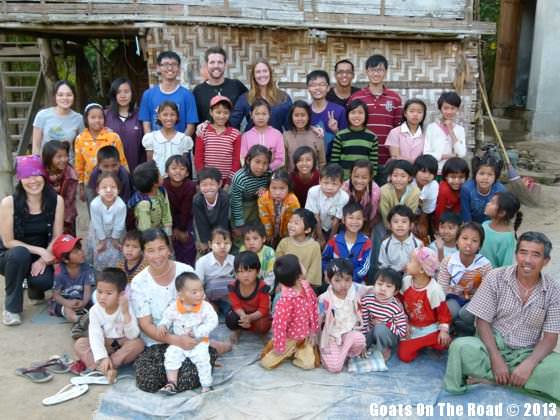 This is a part of our travels that really took some planning and motivation, but it really paid off. There's something to be said about having the freedom to drive around a country yourself, stopping and seeing what you want, when you want.
This trip was way out of our usual budget, but it was worth every penny. Having the car gave us the freedom that the local transit system simply couldn't offer.
We were able to drive into national parks and have lions come within feet of our tiny Chevy Spark. We were able to witness South African wildlife and landscapes in a way that is simply impossible through a bus or plane window. Travelling this way meant not spending as much time in local transport with the local people, but in this case, the pros far outweighed the cons and we loved every minute of it!
Travel is a constant run of memorable experiences, but for some reason, some memories stick with you more than others. For us, it's often the people we meet along the way that really create these amazing adventures and we consider ourselves very blessed to be able to make new memories each and every day.
If you have some amazing travel experiences, we'd love to hear about them. Leave a comment below and help give other readers great ideas for their next trips!
Like it? Pin it! 🙂