It was a rainy day in San Pancho so we headed to our favourite restaurant to use the wi-fi. There, as we enjoyed our lunch of turkey sandwiches, we received a FaceTime call from one of our travel buddies:
"Hey guys, want to meet up at the end of January?"
"Sure! Where?"
"Yucatan area?"
"Yep, let's make it happen!"
And so began the planning process of meeting up with two of our best travel friends. We first met Bernie and Toni-Lee when we were in the western desert of Siwa, Egypt back in 2011. We hit it off instantly and the long, 8 hour ride out to the desert was filled with the chatter of new friends.
We've since met up with this couple in 7 different countries around the world – Egypt, Jordan, Lebanon, Nepal, Mexico, China & Canada.
Meeting and interacting with people is one of the most incredible aspects of travelling. The bond created between travellers is indescribable, so when we got the call from Bernie, we knew we had to make the effort to meet up again, this time in the south of Mexico.
During our trip around the Yucatan area in 2014, we had heard of Isla Mujeres, but instead decided to venture to Holbox Island. This time around, we didn't want to miss out on the Island of Women and decided that would be the perfect place to spend a week with our friends. Now, don't get too excited, it doesn't mean that there are women all over the place, it's just what the translation is in Spanish 😉
It had been 17 days since we had swam in the ocean, and although we absolutely adored the colonial cities of Guadalajara, Guanajuato and Mexico DF, the white sands and clear waters were calling us.
We flew from Mexico City down to Cancun, and getting to the island from the city was simple. We made our way to Puerto Juarez and purchased return tickets for 146 pesos each ($10USD). The super fast ferry had us flying over the turquoise water and arriving at the island in about 25 minutes.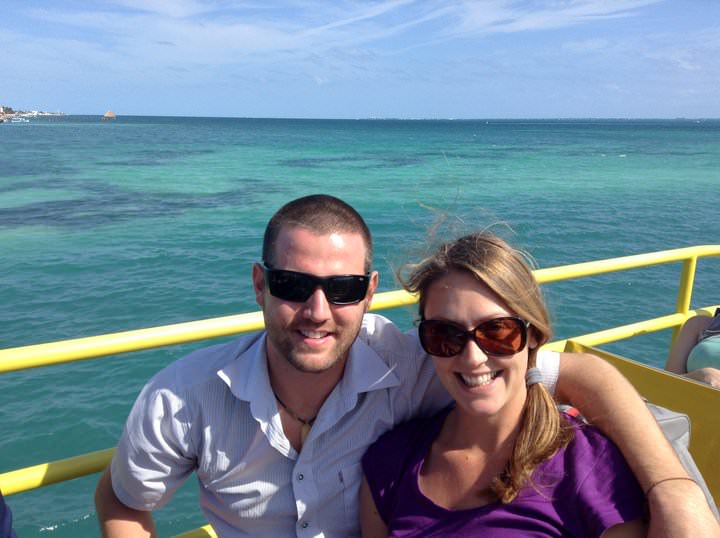 As we hoisted our heavy backpacks over our backs, and stepped off onto the dock, waves of excitement flooded over us. There's just something about the beach, and in particular the Caribbean, we absolutely love it! We practically ran to our guesthouse, Hotel Las Palmas, and couldn't wait to meet up with our friends.
A note and hand-drawn map was left for us "I'm at the beach, Bernie is diving, see you soon! Love, Toni" We stripped down, changed into our bathing suits and immediately headed to the popular and stunning Playa Norte (North Beach).
Although the beach was packed with people, the beauty of it still shined through. Powdery white sands were lined with palapa styled beach bars and towering palm trees. The water was incredibly clear, warm, shallow and completely safe for swimming. After searching through the people, we spotted Toni. We greeted each other with massive hugs and picked up where we had left off last year in Canada.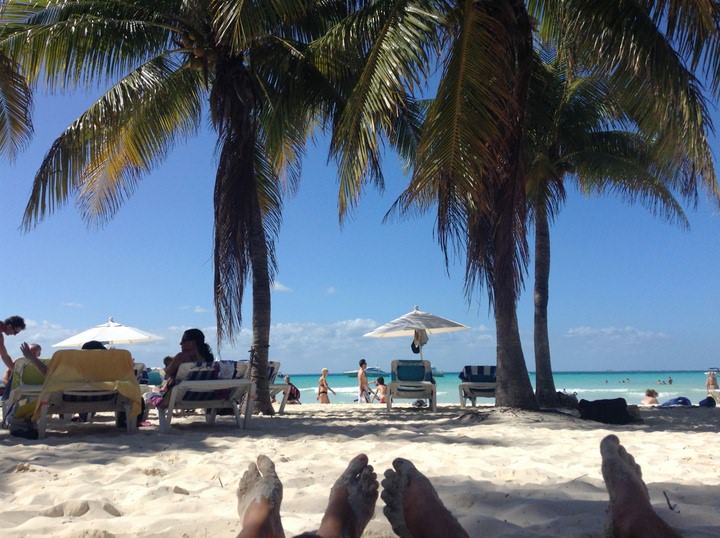 The week that followed was like a holiday for us. Days were filled with lounging on the beach, enjoying some delicious local and western food, and walking up and down the streets and waterside promenade. This cement walkway is the perfect place to go for a run, or just a stroll in the early morning or evening.
Nick and Bernie have been dive buddies since Egypt and were happy to be reunited under the water once again. The scuba diving was amazing with around 20 – 30 meters visibility! Many fish were spotted, as well as lobster, turtles and eagle rays. During this time, Nick logged his 65th dive!
A popular mode of transportation around the island is by way of golf cart, which was the perfect way for the four of us to explore this 7 km x 650 m island. After navigating our way out of the bustling north end of the island, the roads became virtually empty.
We visited the turtle sanctuary (which was sadly more like a zoo), stopped off at a beautiful church with glass windows, a colourful cemetary and the southernmost tip (Punta Sur). This was the spot that we decided to enjoy the picnic we had packed – guacamole with tostadas, pasta salad with veggies and tuna, hardboiled eggs and cantaloupe were on the menu. The food, the company and the views were all wonderful.
Punta Sur is the southernmost point of the island and the easternmost point in the country. If we were to stand there in the morning, we'd be the first people in Mexico to witness the sun rise…but we all know that would never happen!
We are, however, very interested in sunsets and for some reason, everyone cleared off of the beach during this time, leaving just the two of us and a couple of locals to enjoy the sun dipping behind Cancun in the distance.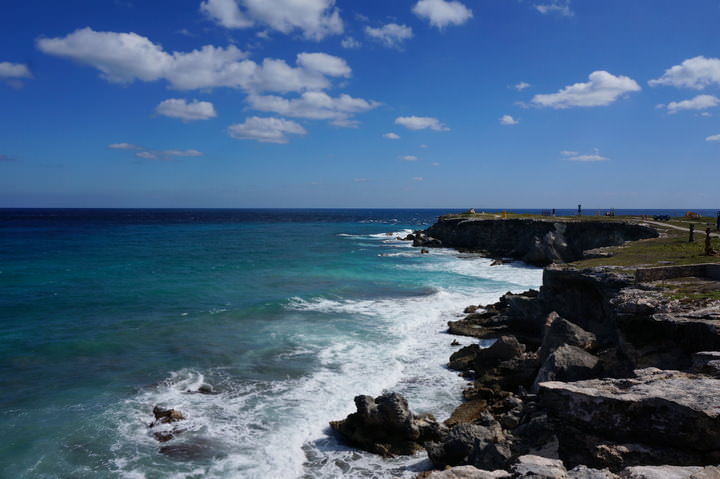 After lounging on the beach, eating delicious food and drinking way too many margaritas, it was time to move on. The four of us had one more night together in Cancun before parting ways. I wonder where in the world we'll meet up next?!
Check out this GoatLife TV where we explore Isla Mujeres in a golf cart!
Like This Article? Pin it!
Do you have friends that you've met abroad and kept in touch with? Tell us about them below!
Disclaimer: Goats On The Road is an Amazon Associate and also an affiliate for some other retailers. This means we earn commissions if you click links on our blog and purchase from those retailers.