Food is a very important part of travel for us. It allows us to mingle with the local people, gives us some valuable insight into the culture and brings us such pleasure! Every day we're on the road, we look forward to our next meal. Before we arrive in a country or a new city, we always look up the regional dishes that we would like to sample.
Mexico is world-renowned for its amazing food. In fact, in 2010, Mexican cuisine made the list of Intangible Cultural Heritage of Humanity by UNESCO, an award that has been granted to no other national food group.
Since the first time that Mexicans learned how to turn corn into tortillas thousands of years ago, the food has grown into a diverse and incredibly delicious cuisine and is a massive part of the local way of life and culture.
When we travelled in the Yucatan area, we enjoyed many of the amazing dishes there. So, while in Puerto Vallarta, Dariece and I were interested in going on a traditional, local food tour to learn more about the flavours, spices and aromas of the Jalisco State and beyond.
But, we didn't want to just eat at the best Puerto Vallarta restaurants, we wanted to dive deeper into the cuisine!
Lucky for us, a Twitter search lead us to the Vallarta Food Tours page, whose slogan was "Eat, Explore, Discover". This sounded like it was right up our alley and we immediately booked a tour.
After meeting our guide Alex and setting off walking around town, we knew that we had found a real gem.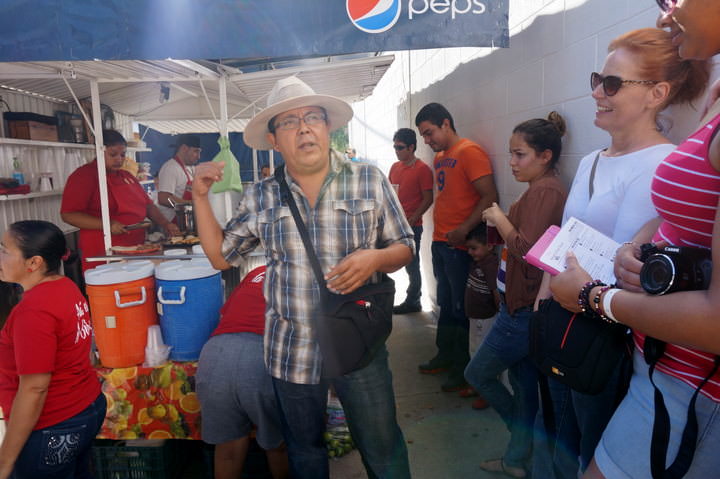 Alex gave us a food map of the city which included the 10 stops that we were to make on our tour, as well as discount coupons to dozens of the city's best shops, eateries and restaurants.
☞ See More Posts About Mexico Here:
We started at a tiny little local taco stand that in no way stood out from the other hundred or so taco stands around Puerto Vallarta. Robles Birria Tacos had made a name for itself by creating award-winning tacos. Stewed goat and beef meat is marinated in various spices and chilis and placed on a corn tortilla topped with onion, and, of course, a variety of salsas. This little stand is family owned and operated and has been in business since 1986.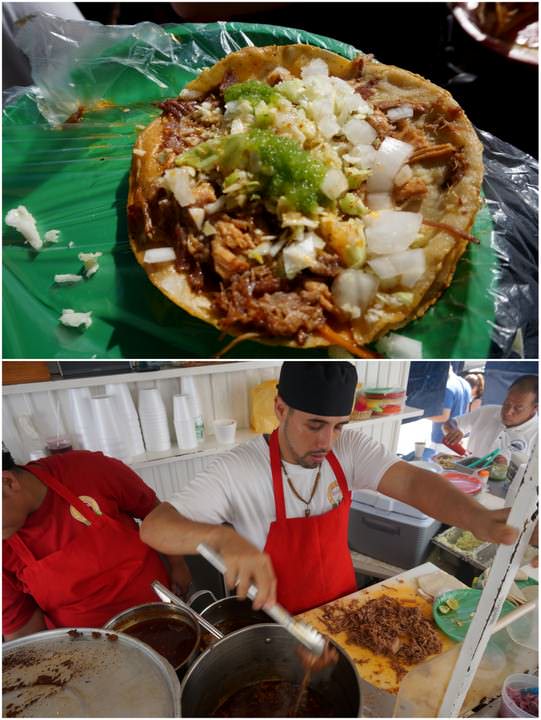 This was just the first of 10 stops that we made and we were already blown away by the intensity of flavour, the freshness of the ingredients and the speed at which they were prepared and perfected on each and every plate that went out. This was a very local spot and if we hadn't gone on this walking tour, I don't think we would have ever found it.
Alex explained each bite that we took on the tour. He included history, humour and traditions which helped us to paint a better picture of what food means to Mexico and its people.
Check out our GoatLife TV episode of the food tour here!
One of our favourite stops was at an Aztec chocolate shop which specialized in traditional dark chocolate. We were able to taste the dried cacao beans straight from the cacao pod, as well as a delicious chile chocolate treat that was to die for!
We don't often rave about tours, but Vallarta Food Tours is so unique because they give people the opportunity to taste, smell, feel and learn about food that they may otherwise never try. The walk itself took us through some of the more local parts of the city and Alex introduced us to the shop owners and told us the local price of everything we tried so that we could return and order it for ourselves another day.
Mexico knows tourism, but one area where it fails is in properly introducing visitors to its incredible cuisine. The majority of people who visit this country, do so in all-inclusive resorts, and while these places often have Mexican restaurants, they are lost in the mix with Italian, American, Japanese, Spanish and all other types of cuisine.
Even if you do stay in an all-inclusive in Puerto Vallarta / Nuevo Vallarta, we highly recommend leaving the gates behind and heading out into the city. There are so many things to do in Puerto Vallarta, and sampling authentic Mexican food is something you don't want to miss! Trust me, it will be a highlight of your trip.
Vallarta Food Tours opens the door for resort goers, backpackers and expats alike and gives everyone the opportunity to try real, fresh Mexican food!
By the end of our 3 hour tour we were stuffed! We had enjoyed birria style tacos, beef tacos, chocolate, seafood ceviche, mole sauces, enchiladas, tequila, bean soup, tuba drink, coconut water, sweets and visited a tortilleria factory. We were never given a small sampling either. Each time we tasted a new dish, there was nearly enough food to call it a meal.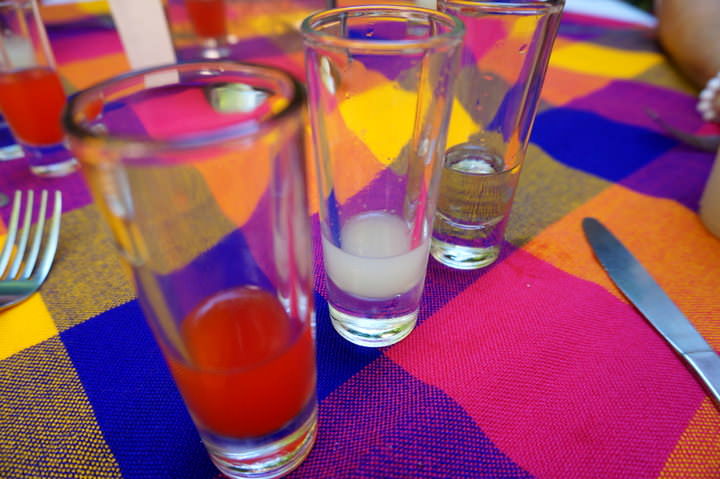 All of the stands, restaurants and shops we visited have been in business for decades and all of them are local, family run places.
We're surprised that there aren't more tours like this around the world. A walking food tour is an excellent way to taste delicious street food, learn about cuisine and meet local people, while getting a little bit of excercise along the way. We plan to head back to Puerto Vallarta in the next couple of weeks to try out the Night Food Tour and the Breakfast Food Tour. We can imagine that our bellies will be full and our knowledge of Mexican food will grow again.
Pros:
Full meals are given, not just small samplings
Being able to meet local business owners
Alex, the guide, is informative and personable
The food is delicious!
Walking around the downtown back streets is very interesting
Small sized tour groups
Very affordable and great value for money
Cons:
Honestly? None. The food was awesome, the guide was great, the price was good, the length of the tour was perfect and the portion sizes were huge! What more could we ask for?
Tour Information:
Check them out online here: Puerto Vallarta Food Tours, Facebook and Twitter.
Phone from Canada & USA: 888-457-2210, Phone from Mexico: 322 181-7196
Like This Article? Pin it!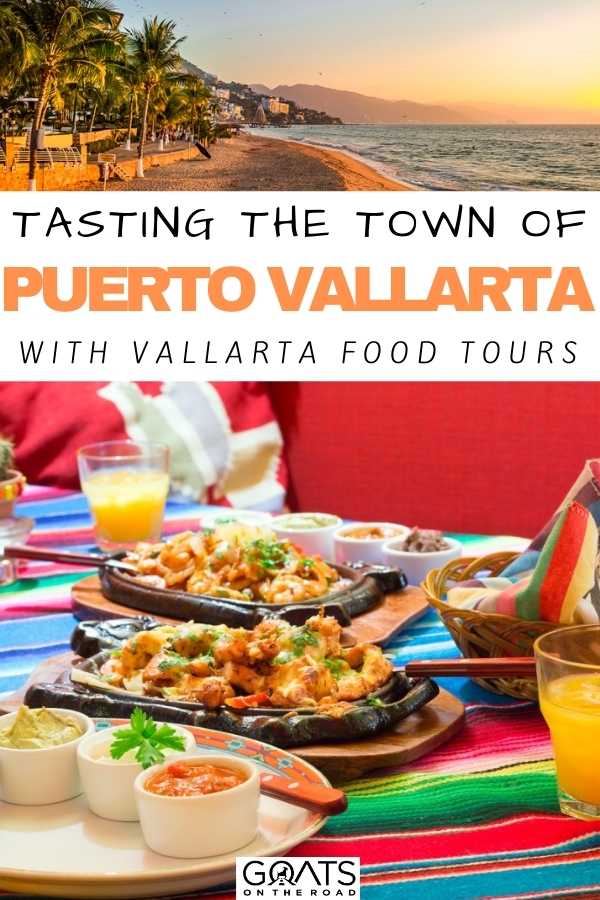 Does food play a role in your travels? Have you ever been on a food tour? Share with us below!
A huge thank you to Vallarta Food Tours for hosting us on this tour and for filling our bellies and our minds! We learned a lot about Mexican food and really enjoyed ourselves. As always, all opinions, reviews and thoughts remain our own.