Is there somewhere in the world that you adore so much that you find yourself drawn there, almost as if there were some magnetic pull? Perhaps it's your home country, or a foreign land that got under your skin?
For us, that place is Grenada.
This Caribbean island stole our hearts in 2014 and we've been returning every year since. This place very much feels like home to us, for many reasons.
As full-time travellers and bloggers, we crave some sort of routine every now and then – whether it's for 6 weeks in a lakeside casita on a beautiful lake in Guatemala, or 2 months chilling out on the Mediterranean island of Malta.
We love travelling, and moving from place to place every 5 – 7 days, but it's not a sustainable way of life for us. We (like most people) want some downtime; we love unpacking our backpacks; we enjoy having a community of friends; and we need some time to immerse ourselves in our online business.
When we arrived in Grenada for our very first house sitting / pet sitting job in 2014, we never thought that this would become a sort-of base for us. But over the years, it just became more and more evident that we need to be here!
---
After our memorable 5 months spent backpacking through Eastern and Central Europe, we flew from Prague to New York via Denmark. The journey was very long, but straightforward enough. We arrived late in New York, and after checking-in to the Ramada RVC, we promptly passed out – on our own queen sized bed each!
We were so tired that I don't even think we said goodnight to one another.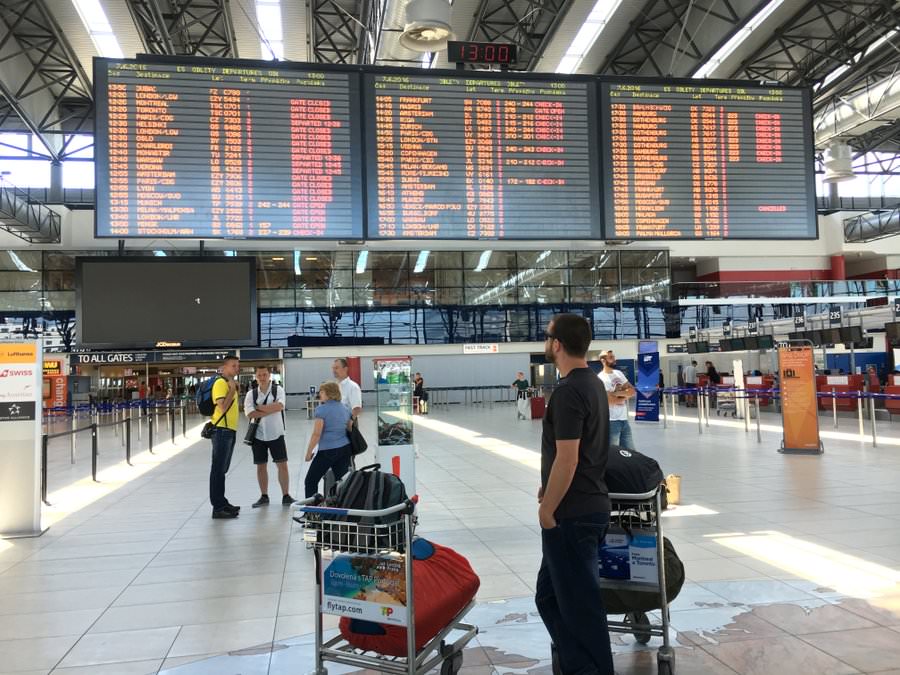 Even though we had 2 nights in the city, we technically only had 1 full day because we arrived so late and were leaving so early to Grenada.
We had been to NYC in the past, and therefore had seen many of the major sites in Manhattan and Brooklyn (and Upstate New York), so we opted to stay closer to the airport at the Ramada RVC, which is located on the south shore of Long Island.
We figured this would be a great location because it's near the airport and some big shopping centers (we needed to buy some things for Grenada that are overpriced on the island, or simply not available). It's also more affordable than staying in Manhattan, and breakfast is included in the room.
We also wanted to check out an area of New York that we hadn't seen before, and Long Beach and Jones Beach were just 10 kilometers away.
As luck would have it, it poured rain during our only day in NYC!
It rained all the way until 5:00pm, meaning we couldn't make use of the pool at the hotel, or visit the nearby beaches. But, we were able to go for an evening stroll and really enjoyed the quiet surrounding neighbourhood.
I'm sure we'll find ourselves in the Big Apple again, and will have another chance to explore.
---
It's hard to believe, but we've been in Grenada for over a month now.
The month has been spent learning more about the Grenadian culture and lifestyle, which is something that we really love! We had friends the last couple of years who taught us about the island, but the longer you stay in a place, the more you truly begin to understand it.
We've done some "liming" (chilling out) with friends at shops, rum shacks and the beach. We've been to two concerts on two different boats, while enjoying the local soca, steel pan, and soul musicians.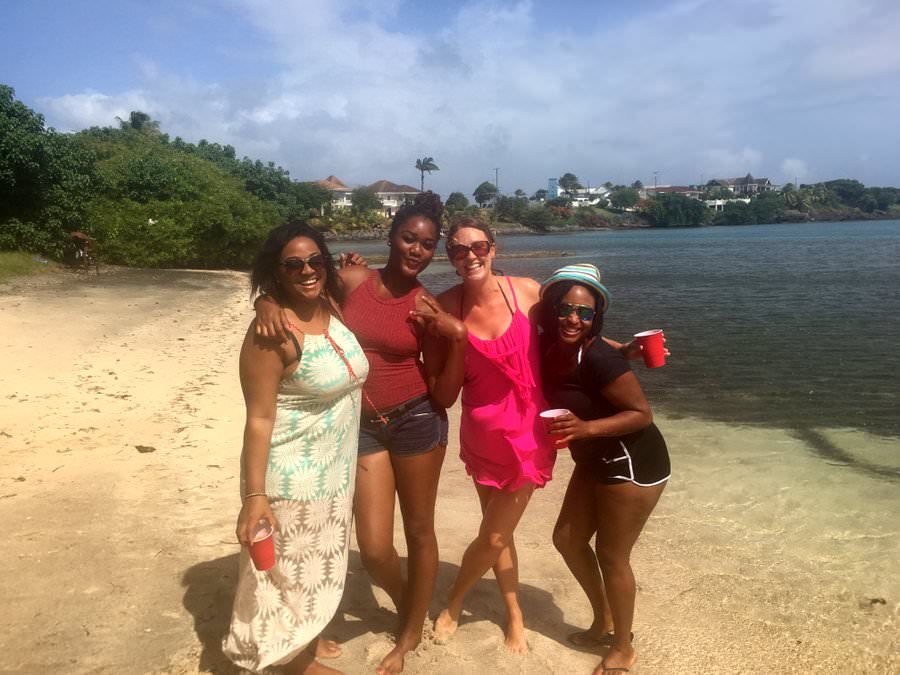 I celebrated my 32nd birthday here at the beach with a fabulous lunch, followed by a night out at our favourite beach bar with live music.
We've embarked on numerous hikes along the sea and in the bush. We've been to a neighbourhood BBQ party, a friend's wedding, and a historic fortress. There are so many things to do in Grenada and even though this is our 3rd time here, we keep finding more awesome things!
If you have a chance, don't miss staying at Mount Cinnamon Grenada – truly one of the most incredible boutique hotels.
This year we decided to join a yoga studio and have been practicing 2 times a week, which will probably turn into 3 times very soon. It's felt good to get some exercise after not doing all that much in Europe.
We have other plans to volunteer our time around the island as well – stay tuned to hear more about that!
Of course, we've also been enjoying the company of our furry friends!
At the moment, we are caring for Pumpkin (a terrier mix) and Macy (a shepard mix). Nick is surrounded by females! We will be with these two pooches until the end of July, before we switch homes, and pets.
We will be here in Grenada for 5 months total, until the beginning of November. We've written much about this beautiful island in the past, and have made lots of videos as well. But, we'll have more content for you while we're here – this is one destination that has endless activities on offer 🙂
---
Have you ever considered house / pet sitting?
House sitting and pet sitting is an excellent way to extend your travels, as you receive free accommodation in exchange for taking care of a home and animals. Most of the time, a vehicle is included for your use as well. And in the case of Grenada, having a car is a must.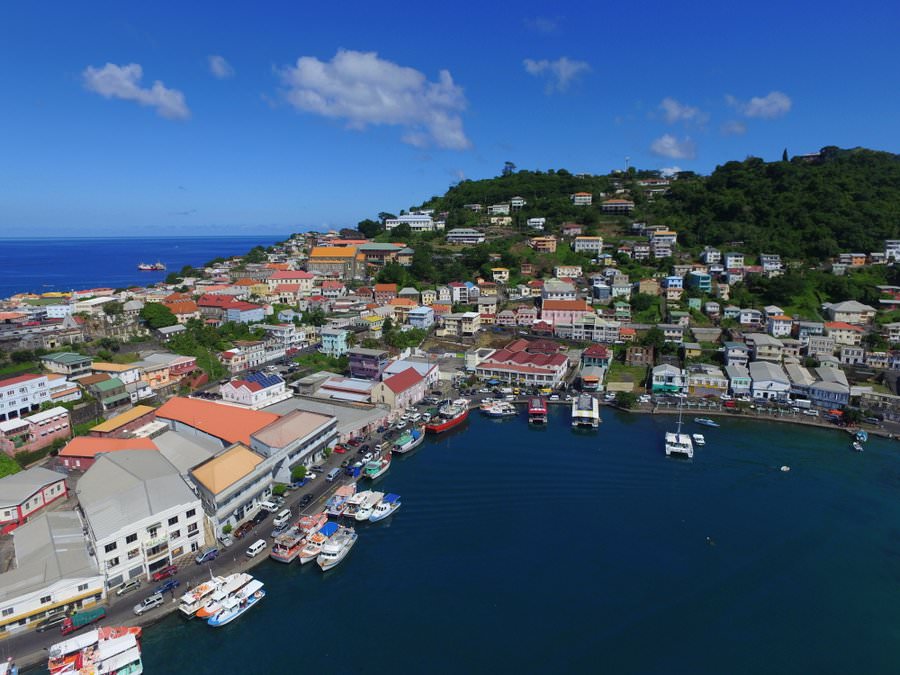 Not only can you receive free accommodation, but you will be living in a residential area as opposed to the touristy part of the city – this means that you'll automatically have a more authentic experience. All of this is great, but the best part is being able to have a pet for a few days, weeks or months!
To learn more about becoming a house sitter / pet sitter, check out our articles here:
**The best way to see photos and live videos from the island is on our Facebook page! Make sure to "like" our page for updates.
Like This Post? Pin it!