Local Of:

Bristol UK, Manchester UK[City, Country (multiple if you've lived multiple places)]

Expert of:

Cyprus and Albania

Travel Style:

Midrange, History, Wildlife, Beach Bum

Years Traveling:

2 years 

Favorite Destinations: Albania, Cyprus, The Philippines
Backpack or Suitcase:

Suitcase

Window or Aisle:

Window

Bus or Train:

Train

Education:

The University of the West of England
Connect With Megan
Facebook  |  Instagram  |  Website  |  LinkedIn
Megan's Expertise
In 2021, I was living in the UK and working as a full-time lawyer. A few full-time backpacking trips, including a 9-week trip around Central America and a 3-week trip to the Philippines, helped me decide that traveling was much more fun than working 9-5 in an office. Fast-forward to today, and I'm a full-time digital nomad, working from my laptop, in offices around the world. Today, I spend my time writing travel articles for the Goats as well as my own website as well as articles on other unexpected, but wonderful things (like pottery!). I'm also a business development and marketing advisor. It's been quite the two years! 
When I'm not working on my laptop, I like visiting lots of cool places. I'm a beach girl at heart so my favorite places have typically been coastal places – Cyprus, Albania, Dominican Republic. While I sometimes miss the backpacker style of travel, I love to travel slow not only to get work done but really settle into a place – as a result, I think I can give you some great tips and recommendations (both what to do and what not to do!). 
Megan Around The World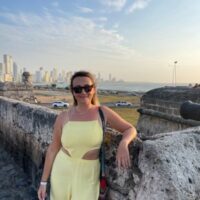 Megan's #1 Travel Tip
My number 1 travel tip is utilize E-sims. It's such a boring tip, but it's so helpful! While it's likely that you'll get a cheaper deal at the airport, or by getting a local sim, E-sims are particularly helpful when you arrive in a country in the early hours of the morning and nothing is open. 
There is nothing worse than not having any WiFi to call an Uber, or to view your map to see the location of your accommodation. I find that quite stressful. An E-Sim can be bought online and downloaded straight to your phone. It also means that you can keep your own Sim in the phone which, if you use it for work, is super helpful.
Megan's Favorite Food
It's so difficult to pick just one, and I'm not sure if this is a bit of a cop out as it's not a particular dish, but my favorite ever eating experience is Turkish breakfast. In fact, it was my favorite thing about my visit to Istanbul. You get so many different dishes, the whole table is filled with food. From donuts, jams, cream, honey, cheese, breads, nuts…and Turkish tea. So much tea. It's brilliant and you can get them everywhere!
Favorite Travel Experience
My favorite travel story has to be from my very first backpacking trip. My trip to the Philippines my first long haul trip, so it's fair to say I had no idea what to expect. I touched down in Manila, and since I had a 9-hour layover before heading to the islands, I booked a hostel near the airport.
When I arrived, it was dark, and I wasn't sure what to make of the neighborhood. I took a nap and woke up to some music playing nearby, so I left the hostel and followed the music, thinking it might lead to food! 
What I found was lots of tables in the street, people drinking beers, and a stage where someone was singing. "Great!" I thought, a bar! I was quickly asked to sit down, and whether I wanted a beer. Soon after, I was asked to join the table next to me, and discovered I'd actually gatecrashed a birthday party! Not just anyone's birthday party, but the wife of the chief of the neighborhood's party. 
I was so warmly welcomed (plied with beers and local foods) that I ended up staying until the party had finished in the early hours. The chief even dedicated a song (Frank Sinatra, My Way) 'to their English guest'. It's these unexpected twists, and kindnesses that make travel so epic, and I genuinely think that is where my love of travel began.
Where Have You Lived?
I have lived in lots of different places over the last few years. I lived in Bristol (UK) for 8 years, the city I went to University and loved it so much I didn't leave for 8 years. After that, work took me to Manchester (UK) for a couple of years before I decided to completely up sticks and start working remotely from around the world.
Since then, I have lived in Cyprus (Limassol), Tirana & Sarande (Albania), Ohrid (North Macedonia), Bulgaria (Bansko), Dominican Republic (Cabarete & Las Terrenas), Colombia (Medellin & Cartagena) and Dahab (Egypt). 
Funny Travel Quirk
I suffer from a severe case of what I call 'carcolepsy', meaning if I am travelling in a car (or bus) I will fall asleep within minutes and without a doubt it'll be with my mouth wide open. Actually, I can pretty much fall asleep instantly on all modes of transport.
While this is fantastic for me, it makes for very dull journey's for my boyfriend, Aaron. To make up the lack of conversation, he spends his time taking photos of me. Honestly, the amount of (very unflattering) photos of me sleeping he has is ridiculous. He also insists on sending them to our family and friends, which is great!
Posts By Megan