Sunset quotes and photos are known to inspire travel, productivity, hope and happiness. Who doesn't love a beautiful sunset? There's just something about sitting on a cliff with a glass of wine and watching as the golden orb of the sun falls beneath the horizon. It's a magical moment that we all would love to cherish more often, but many of us never take the time to watch sunset.
In this post I'm going to list the best sunset quotes, and then show you a series of the best sunsets in the world that we've taken while travelling full-time over the past 10 years.
The Best Sunset Quotes
Here are a series of the best sunset quotes we could find online. There are sunset quotes that relate to people, to love and life and to every aspect of this world. I've included one of our best sunset photos alongside each sunset quote, as well as a description of the photo itself.
Where Did We Find These Sunset Quotes?
We scoured the internet for all of the best sunset quotes, and then we searched through all of our sunset photos from 10 years on the road. In this post, we've matched some of our favourite sunset photos with our favourite sunset quotes!
What Makes a Good Sunset Quote?
We think that the best sunset quotes inspire you to actually go out and watch a sunset. They can also inspire something deep inside that reminds us how wonderful this world we live in can be. Sometimes a sunset is so perfect, that it seems as if the skies are painting a picture just for you.
How To Take a Good Sunset Photo
To take a good sunset photo, you need the perfect exposure. You should make sure your lens is clean and ideally, you should use a tripod. It's a good idea to shoot in RAW format for post-production and sunsets often look better when you shoot in wide, and then zoom in.
Put your camera in Aperture Priority mode (usually an A on the settings dial), and set it to a high number. Keep the ISO as low as possible (usually 100 – 200) and watch the shutter speed.
Sometimes bracketed exposures can help with getting the perfect colors and lightness in a sunset photo. This setting can be an auto HDR, but its best to do it manually in post-production. Lastly, when taking sunset photos it's important to be patient. Oftentimes the best sunset photos are taken after the sun has disappeared.
Sunset photographers have all had this happen to them. They start packing up their gear and suddenly the sky lights up in brilliant oranges and reds, forcing them to rush to get set up again. Take your time and never pack up your gear until the sky is dark!
Now let's get started with all of our best sunset pictures and our best quotes about sunset.
Sunset Sail On The River Nile
This photo was taken during our felucca sailboat journey down the Nile River in Egypt. The sunsets reflecting off of the glass-like waters were fantastic!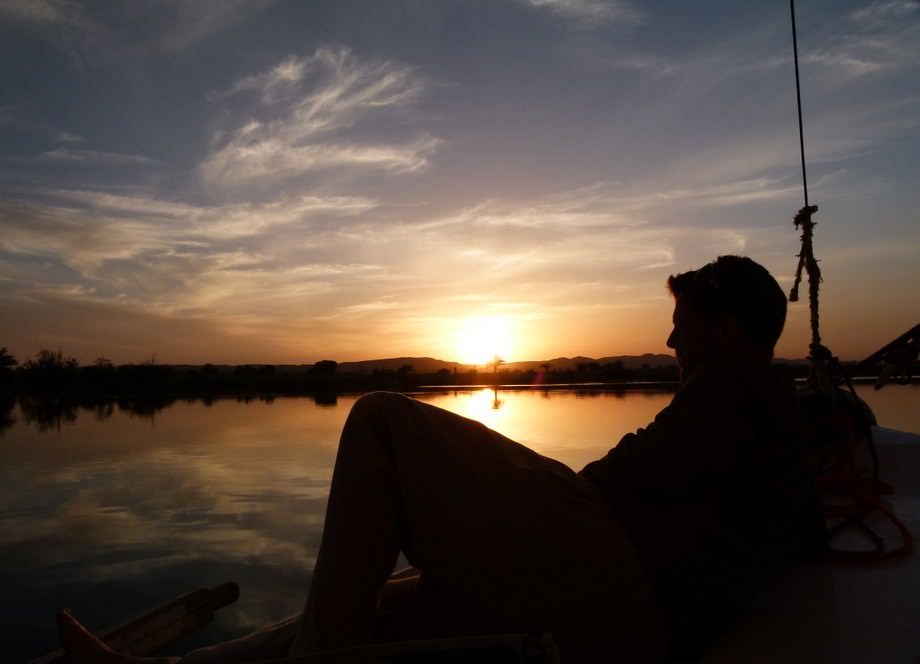 Sunset Quote #1:
"Clouds come floating into my life, no longer to carry rain or usher storm, but to add color to my sunset sky."
-Rabindranath Tagore, Stray Birds
Sunset Over The Masai Mara, Kenya
This stunning sunset is from our safari in the Masai Mara, Kenya. We were out spotting animals until the evening and were able to capture some photos of a sunset as well.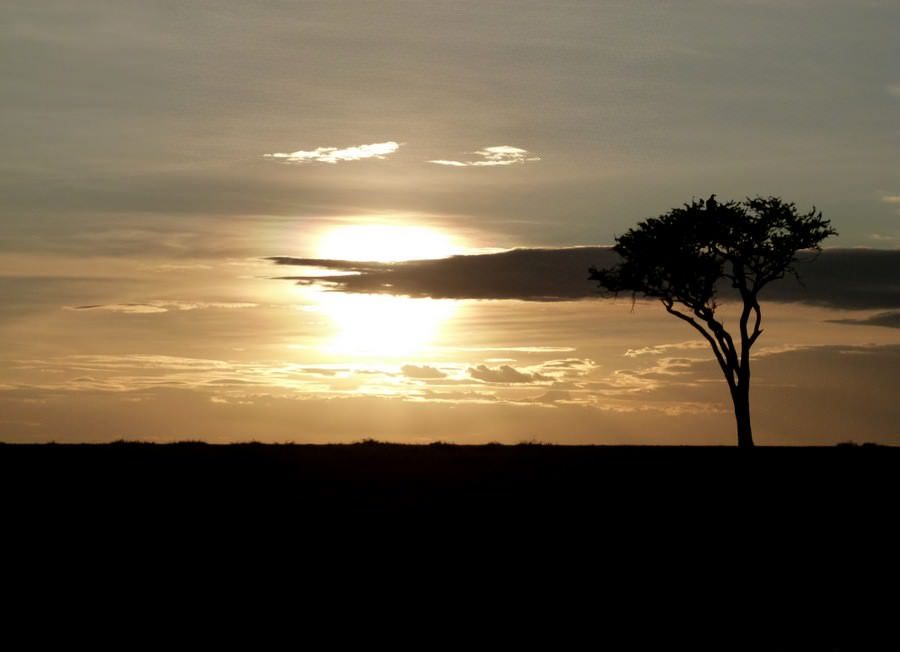 Sunset Quote #2:
"Dusk is just an illusion because the sun is either above the horizon or below it. And that means that day and night are linked in a way that few things are there cannot be one without the other yet they cannot exist at the same time. How would it feel I remember wondering to be always together yet forever apart?"
― Nicholas Sparks, The Notebook
Happy Hour in Port Barton
This was one of the best sun-downers we've ever had! Sitting in the warm water, enjoying a drink and watching the sun set from one of the Philippines best beaches made for the perfect end to a perfect day.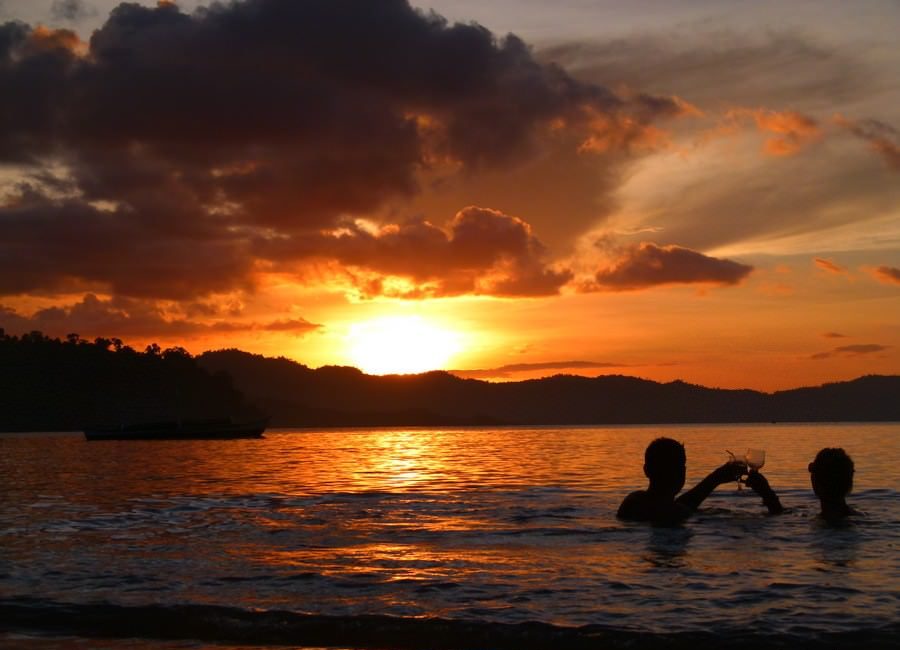 Sunset Quote #3:
"When the sun has set, no candle can replace it."
― George R.R. Martin
Sunset Over The Bagan Temples, Myanmar
Witnessing the sun set over these beautiful, ancient temples in Bagan, Myanmar was an awesome experience. We climbed up to the top of a temple for this stunning view.
Sunset Quote #4:
"I like people who get excited about the change of seasons, The sound of the ocean, watching the sunset, the smell of rain and starry nights." – Brooke Hampton sunset quote
Fishing Boats in El Nido
El Nido has some stunning sunsets. During our 8 days there we were able to get some excellent shots! Enjoying dinner on the beach while looking out at this view, is there anything better?
Sunset Quote #5:
"Scattered with poppies, the golden-green waves of the cornfields faded. The red sun seemed to tip one end of a pair of scales below the horizon, and simultaneously to lift an orange moon at the other. Only two days off the full, it rose behind a wood, swiftly losing its flush as it floated up, until the wheat loomed out of the twilight like a metallic and prickly sea."
― Patrick Leigh Fermor, Between the Woods and the Water
Silhouette of Malawi Boys
Watching the local children playing in the water as the sun was setting in Cape Maclear, Malawi was a true joy. Seeing the happiness on their faces while they splashed around is something we'll never forget. This is the perfect silhouette!
Although we had some ups and downs during our 3 weeks of travel in Malawi, one thing that was always an "up" were the sunsets from Lake Malawi. Each night we would walk the shoreline and enjoy the reds and oranges sparkling off of the lake. All of the local people were out by the lakeside doing chores and the children were always playing. Truly a joyous part of the day.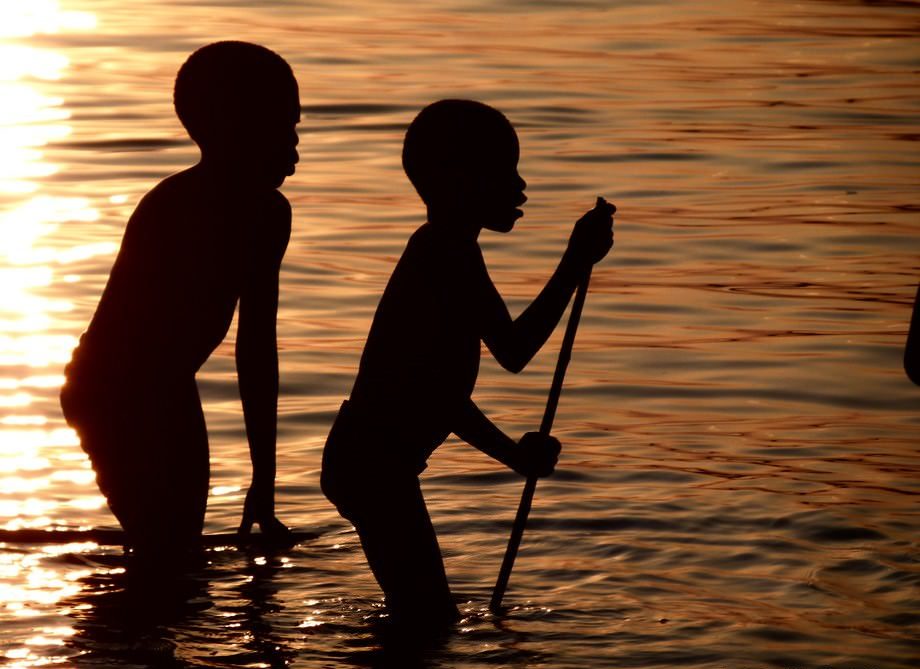 Sunset Quote #6:
"This land, although not my native land,
Will be remembered forever.
And the sea's lightly iced,
Unsalty water.
The sand on the bottom is whiter than chalk,
The air is heady, like wine,
And the rosy body of the pines
Is naked in the sunset hour.
And the sunset itself on such waves of ether
That I just can't comprehend
Whether it is the end of the day, the end of the world,
Or the mystery of mysteries in me again."
― Anna Akhmatova, The Complete Poems of Anna Akhmatova
The Orange Skies of Fez
Fez, Morocco is a city with loads of character, charm and history. This was the view from our guesthouse there. What a gorgeous sunset!
Sunset Quote #7:
"When sunset, like a crimson throat to hell, is cavernous…
("A Wine of Wizardry")"
― George Sterling, The Thirst of Satan: Poems of Fantasy and Terror
Leela Leela
We called Koh Phangan "home" for a month during our travels. We couldn't get enough of this island! The beaches are stunning, the food is great and there's so much to see and do. This is a beautiful sunset from our hut on Leela Beach and one of our favourite Sunset Quotes for 2020.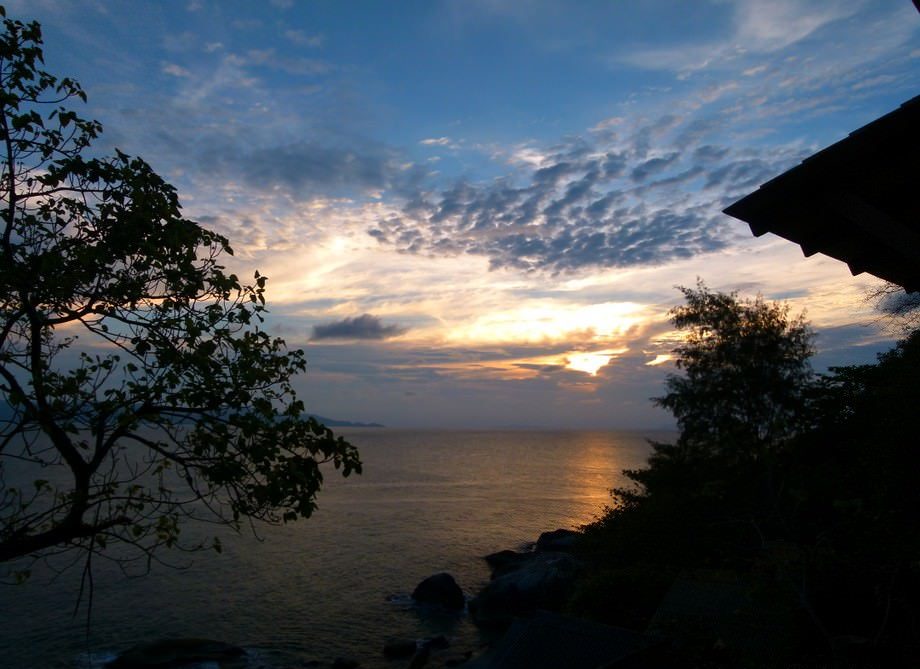 Sunset Quote #8:
"I just need you and some sunsets" – Atticus
An Oasis in The Sky
Siwa Oasis is truly that, an oasis away from the hustle and bustle of the Egyptian cities. Watching the sun set over this body of water while enjoying some dinner and some sheesha pipe is the perfect end to the day.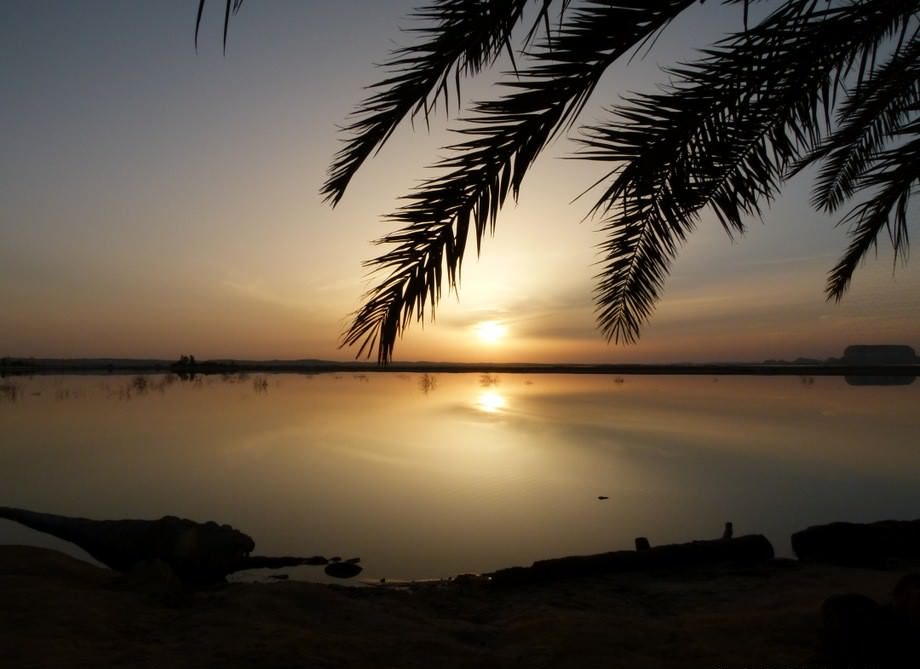 Sunset Quote #9:
"I don't know how long we stay that way, but we watch the sun go down together. The giant, burnt-orange sphere sinks towards the horizon, coloring the rock layers until it's gone and the canyon is covered in shadow."
― Jennifer Salvato Doktorski, How My Summer Went Up in Flames
Zanzibar Days
Zanzibar is a fascinating island. From beautiful white sand beaches to amazing Arab architecture, Zanzibar has it all. This is a photo of two women wandering the beach at Stone Town. I chose one of our best sunset quotes to accompany this image.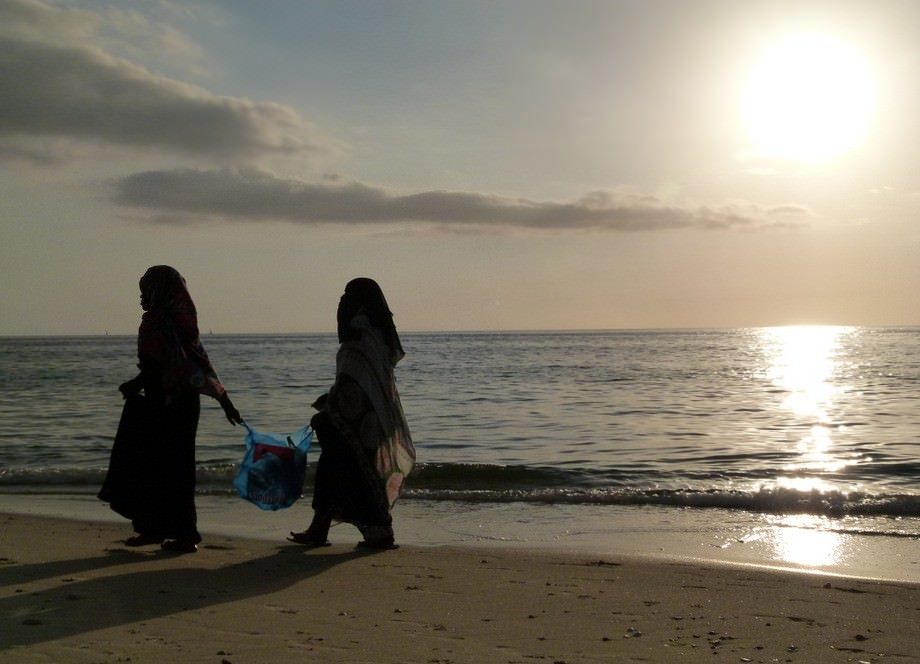 Sunset Quote #10:
"And yet day and night meet fleetingly at twilight and dawn," he said, lowering his voice again and narrowing his eyes and moving his head a quarter of an inch closer to hers. "And their merging sometimes affords the beholder the most enchanted moments of all the twenty-four hours. A sunrise or sunset can be ablaze with brilliance and arouse all the passion, all the yearning, in the soul of the beholder." ― Mary Balogh, A Summer to Remember
Sunset Quotes The Sun of God
Tbilisi is a fascinating city with loads of history and culture. We spent about a week here and loved it. There are many churches in Tbilisi and we were lucky to catch this great sunset on camera.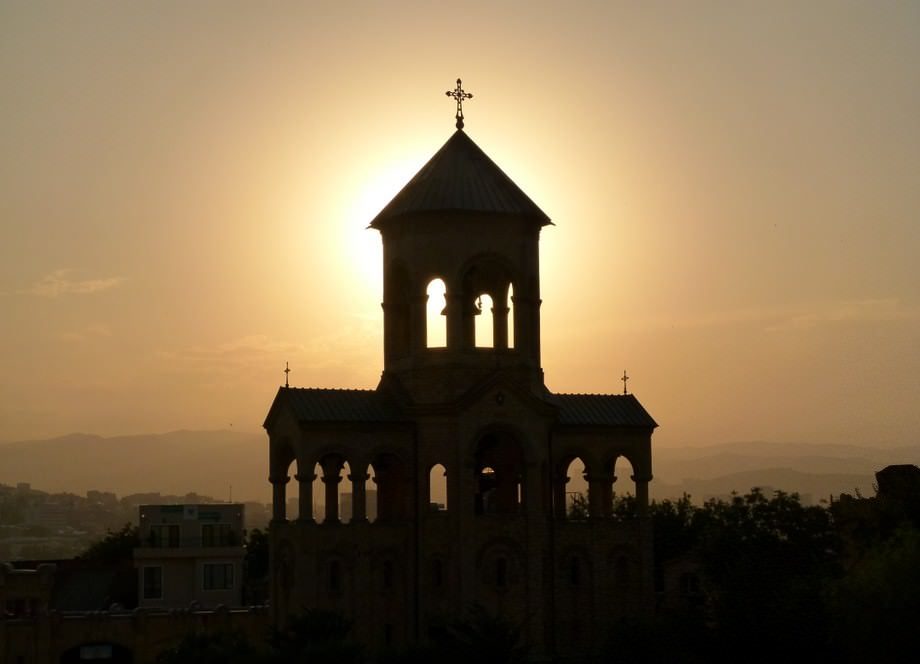 Sunset Quote #11:
"It's almost impossible to watch a sunset and not dream." – Bern Williams
Set Sail to Quirimbas
Ah, Mozambique! We spent a wonderful month in this country and sailed through the Quirimbas Archipelago. Rolas Island was one of the islands we spent the night on, just us under a mosquito net on the beach…stunning! This was one of our favourite sunsets of all time and with it, one of our favourite sunset quotes.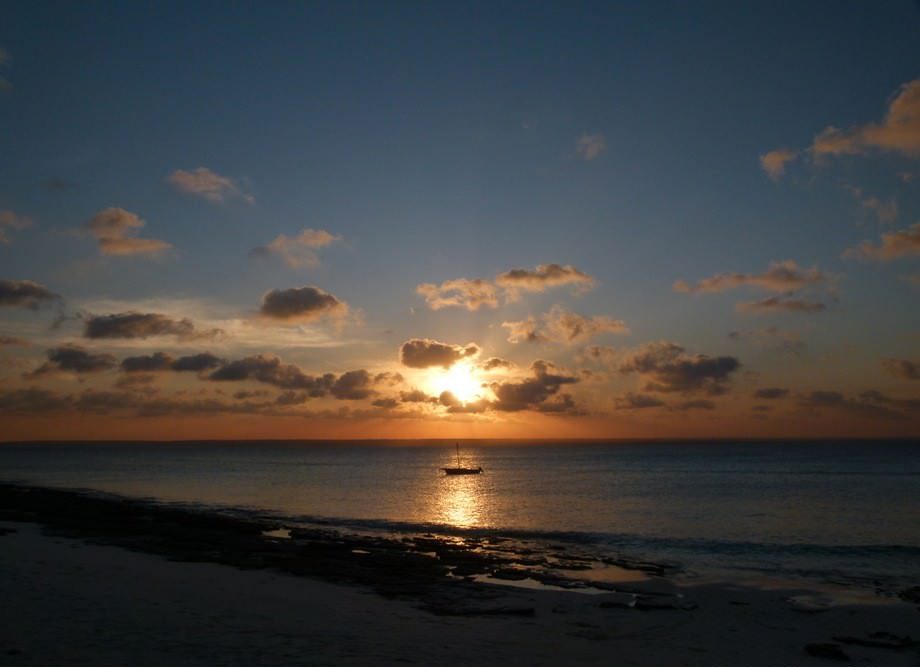 Sunset Quote #12:
"Sunset is a wonderful opportunity for us to appreciate all the great things the sun gives us!"
― Mehmet Murat ildan
Tropical Langkawi
We spent about a week on the island of Langkawi in Malaysia and with sunsets like this one, it was hard to say goodbye.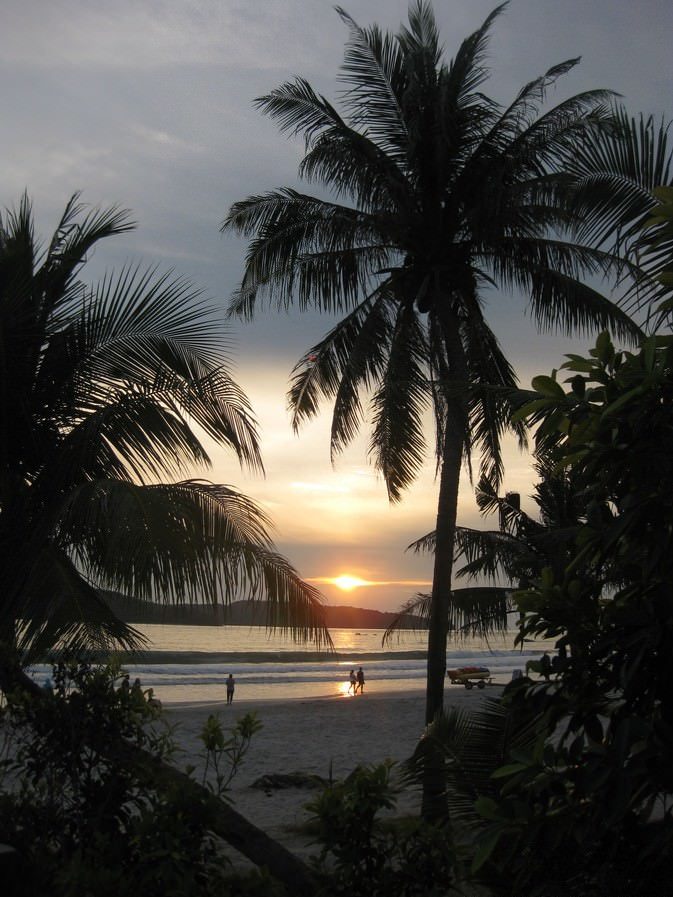 Sunset Quotes #13:
"Never go too long without watching a sunset" – Atticus
Tbilisi Nights
We were lucky to see a few amazing sunsets during our week-long stay in Tbilisi, Georgia. Church bells are seen all over the city and made for a perfect background to our photo. One of our favourite sunset quotes is found below the image.
Sunset Quote #14:
"One might fancy that day, the London day, was just beginning. Like a woman who had slipped off her print dress and white apron to array herself in blue and pearls, the day changed, put off stuff, took gauze, changed to evening, and with the same sigh of exhilaration that a woman breathes, tumbling petticoats on the floor, it too shed dust, heat, colour; the traffic thinned; motor cars, tinkling, darting, succeeded the lumber of vans; and here and there among the thick foliage of the squares an intense light hung. I resign, the evening seemed to say, as it paled and faded above the battlements and prominences, moulded, pointed, of hotel, flat, and block of shops, I fade, she was beginning. I disappear, but London would have none of it, and rushed her bayonets into the sky, pinioned her, constrained her to partnership in her revelry."
― Virginia Woolf, Mrs. Dalloway
---
Liking These Sunset Quotes? Share The Post!
---
Sunset Quotes in Swaziland
After a very enjoyable 5 weeks of driving through South Africa, we decided to pop into the tiny country of Swaziland. We're sure glad we did! We spent about 5 nights at the Mlilwane Reserve and woke up to warthogs, wildebeest and antelope on our doorstep. The sun setting over our rondavel hut was icing on the cake.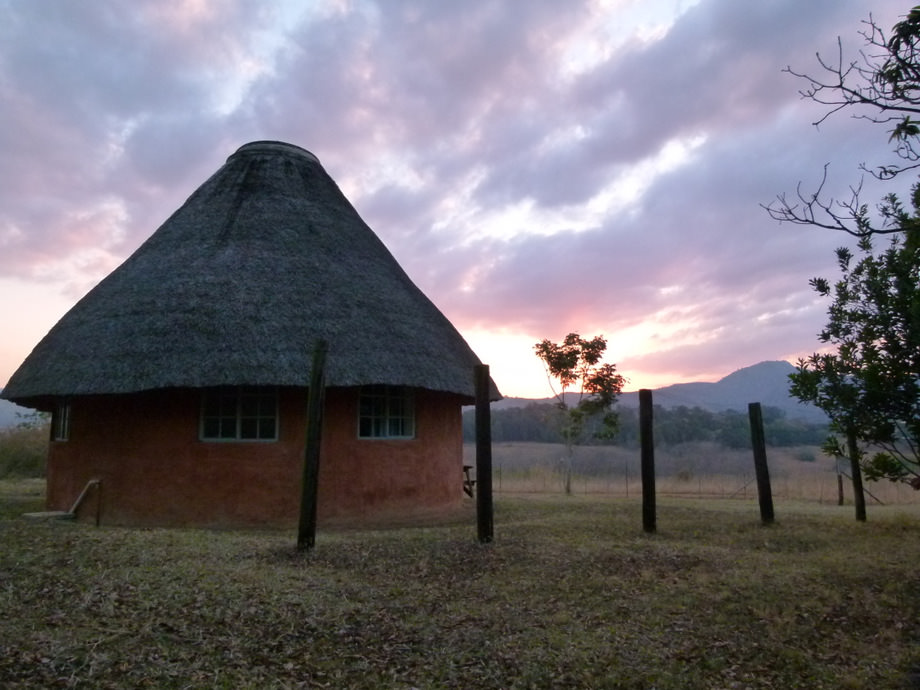 Sunset Quote #15:
"With every sunset a new hope is born, and an old expectation dies" -Noor Unnahar
Palm Trees in Port Barton
Some of the best sunsets we've seen have come from the Philippines! We spent about 5 days in Port Barton enjoying lazy evenings and gorgeous views like this one. Although there are numerous Palawan resorts, we chose to stay in a bungalow and had a great time.
Sunset Quote #16:
"Know what you want to do, hold the thought firmly, and do every day what should be done, and every sunset will see you that much nearer the goal."
― Elbert Hubbard
Sunset Quotes Sundowner in Myanmar
Inle Lake is a great place to relax and unwind. Renting a bicycle and exploring all that this area has to offer is a must. Make sure to head up to the winery for awesome sunsets.
Sunset Quote #17:
"A sunset is the sun's fiery kiss to the night."
― Crystal Woods
Red Skies of Istanbul
Istanbul is a very lively city! With so much to see and do here, you could spend months. A highlight is walking over to the Bosphorus Bridge for sunset and a beer.
Sunset Quote #18:
"Never waste any amount of time doing anything important when there is a sunset outside that you should be sitting under!"
― C. JoyBell C.
Oia – Home To The World's Best Sunsets
Santorini is known to have some of the most beautiful sunsets in the world. You almost don't need a sunset quote to explain how stunning the skies are on this tiny Greek island. This sunset photo was taken from the cliffs near the famous whitewashed town of Oia (pronounced ee-ya).
Sunset Quote #19:
"Pour me a sunset, kill the night, and I promise to drink with you forever" – William C. Hannan
Fisherman of Bazaruto
We seem to have a lot of gorgeous sunsets from Mozambique. This country has some of the best coastline and islands we've ever come across, so it's no surprise that we were able to enjoy the sun dipping into the ocean on many occasions. This sunset comes from the village of Vilanculos, a great jumping off point to visit some surrounding islands in the Bazaruto Archipelago.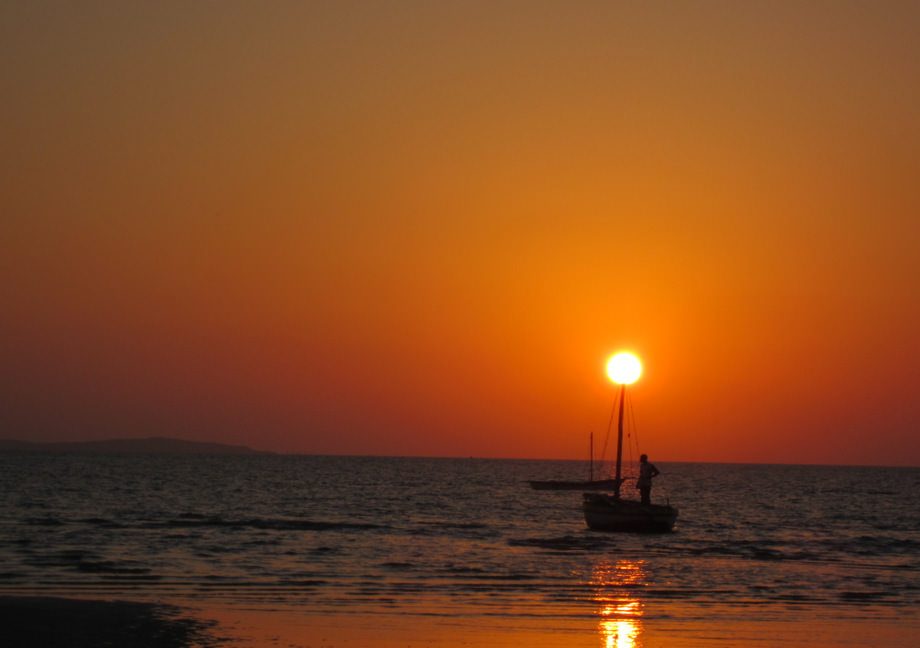 Sunset Quote #20:
"Don't waste sunset with people who will be gone by sunrise" – Via Lucyquin
Sunset Quotes of Tofo
Visiting the beach town of Tofo in Mozambique was definitely one of our highlights in this country. Here we snorkelled with Whale Sharks, went diving with Humpback Whales, wandered around the very small village, met amazing people and of course, enjoyed stunning sunsets every night! It is a magical place.
Sunset Quote #21:
"Ô, Sunlight! The most precious gold to be found on Earth."
― Roman Payne
Essaouira Estuary
Essaouira is a beautiful place in Morocco. This coastal city has a huge beach, a perfect setting right on the coast of Africa, a wonderful medina, great fresh fish, and of course…spectacular sunsets. We spent a few days here relaxing on our beautiful patio enjoying the views.
Sunset Quote #22:
"There's a sunrise and a sunset every single day, and they're absolutely free. Don't miss so many of them."
― Jo Walton
Mosque of Bukhara
This beauty was taken in the ancient city of Bukhara in Uzbekistan. Wandering around during the daytime and gazing up at the beautiful mosques, mausoleums and monuments was so surreal. During the evenings we went up to a nice restaurant and enjoyed views like this one.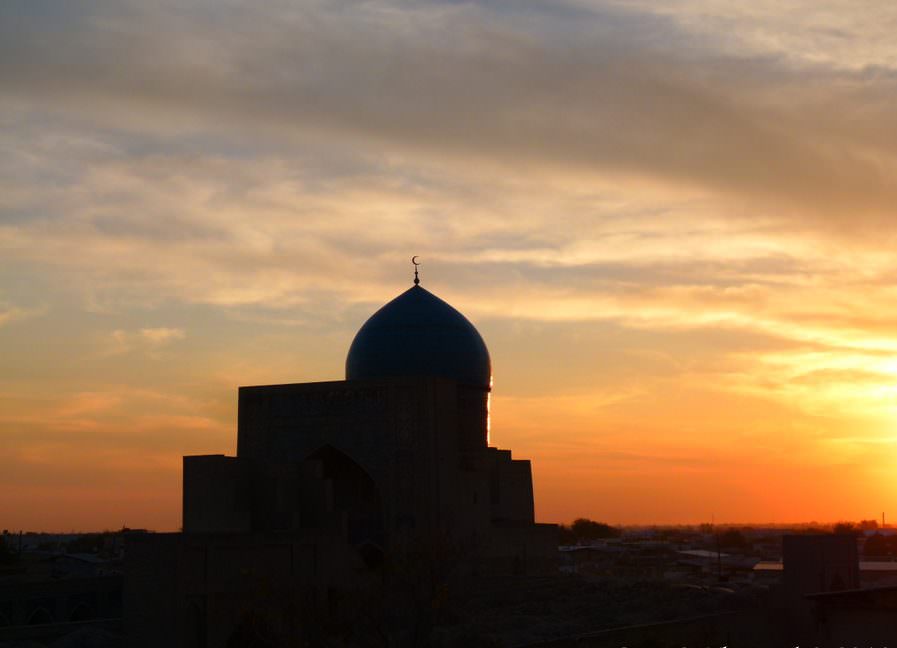 Sunset Quote #23:
"Age is irrelevant. Ask me how many sunsets I've seen, hearts I've loved, trips I've taken, or concerts I've been too. That's how old I am." – Joëlle
A Beach Ablaze
The sunsets in El Nido were some of the best ever. We took this lovely photo from our deserted island. We spent 2 days on an island, sleeping underneath mosquito nets, just the two of us and two friends. It was one of the best experiences we've had, and one of the best sunsets we've seen.
Sunset Quote #24:
"The first stab of love is like a sunset, a blaze of color — oranges, pearly pinks, vibrant purples…"
― Anna Godbersen
Maltese Magic
There are over 350 churches on the islands of Malta and Gozo! This is a drone view of the top of the Basilica of Our Lady Mount Carmel in the UNESCO listed capital of Valletta.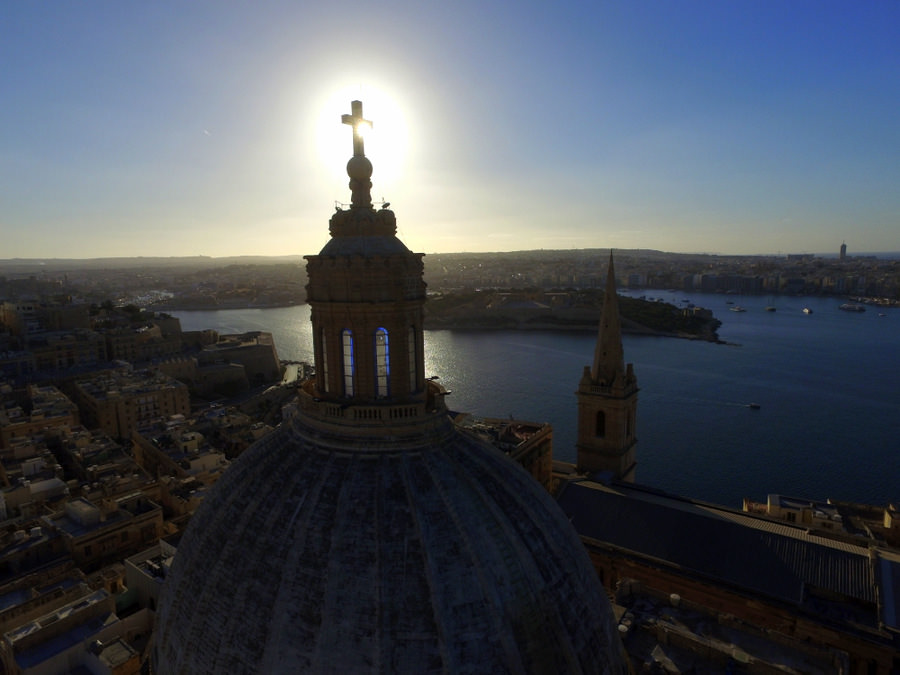 Sunset Quote #25:
"People are just as wonderful as sunsets. When I see a sunset, I find myself saying 'soften the orange a bit on the right hand corner' . I don't try to control a sunset. I watch in awe as it unfolds." – Carl Rogers
Koh Chang Kabang!
On Thailand's northeast coast, there is an island called Koh Chang. This beautiful island is often overlooked by travellers who think that the best beaches are only found in the south. But, Koh Chang has some gorgeous spots and amazing sunsets.