Sunset quotes and photos are known to inspire travel, productivity, hope and happiness. Who doesn't love a beautiful sunset? There's just something about sitting on a cliff with a glass of wine and watching as the golden orb of the sun falls beneath the horizon. It's a magical moment that we all would love to cherish more often, but many of us never take the time to watch sunset.
In this post I'm going to list the best sunset quotes, and then show you a series of the best sunsets in the world that we've taken while travelling full-time over the past 10 years.
The Best Sunset Quotes
Here are a series of the best sunset quotes we could find online. There are sunset quotes that relate to people, to love and life and to every aspect of this world. I've included one of our best sunset photos alongside each sunset quote, as well as a description of the photo itself.
Where Did We Find These Sunset Quotes?
We scoured the internet for all of the best sunset quotes, and then we searched through all of our sunset photos from 10 years on the road. In this post, we've matched some of our favourite sunset photos with our favourite sunset quotes!
What Makes a Good Sunset Quote?
We think that the best sunset quotes inspire you to actually go out and watch a sunset. They can also inspire something deep inside that reminds us how wonderful this world we live in can be. Sometimes a sunset is so perfect, that it seems as if the skies are painting a picture just for you.
How To Take a Good Sunset Photo
To take a good sunset photo, you need the perfect exposure. You should make sure your lens is clean and ideally, you should use a tripod. It's a good idea to shoot in RAW format for post-production and sunsets often look better when you shoot in wide, and then zoom in.
Put your camera in Aperture Priority mode (usually an A on the settings dial), and set it to a high number. Keep the ISO as low as possible (usually 100 – 200) and watch the shutter speed.
Sometimes bracketed exposures can help with getting the perfect colors and lightness in a sunset photo. This setting can be an auto HDR, but its best to do it manually in post-production. Lastly, when taking sunset photos it's important to be patient. Oftentimes the best sunset photos are taken after the sun has disappeared.
Sunset photographers have all had this happen to them. They start packing up their gear and suddenly the sky lights up in brilliant oranges and reds, forcing them to rush to get set up again. Take your time and never pack up your gear until the sky is dark!
Now let's get started with all of our best sunset pictures and our best quotes about sunset.
Sunset Sail On The River Nile
This photo was taken during our felucca sailboat journey down the Nile River in Egypt. The sunsets reflecting off of the glass-like waters were fantastic!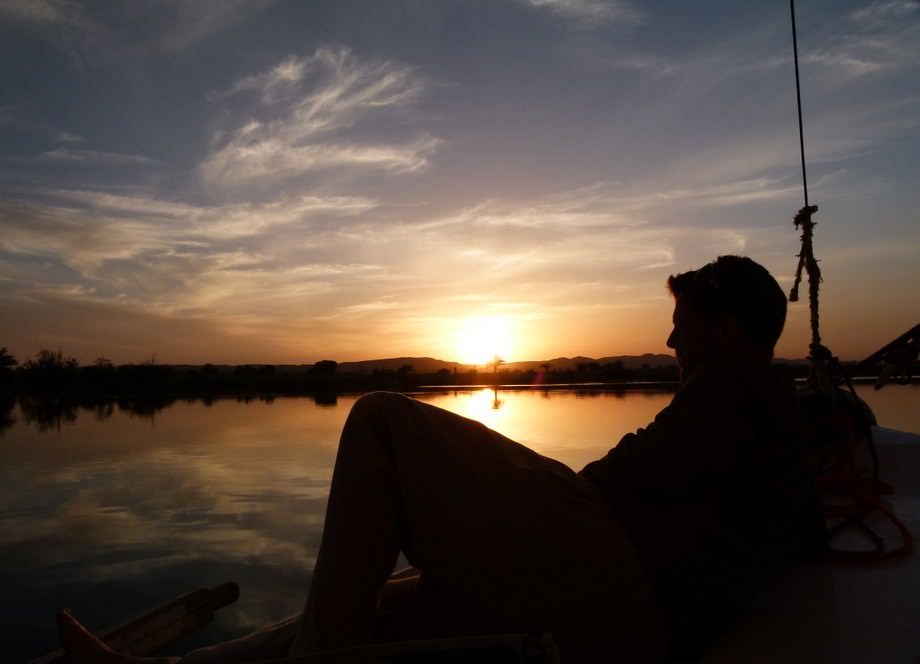 Sunset Quote #1:
"Clouds come floating into my life, no longer to carry rain or usher storm, but to add color to my sunset sky."
-Rabindranath Tagore, Stray Birds
Sunset Over The Masai Mara, Kenya
This stunning sunset is from our safari in the Masai Mara, Kenya. We were out spotting animals until the evening and were able to capture some photos of a sunset as well.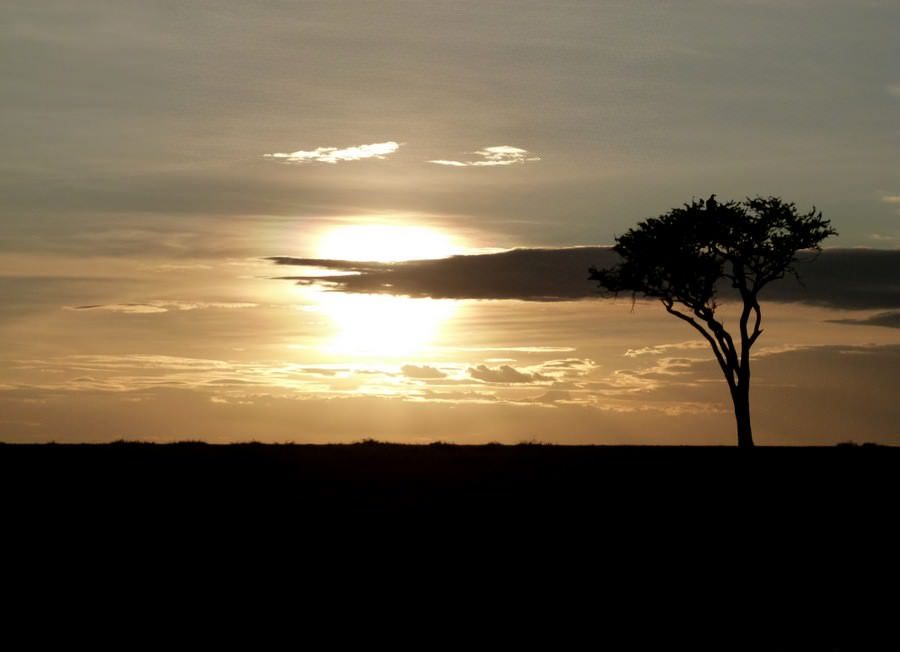 Sunset Quote #2:
"Dusk is just an illusion because the sun is either above the horizon or below it. And that means that day and night are linked in a way that few things are there cannot be one without the other yet they cannot exist at the same time. How would it feel I remember wondering to be always together yet forever apart?"
― Nicholas Sparks, The Notebook
Happy Hour in Port Barton
This was one of the best sun-downers we've ever had! Sitting in the warm water, enjoying a drink and watching the sun set from one of the Philippines best beaches made for the perfect end to a perfect day.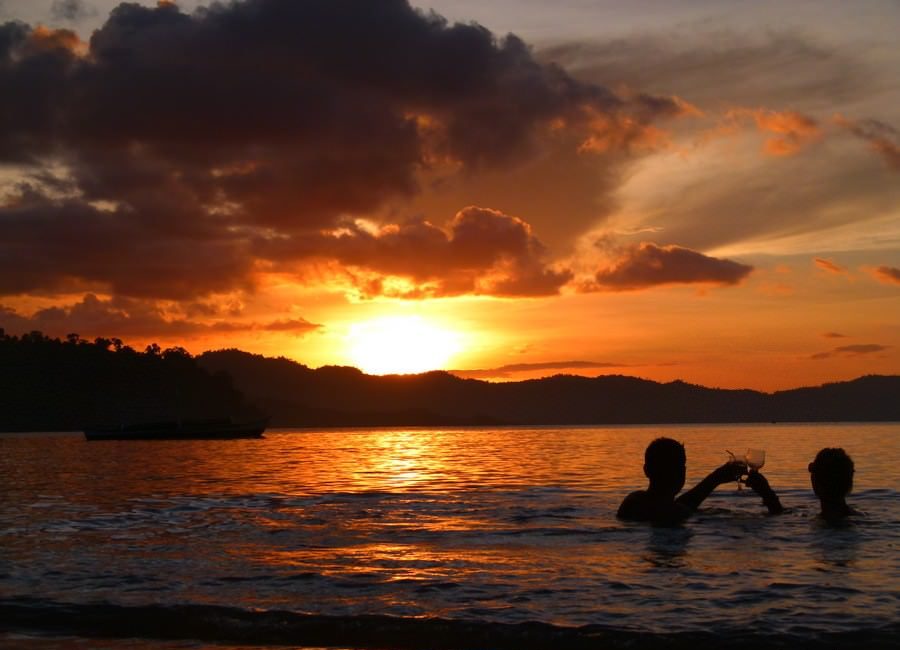 Sunset Quote #3:
"When the sun has set, no candle can replace it."
― George R.R. Martin
Sunset Over The Bagan Temples, Myanmar
Witnessing the sun set over these beautiful, ancient temples in Bagan, Myanmar was an awesome experience. We climbed up to the top of a temple for this stunning view.
Sunset Quote #4:
"I like people who get excited about the change of seasons, The sound of the ocean, watching the sunset, the smell of rain and starry nights." – Brooke Hampton sunset quote
Fishing Boats in El Nido
El Nido has some stunning sunsets. During our 8 days there we were able to get some excellent shots! Enjoying dinner on the beach while looking out at this view, is there anything better?
Sunset Quote #5:
"Scattered with poppies, the golden-green waves of the cornfields faded. The red sun seemed to tip one end of a pair of scales below the horizon, and simultaneously to lift an orange moon at the other. Only two days off the full, it rose behind a wood, swiftly losing its flush as it floated up, until the wheat loomed out of the twilight like a metallic and prickly sea."
― Patrick Leigh Fermor, Between the Woods and the Water
Silhouette of Malawi Boys
Watching the local children playing in the water as the sun was setting in Cape Maclear, Malawi was a true joy. Seeing the happiness on their faces while they splashed around is something we'll never forget. This is the perfect silhouette!
Although we had some ups and downs during our 3 weeks of travel in Malawi, one thing that was always an "up" were the sunsets from Lake Malawi. Each night we would walk the shoreline and enjoy the reds and oranges sparkling off of the lake. All of the local people were out by the lakeside doing chores and the children were always playing. Truly a joyous part of the day.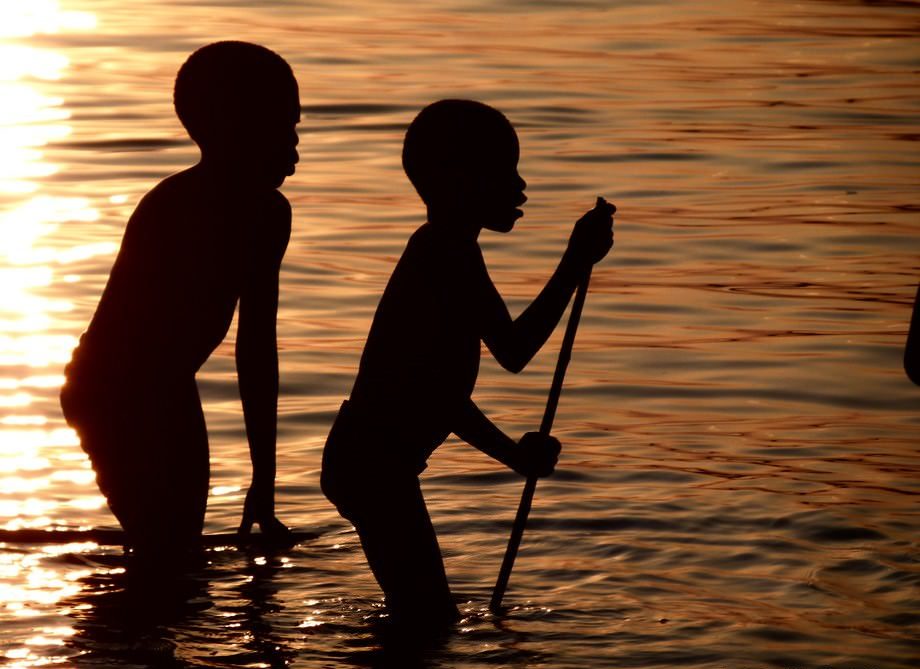 Sunset Quote #6:
"This land, although not my native land,
Will be remembered forever.
And the sea's lightly iced,
Unsalty water.
The sand on the bottom is whiter than chalk,
The air is heady, like wine,
And the rosy body of the pines
Is naked in the sunset hour.
And the sunset itself on such waves of ether
That I just can't comprehend
Whether it is the end of the day, the end of the world,
Or the mystery of mysteries in me again."
― Anna Akhmatova, The Complete Poems of Anna Akhmatova
The Orange Skies of Fez
Fez, Morocco is a city with loads of character, charm and history. This was the view from our guesthouse there. What a gorgeous sunset!
Sunset Quote #7:
"When sunset, like a crimson throat to hell, is cavernous…
("A Wine of Wizardry")"
― George Sterling, The Thirst of Satan: Poems of Fantasy and Terror
Leela Leela
We called Koh Phangan "home" for a month during our travels. We couldn't get enough of this island! The beaches are stunning, the food is great and there's so much to see and do. This is a beautiful sunset from our hut on Leela Beach and one of our favourite Sunset Quotes for 2020.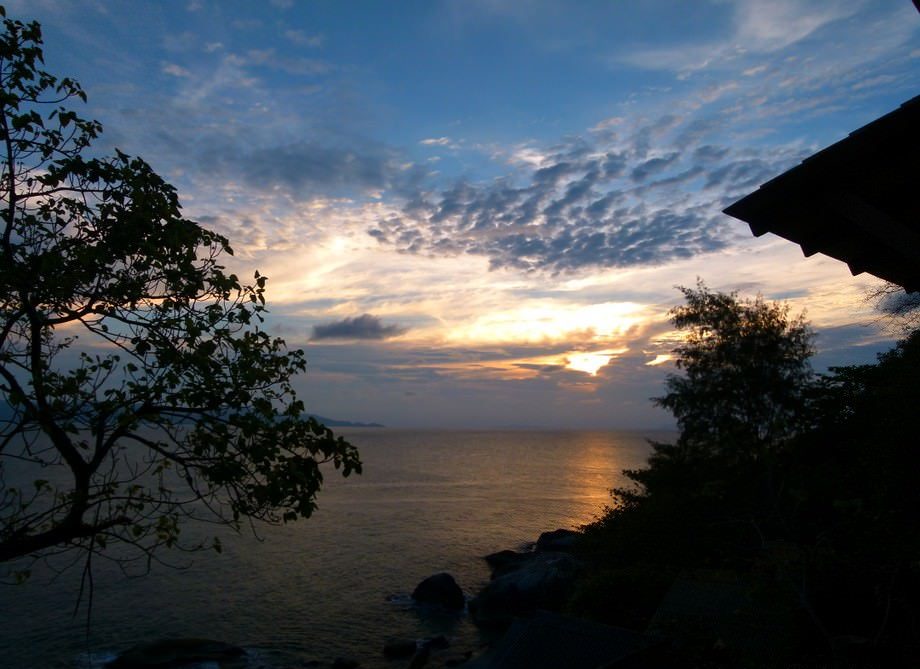 Sunset Quote #8:
"I just need you and some sunsets" – Atticus
An Oasis in The Sky
Siwa Oasis is truly that, an oasis away from the hustle and bustle of the Egyptian cities. Watching the sun set over this body of water while enjoying some dinner and some sheesha pipe is the perfect end to the day.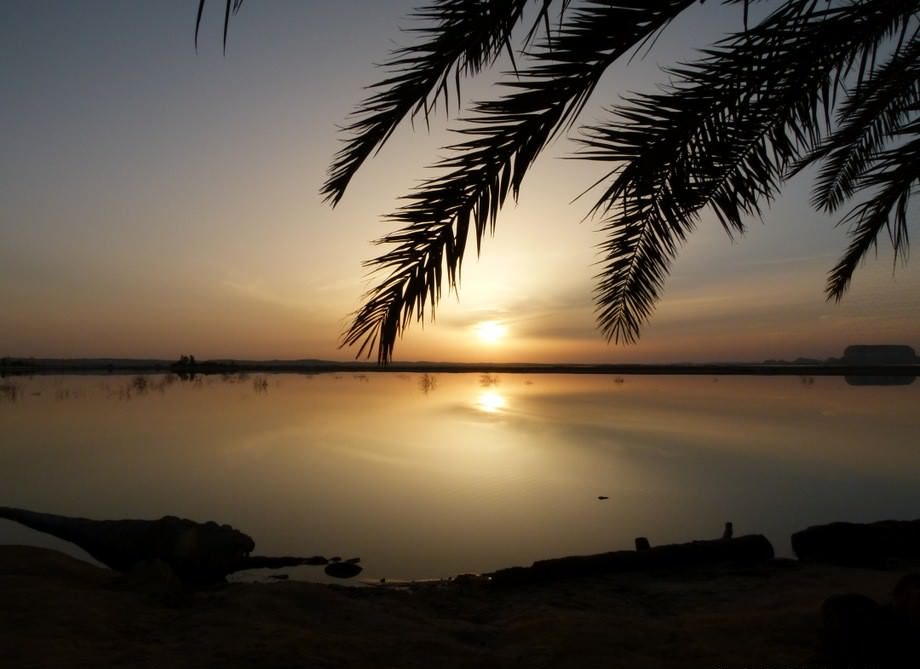 Sunset Quote #9:
"I don't know how long we stay that way, but we watch the sun go down together. The giant, burnt-orange sphere sinks towards the horizon, coloring the rock layers until it's gone and the canyon is covered in shadow."
― Jennifer Salvato Doktorski, How My Summer Went Up in Flames
Zanzibar Days
Zanzibar is a fascinating island. From beautiful white sand beaches to amazing Arab architecture, Zanzibar has it all. This is a photo of two women wandering the beach at Stone Town. I chose one of our best sunset quotes to accompany this image.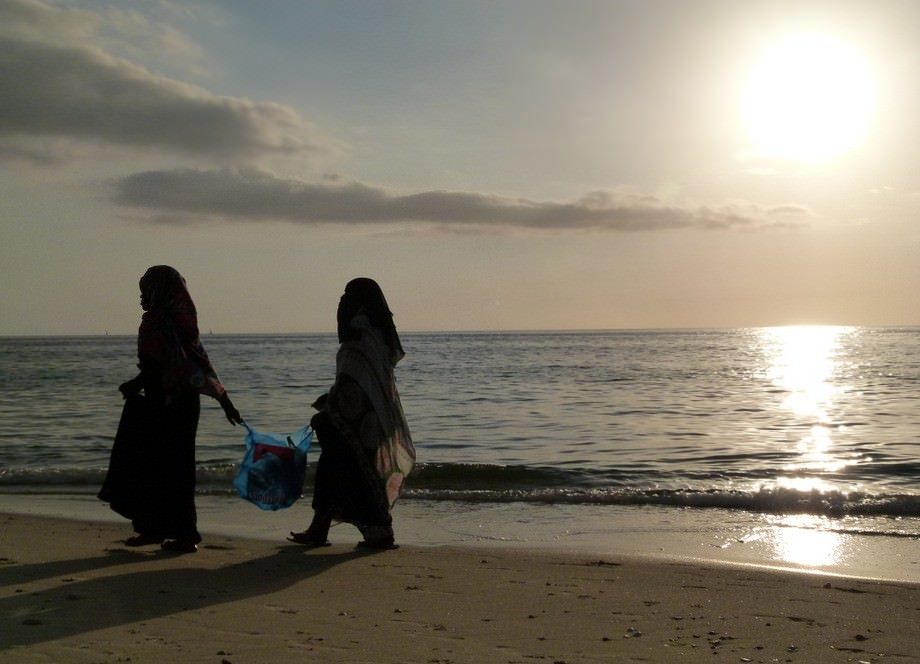 Sunset Quote #10:
"And yet day and night meet fleetingly at twilight and dawn," he said, lowering his voice again and narrowing his eyes and moving his head a quarter of an inch closer to hers. "And their merging sometimes affords the beholder the most enchanted moments of all the twenty-four hours. A sunrise or sunset can be ablaze with brilliance and arouse all the passion, all the yearning, in the soul of the beholder." ― Mary Balogh, A Summer to Remember
Sunset Quotes The Sun of God
Tbilisi is a fascinating city with loads of history and culture. We spent about a week here and loved it. There are many churches in Tbilisi and we were lucky to catch this great sunset on camera.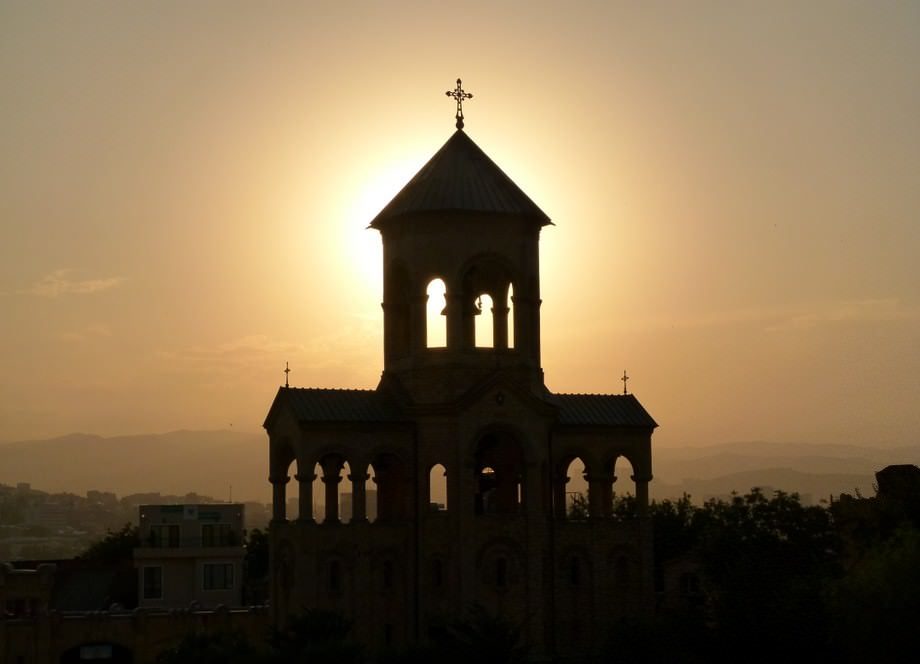 Sunset Quote #11:
"It's almost impossible to watch a sunset and not dream." – Bern Williams
Set Sail to Quirimbas
Ah, Mozambique! We spent a wonderful month in this country and sailed through the Quirimbas Archipelago. Rolas Island was one of the islands we spent the night on, just us under a mosquito net on the beach…stunning! This was one of our favourite sunsets of all time and with it, one of our favourite sunset quotes.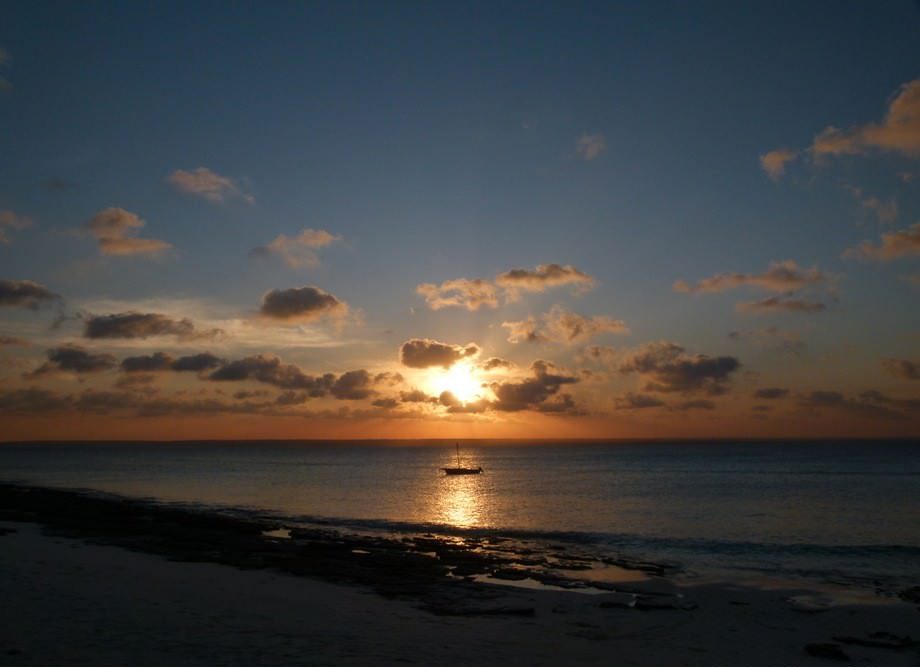 Sunset Quote #12:
"Sunset is a wonderful opportunity for us to appreciate all the great things the sun gives us!"
― Mehmet Murat ildan
Tropical Langkawi
We spent about a week on the island of Langkawi in Malaysia and with sunsets like this one, it was hard to say goodbye.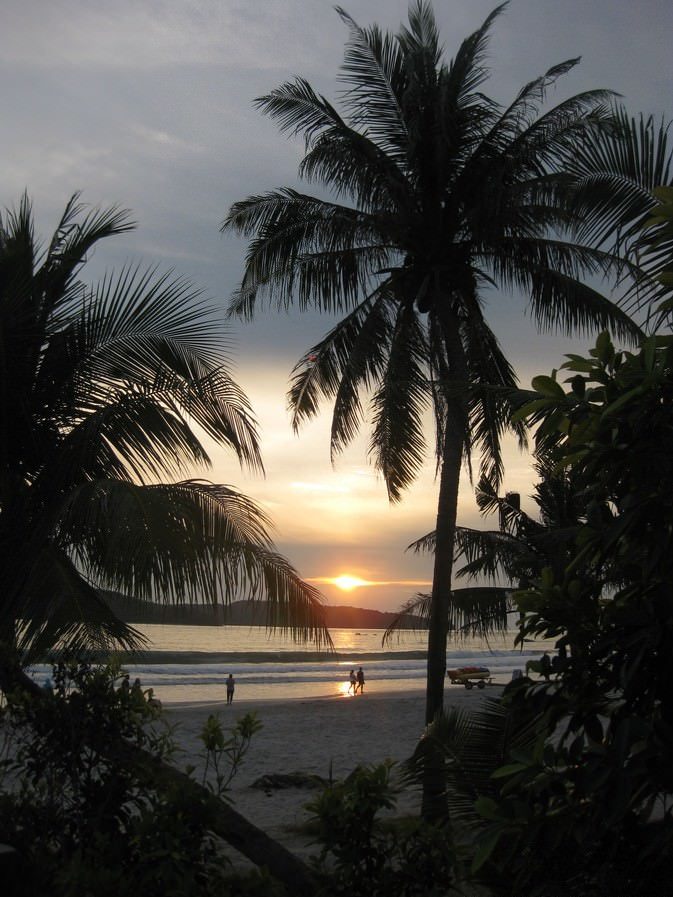 Sunset Quotes #13:
"Never go too long without watching a sunset" – Atticus
Tbilisi Nights
We were lucky to see a few amazing sunsets during our week-long stay in Tbilisi, Georgia. Church bells are seen all over the city and made for a perfect background to our photo. One of our favourite sunset quotes is found below the image.
Sunset Quote #14:
"One might fancy that day, the London day, was just beginning. Like a woman who had slipped off her print dress and white apron to array herself in blue and pearls, the day changed, put off stuff, took gauze, changed to evening, and with the same sigh of exhilaration that a woman breathes, tumbling petticoats on the floor, it too shed dust, heat, colour; the traffic thinned; motor cars, tinkling, darting, succeeded the lumber of vans; and here and there among the thick foliage of the squares an intense light hung. I resign, the evening seemed to say, as it paled and faded above the battlements and prominences, moulded, pointed, of hotel, flat, and block of shops, I fade, she was beginning. I disappear, but London would have none of it, and rushed her bayonets into the sky, pinioned her, constrained her to partnership in her revelry."
― Virginia Woolf, Mrs. Dalloway
---
Liking These Sunset Quotes? Share The Post!
---
Sunset Quotes in Swaziland
After a very enjoyable 5 weeks of driving through South Africa, we decided to pop into the tiny country of Swaziland. We're sure glad we did! We spent about 5 nights at the Mlilwane Reserve and woke up to warthogs, wildebeest and antelope on our doorstep. The sun setting over our rondavel hut was icing on the cake.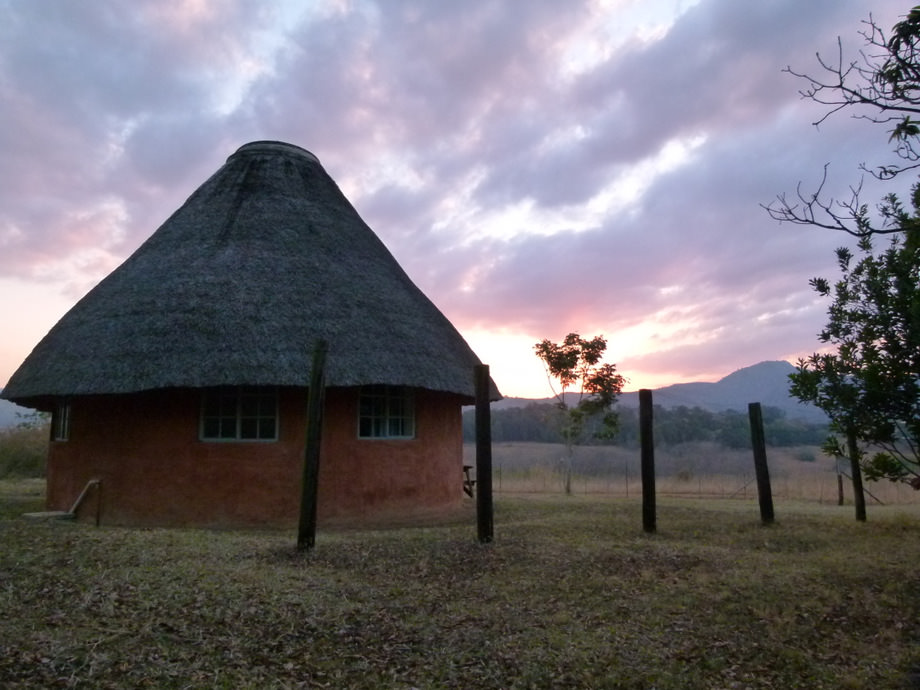 Sunset Quote #15:
"With every sunset a new hope is born, and an old expectation dies" -Noor Unnahar
Palm Trees in Port Barton
Some of the best sunsets we've seen have come from the Philippines! We spent about 5 days in Port Barton enjoying lazy evenings and gorgeous views like this one. Although there are numerous Palawan resorts, we chose to stay in a bungalow and had a great time.
Sunset Quote #16:
"Know what you want to do, hold the thought firmly, and do every day what should be done, and every sunset will see you that much nearer the goal."
― Elbert Hubbard
Sunset Quotes Sundowner in Myanmar
Inle Lake is a great place to relax and unwind. Renting a bicycle and exploring all that this area has to offer is a must. Make sure to head up to the winery for awesome sunsets.
Sunset Quote #17:
"A sunset is the sun's fiery kiss to the night."
― Crystal Woods
Red Skies of Istanbul
Istanbul is a very lively city! With so much to see and do here, you could spend months. A highlight is walking over to the Bosphorus Bridge for sunset and a beer.
Sunset Quote #18:
"Never waste any amount of time doing anything important when there is a sunset outside that you should be sitting under!"
― C. JoyBell C.
Oia – Home To The World's Best Sunsets
Santorini is known to have some of the most beautiful sunsets in the world. You almost don't need a sunset quote to explain how stunning the skies are on this tiny Greek island. This sunset photo was taken from the cliffs near the famous whitewashed town of Oia (pronounced ee-ya).
Sunset Quote #19:
"Pour me a sunset, kill the night, and I promise to drink with you forever" – William C. Hannan
Fisherman of Bazaruto
We seem to have a lot of gorgeous sunsets from Mozambique. This country has some of the best coastline and islands we've ever come across, so it's no surprise that we were able to enjoy the sun dipping into the ocean on many occasions. This sunset comes from the village of Vilanculos, a great jumping off point to visit some surrounding islands in the Bazaruto Archipelago.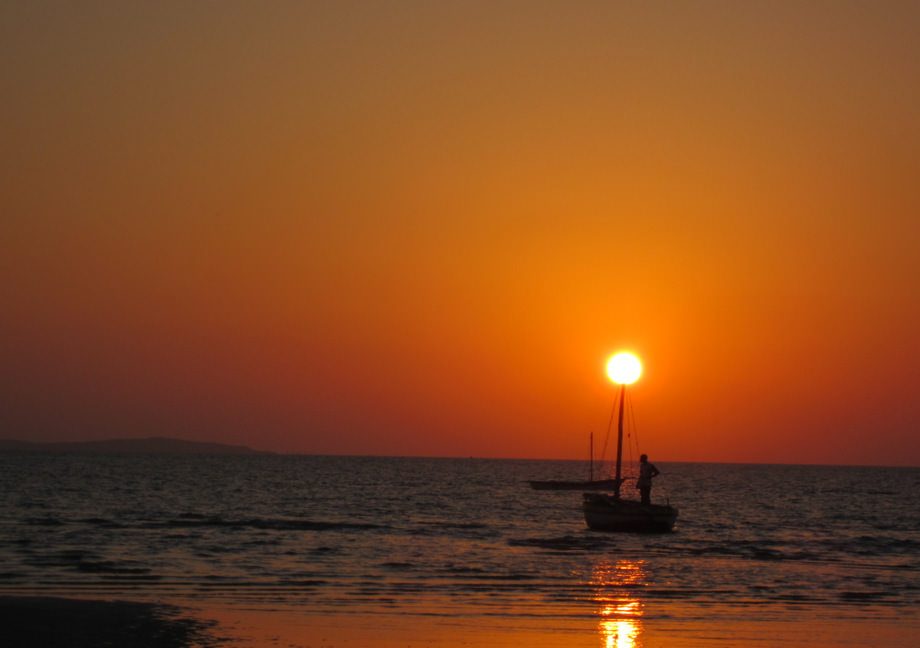 Sunset Quote #20:
"Don't waste sunset with people who will be gone by sunrise" – Via Lucyquin
Sunset Quotes of Tofo
Visiting the beach town of Tofo in Mozambique was definitely one of our highlights in this country. Here we snorkelled with Whale Sharks, went diving with Humpback Whales, wandered around the very small village, met amazing people and of course, enjoyed stunning sunsets every night! It is a magical place.
Sunset Quote #21:
"Ô, Sunlight! The most precious gold to be found on Earth."
― Roman Payne
Essaouira Estuary
Essaouira is a beautiful place in Morocco. This coastal city has a huge beach, a perfect setting right on the coast of Africa, a wonderful medina, great fresh fish, and of course…spectacular sunsets. We spent a few days here relaxing on our beautiful patio enjoying the views.
Sunset Quote #22:
"There's a sunrise and a sunset every single day, and they're absolutely free. Don't miss so many of them."
― Jo Walton
Mosque of Bukhara
This beauty was taken in the ancient city of Bukhara in Uzbekistan. Wandering around during the daytime and gazing up at the beautiful mosques, mausoleums and monuments was so surreal. During the evenings we went up to a nice restaurant and enjoyed views like this one.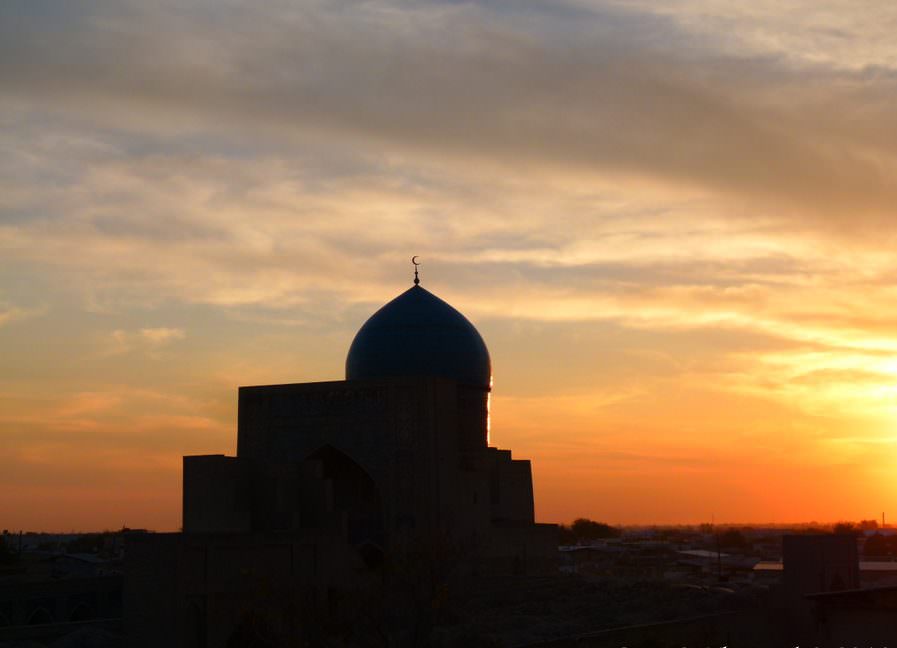 Sunset Quote #23:
"Age is irrelevant. Ask me how many sunsets I've seen, hearts I've loved, trips I've taken, or concerts I've been too. That's how old I am." – Joëlle
A Beach Ablaze
The sunsets in El Nido were some of the best ever. We took this lovely photo from our deserted island. We spent 2 days on an island, sleeping underneath mosquito nets, just the two of us and two friends. It was one of the best experiences we've had, and one of the best sunsets we've seen.
Sunset Quote #24:
"The first stab of love is like a sunset, a blaze of color — oranges, pearly pinks, vibrant purples…"
― Anna Godbersen
Maltese Magic
There are over 350 churches on the islands of Malta and Gozo! This is a drone view of the top of the Basilica of Our Lady Mount Carmel in the UNESCO listed capital of Valletta.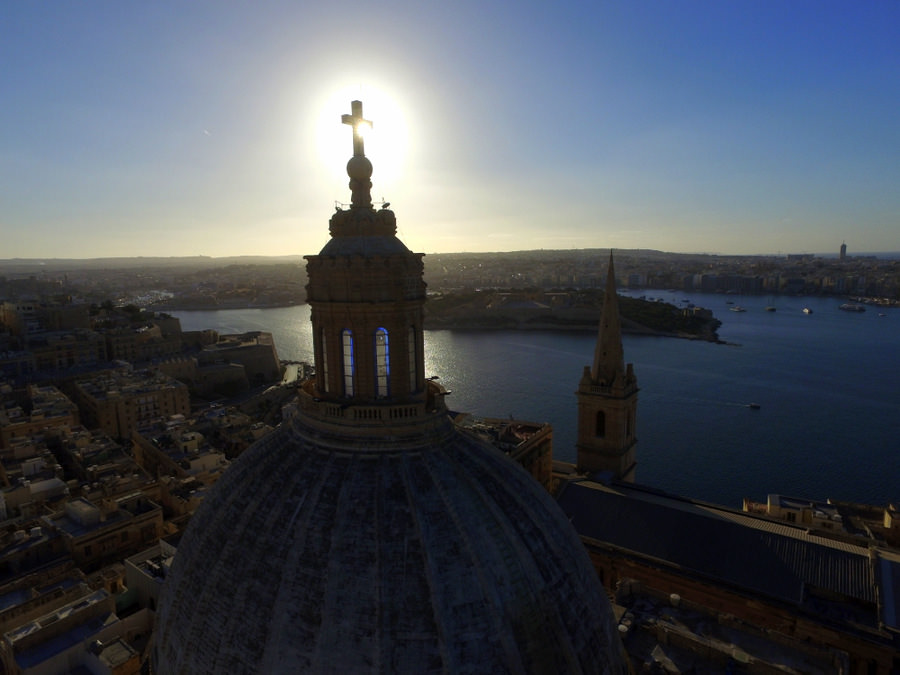 Sunset Quote #25:
"People are just as wonderful as sunsets. When I see a sunset, I find myself saying 'soften the orange a bit on the right hand corner' . I don't try to control a sunset. I watch in awe as it unfolds." – Carl Rogers
Koh Chang Kabang!
On Thailand's northeast coast, there is an island called Koh Chang. This beautiful island is often overlooked by travellers who think that the best beaches are only found in the south. But, Koh Chang has some gorgeous spots and amazing sunsets.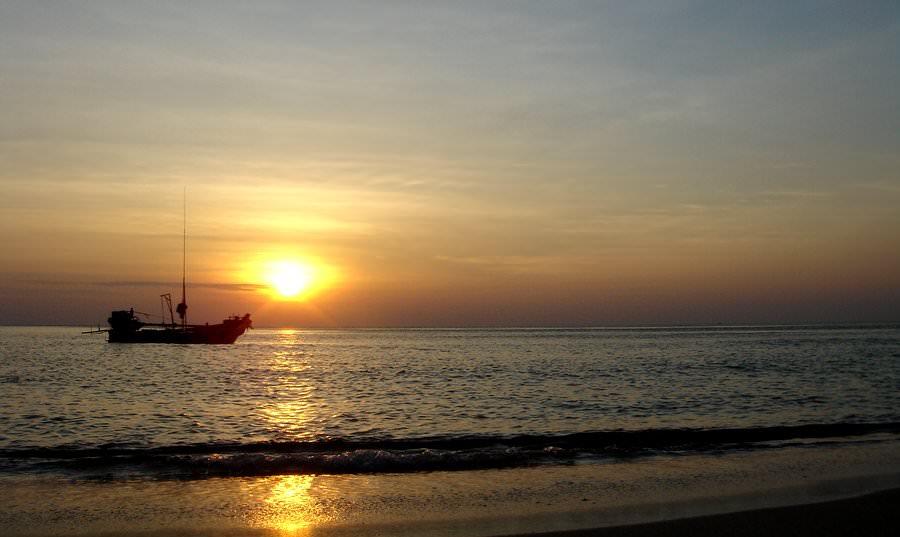 Sunset Quote #26:
"The sky takes on shades of orange during sunrise and sunset, the colour that gives you hope that the sun will set only to rise again." – Ram Charan
Sunset at Song Kul
Staying in a yurt when travelling to Kyrgyzstan is an absolute must. We went on a horse trek for three days from Kochkor to Lake Song Kol, and this was our yurt for the night on the lake shore.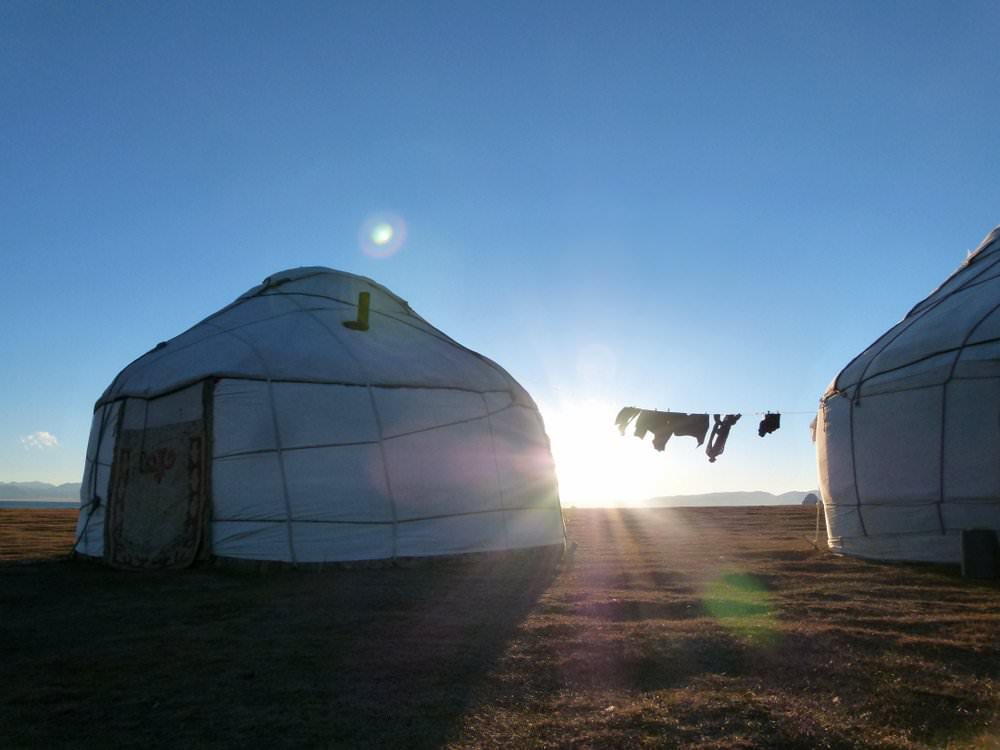 Sunset Quote #27:
"Whenever you want to see me, always look at the sunset; I will be there" – Grace Ogot
There's Something About Istanbul
We're excited to share this photo from Shelby Fields Kraus, an avid traveller and reader of ours. Yes, it's another sunset from Istanbul. It seems all too easy to capture amazing photos of this magical city.
Sunset Quote #28:
"When I admire the wonders of a sunset or the beauty of the moon, my soul expands in the worship of the creator." – Mahatma Gandhi
Bajan Sundowners
This sunset is from Barbados. On most nights while pet sitting on this island, Dariece and I would head down to Accra Beach and watch the sunset on the Caribbean Sea.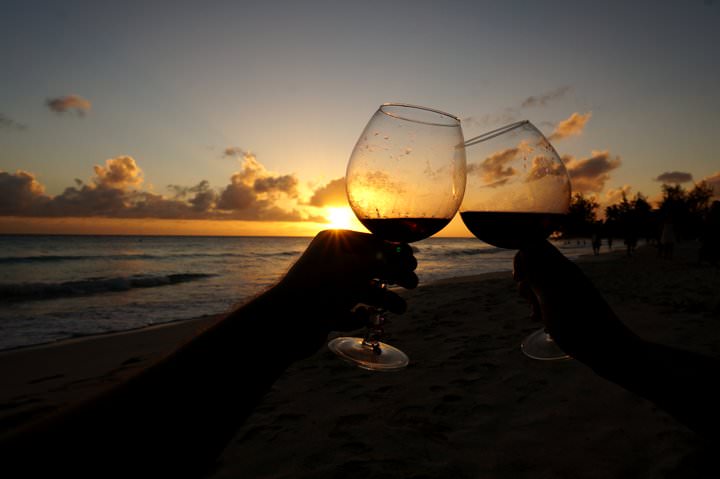 Sunset Quote #29:
"There is nothing more musical than a sunset" – Claude Debussy
Caribbean Beauty
This is another beautiful sunset from Barbados. We really couldn't get enough of them while we were living there. For some reason, the Caribbean produces some of our favourite day-end spectacles.
Sunset Quote #30:
"Allow failure to teach you a valuable lesson: Each sunset is the beginning of a very, very beautiful sunrise" – Sri Chinmoy
Mullins Bay Magic
Mullins Bay was another one of our favourite spots to watch the sun kiss the sea in Barbados. After the sun was low in the sky, most of the families would go home, leaving us to enjoy the sunset alone on the sand.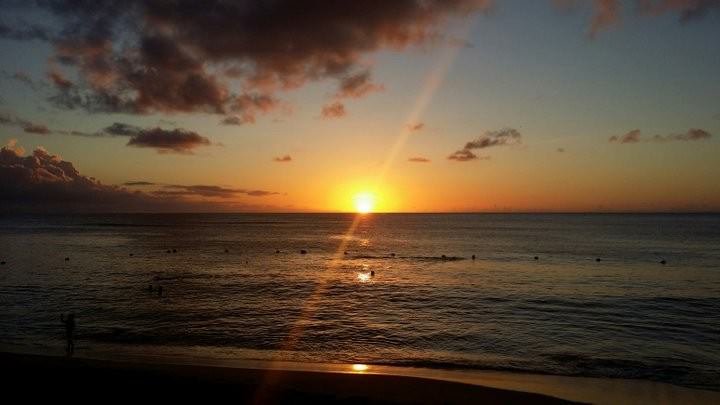 Sunset Quote #31:
"The sky broke like an egg into full sunset and the water caught fire." – Pamela Hansford Johnson
Xcalak Skies
This sunset is from Xcalak, Mexico. Thanks to Heather from The Travel Type for sharing with us!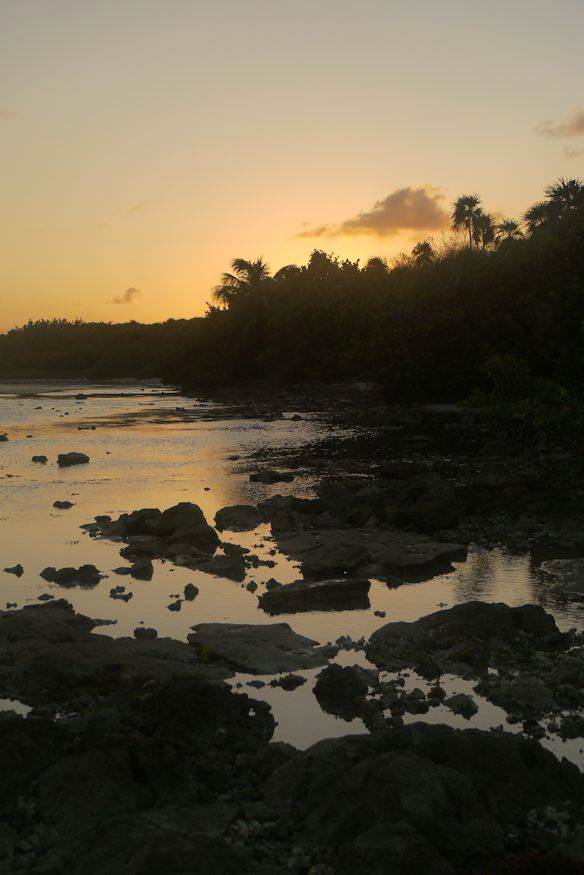 Sunset Quote #32:
"If you are in a beautiful place where you can enjoy sunrise and sunset, then you are living like a lord." – Nathan Phillips
The Beauty of Boracay
This sunset is from Boracay in the Philippines. Thanks to Miriam from Adventurous Miriam for sharing this amazing shot.
Sunset Quote #33:
"Life does not come with instructions on how to live, but it does come with trees, sunsets, smiles and laughter, so enjoy your day" – Debbie Shapiro
Grenada Begins!
Grenada is most likely our favourite island in the world and we have spent nearly 2 years living here. We call it home, so it's no surprise that we have countless sunset quotes and sunset photos from this tiny Caribbean Paradise. We saw this sunset just the other night, and even though there were clouds in the way, I think they only added to the beauty.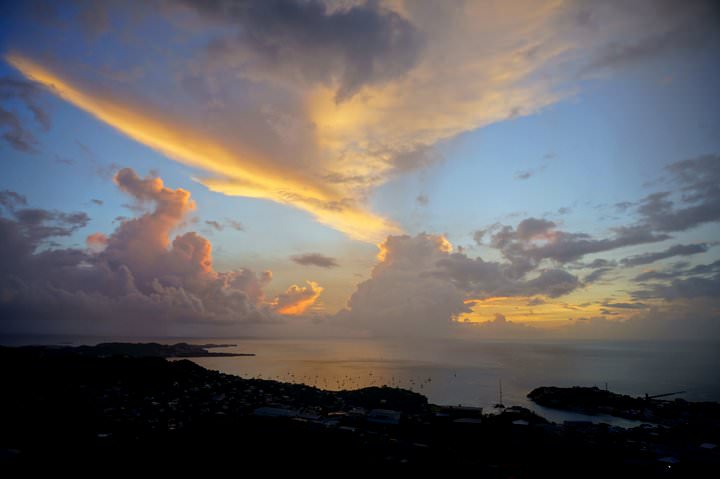 Sunset Quote #34:
"The biggest cliché in photography is sunrise and sunset." – Catherine Opie
Cape Horn Surprise
This sunset is from Cape Horn at the bottom of South America. Thanks to Elizabeth from CompassAndFork.com for sharing this golden beauty with us!
Sunset Quote #35:
"A beautiful sunset that was mistaken for a dawn." – Claude Debussy
Grenadian Grandeur
This sunset is from our temporary home in Grenada. One minute the sky was normal, the next, it was painted with pink!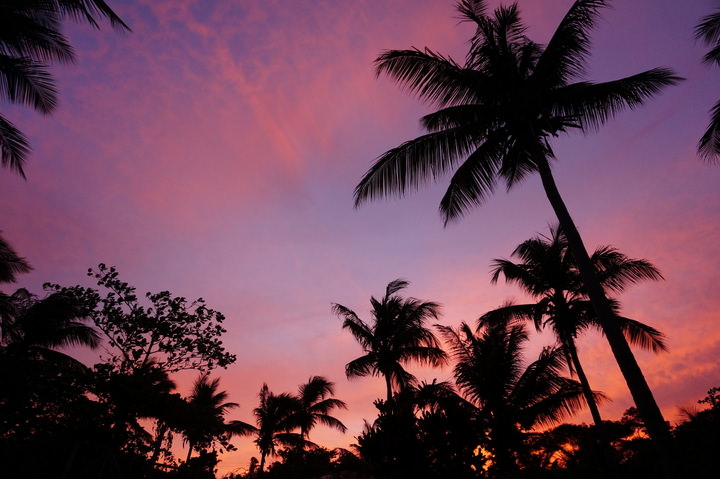 Sunset Quote #36:
"'Sunrise Sunset' is about trying to get to a place where life is simple and not letting the stress and happenings in the world get in the way of your happiness." – Benny Cassette
Nile a Care In The World
This sunset is from the Nile River in Egypt. A big thanks to Carly of Carlys Adventures Afar for sharing this golden beauty with us! What an incredible shot.
Sunset Quote #37:
"Don't forget beautiful sunsets need cloudy skies" – Paulo Coelho
An Atlas of Color
This sunset is of the Atlas Mountains in Erfoud, Morocco. Thanks to Ron and Michele of Legging It for sharing this photo with us.
Sunset Quote #38:
"There's never one sunrise the same or one sunset the same." – Carlos Santana
Halong Will it Last?
This sunset is from Halong Bay, Vietnam. Thanks to our reader and fellow traveller, Kyle Birkett, for sharing this beautiful photo with us.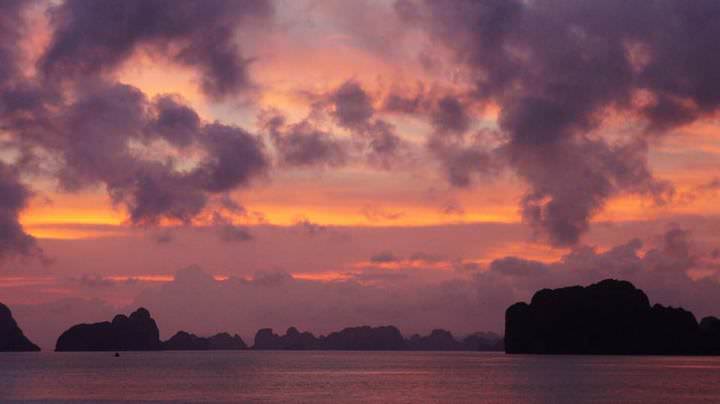 Sunset Quote #39:
"Sunsets are my escape into the reality I want to consistently live" – Rachel Roy
The Last Possible Moment
This week's sunset is from the Tioman Islands, Malaysia. You can tell that this sunset was taken at the last possible moment in the day. A big thank-you to Martin Kjellberg for sharing this incredible photo with us!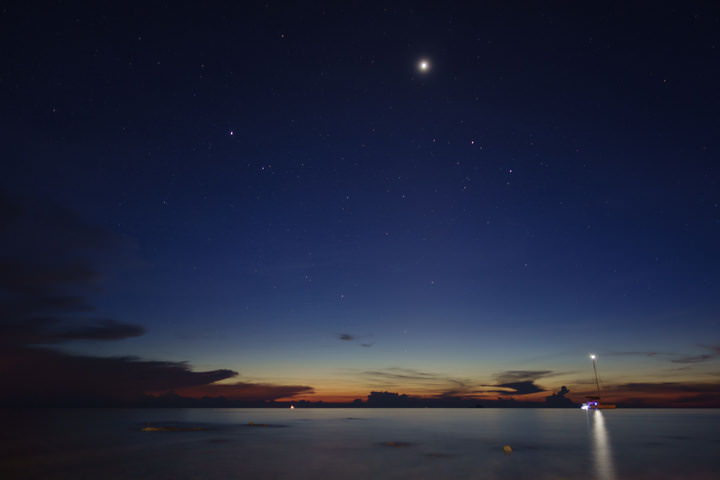 Sunset Quote #40:
"Perfect happiness is a beautiful sunset, the giggle of a grandchild, the first snowfall. It's the little things that make happy moments, not the grand events. Joy comes in sips, not gulps." – Sharon Draper
Darwinian Sunset Theory
This sunset is from Darwin, Australia. The theory is that sunsets are better in Darwin. A big thank you to Christina Czubak of World Of Voyage for sharing this beauty with us.
Sunset Quote #41:
"There is nothing like a beautiful sunset to end a healthy day" – Rachel Boston
Cheers in Kyrgyzstan
Joining a sunset boat ride on Lake Issyk-kul is one of the best things to do around Karakol. This area is mostly known for trekking, but once you come down from the mountains, make sure to enjoy the other activities on offer in this Kyrgyz town.

Sunset Quote #42:
"Get outside. Watch the sunrise. Watch the sunset. How does that make you feel? Does it make you feel big or tiny? Because there's something good about feeling both." – Amy Grant
Costa Rica Sol Rico
We were inside getting dinner ready when I peaked out the window and saw the sky on fire! Nick quickly assembled the drone and we flew it high above the treetops to get this gorgeous shot. We would've gone higher, but the battery was dying. There's just something about sunsets on the Pacific Coast.
Sunset Quote #43:
"When the sun is setting, leave whatever you are doing and watch it." – Murat Ildan
---
Liking These Sunset Quotes? Share The Post!
---
Violet Viñales
During our 3.5 week trip to Cuba, we spent 4 days in Viñales, which is located in the western part of the country. We rented a little scooter and found our own secluded spot for sunset each night.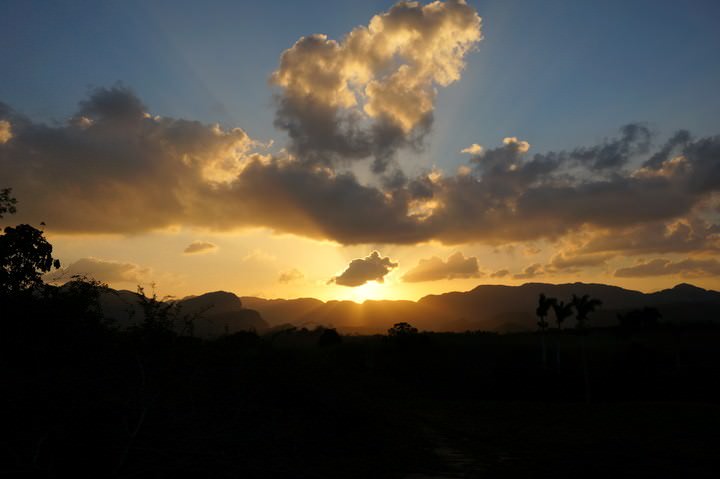 Sunset Quote #44:
"I always say that the times in my life when I've been happiest are the times when I've seen, like, a sunset." – Chris Evans
Let it Be Lebanon
This golden beauty is from Tyre Beach in Lebanon. We don't know of many people who have been to this little Middle Eastern nation and were very excited to see that our reader Nathan Jordan had been! Thanks for sharing this sunset with us.
Sunset Quote #45:
"Every moment in life is unique. A kiss, a sunset, a dance, a joke. None will ever occur in quite the same way. Each happens only once in the history of the universe." – Stephan Nachmanovich
Never a Dal Moment
This is Dal Lake, near Srinagar (Jammu Kashmir, Northern India) in 2010. Aren't the reflections on the water fantastic? Thank you to our reader and ultimate traveller, Helga Boom for sharing this sunset with us.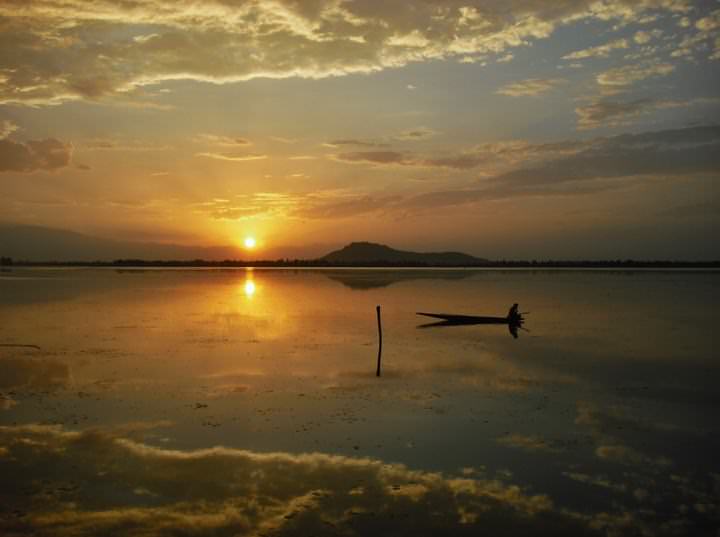 Sunset Quote #46:
"I am inspired by anything beautiful. Sometime it's a pair of eyes or flowing gorgeous hair, other times it's the sky or a sunset. I've been inspired by supple skin or the texture of a soft shirt." – Nadine Velazquez
Meet Me in Manzanillo
Even though Manzanillo Mexico didn't win us over with its charm, it sure had some spectacular sunsets. This one was caught on Santiago Bay.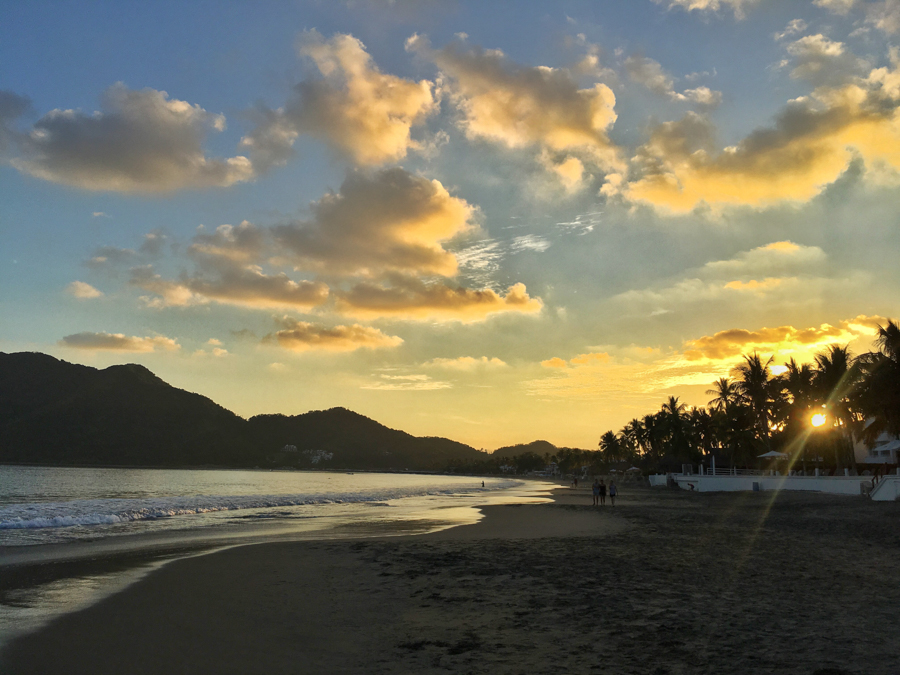 Sunset Quote #47:
"For me optimism is two lovers walking into the sunset arm in arm. Or maybe into the sunrise – whatever appeals to you." – Krzysztof Kieslowski
Canadian Caliber Sunset
Thanks to our Facebook fan and fellow traveller, Karen Chmilar, for sharing this golden beauty from Canada with us.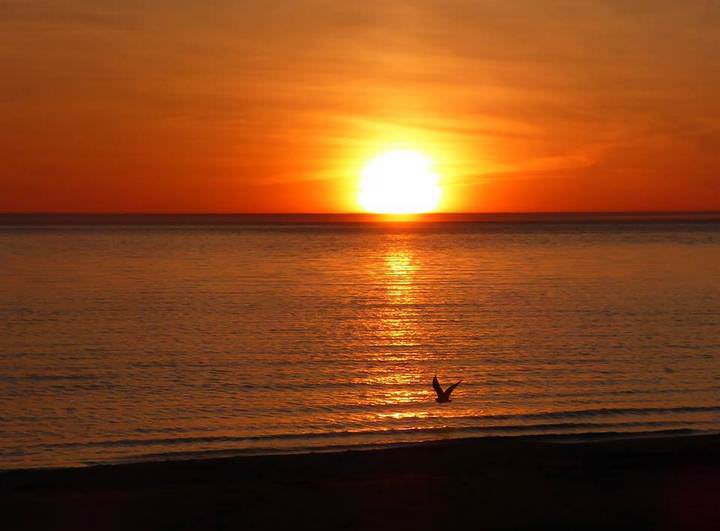 Sunset Quote #48:
"Know what you want to do, hold the thought firmly, and do every day what should be done, and every sunset will see you that much nearer the goal" – Elbert Hubbard
Scottish Skies Above
Thank you to our reader, Dee Craig, for sharing this gorgeous sunset from Girvan, Scotland with us! We love how golden it is and how it reflects on the water.
Sunset Quote #49:
"Hell, I'm an old man. I'm 70 years old. I'm supposed to be sitting on a rocking chair watching the sunset." – M. Emmet Walsh
Home in Lake Atitlan
After searching high and low for the perfect casita (small home), we found it. Located on the shores of Lake Atitlan, in the area of Paxanax, this was our view for a month.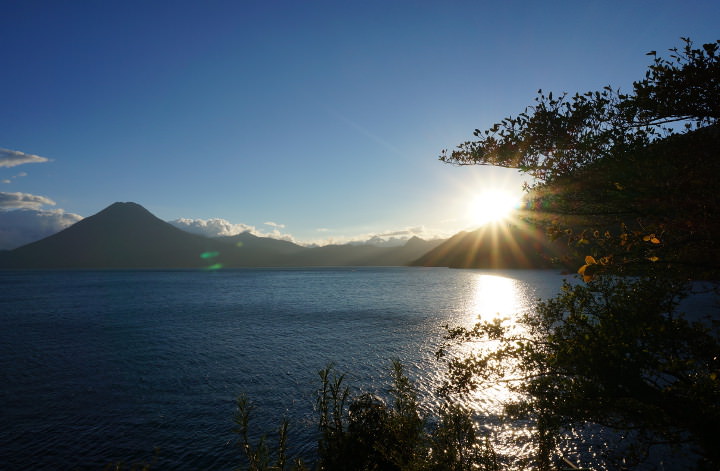 Sunset Quote #50:
"Softly the evening came with the sunset" – Henry Wodsworth Longfellow
Boracay's Back
This is another stunning sunset photo from the island of Boracay in the Philippines. Thanks to Mads and Camilla of The Two Hobos for sharing this beautiful golden photo with us.
Sunset Quote #51:
"Because we were orbiting the earth faster than earth spins on its axis, we went around the earth 16 times a day, an earth day, which meant 16 periods of lightness and 16 periods of darkness in 24 hours. Every so often you'd look towards the earth, and often you could see lightness and darkness together, and dawn and sunset were spectacular." – Helen Sharman
An El Salvadoran Sunset
This week's sunset is from the fishing village of Los Cobanos, El Salvador. A huge thank-you to Vanessa Schoeck for sharing this stunning photo with us!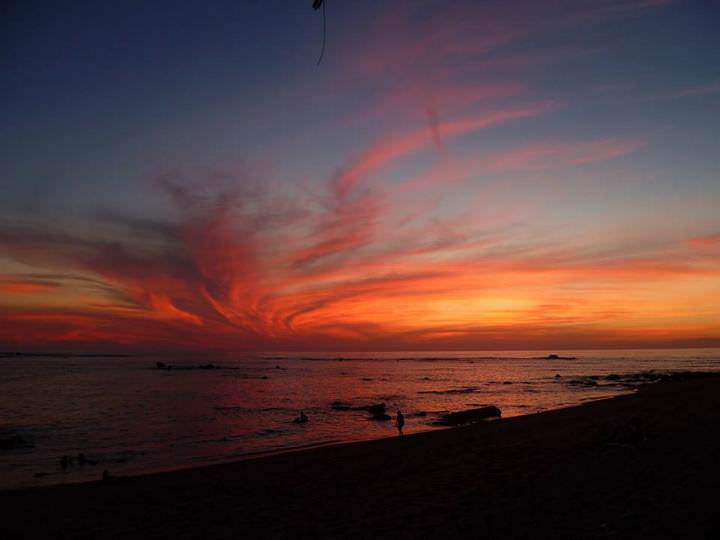 Sunset Quote #52:
"The true purpose of education is to teach a man to carry himself triumphant to the sunset." – Liberty Hyde Bailey
Puerto Escondido
The orange coloured sunsets from our favourite beach in Puerto Escondido, Mexico are stunning. We watched the sun touch the water each night with an ice-cold Corona! Beautiful.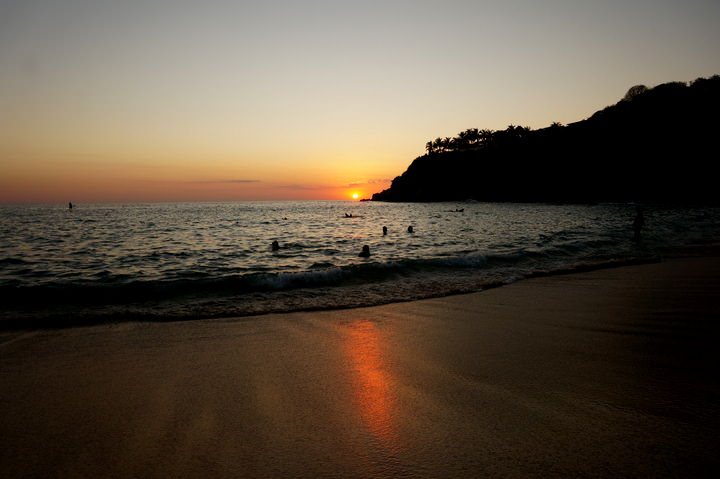 Sunset Quote #53:
"Sunset is so marvellous that even the sun itself watches it every day in the reflections of the infinite oceans" – Murat Ildan
San Pancho Perfect
We loaded up the cooler and our bags and made our way down to the beach in San Pancho for sunset on Christmas Eve. With a glass of wine in hand and a plate full of cheese and crackers, we bid farewell to the day as the sun lit up the sky.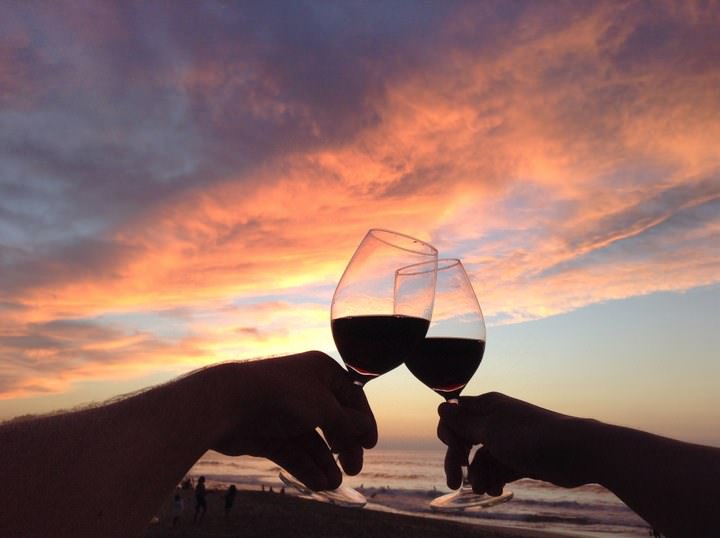 Sunset Quote #54:
"If I can put one touch of rosy sunset into the life of any man or woman, I shall feel that I have worked with God." – Gilbert K. Chesterton
Havana Swirl
Thanks to Shikha for sharing this beauty with us. This simple but near-perfect, coral sunset was captured earlier this summer in Cuba along the Malecon, Havana's long, seafront promenade. The Malecon comes to life in the early evenings with tourists and locals gathering alike.
Here you can spot fishermen reaching the end of a day's work, couples canoodling and Cuban men laughing together to generate a palpable buzz. But as the sun starts to set, the noise diminishes except for the sound of the vintage cars whizzing past and all eyes face these glorious sunsets. The silence of the submerging sun provides a stark contrast to Cuba's colourful chaos.
Sunset Quote #55:
"Everyone can identify with a fragrant garden, with beauty of sunset, with the quiet of nature, with a warm and cozy cottage." – Thomas Kincade
Canoa Cosy
A big thanks to Vanessa Schoeck for sharing this beautiful sunset with us. This picture was taken in Canoa, a small beach town in Ecuador. It's a famous surf spot with laid back people.
Sunset Quote #56:
"It's not just a sunset, it's a moonrise too." – P.C Cast
San Francisco Sun
Each evening in San Pancho, Mexico (San Francisco), everyone heads down to the beach to say goodbye to the day. It's the perfect place to meet up with friends, have a glass of wine and enjoy the sunset.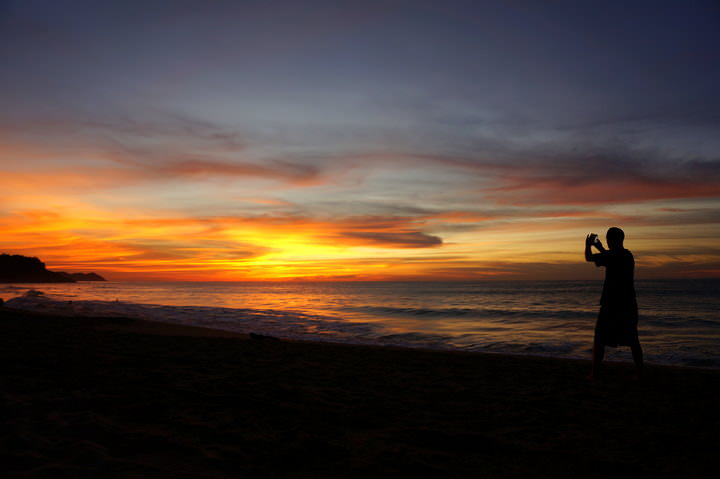 Sunset Quote #57:
"A sunrise or sunset can be ablaze with brilliance and arouse all the passion, all the yearning, in the soul of the beholder" – Mary Balogh
Melbourne To Be Beautiful
Thanks to Tim Blight of Urban Duniya for sharing this beautiful photo with us.
"I had just arrived in Melbourne, Australia from three months in Lahore, Pakistan last December when I took this picture. I had stumbled off the flight at 3am, and slept through until 4:30pm… I woke up, feeling depressed to be back, and frustrated that I was so jet lagged.
I sat, alone, on the balcony of my friend's apartment where I was staying and contacted everyone back in Lahore to tell them I had arrived safely and that I already missed them terribly. As the shadows grew longer, the sun set the sky alight, and I just had to get my camera and take this shot."
"Every cloud has a silver lining."
Sunset Quote #58:
"It was a rich and gorgeous sunset – an American sunset; and the ruddy glow of the sky was reflected from some extensive pools of water among the shadowy copses in the meadow below." – Francis Parkman
Visions of Vallarta
We've seen many sunsets in our life, but the one we just witnessed on Nick's 30th birthday was magical. We were on a boat that was cruising across the Bay of Banderas when the sky started to come to life! Part of the sky was still blue, while the other surrounding the sun changed to red, orange, and pink. Watching sunset is one of the best things to do in Puerto Vallarta for sure.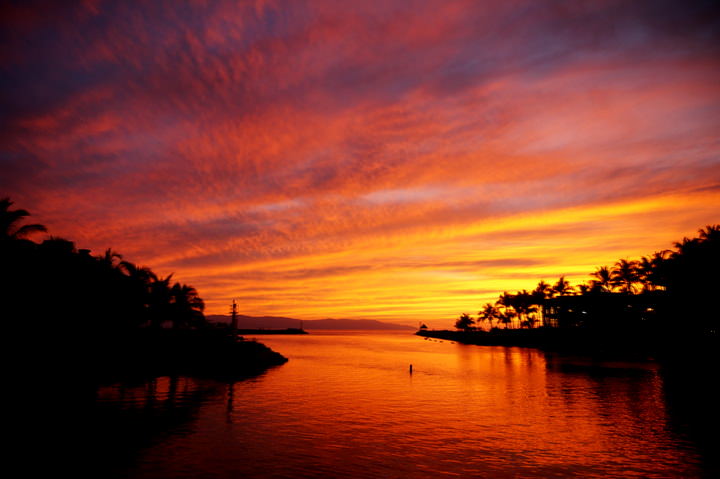 Sunset Quote #59:
"When I admire the wonders of a sunset, or the beauty of the moon, my soul expands in the worship of the creator" – Mahatma Gandhi
Langkawi Stay a While
This sunset is from Langkawi Island, Malaysia. Thank you to our reader, Vicki Austin Dimin, for sharing this beauty with us. We miss Malaysia!
Sunset Quote #60:
"The water was glassy and calm, still candy-colored in the afterglow of sunset." – Stephen King
Grenada, NOT Granada
Located on the southern end of the Island of Grenada, next to our favourite swimming beach (Morne Rouge), you'll find the lovely La Luna Resort. They have a great happy hour, beautiful beach for swimming and of course, a perfect spot for watching the sun set. We love watching the sun dip into the water with a glass of red wine in our hands. Paradise!
Sunset Quote #61:
"No sun outlasts its sunset, but will rise again and bring the dawn." – Maya Angelou
Perfect Punjab Paddies
This is a stunning sunset photo over the rice paddies of Punjab. Thanks to Evelise Jolysimoes, a reader of ours, for sharing this gorgeous rice paddy sunset.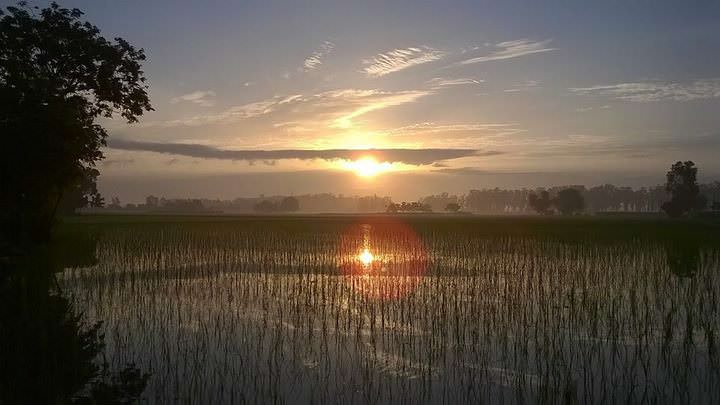 Sunset Quote #62:
"Clouds come floating into my life, no longer to carry rain or usher storm, but to add color to my sunset sky." ― Rabindranath Tagore
Jakarta Skyline
Crazy and chaotic sum up Indonesia's capital of Jakarta. The contrast there is unforgettable, with giant skyscrapers glistening in the background of broken down dwellings in the kampungs (residential villages) with trash-filled waterways.
Keeping up with the contrast, a storm raged through the city and just before sunset it suddenly stopped. The call to prayer came over the loudspeakers throughout the city, as the sun came out for one last brilliant glimpse until it faded into night. This picture was taken on the rooftop terrace of our guesthouse in a kampung just outside of central Jakarta.
Thanks to Katie of From Shores to Skylines for sharing this photo with us.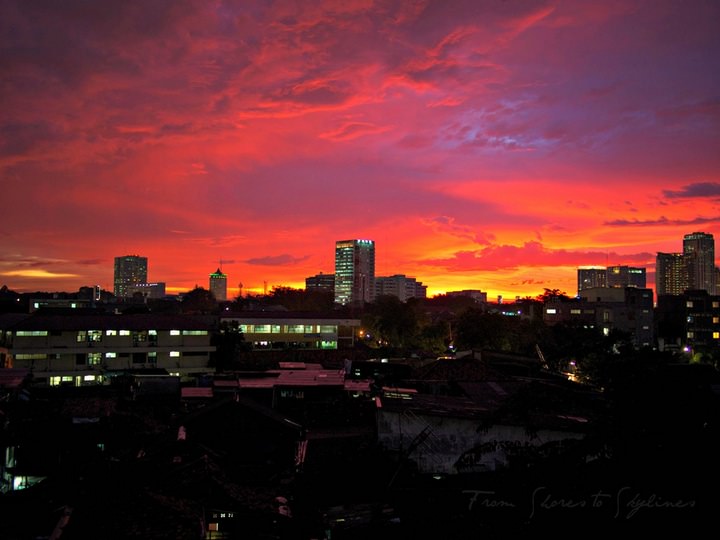 Sunset Quote #63:
"The sunset is life's way of saying "Good job, you survived today, here's something pretty." ― Unknown
Mysterious Mandalay Myanmar
Thanks to Mirna for sharing this lovely sunset, it makes us want to go back to Myanmar!
This peaceful sunset was captured about 10 kilometers south of one of Myanmar's former capitals, Mandalay. U Bein Bridge has evolved from just a necessary path for locals to a must-see for all travellers. Watching sunset from U Bein is so much more than that; monks stroll around draped in their deep red and orange robes, silhouettes of monks riding their bikes are visible all around, the fishermen and their boats slowly move through the lake.
This picture wraps up what I love about Myanmar; the natural, untouched beauty which is prevalent throughout the whole country combined with the soft and gentle nature of the locals. This picture is the Myanmar I'll never forget.
Sunset Quote #64:
"A sunset is the sun's fiery kiss to the night" – Crystal Woods
The Colors of Tamarind
This sunset was taken at Playa Tamarindo, in Guanacaste Costa Rica. It's one of our favorite beaches to go for sunsets since you get a full view and the colors are always stunning with rays of soft pinks, blues, purples, oranges and yellows. Anywhere you go on the beach you can get an amazing view of the sun going down and it never disappoints.
Special thanks to Yeison and Samantha for supplying this photo, a couple currently living in at the beach in Costa Rica.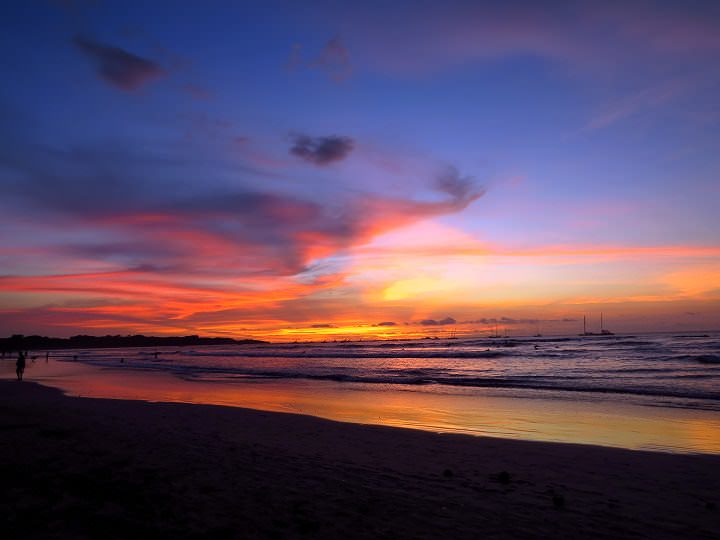 Sunset Quote #65:
"May there be just enough clouds in your life to create a glorious sunset." ― Unknown
In Love With Lahore
Special thanks to Tim Blight of Urban Duniya for submitting this photo.
This photo is taken at Data Darbar, a large Sufi shrine in the Pakistani city of Lahore. Data Ganj Baksh was a preacher and scholar from Persia who lived in Lahore in the eleventh century. He is said to have contributed to the spread of Islam in the subcontinent, and his shrine is now one of the most frequented in Pakistan. Cameras aren't allowed inside the shrine for security reasons, but thankfully there's no restriction on mobile phone cameras. I visited late in the afternoon with a close friend of mine, and as we entered the main gate I caught this beautiful view of the sun setting over the shrine.
Sunset Quote #66:
"A large drop of sun lingered on the horizon and dripped over and it was gone and the sky was brilliant in the spot where it had gone, and a torn cloud, like a bloody rag, hung over the spot of its going." – John Steinbeck
No Nonsense New York
Special thanks to Dani Heinrich of Globetrotter Girls for supplying this photo.
I just returned to New York City, my favorite city in the world, which also happens to have some of the best sunsets in the world! I love sitting in East River State Park in Williamsburg, Brooklyn, where this photo was taken.
The views at sunset are magnificent as you can see almost the entire length of the Manhattan skyline while the sky changes its color slowly from blue to purple to pink and finally bright orange. This is a spot where you find barely any tourists, and you can bring a picnic!
I love picking up some fresh food from one of the bakeries in Williamsburg and the divine cheese shop on Bedford Avenue and dine al fresco while watching the sun disappear behind the skyscrapers. I don't think I could ever get tired of watching the sunset over Manhattan from that spot. A better known sunset spot in New York is the Brooklyn Heights promenade just south of the Brooklyn Bridge, which has stunning sunset vistas over the southern end of Manhattan.
Sunset Quote #67:
"A sunset paints the sky as if there were no tomorrow." ― Anthony T. Hincks
Not a Care in Carriacou
Grenada is actually comprised of three islands; Grenada, Carriacou and Petite Martinique. We decided to do some island hopping for my 30th birthday celebration and Carriacou was the first stop! With only 6,000 people on the island, it's a pretty chilled out place. The beaches here are gorgeous, the buildings are colourful and the people are warm and friendly. We enjoyed this s