These round-up posts are a great way for us to finally reflect on the year that has just passed by. When travelling around, moving from country to country, events and memories start to blend together. By physically sitting here and writing about the year that's about to end, it's a great opportunity for me to think about all that Nick and I have experienced, and accomplished in 2017.
Since 2012, I've created these wrap-up posts:
2012 was "A Very Memorable Year"
2013 was "A Year of Firsts"
2014 "Started and Ended With Mexico"
2015 was "A Year of Spontaneity"
2016 was " A Year of Big Decisions"
For this year, there are numerous ways I could describe it: exciting, adventurous, emotional, rocky…, but I think the main term that is appropriate for the year is "roller coaster". It was definitely a year of ups and downs. Actually, I could also call this article the "year of miles" because we took so many flights, trains, buses and car rides!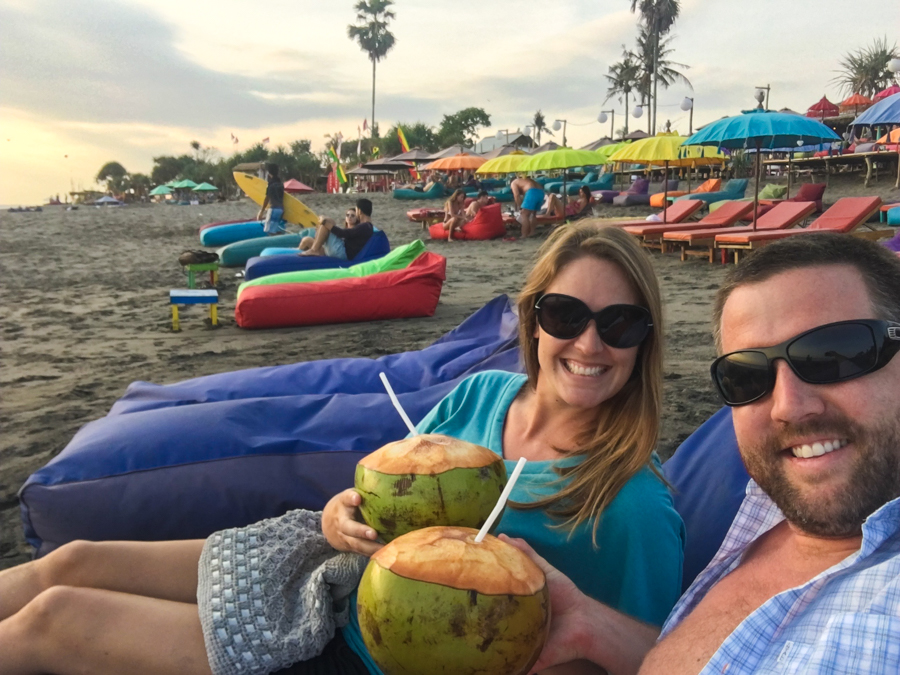 This was our travel route this year:
Argentina -> Uruguay -> Argentina -> Chile -> Argentina -> Turkey -> Scotland -> England -> Greece -> Kyrgyzstan -> Thailand -> Indonesia -> Canada -> Indonesia -> Japan -> Mexico
2017 started out in South America…
Argentina
Argentina is an incredibly diverse country filled with deserts, glaciers, jungles, cities, and the ocean. This was where we spent Christmas and New Year's Eve, and we had high hopes for the bustling capital city of Buenos Aires – a place we thought would delight us with its tango dancing, delectable steaks, and overall city vibe.
But, unfortunately, we were underwhelmed during our month long stay and had a love / hate (dislike) relationship with Buenos Aires. You can read more about our feelings on the city here.
Thankfully, we were not disappointed with the rest of the country of Argentina whatsoever! We went on a 10 day road trip through the desert and wine region of Salta, including Cafayate, Cachi, Purmamarca, Tilcara and the salt flats. The scenery during that trip was unbelievable, and the wine was superb.
READ MORE:
We also checked out the university city of Mendoza, which is most famous for its wineries (ever heard of Norton and Trapiche?) and the nearby Aconcagua Mountain, which is the highest mountain outside of Asia. Argentina is home to Patagonia, which offers beautiful mountain landscapes, dazzling glaciers and awesome hiking opportunities. We visited this southern part of Argentina and explored El Calafate and El Chalten, both offering stunning natural wonders.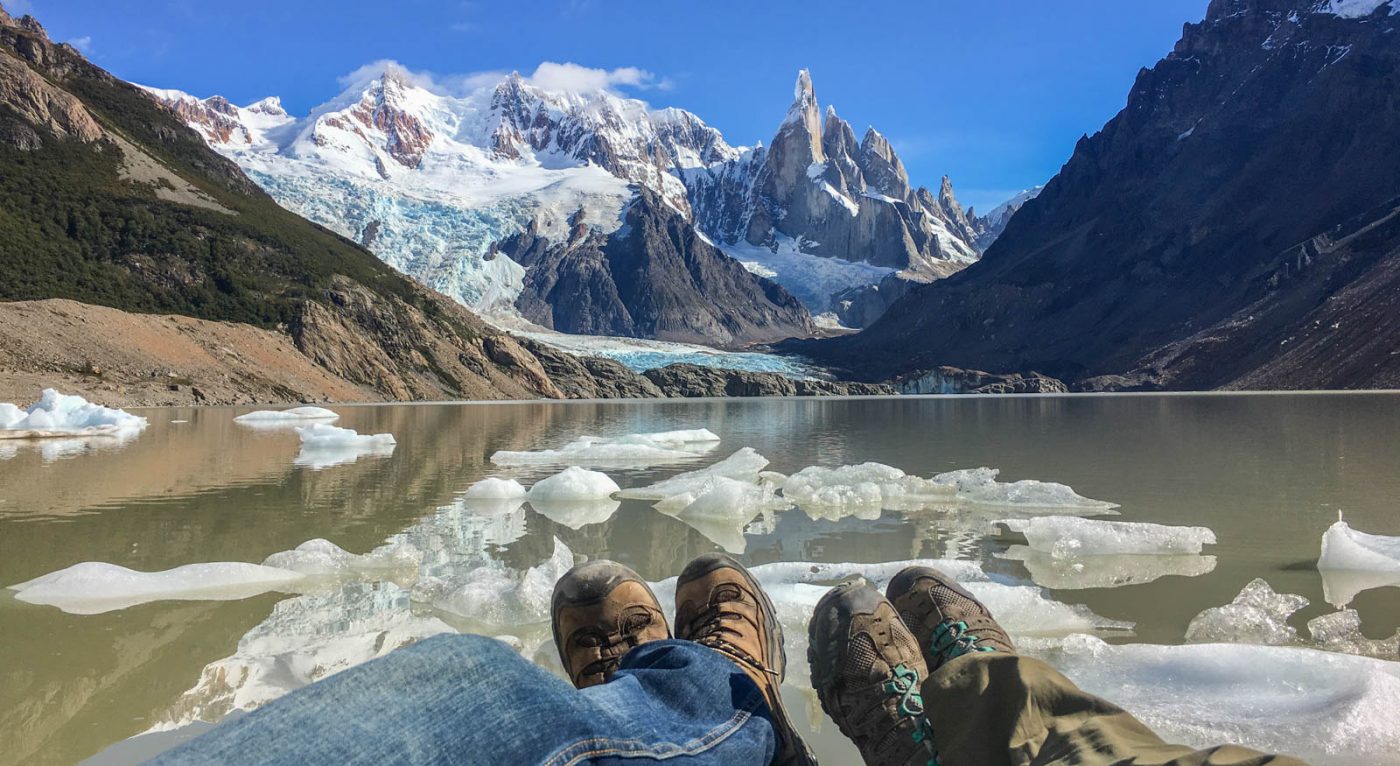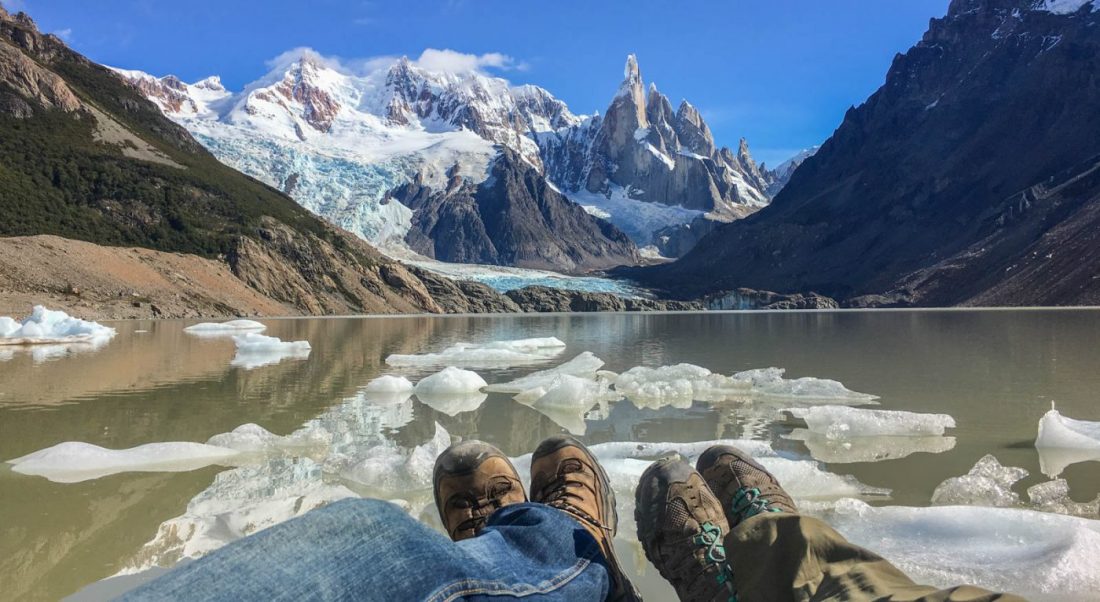 By this point, we had experienced the capital city, the deserts, the wine region and Patagonia. But, we weren't finished yet. Last up was the Lake District, a popular destination for camping, hiking, boating and fishing. Starting in Bariloche, we road tripped through Villa La Angostura, San Martin de los Andes, the Limay River and Lake Lolog.
We spent around 2.5 months in Argentina, and although this is an expensive country to visit, it's worth every penny. From the steaks, wine, glaciers & mountains, to the desert landscapes and welcoming locals, Argentina truly has it all.
Click here to see our videos from Argengina, and click here to see all of our articles.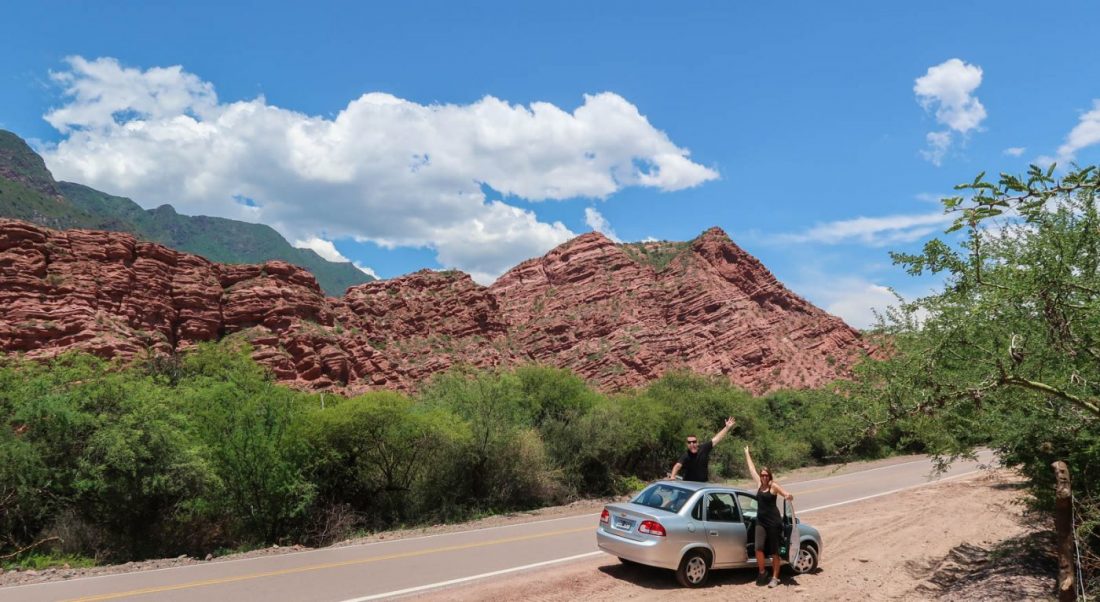 Uruguay
Not knowing a thing about Uruguay, once we realized that we could travel there by boat in about 2 hours from Buenos Aires, we added it to our South American itinerary.
Uruguay surprised us with its quiet towns, liberal ways and pretty architecture. Although we only spent a week in the country, we really enjoyed sauntering through Colonia and sipping on Uruguayan wine. The capital city of Montevideo also surprised us with its long seaside promenade, funky street art, mate culture and beautiful old town.
Click here to see our videos from Uruguay, and click here to see our articles.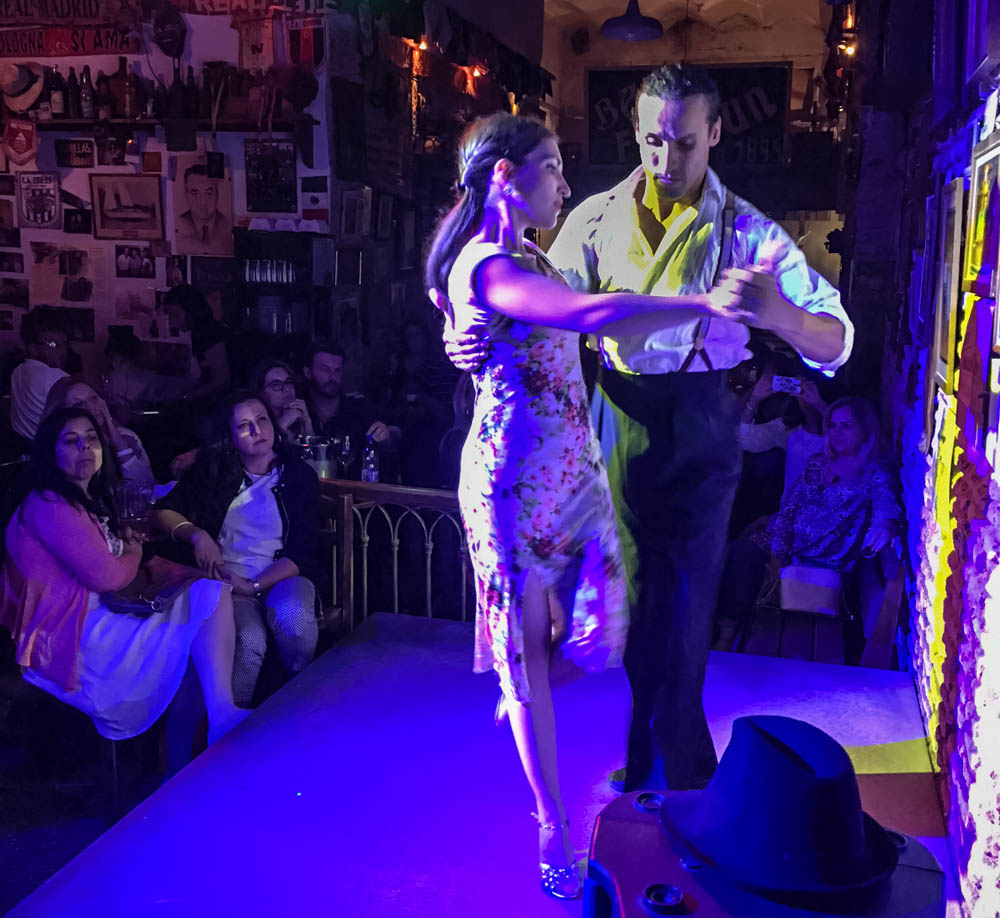 Chile
I've been interested in this country ever since a childhood friend visited with her family when we were kids. Although Chile neighbours with Argentina, the imposing Andes mountain range separates the two countries, allowing Chile to have a culture and style all its own.
We started out in the Capital City of Santiago where we met up with fellow travel bloggers AJ & Thalita who we had been online friends with, but hadn't met in person. As expected, we had an awesome time. In the city we also watched street performers, went on a walking tour and checked out the fish market. We actually really liked Santiago and wished that we had chosen to spend a month there, rather than Buenos Aires (sorry BA).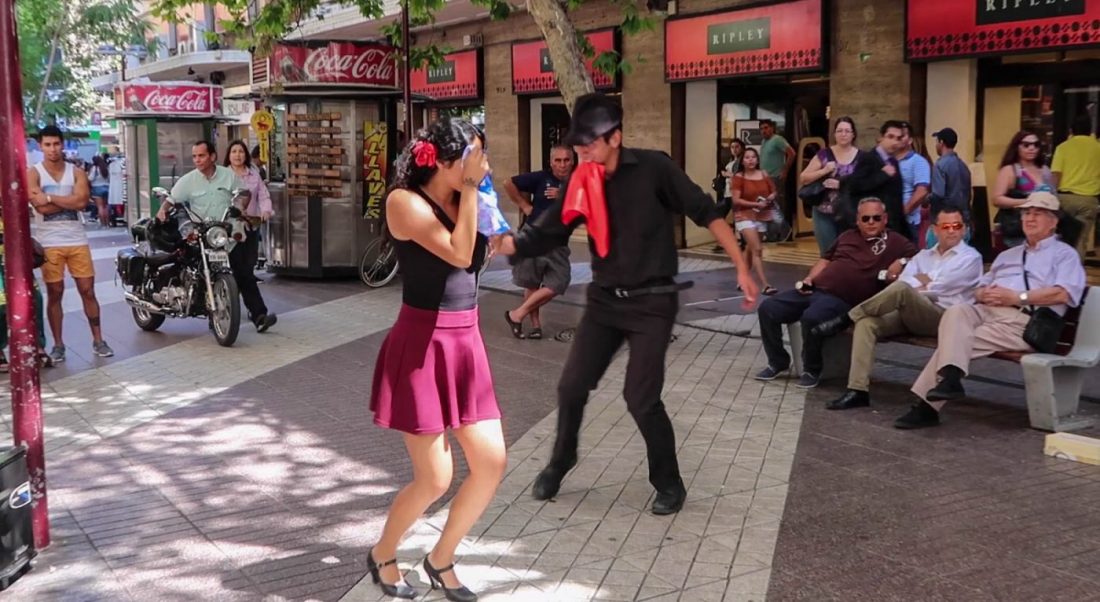 By this point, we had been moving around for almost 3 months straight without stopping for longer than 7 days. Nick was worrying about work deadlines, and the lower back problems I was having in Argentina were continuing. Sitting on busses wasn't helping things, plus with an upcoming 8 day trek in Patagonia planned, I needed to do something…and fast.
We decided to stop for 2 weeks and rent a little Airbnb in the city of Valparaiso. With colourful homes, awesome street art, incredible views of the Pacific Ocean and an overall "cool" (if a little bit sketchy) vibe, we ended up really liking this place. I went to physiotherapy during the mornings, we worked in the afternoons, and spent the evenings sipping on wine and enjoying the view from our apartment.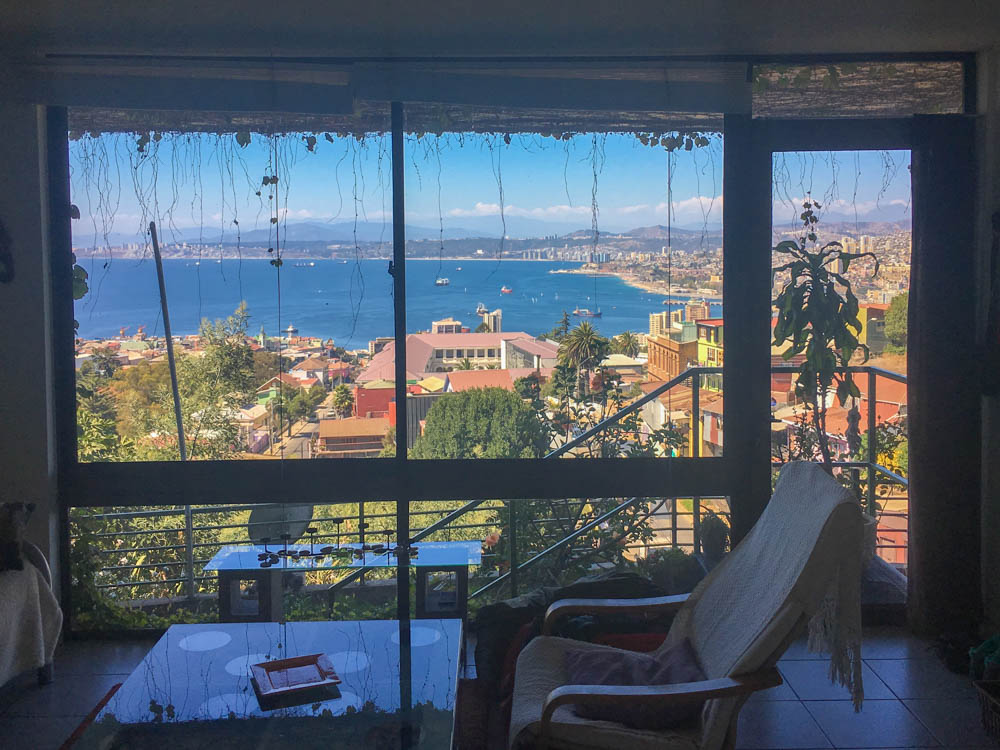 Although we had a good time in the cities, the main reason we came to Chile was to tackle the "O" Circuit Trek in Torres del Paine National Park. Together with our friends Jarryd & Alesha, we loaded up our backpacks and hit the trail to embark on an epic 8 day camping and trekking trip through the mountains of Patagonia!
The 4 of us were constantly in awe of the natural beauty surrounding us. I would consider this trek to be difficult, but if you can manage it, it's incredibly rewarding. Read more about our trip here: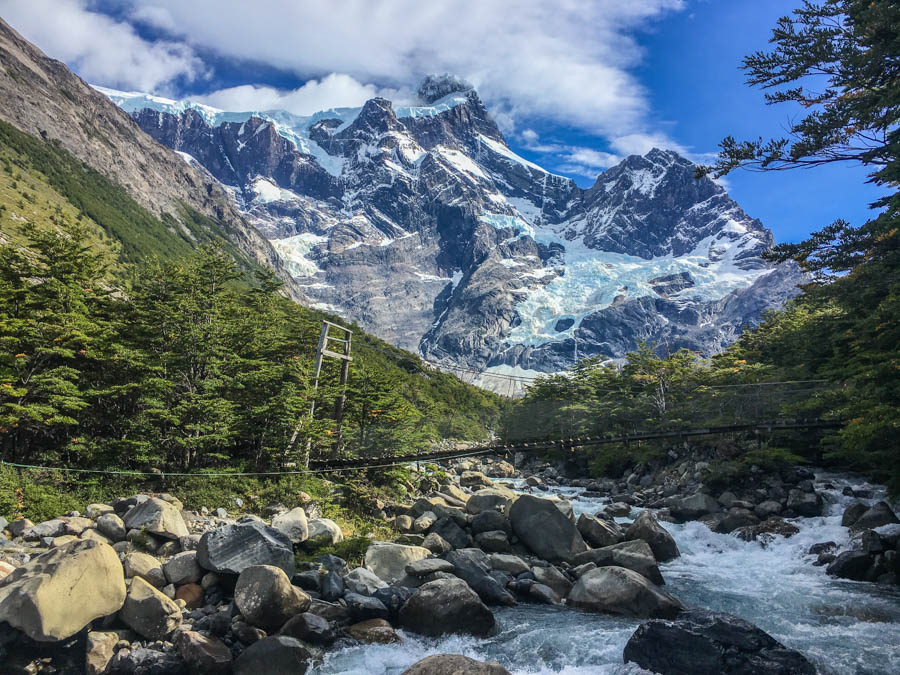 We spent 5 weeks travelling in Chile and had some wonderful experiences. But, as with most places, there's still much more of this country that we would like to see.
Click here to see our videos from Chile, and click here for our articles.
Leaving South America
We were in South America from November 10, 2016 to April 13, 2017. Those 5 months were filled with outdoor adventures, exciting cities, cool culture, and of course, a lot of fantastic wine! Colombia, Argentina, Uruguay and Chile were amazing countries, but it was time for our South American journey to end, and move on…to Europe.
Turkey
Istanbul is one of our favourite cities in the world. And if you've been following our journey for the past couple of years, you'll know that we spoke at the World Tourism Forum about bloggers working together with travel brands. This year, we weren't speaking, but we were invited to Istanbul again to attend the INFLOW Travel Summit.
Not only was the event a lot of fun, but we were able to meet some of our favourite bloggers in person for the first time – Dave & Deb of The Planet D! Plus, we were able to reconnect with old friends, meet new people, stay in swanky accommodation and attend a lot of fun parties.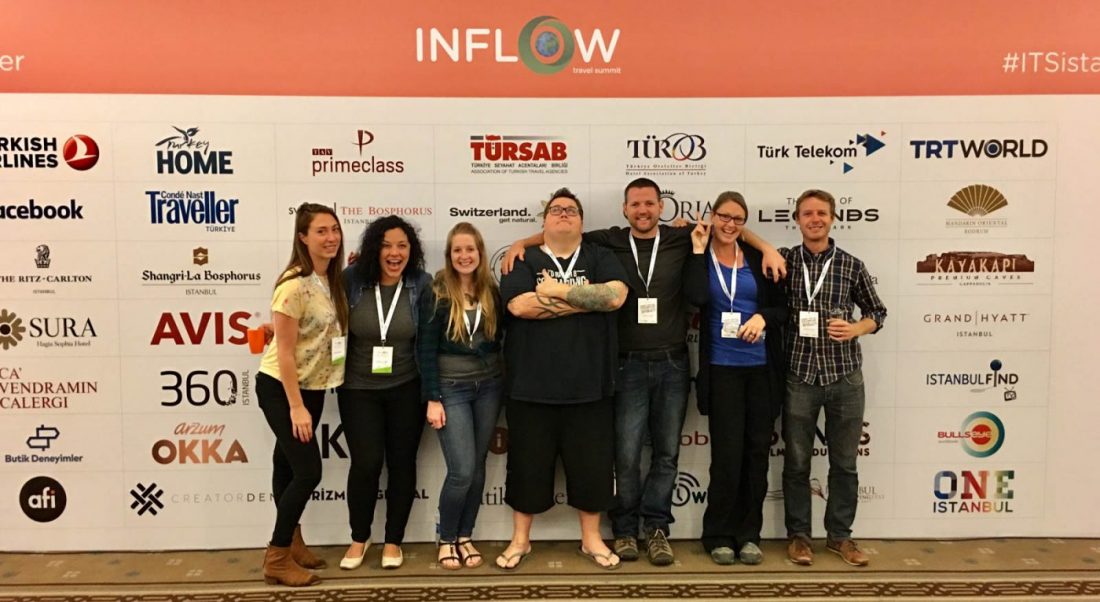 Not to mention the fact that we were flown Business Class with Turkish Airlines. This was our first time sitting at the front of the plane, and it definitely made being in economy a lot more difficult to handle when we inevitably had to return to the back of the plane on our own dime. The business trip to Istanbul was a quick 6 days and from there we headed off to the UK.
Scotland & England
This time, we weren't going to the UK to travel around on our own, we were there to meet up with my Dad and his wife and go on a fun road trip from Edinburgh to London. This was the first time we met any of our family members abroad. Usually they will come and join us somewhere, but since Dad and Kathy are retired, they had their own trip planned and we came to crash their travels!
We had been to England a couple of times in the past, but it was our first time in Scotland. Edinburgh was an excellent introduction to the country, but the most memorable part of Scotland was meeting my Dad's cousins (and their kids) for the first time.
We only spent a short period of time in Scotland, but we're certain that we'll return to see more. The road trip continued with stops in Jedburgh, Melrose, Newcastle, Durham, York, Nottingham, Coventry, Baginton, The Cotswolds, and finally, London.
After we parted ways with my family, Nick and I spent some time in London catching up with our good friend Jason who we travelled with in Tajikistan and Uzbekistan, and fellow bloggers James & Sarah (The Whole World Or Nothing).
After sightseeing and visiting in London, we made our way to the seaside city of Brighton where we chilled out in a nice, centrally located Airbnb. We wandered around the "Lanes", I worked more on my back issues (this time seeing a chiropractor), and we caught up with old friends! We always have a lot of fun when we're in the UK, and always seem to have a lot of pints 😉
Then… We Didn't Know Where To Go
Up until this point, we had our year somewhat planned. It wasn't planned in terms of cities we would visit, but we had a rough outline of the countries we wanted to travel to. And, we knew exactly when we needed to be in Istanbul, Kyrgyzstan and Scotland.
While we were sitting in Brighton, we were trying to figure out where to go next. This shouldn't be a difficult decision, but for some reason it was.
Our 10 year anniversary was coming up and we wanted to spend it somewhere a little more romantic (and warmer) than the UK – not to mention, England is a bit on the pricey side, and the ales are too tempting!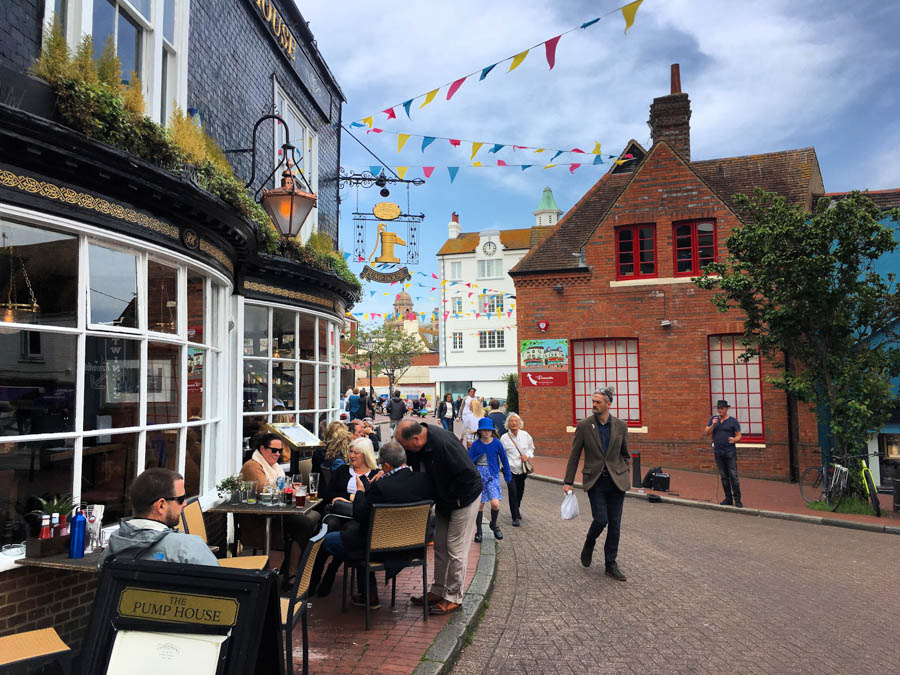 We hummed and hawed for about a week while hanging out in Brighton and just couldn't think of anywhere. Feeling a bit frustrated with ourselves for having not planned anything special for our 10 year anniversary, it finally came to us.
Greece!
Greece
Greece has to be one of the most romantic destinations on Earth. Sure, we had been there in the past, but this time around we visited different islands than the ones back in 2012. We flew from London to Zakynthos and started our wonderful 1 month anniversary trip 😀
First up were the Ionian Islands of Zakynthos, Kefalonia and Corfu.
We stayed in beautiful accommodations, explored the islands by car, ate our weight in Greek food, learned about the culture and lazed on some of the best beaches in Greece. Each of the islands had something special to offer, and although they are neighbours, each one was unique.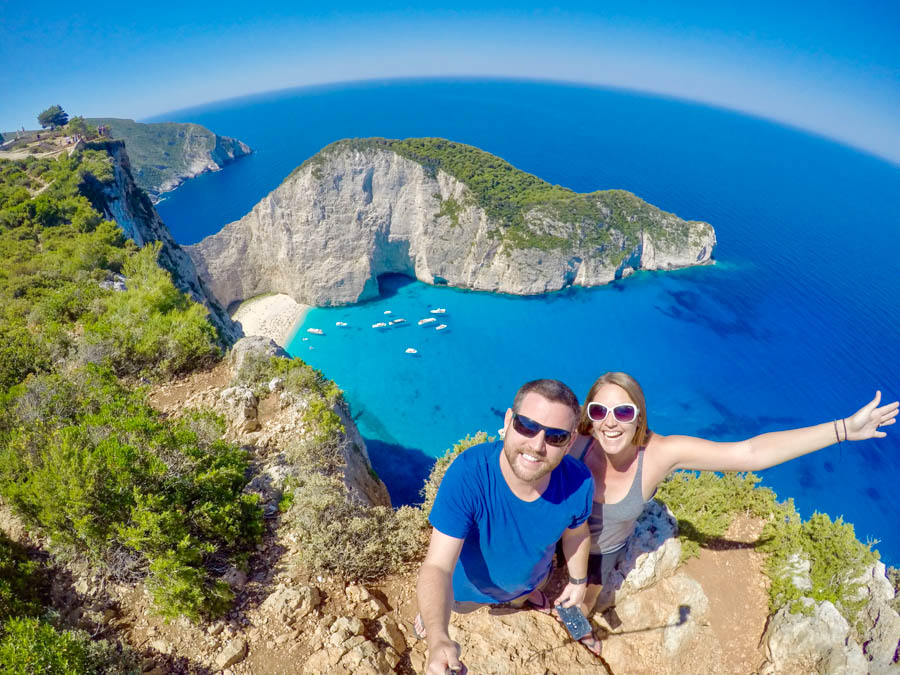 READ MORE:
From the Ionian Islands, we flew to the eastern and lesser-known islands of Greece: Chios and Lesvos. These two culturally rich islands have a lot to offer, with hardly any tourists around. We joined a cycling tour, a cooking class, a scuba dive trip and a sailing trip. We explored each island with a rental car and loved meeting the local people.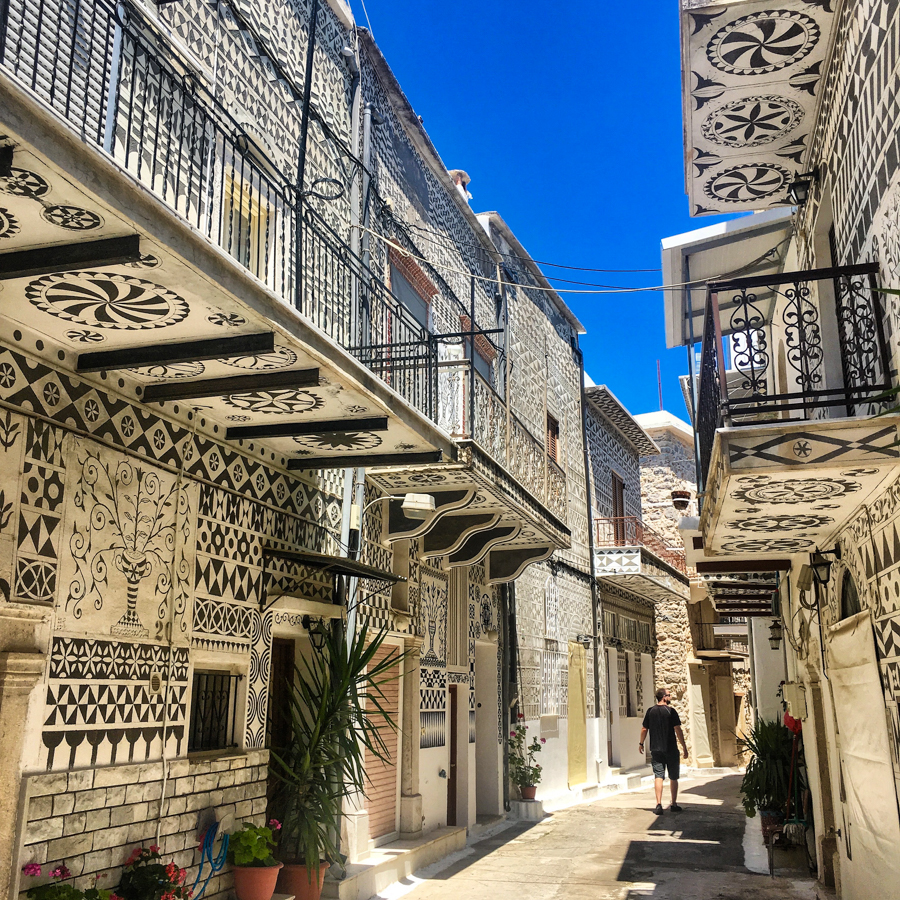 As with all of the destinations in Greece, the food and scenery were fantastic.
I think of all the spots in Greece that we've been, Chios is our favourite island to date. Its culture, beaches, history, people and activities are amazing.
Although we had a wonderful time in Greece, we both knew that we were travelling too fast and rather than feeling relaxed and refreshed at the end of the trip, we were a bit stressed and overwhelmed. Plus, Nick had a brutal cold (his 4th of the year) and we both had horrible allergies. We love Greece, but apparently we're allergic to it!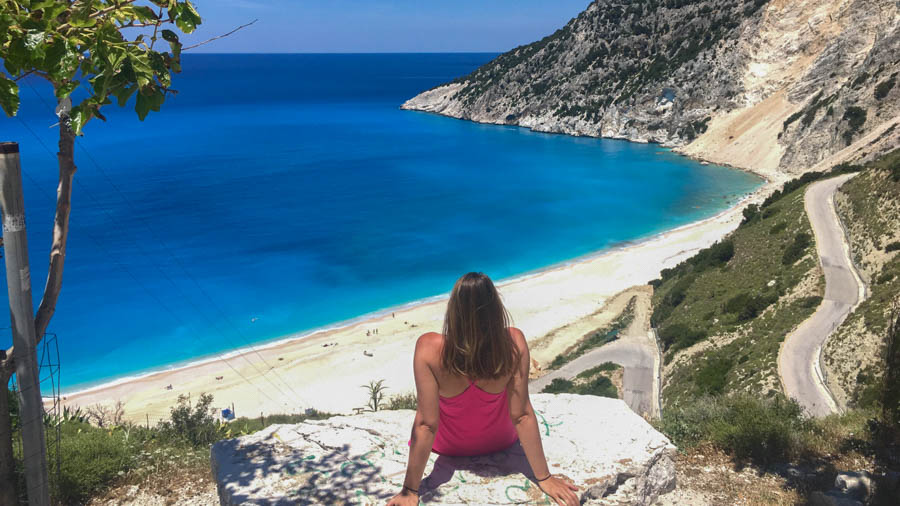 Kyrgyzstan
It seems random to go from Greece to Kyrgyzstan, but we had a press trip planned with USAID – BGI, Discover Kyrgyzstan and our friends from NOMADasaurus. Since our first trip to Kyrgyzstan in 2013, we've been in love with the culture and nature in the country. Naturally, being invited to promote a new trekking route in Kyrgyzstan was a dream trip for us.
Not only were we visiting a country that we love, travelling with our friends, and plotting out a new trekking route in Jyrgalan, but we were getting paid for it. It was the ideal marketing campaign for us personally, and it worked perfectly for the adventurous travellers who read our blog! After 2 weeks in Kyrgyzstan, we were moving on again.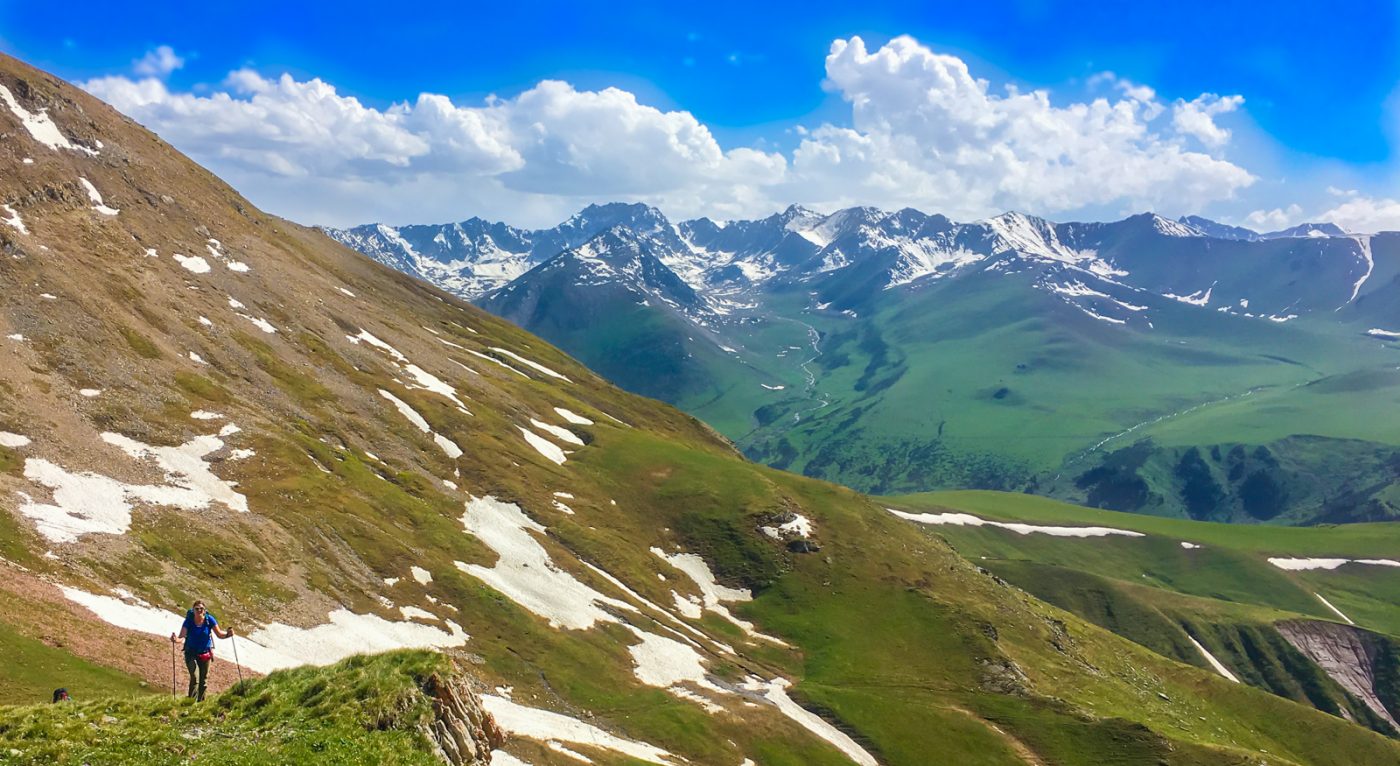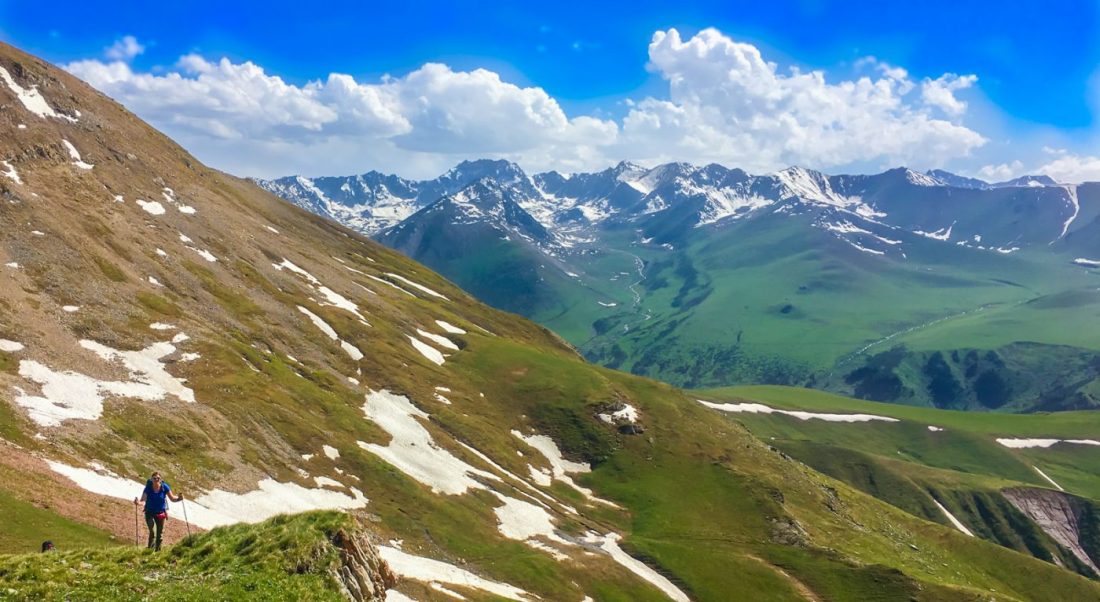 READ MORE:
Thailand
We hadn't touched down in Southeast Asia since 2012 and were excited to be back in the region. Thailand has always held a special place in our hearts as it was the first stop on our very first backpacking trip. We landed in Bangkok and reminisced about our previous travels to the buzzing capital.
It was my birthday 2 days later and I spent it enjoying breakfast in bed, shopping at markets and eating street food. We topped the day off with sunset drinks at the awesome Moon Bar with expansive views of the city. We also met up with our good friends Johnny Ward and Jen & Stevo – fun times all around in Bangkok!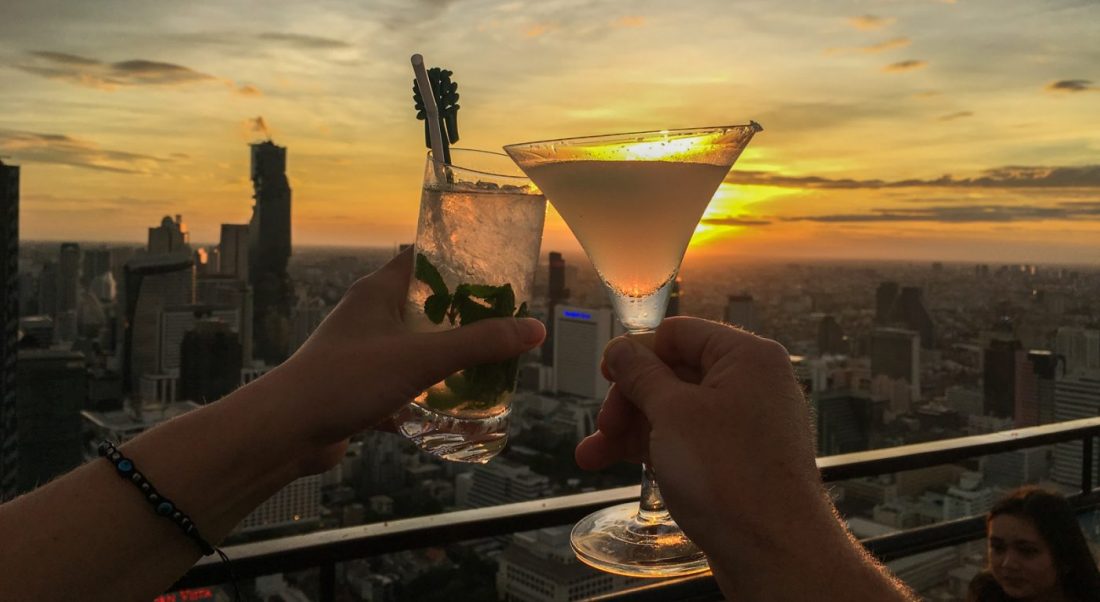 After the excitement from my birthday and being in Bangkok wore off, we again knew that we needed to stop somewhere to unpack for a bit, enjoy some downtime, and get caught up on work. And once again, we were frustrated. This time, not for lack of planning, sore lower back, brutal colds, fast paced travel, or uncontrollable allergies, but at how long it took us to find a place that we liked.
We spent days and days searching online for something in our price range, and in the style that we wanted. In fact, we started looking for places on Koh Samui way back in South America! Eventually, after sporadically looking in the months that followed, we gave up and hoped that if we looked closer to the date, we would find something suitable.
Finally, while we were in Bangkok, we solidified a deal with a property manager on Koh Samui island. We rented "Ginger Villa" for 6 weeks and couldn't have been happier with the place.
In the past, we had rented a home in San Pancho, a lakeside casita in Guatemala, and apartments in Malta, Croatia, Argentina and Chile (plus, we've housesat at some pretty luxurious accommodations in the Caribbean).
But, this was the first private pool villa that we had ever rented for ourselves, and it was perfect. We hired a motorbike for the duration of our stay and explored the lush island. We lazed on the pretty beaches, and ate meals at some of our favourite street stalls and beach side restaurants. But, for the most part, we hung out at our pool and enjoyed the jungle view.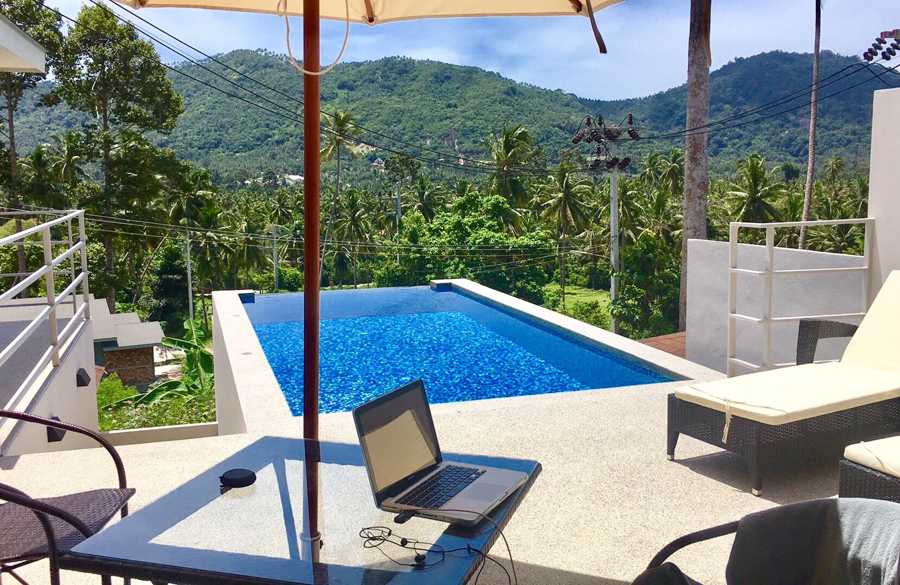 An Invitation to Indonesia
During our stay in Thailand, we received an invitation from the Tourism Board of Indonesia to take part in a two week scuba diving trip. Now, if you know anything about Indonesia, you'll know that the dive sites here are world class, but are difficult to reach.
Only one of us was invited on the trip and it was up to us to decide who would go. In some cases, if we had to choose between us, neither of us would attend. But, Nick is a scuba diver and this paid trip was too good of an opportunity to pass up! Being paid to do something you love is what it's all about.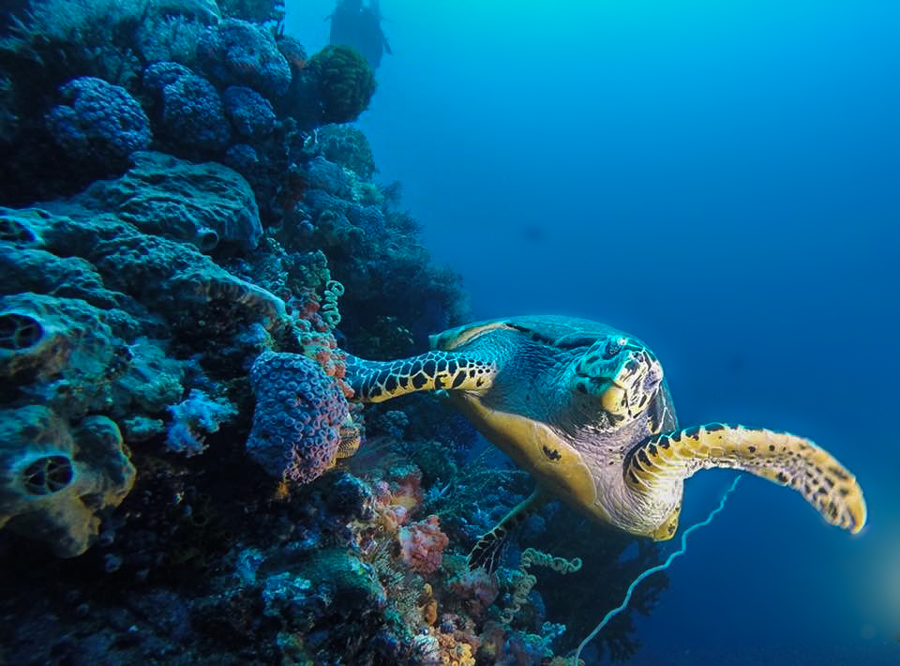 So, we flew from Thailand to Indonesia and rented a little guesthouse for me in Canggu Bali. While Nick was away diving, I would stay in Canggu and try to find a villa for us to rent for the next 2 months. This beach town is known as being a digital nomad hotspot with an entrepreneurial vibe and it's somewhere that we felt would be a good place to spend some time.
What actually ended up happening was I got very sick while Nick was away and barely even left the guesthouse. It was the first time we had properly been apart for more than 48 hours in 10 years, and everyone was joking that we can't handle being separated! Which is probably true 😉
Needless to say, the scuba dive trip was epic. The group of divers and the crew were great, the dive sites were incredible and the experience of diving from a liveaboard boat is one Nick will never forget.
READ MORE:
Canggu, Bali
Once Nick returned, the two of us set off to try to find a villa. The search was long and drawn out and filled with some rundown villas at exorbitant prices – one owner was asking $1500 USD for a place that had mould all over the walls. He tried to tell us that this was normal in Bali…
Again, we were feeling a bit defeated when it came to finding a place, and again, we were shown to relax and trust that something will work out for us. It always does.
Eventually about 2 weeks later, we found a modern 2 bedroom, private pool villa in an excellent location! We were so happy with the accommodation. The place was massive and it included cleaning 3 times a week, pool maintenance 3 times a week, fast WiFi and linen changes weekly.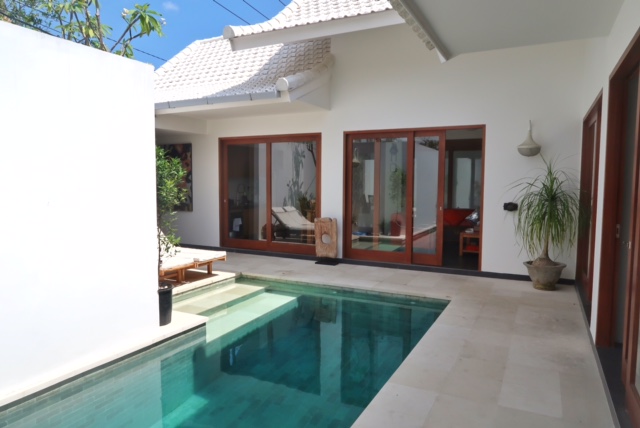 This is where we lived and worked for the next 2 months. The vibe in Canggu was exactly what we were looking for. We were surrounded by likeminded people and met many inspiring remote workers. Our friends Nikki & Michelle from Cheeky Passports stayed with us for a week, plus we became good friends with Tom and Anna (Adventure In You) and had lots of fun together – maybe a little too much fun at times 😉
In Canggu there were awesome restaurants serving up all kinds of cuisine, and some funky cafes too. The beach was beautiful and watching sunset and surfers was our favourite pastime.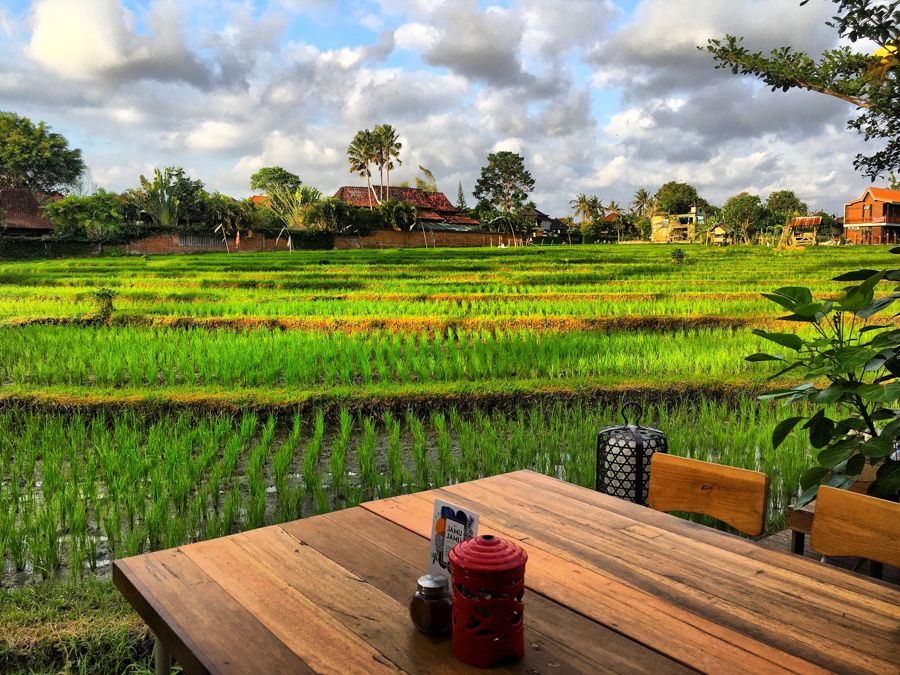 Canada
Unexpectedly, I had to return to Canada to console my brother during a crisis. It was the first time I had flown alone since being with Nick, let alone flying from Bali to Edmonton which takes 38 hours including layovers. But, I was ready for the challenge and my travel days (there and back to Bali) ran smoothly.
The circumstances for my visit were awful, but being with my brother and parents was nice nonetheless.
As it was when Nick left me for his scuba diving trip, when I went to Canada Nick got incredibly sick with stomach issues and a brutal cold that lingered for about a month. As a result, he had a considerable amount of blood work done and as far as doctors can tell, there's nothing wrong.
Japan
Nick is a sushi fanatic. He doesn't just like sushi, he loves it and can eat around 35 pieces of nigiri in one sitting – plus miso soup, and maybe a roll or two!
It just so happened that our villa rental was up on November 19th, which is also Nick's birthday. So, I planned a 2 week trip to Japan for Nick's big day. We flew out on a red eye flight and arrived in Japan on the morning of the 19th.
Of course, we had sushi for lunch and Nick was in his happy place 😀
Since we only had 2 weeks, we kept the amount of destinations to a minimum and visited Tokyo, Kyoto and Takayama (with day trips to Shirakawago and Fukuyama). It was a great mix of a cosmopolitan city, the mountains, historical sites and small villages.
We ate endless amounts of Japanese food, went on some great walking tours, joined a sushi making class, cycled around Kyoto, stayed in a traditional Ryokan with onsen…and much more.
It was Nick's favourite birthday to date.
Mexico
As I'm writing this, we're currently in Mexico. I'm staring out at the brilliant blue sky and swaying palm trees. Iguanas and squirrels are chasing each other, woodpeckers are pecking at the palm trees and mariachi music is blaring from the nearby bar.
I'm not even sure how many times we've been to Mexico, but I know we've spent over 6 months here. This time around, we're in the country to visit with friends and family. We have 15 different family members coming to meet us in Manzanillo and Puerto Vallarta (mostly at different times), and 2 sets of friends that we're meeting in Sayulita and Puerto Escondido 😀
Manzanillo is where we'll close out 2017 and ring in the new year…with tacos, beers and margaritas.
Going Forward
Looking back, it was a great year filled with amazing destinations. But, it was also a bit of a roller coaster ride in terms of emotions and health.
We've had a few realizations this year, with the main one being that we want to be surrounded by a community of friends. Meeting up with all of our blogging / travelling friends this year really solidified that idea. It's so great to be surrounded by likeminded people and we're hoping to spend more time in the same destinations as our friends and family in the coming year.
The second thing we realized is that we need to pay more attention to our health, and put it at the forefront of what's important to us. We're not 20 years old anymore! Nick had numerous colds and some stomach issues this year, my back problems were (are) pretty bad and we both don't exercise nearly enough.
Going forward into 2018, we have a few things that we'll be working on healthwise, businesswise and in our personal lives. While we're here in Mexico we'll be figuring out where we need to be in 2018 and the actions we need to take to complete our goals! One thing's for sure, we'll be abroad and exploring somewhere new in this wonderful world.
As always, thank you so much for reading our website, commenting on our posts, emailing us, and engaging with us on social media. We love hearing from our readers and helping out in any way that we can. We really appreciate all of your support and we're happy to have you along for the ride 😀
Happy New Year! Here's to a travel-filled, happy 2018 🍷🍸
– The Goats (Dariece & Nick)
Like This Article? Pin it!