This is a roundup of our top travel picks of 2016. This list includes our favourite memories, accommodation, cities, gear, countries and more! Hopefully this article gives you some inspiration and ideas for your 2017 travels 🙂 Enjoy!
Our Favourite Cities
Normally I would choose only 3 cities, but this year we had 5 that really stood out for us! These choices are based entirely on our personal opinion and experiences that we had there.
1. Rome, Italy
Rome is one of those iconic cities of the world. One that's filled with ancient history, beautiful neighbourhoods, fantastic food and an overall vibe that is unmatched by anywhere else. We didn't expect Rome to have such an effect on us, but when we were eating our first plate of pasta we both said "Can you believe we're in Rome?!"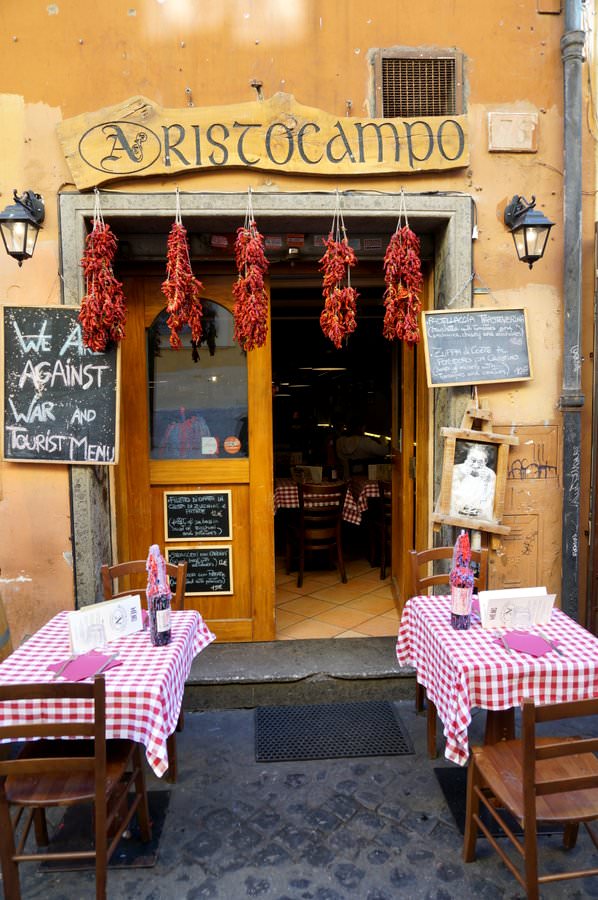 We loved the main attractions (Colosseum, Parthenon and Trevi Fountain, to name a few), spending hours at cool wine bars, learning how to make pasta from scratch, eating all of the incredible foods (in fact, we often had breakfast, two lunches and a dinner), wandering around the cobblestone lanes and soaking up all that the city had to offer.
There's just something about Rome…
Related Rome Posts & Video:
2. Valletta, Malta
This UNESCO listed capital city has to be one of the most beautiful, and uniquely designed places we've ever been to. The traditional colourful balconies hang over the narrow cobblestone lanes, while beautiful churches, cathedrals and theatres line the streets. The history and architecture of this walled city is fascinating.
A quick boat ride brought us from the city of Sliema to Valletta where we would spend the evening at one of the many cool bars and pubs on Strait Street. This picturesque capital city is where you'll find festivals, restaurants, shows and other exciting events.
Do not miss Valletta!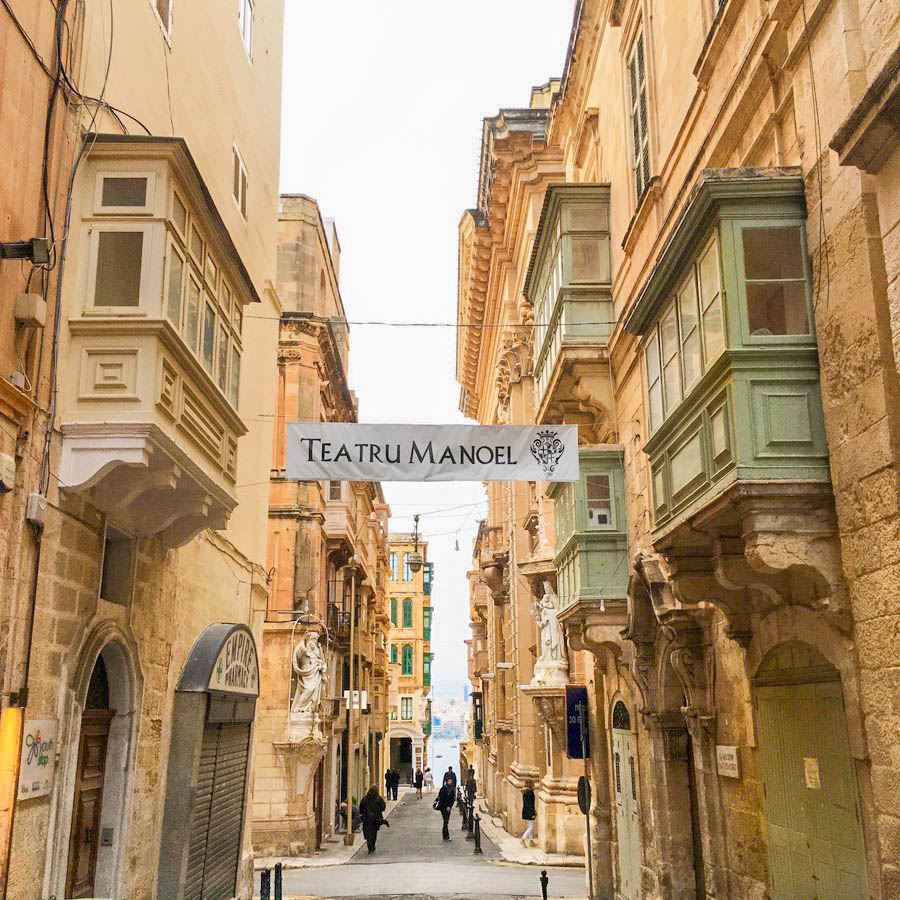 Related Valletta Video:
3. Cartagena, Colombia
A mix of Caribbean and Spanish influences is what put Cartagena on our "favourites" list. The old town here is bright and colorful with pastel-coloured buildings, wonderful plazas and incredible nightlife. The people are friendly and the overall vibe is very upbeat and lively.
Expect street performers, fantastic food, great music and breathtaking sights. On really hot days in the city, head to the nearby beach! The sand, sea and sunsets are sublime 🙂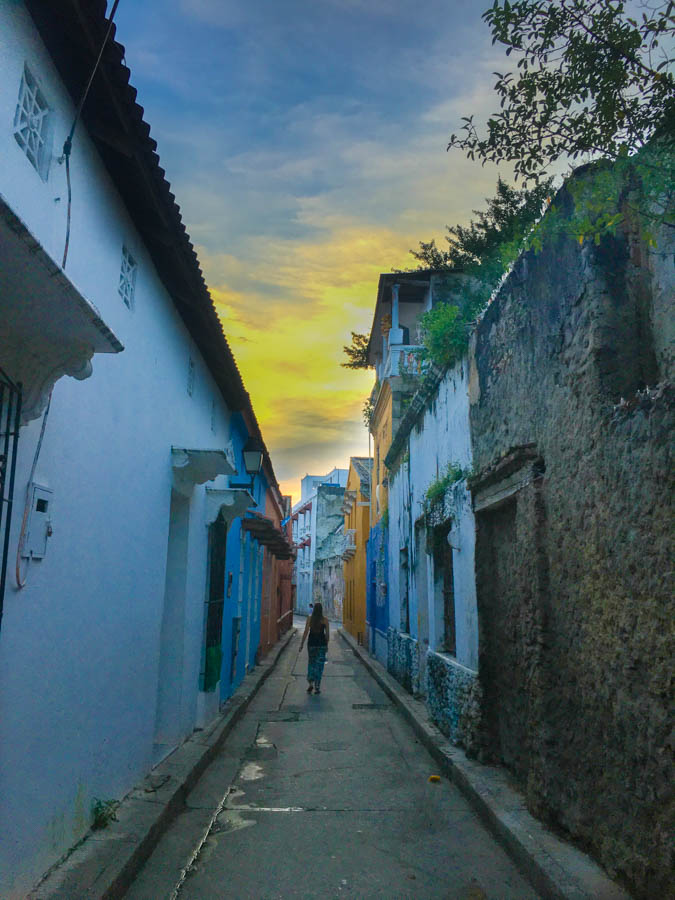 4. Berlin, Germany
Berlin was a city that really got under our skin. Each of the neighbourhoods had its own thing going on and the overall feel of the city was very "cool" and "hip". We just loved it! We stayed in the Friedrichshain – Kreuzberg district and felt it had everything we wanted and needed.
We enjoyed checking out all of the green spaces, going on a bike tour, walking all over the city, visiting the many markets and beer gardens, and hanging out with our friends. Basically, we just enjoyed the free-spirited, artsy attitude of Berlin.
Related Berlin Post & Video:
This is Berlin! Our Thoughts & Impressions After a One Week Trip
5. Plovdiv, Bulgaria
Plovdiv is a city that we had heard nothing about prior to visiting Bulgaria. The capital city of Sophia, sure, but little Plovdiv? Nope! After a bus ride from Istanbul, we arrived and immediately knew we had made a great decision coming here.
The architecture is Bulgarian Revival style which is very unique and unlike anything we've seen before with white walls and a second floor that hangs far over the street below. There are Roman ruins dotted around the city – from towering columns and amphitheatres, to bits of a Roman wall in the basement of our hostel!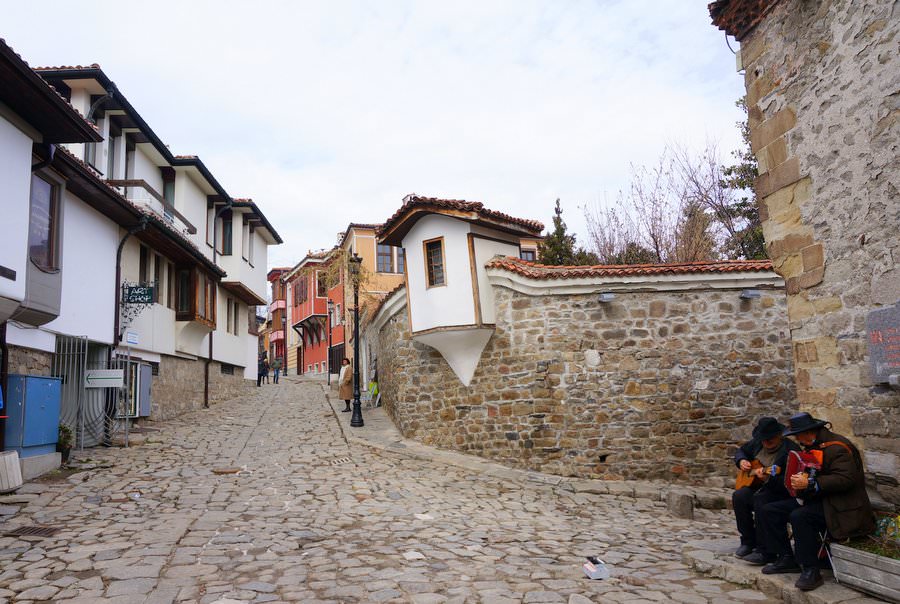 The free walking tour was informative, the surrounding wineries were divine, and the little pubs and cafes were a great place to hangout.
Related Plovdiv Article & Video:
Plovdiv, Bulgaria: A Must-Visit Balkan City
Best Beaches
This year we checked out beaches from the Caribbean to the Mediterranean. However, since we were in Europe during the winter / spring season, we didn't really get to enjoy those Mediterranean beaches, just the views. So, these 3 tropical beaches made the list.
1. Grand Anse Beach, Grenada
As long as we travel to Grenada, this beach will continue to make the list. Grand Anse spans 3.2 kilometers and is blessed with impossibly clear water and soft light sand. We have spent many days on this glorious beach either snorkelling, swimming, eating, drinking, walking or "liming".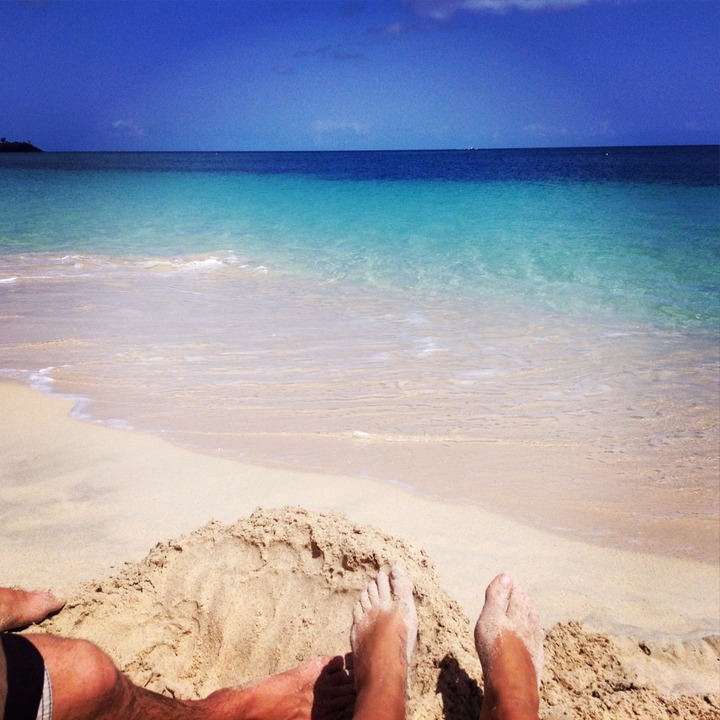 Related Grand Anse Article & Video:
A Travel Guide to The Best Beaches in Grenada
2. Isla Grande, Colombia
Isla Grande is an island in the Rosario Archipelago, just off the coast of Cartagena. We decided to take a boat there and spend 3 nights. The island has basically nothing on it except for a hostel and a couple of hotels.
This was one of the most underdeveloped, local places we've been to! Not to mention, it had this gorgeous beach as well called Playa Dulce.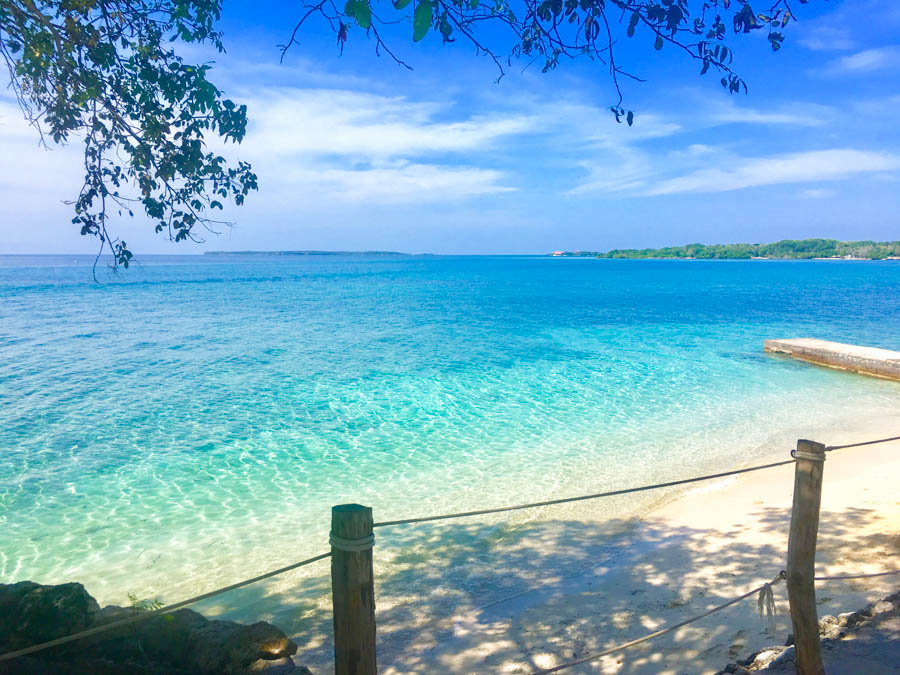 3. Ocean Park Beach, Puerto Rico
We stayed for 3 nights at the Numero Uno Guesthouse, which was located directly on this beach. Ocean Park beach stretches for 1.6 kilometers, is located on the Atlantic side of the island, and is really chilled out. We loved it!
Related Puerto Rico Article & Video:
Barbados to Puerto Rico: Our Crazy Caribbean Journey
Best Hostels
During our Eastern / Central Europe travels this year, we mostly stayed in hostels, with a couple of apartments and hotels along the way. In the Caribbean, we were housesitting, while in Colombia we stayed in hostels pretty much the entire time. We came across some very high quality places this year! Check them out.
1. La Serrana Eco Farm & Hostel in Salento, Colombia
This is by far our #1 pick for hostel of the year! This place shouldn't even be called a hostel, it's more like a luxury getaway. It is actually just a farmhouse turned into accommodation for travellers. The main house has a massive common area with a fireplace and tables. There's a well-stocked kitchen for guest's use and dorm rooms.
Outside of the main farmhouse, there is another house which has 3 rooms and a shared common living room, dining room and kitchen (this is where we stayed). Our room, however, had a private fireplace and a large window with incredible views.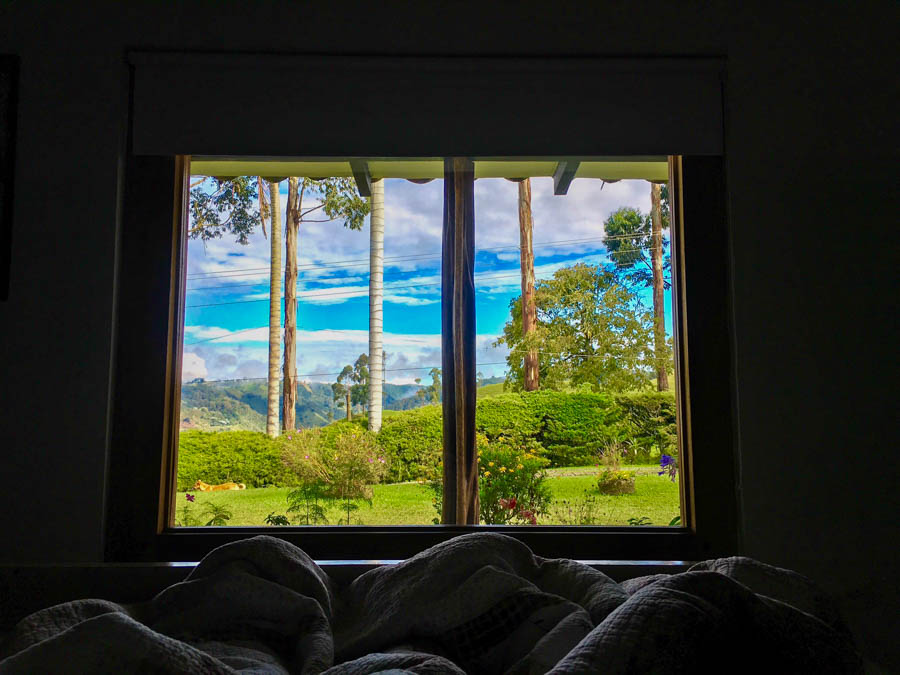 Another area of the property has a kitchen that serves breakfast (free), more double rooms, a bonfire area, camping area and luxury tents! High quality at a great price ($44 / night for our private double room with breakfast).
Related La Serrana Article & Video:
La Serrana in Salento: Our Favourite Hostel!
2. Hostel Old Town Kotor, Montenegro
The Bay of Kotor is one of the most beautiful areas. Staying in the old town was a must for us, despite being told it might be a bit loud with the echoing of voices and music against the stone walls. We didn't care, it looked too perfect to pass up!
We spent a week at this beautifully restored building and highly recommend it. Our private double room was on a floor of its own, shared with 2 just other rooms. We had a kitchen and a private bathroom. The owners even gave us a bottle of wine when we checked in – totally random, and very generous of them.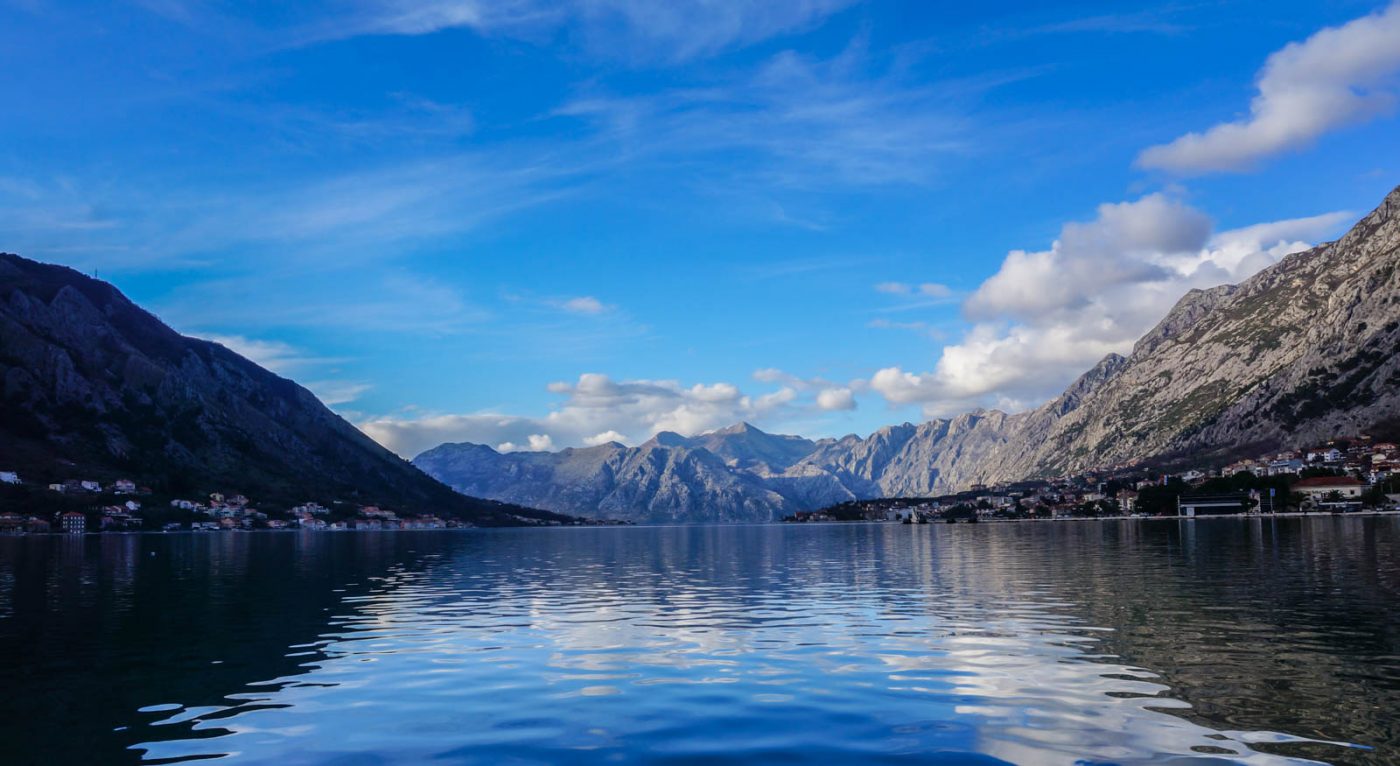 Click here to book Hostel Old Town Kotor (Hostel Old Town East Wing)
Related Montenegro Article & Video:
3. Hostel Old Plovdiv in Plovdiv, Bulgaria
This hostel is unique in that it's set in a house that was built in 1868! It's located right in the old town and the rooms are furnished with antique beds, dressers and furniture. There is a breakfast area downstairs that literally has a portion of a Roman wall exposed! The breakfast is large and is included in the room price (only about $15 / person).
We loved the location, the price and the traditional feeling of this hostel.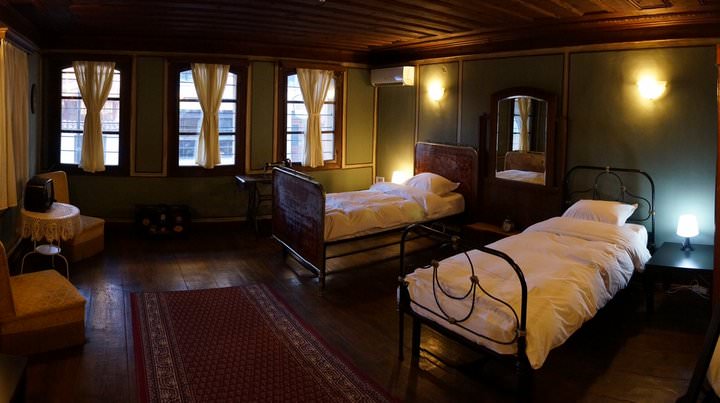 Click here to book Hostel Old Plovdiv
Related Plovdiv Article:
Our Best Adventures
This past year may not have been as epic in terms of off-track, rugged, outdoor adventure, but we still got up to some pretty cool things!
1. Trekking to the Ciudad Perdida (Lost City), Colombia
Ok, so this 4 day trek was actually very adventurous. We hiked through the thick jungle for a total of 46.6 kilometers, while enduring torrential rains one day and scorching sun the next! We slept on bunk beds in the jungle each night, and awoke at 5:00am each morning to get our trek on. Each day we hiked for an exhausting 7 hours (usually up steep hills).
Arriving at the Ciudad Perdida ruins – an ancient city built by the Tayrona people in 850AD – was an incredible feeling. We had hiked up 1,200 stone steps that morning to arrive at this magnificent site. What made it extra special was that the only way to see this Lost City is by foot. You really have to put in the effort – no cable cars or roads here!
We will never forget this amazing adventure.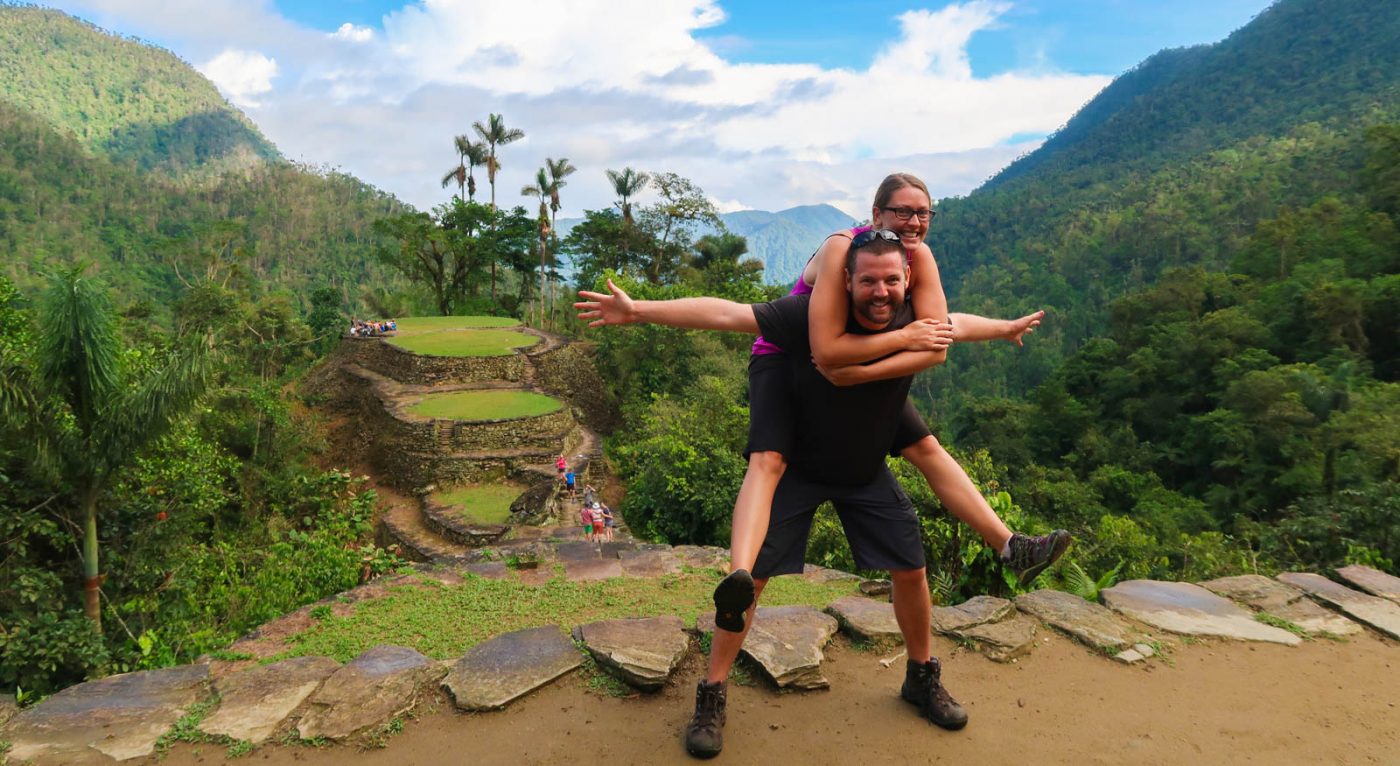 Stay tuned for our article and video from this trek.
2. Road Tripping Through Albania
A road trip might not sound all that adventurous, but trust me, in Albania it is!
There are no road signs or directions anywhere. Basically no one speaks English. GPS devices don't work because the country hasn't been mapped properly. The actual roads themselves are full of potholes and are in horrible conditions and yes… there are goats on the road (and sheep and cows) most of the time!
If that's not enough to deal with while driving in Albania, we learned that prior to the early '90's there were only around 600 cars in the entire country, and that only officials were allowed to drive them. Sooo, most Albanians didn't start driving until the mid 1990's. The average skill level of the drivers on the roads was low to say the least.
But, we had a great time even though we got lost on numerous occasions.
We took a local bus from Skopje, Macedonia to Tirana, Albania and from there we picked up our vehicle and made our way towards the old town of Berat. After that we moved on to Gjirokastër, before making our way down to the Mediterranean city of Sarande.
The returning drive from Sarande to Tirana was gorgeous! We took a coastal road with incredible views and managed to only get lost once. The people in this country were helpful and kind, the scenery was stunning and renting a car was definitely the best way to see Albania.
Related Albania Article & Video:
3. Paragliding Over the Chicamocha Canyon, Colombia
During our trip to Colombia, we visited the city of San Gil which is known for its adventure sports. We had heard about the paragliding here and thought that this would be a good place to jump off our first mountain.
Up until this point we had never been paragliding, skydiving, bungee jumping, parasailing – nothing that involved a parachute and jumping from a cliff!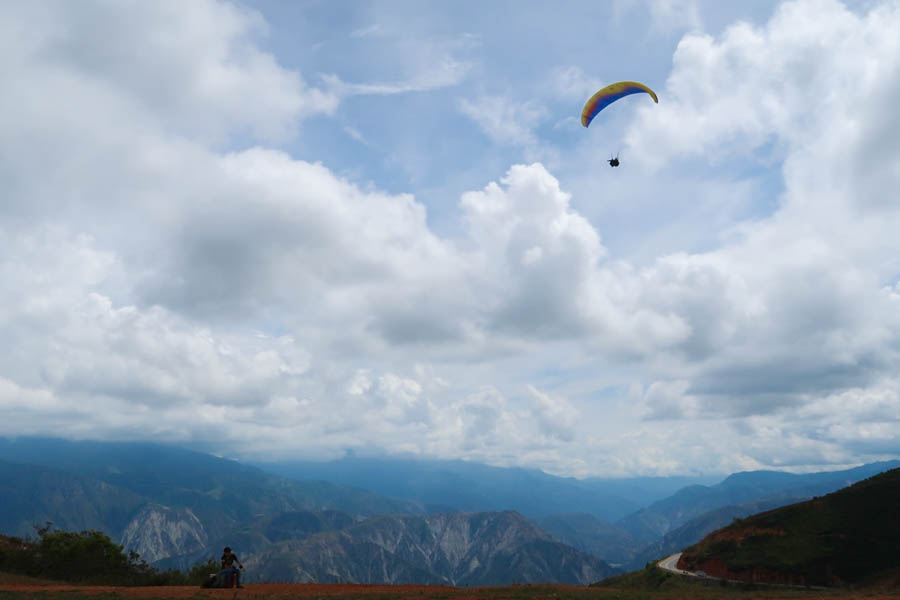 It was exhilarating! We both caught really good thermals and flew up and up until we had amazing views of the canyon below. The Chicamocha Canyon spans 108,000 acres and is 2,000 meters deep. The scenery from our bird's-eye view was amazing and we were able to land in the same place where we took off from.
The Best Travel Gear
Over the years, our favourite pieces of kit in our backpacks has changed with our style of travel. Here are our favourite items for 2016.
1. Portable Espresso Machine
For all of the coffee lovers out there, this one is for you! We love a good cup of joe and when you're staying in a hostel or hotel, it's always a horrible cup of brewed, weak coffee that you get for breakfast. And, if you want to go out for a latte or an Americano coffee, it'll cost you between $2-$5 for a cup.
So, we now travel with a Handpresso portable French press. Basically, we just purchase a bag of espresso coffee from a grocery store, add boiling water to the device, pump it for a few seconds and it dispenses a perfect espresso shot!
Because we don't just want a shot of coffee, we use the kettle in our room or kitchen to add hot water to the cup to make an Americano or hot milk for a latte. You could also use a microwave, the stove, a boil coil, or you could even use a fire to boil the water 🙂
It has saved us a lot of money, and we've been able to actually enjoy our morning cup of coffee.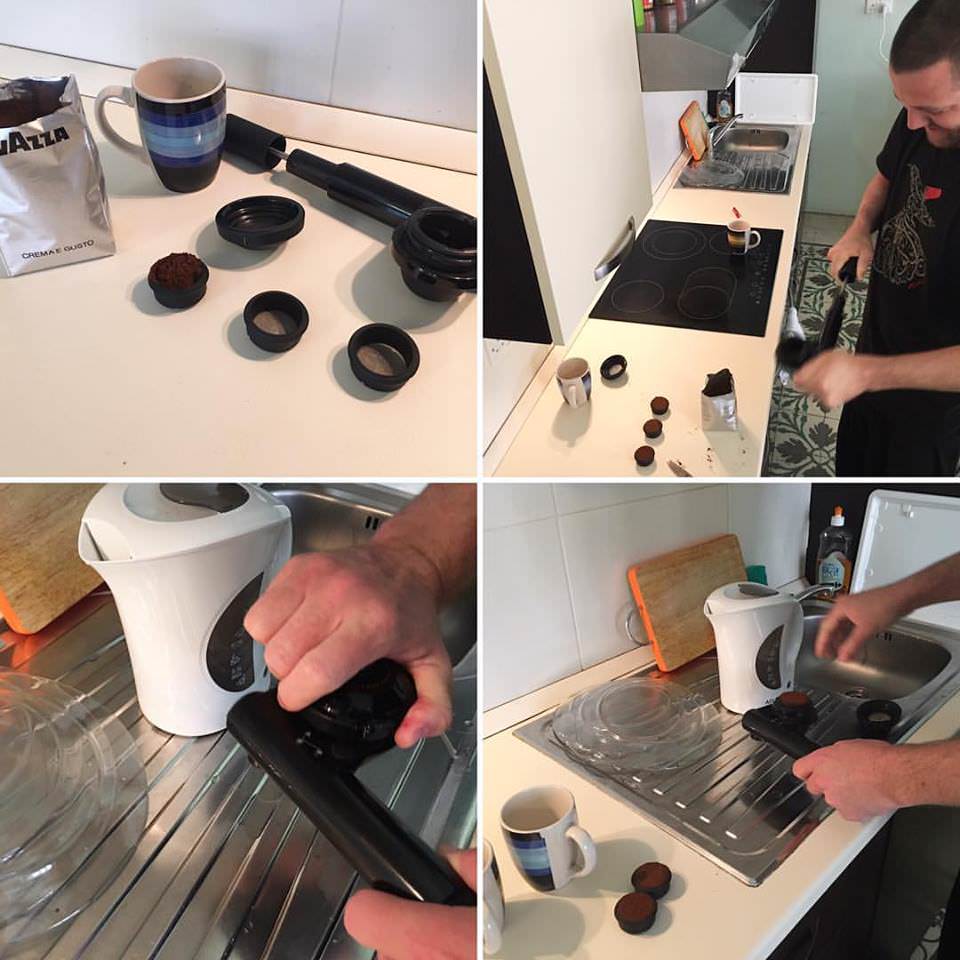 2. Travel Yoga Mats
Staying fit on the road is no easy task – well, at least for us it isn't! When we are living somewhere for a month or so, we try to join the gym, but when we're moving around from city to city and staying in hostels, that doesn't always make sense financially or logistically.
We have thin, lightweight yoga mats that we strap to the outside of our Osprey Backpacks and we've been able to use them for sit-ups, push-ups, stretching and yoga. We have even brought them on picnics and to the beach for something to sit on.
3. iPhone 6s Plus
In 2016, we made the decision to sell most of our camera and video equipment (including a drone and handheld gimbal). This proved to be the best decision for us and our travel style. We now have a small Canon G7X Mark II camera, and our iPhone 6s Plus.
We LOVE our iPhone. It actually takes really good photos and we love being able to have 4G data when we're out exploring so that we can use Google Maps (we get lost, a lot). It's much easier to just head out for the day with our phone rather than our larger mirrorless Sony camera and drone that we used to have!
Our Favourite Travel Experiences
Certain moments from our travels stick out in our minds – whether it's spending time in a particular destination, with a person or at an event. Here are our favourite 3 of the year.
1. Epiphany Festival on Lake Ohrid, Macedonia
We drove our rental car from the capital city of Skopje to Lake Ohrid and when we checked-in to our guesthouse, the manager told us that we had arrived just in time for the Epiphany Festival. We had no idea what that was, and we definitely hadn't planned on making it to the lake in time for the celebrations.
Epiphany is celebrated by Christians all around the world, but in the east, the people commemorate the baptism of Jesus Christ. Men lined the shores of the lake, and prepared for their swim in the icy cold water. Massive speakers were playing a hypnotic chanting music, and these brave men swam to retrieve a wooden cross that was thrown in the water by a priest just minutes before.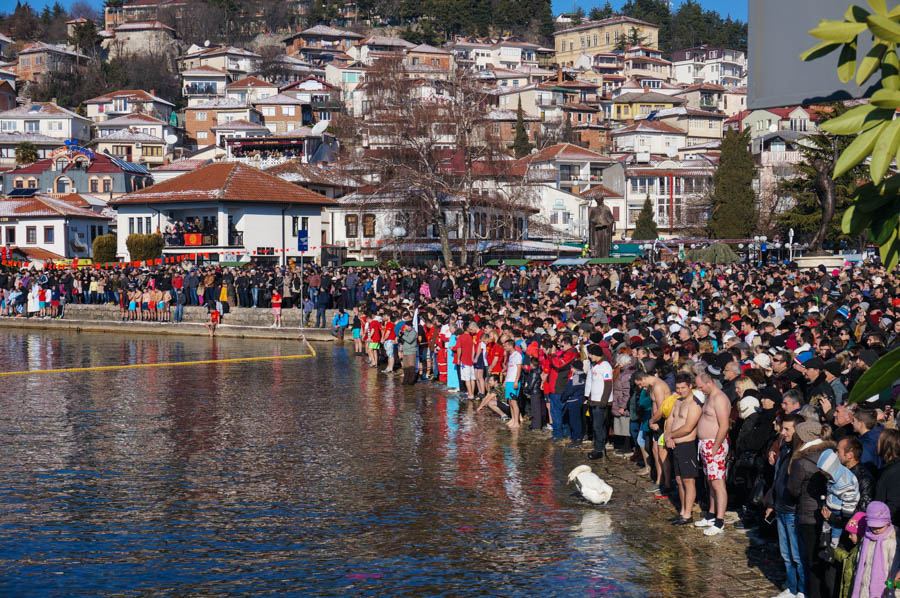 The man who collected the cross was blessed for the year. The whole ceremony was very interesting and was unlike anything we've seen.
Related Lake Ohrid Article & Video:
2. Living in Malta
After travelling around Eastern and Central Europe for a few months, we wanted some down time, and some sunshine, so we headed to the little island of Malta. We rented an apartment for 2 months and really enjoyed checking out the islands of Malta, Gozo and Comino.
We made some amazing friends as well, Nikki and Michelle, who really showed us a good time in their home country. We were able to visit restaurants and sites that we would have otherwise never known about, and they even introduced us to their friends and invited us to dinner parties and BBQs!
Related Malta Articles & Video:
3. Making Friends in Colombia
Meeting local people around the world is what travel is all about for us. By speaking to the residents of the destination we're in, we're able to learn more about their culture, customs and way of life…and the best places to eat!
Randomly in Salento, Colombia, we took a photo for a couple of guys. They had just finished cycling from Bogotá to Salento and wanted a photo to remember that moment. From there, they invited us to lunch. They then said to contact them when they are in Bogotá, so we did. We ended up having a great night with them and a group of their friends.
We met up a third time for a night in Cartagena as well. Three times we were able to have food, drinks and conversation with Andres and Carlos. They gave us lots of tips and advice for their home city of Bogotá, and we actually messaged them numerous times during our Colombian travels with questions about various things. These two really made our trip to Colombia special, and they will be lifelong friends!
Top Hotels & Guesthouses
We may have stayed at some great hostels this year, but we also stayed in some pretty memorable hotels and guesthouses. Here are our favourite 3.
1. Hotel Mangalemi in Berat, Albania
Of all of the places for us to have a favourite hotel, we weren't expecting it to be in Albania. But, this hotel was incredible. This beautiful building is located on the cobblestone road leading up to the castle. The traditional Berati architecture is stunning and we absolutely loved our room, the restaurant and the rooftop area.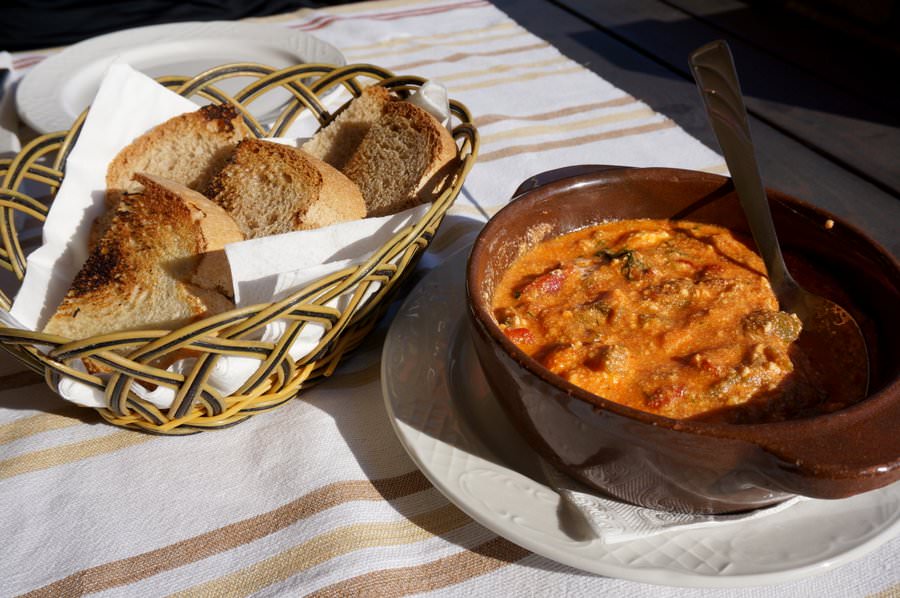 Besides the welcoming staff and gorgeous building, the restaurant was top-notch. We ate there every day for 5 days, sampling a new Albanian dish each night. The prices were excellent and everything that we tried was delicious. Albanian food is so good!
Click here to book Hotel Mangalemi
2. Patio de Getsemani in Cartagena, Colombia
When planning our trip to Cartagena, we had initially booked a hostel. When we arrived (late at night after a 3 hour delayed flight), the place was a complete shit show. People were everywhere, music was blaring, the staff were clueless, and to top it off, they didn't have our booking and were fully booked for the night. Luckily the owner was super helpful and even called and walked us to our next place. This turned out to be a blessing in disguise.
We headed around the block to Patio de Getsemani and were greeted by a very sweet couple at the reception desk. They had a room for us! This hotel has just 10 rooms, each with air conditioning, private bathroom and a TV.
We returned to Cartagena 3 times during our trip, and each time we stayed here! The staff were the best, we loved the location, the free breakfast was a bonus, and our room was really nice as well. Oh, and there is a great rooftop patio area.
Click here to book Patio de Gesemani
3. Numero Uno Guesthouse in Puerto Rico
This stunning guesthouse was located right on the beach! We arrived late at night after a horrible journey with LIAT Airlines from Barbados, and were greeted by helpful, smiling staff. The next morning when we woke up, we couldn't believe the views. The Ocean Park Beach was huge and the Atlantic Ocean was urging us to go for a swim!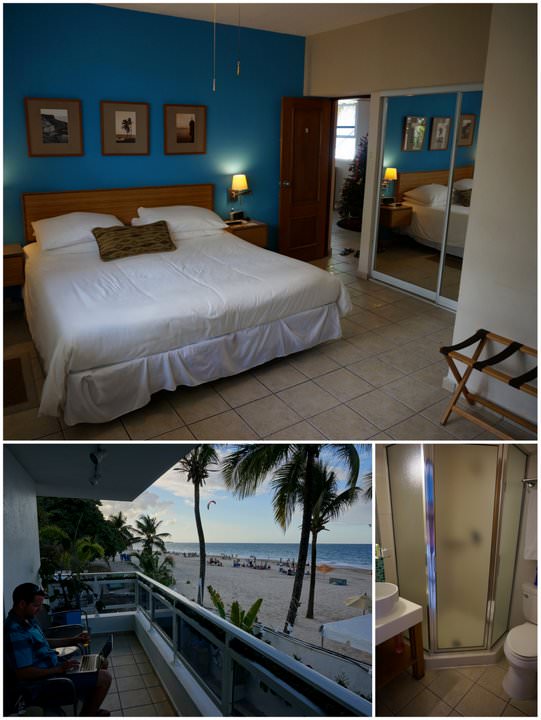 Breakfast was served on tables that were directly on the beach. There's nothing better than eating and drinking with your toes in the sand. Not only was the location outstanding, but our room was spotless as well. highly recommended.
Click here to book Guesthouse Numero Uno.
Best of The Goats
Here is a list of our top viewed YouTube videos, Instagram images, and articles on our website in 2016. These videos are popular because of you guys, our readers and our viewers so we'd like to thank each and every one of you for your support!
YouTube
In first place is our video of the La Merced Food & Market Tour in Mexico City! It received almost 32,000 views:
The #2 video of the year is another food video from Mexico! This time it's our food tour in Guanajuato, Mexico, which received almost 25,000 views.
In third place, we have our Grand Anse Beach video from Grenada! This year it received almost 17,000 views.
Make sure to subscribe to Our YouTube Channel to see all of our latest videos from around the world!
Instagram
We have been really working on our Instagram this year and have been trying to post more often, and show some inspiring photos of the places we visit.
Our top 3 images this year all came from Grenada! I guess people like tropical, beach photos 😉 In a very close 2nd place was a photo from Colombia.
https://www.instagram.com/p/BMbvsOwhPGc/?taken-by=goatsontheroad
Make sure to follow us on Instagram to see all of the pretty pictures we post!
Our Top Articles on Goats On The Road
You've seen our top viewed videos and pictures, but what about our writing? Our backpacking guides are always very popular, but this year a few other posts made the list! Here are the top 10 most viewed posts of 2016:
The Ultimate Guide to Backpacking Thailand (68,000 views)
How Much Will SE Asia Cost? (66,000 views)
10 Places Off The Beaten Path in SE Asia (47,000 views)
Budget Guide to Backpacking India (42,00 views)
Budget Guide to Backpacking Sri Lanka (36,000 views)
Budget Backpacking Guide to The Philippines (35,000 views)
The Ultimate Guide to Independent Travel in Cuba (34,000 views)
How to Start a Travel Blog in 10 Minutes (32,000 views)
The Cost of Travelling to Cuba: A Full Budget Breakdown (29,000 views)
Budget Guide to Backpacking China (28,000 views)
This year has been a great one! When we were looking back on 2016, it felt like it was a year of big decisions and changes and we're both excited to see what 2017 has in store for us. Thank you all for reading our posts, commenting on our social media accounts and for following our journey. We really appreciate your support! Here's to a happy, healthy and peaceful year.
Wondering what our travel picks for 2015 were? You can check out that post here.
Like this Post? Pin it!