Searching for flavourful culinary delights and sampling unique foods from around the world is definitely one of the best parts about travel. Whether it's street-food or 5-star cuisine, finding local specialties is a highlight of our travel days!
We've put together 10 photos showcasing some interesting and flavourful foods from around the globe. 
1. Buff Momos in Nepal
This simple snack is one of our favourite dishes in Nepal. Momos are dumplings that are served steamed, or fried with peppers and onions. Our top pick is Buff Momos, which are dumplings stuffed with buffalo meat, but you can also find pork, chicken, yak or vegetable stuffings. 
2. Lagman Soup in Kyrgyzstan
This flavourful, hearty soup is found all over Kyrgyzstan and in variations in other parts of Central Asia and China. In a bowl of Lagman Soup, you'll typically find sliced mutton meat with stretched noodles, onions, peas, dill and other vegetables covered in a vinegary, and sometimes spicy, broth. Perfect on a cold day.
3. Khachapuri in Georgia
This is definitely not the healthiest dish in the world, but it's a must try! There are variations of this cheese-filled bread, but this one is shaped like a boat and topped with a raw egg and a cube of butter. It's very rich, but delicious.
4. Pita Wrap with Tzatziki in Greece
Pita wraps (gyros) are stuffed with chicken or lamb meat, french fries, onions, tomatoes, cilantro and tzatziki sauce. These make for the perfect lunch, especially when accompanied with a block of feta cheese drizzled with olive oil and oregano & bread with a plate of tzatziki sauce. Yum!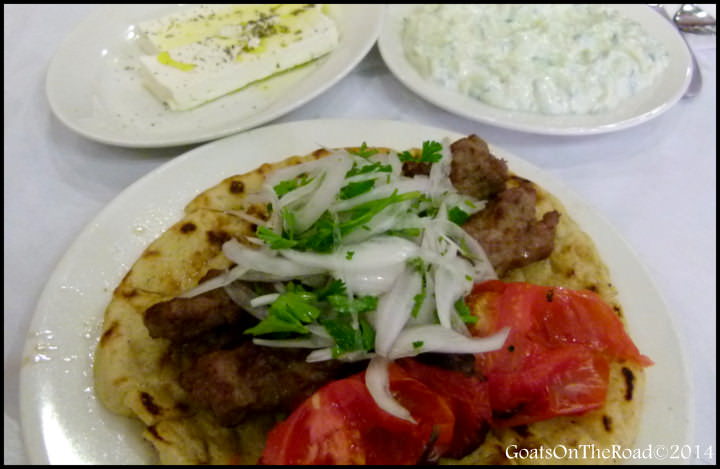 5. Cold Noodles in China
This was our go-to street side meal when we were living in Yangzhou. Flat egg noodles, shredded cucumber, cilantro, cubes of spongy tofu, sprouts, garlic and peanuts are all mixed together and covered in a soy and chili sauce! The perfect summer meal.
6. Pad Thai in Thailand
Probably the most famous dish in the Land of Smiles, and for good reason. Rice noodles are mixed together with egg, tofu, bean sprouts, garlic, peanuts, shredded carrots, chives, fish sauce, sugar, lime juice, red chili pepper, cilantro and finally, your choice of meat! There are so many ingredients in this perfectly balanced sweet, salty and spicy meal.
7. Indian Curry in Tajikistan
Ok, so this could (would) also be found in India, but when we were visiting the capital city of Dushanbe, we found the BEST Indian restaurant we've ever eaten at. It's hard to believe, but it's true. The owner is from Delhi and the creamy, spicy curries served with buttery tandoor naan bread were absolute perfection.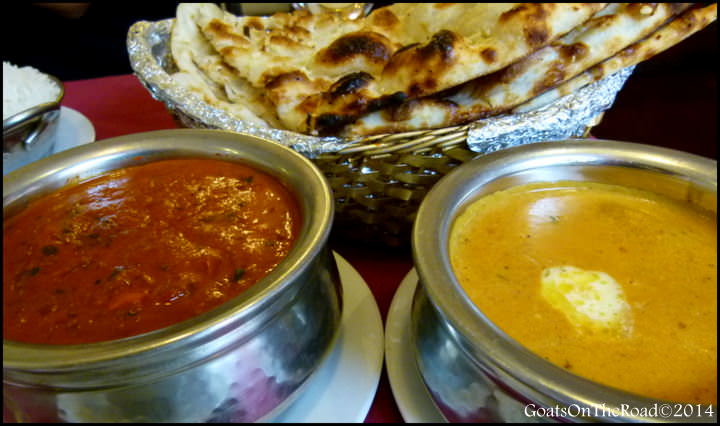 8. Tamales in Mexico
Tamales are a corn-based dough stuffed with meat and spices, served any time of the day. We were lucky enough to learn how to make Tamales the Mayan way when we were in Valladolid! After trying many foods in Southern Mexico, we found tamales were one of the most interesting and traditional foods on offer.
9. Ghormeh Sabzi in Iran
Ghormeh (meaning "stewed") Sabzi (meaning "greens") is said to be the national dish of Iran. Made with parsley, leeks, green onions, coriander, dried fenugreek leaves, spinach, beans and turmeric seasoned meat, this dish is complex and delicious! This particular photo is a version we tried in the desert village of Garmeh, with camel meat as the protein.

10. Grilled Kebab in Turkey
Kebabs are a very popular meal in Turkey. Ground or cubed pieces of lamb, chicken and beef are seasoned, then grilled to perfection. Kebab meals are typically served with rice, green salad, grilled tomatoes and peppers. A glass of hot, sweet chai (tea) is served at the end of the meal.
Feeling hungry yet?!
These are just some of the many interesting and delicious meals we recommend trying. We love sampling local foods and rarely have we found a dish that we don't like. Food is such an integral part of our lives and we always look forward to finding the perfect restaurant, and meal, in each country we visit.
Check out Part #2 – it's even more delicious!
Any of these dishes sound good to you? Have you tried some of these? Tell us below!
Disclaimer:Goats On The Road is an Amazon Associate and also an affiliate for some other retailers. This means we earn commissions if you click links on our blog and purchase from those retailers.