In our previous article Middle Eastern Moments: The People, we showcased the friendly faces we came across while travelling through the Middle East.  In this post, we'll share some of our favourite meals from this fascinating land!  Because eating pork is against the Muslim faith, lamb, chicken, mutton and beef are the meats of choice in this area…which is absolutely fine with us. Meat is grilled and served on skewers, ground into balls and deep-fried, slow roasted on a spit or shaved off into slices and wrapped as a sandwich.
Most meals are served with an accompaniment of delectable mezzes (appetizers or tapas).  Sometimes these can be the actual meal, other times they are just a starter. Mezze typically consists of hummus, raw or pickled vegetables, a mix of salads, breads with tahina dip (made from sesame seeds), baba ghanoush (eggplant), falafel (deep-fried ball made from chickpeas), soups and pieces of grilled meat. Each dish is perfectly seasoned with lemon, onion, garlic, parsley, mint and drizzled with fresh olive oil. Falafel and tahina definitely rank at the top of my favourites!
As an added bonus, there are bread making factories all over there place serving up fresh, soft breads.  Also, there are many markets selling local vegetables, fruits, olives, cheeses, nuts, pastries and freshly pressed olive oils. Dates, figs and olives, oh my!
With Mediterranean, Arabic and Western Asian influences, the food in this area is very diverse.  Of course, Egypt, Jordan, Lebanon and Turkey each have their own national and regional dishes, but there are too many delectable morsels to list here. This is just a teaser to get your mouth watering! Enjoy.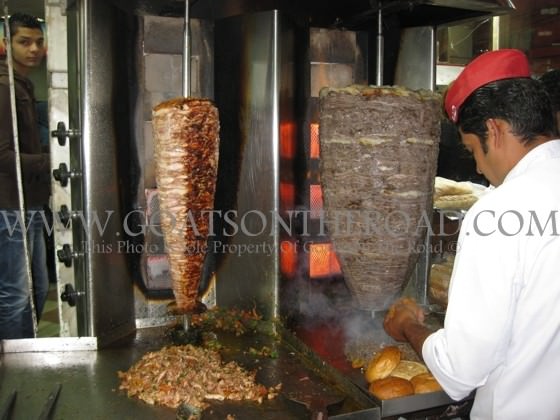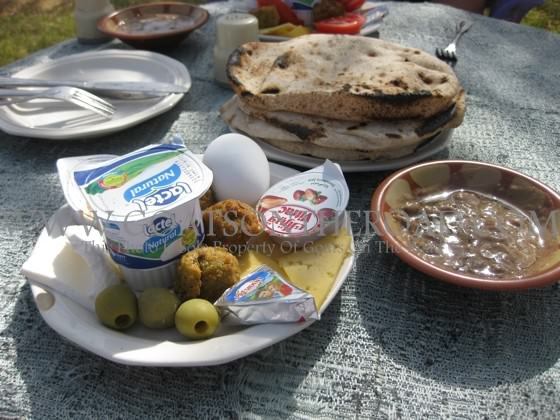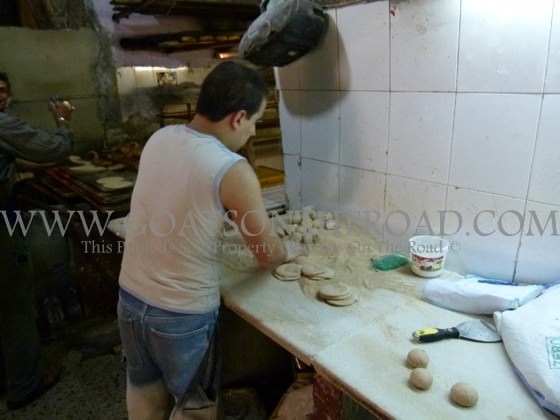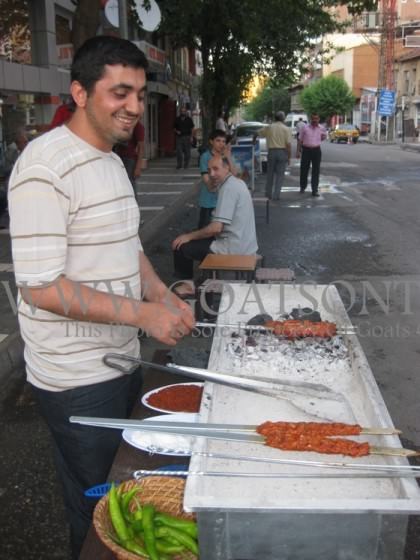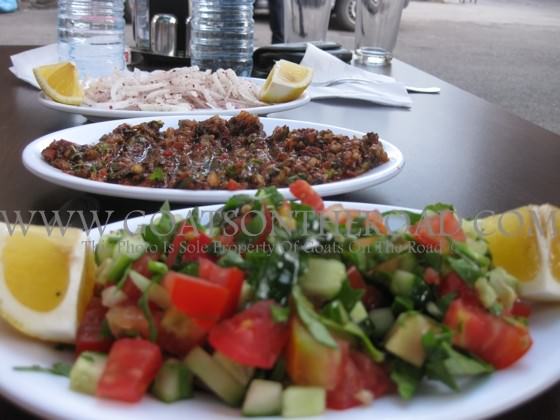 Hungry yet?!  The food in this region is so flavourful, diverse, fresh and delicious. The colours of the food are bright and the smells coming from any restaurant, bread shop or market are enough to make anyone stop in their tracks and grab a bite to eat. Even if you can't make it to the Middle East, try using some of the flavours and spices when cooking at home. We promise, you won't be disappointed!
MIDDLE EASTERN MOMENTS: THE PEOPLE
BUDGET BACKPACKING GUIDE TO EGYPT
BUDGET BACKPACKING GUIDE TO TURKEY
Like this Post? Pin it!
Disclaimer: Some links in this article are affiliate links, which means that if you purchase through them, we receive a small commission. This will never cost you extra and in many cases you receive a special discount. We appreciate your support!